HEREFORD & WORCESTER Website : DTL
5th/6th MAY 2019 – DTL SELECTION SHOOT
The second selection shoot was held at North of England with all four H&W members achieving good results which puts them in a good position for the final round at Brook Bank. Chris Moule and Jack Ruane both shot 200/598 with Jack putting in a 100/300 on the second day. Jack & Chris both finished joint 3rd over the weekend. Dan Price did 198/593 with Thomas Burns 198/594 which put him joint third in juniors over the weekend but 2nd in the points overall after the two selection shoots.
______________________________________________________________________________
6th/7th APRIL 2019 - FAUXDEGLA GRAND PRIX
Five of the Hereford & Worcester DTL shooters had a successful weekend at the seasons first major competition with Dan Price just being pipped into second place overall on a second barrel with a score of 200/597. Jack Ruane took first place in the juniors with his second best ever 200 score of 200/597 and Tom Burns took second place to Jack again a brilliant performance with a score of 198/589. Chris Moule took joint third place with a score of 200/596 again a good performance for the start of the season and Lee Kirby coming fifth and Jack coming sixth.
____________________________________________________________
18th/19th AUGUST - CLAY SHOOTING CLASSIC DTL WEEKEND - BYWELL SG
It was great weekend for Junior Thomas Burns. On the Saturday he shot 100/289 and on the Sunday 100/294. The total of 200/583 gave him Junior High Gun and 'A' class. In the Bywell 400 he took Junior High Gun – 924.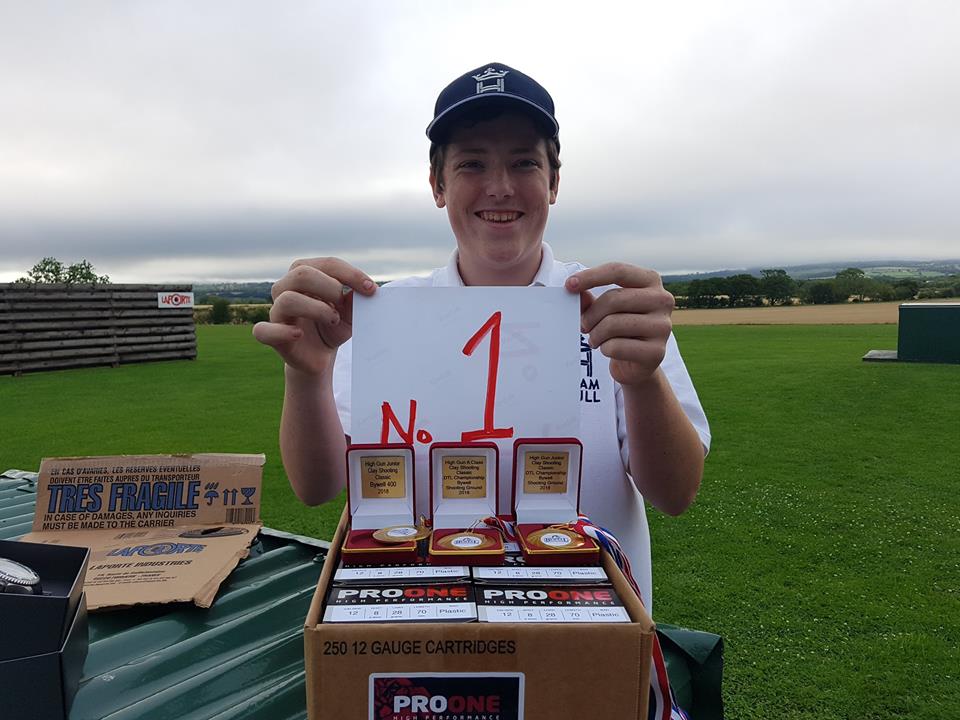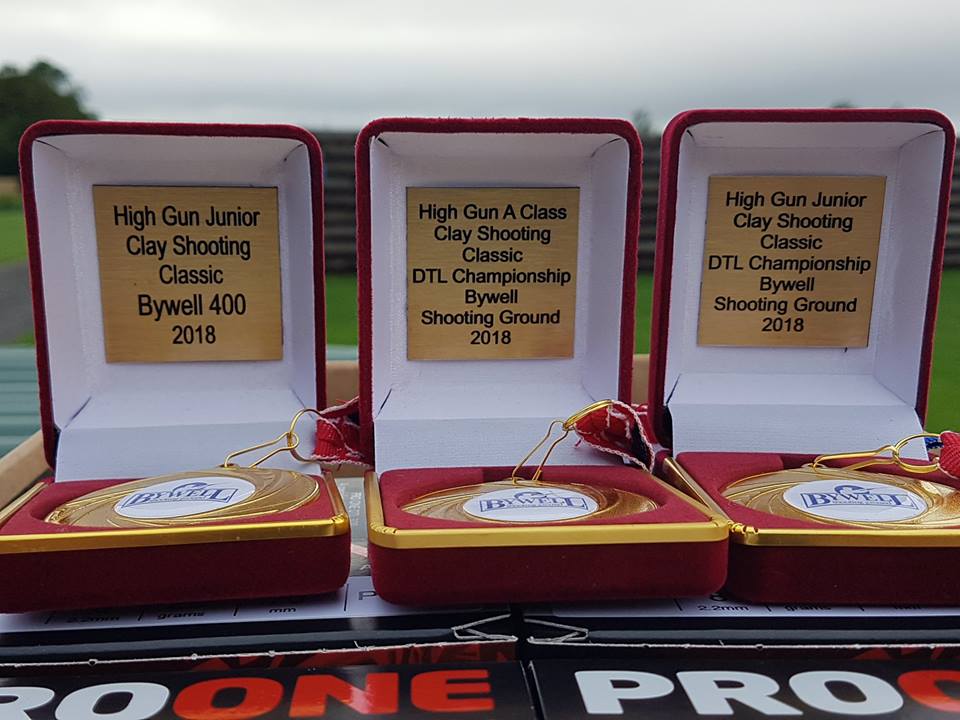 _______________________________________________________________________________
DTL RESULTS FOR 2018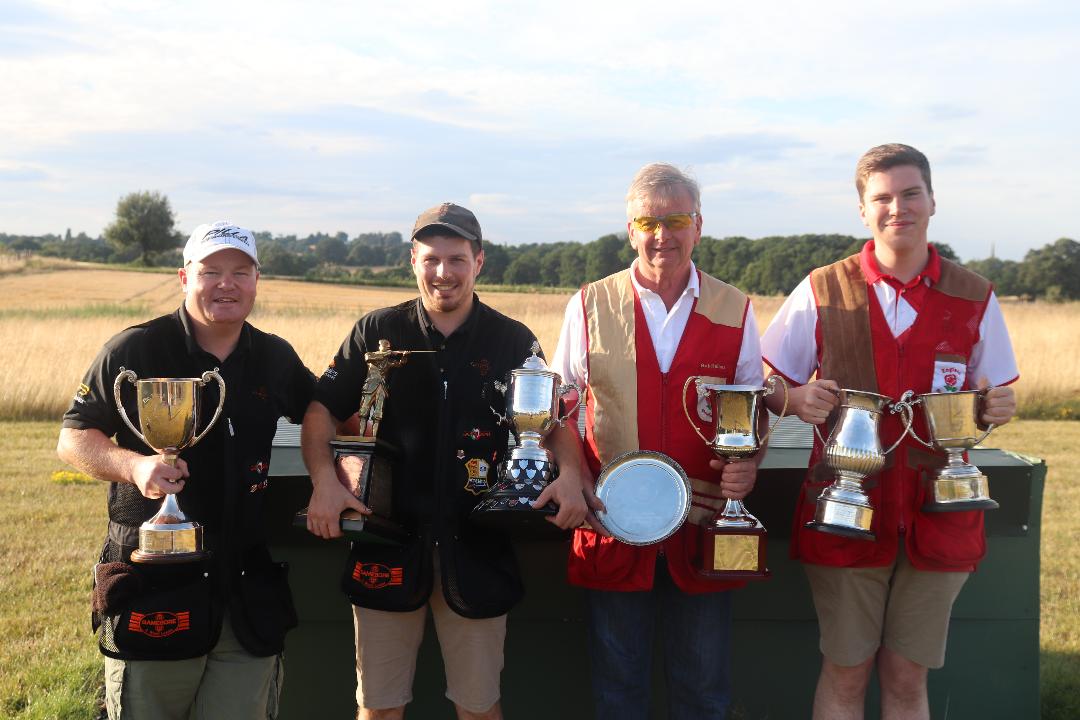 Lee Kirby, Dan Price, Rob Haines and Jack Ruane
The winning streak continued for four H&W members over the last few months. Dan Price had a successful weekend at Bywell taking the English Open with a perfect score of 100/300. This followed success in the Spencer's day and the Dougall Memorial giving him a clean sweep over the weekend. Dan then went on to win the British Open Championship with Lee Kirby taking second place.
Rob Haines and Jack Ruane were selected for the Veterans and Junior DTL teams respectively with this year being Jack's first cap.
Over three weekends Jack won the Junior British Open Single Barrel and was Junior runner up in the English Open Single Barrel, which were both held at Northampton and he also won the Welsh Open Junior high gun at Mid Wales.
At the DTL Home International, which was held at Mid Wales, Jack Ruane won the Junior High Gun trophy and after four shoot off's took overall high gun of the day with a score of 100/299. He also took the new cap highest score trophy and he was in the winning England Junior team.
Also at the DTL Home International Rob Haines was Super Veteran High Gun of the match (his third time), Super Veteran High Gun of England and received the Super Veteran Captain's Cup for highest Super Veteran Captain's score 100/298.
At the European DTL Championships, which were held at Mid Wales after the Home International, Rob Haines, shooting 199/592 was Super Veteran runner up.
________________________________________________________________________________
WEST MIDLANDS INTER-COUNTY DTL CHAMPIONSHIPS 2018
Full Hereford & Worcester teams took part in the West Midlands Inter-County DTL Championships that took place at Fauxdegla on Sunday 24th June. The Junior team consisting of Jack Ruane 97/285, Thomas Burns 98/286 and Aiden Hickey 91/265 took first place and won the Gold medal. The Senior squad with Dan Price 100/297, Lee Kirby 100/298, Chris Moule 100/298, Nick Dean 99/294, John Mason 98/291 and Paul Cerri 98/289 took the Silver medal. The Veterans team Rob Haines 97/287, Trevor Lloyd 94/269 and John Boraston 88/256 were in 4th place with the Ladies Karen Vaughan 87/252, Fiona Caren 93/257 and Danielle Brown 87/246 also in 4th place. Chris Moule and Lee Kirby came joint second overall with scores of 100/298. The weekend was a tremendous success with lots of enthusiasm and everyone enjoyed themselves working together as teams.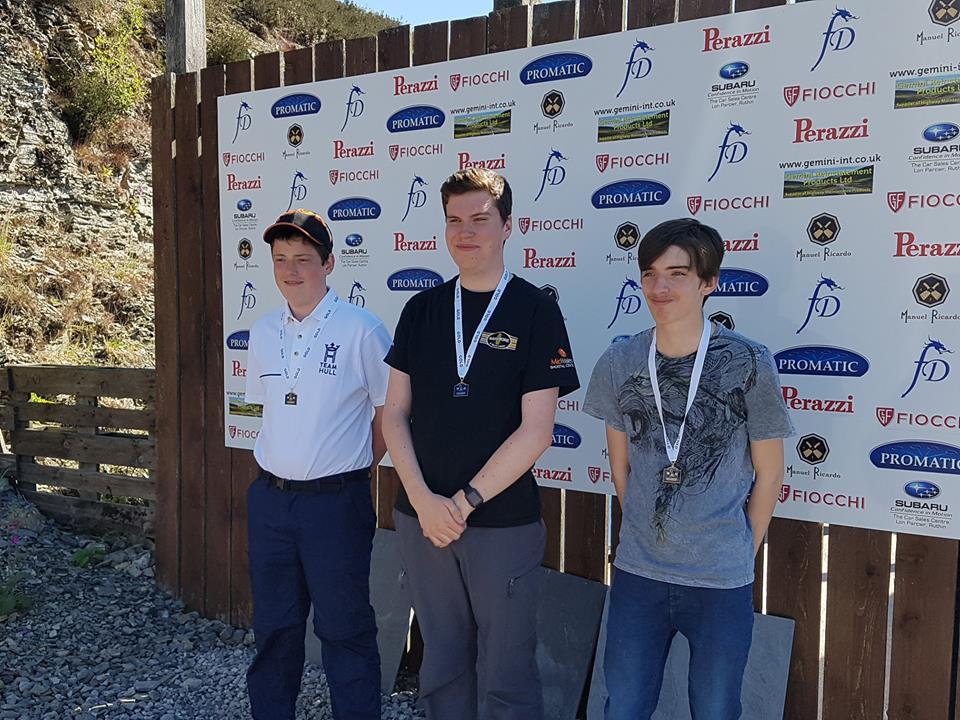 Thomas Burns, Jack Ruane and Aiden Hickey
______________________________________________________________
ENGLISH OPEN DTL CHAMPIONSHIPS & DOUGALL MEMORIAL SHOOT 2018
Dan Price shot an exceptional 100/300 to win the English Open DTL Championships today 17th June. He was also 1st in 'AA' after a 75 target shoot-off at the Dougall Memorial shoot on 16th June 2018 at Bywell Shooting Ground. Great shooting Dan, well done.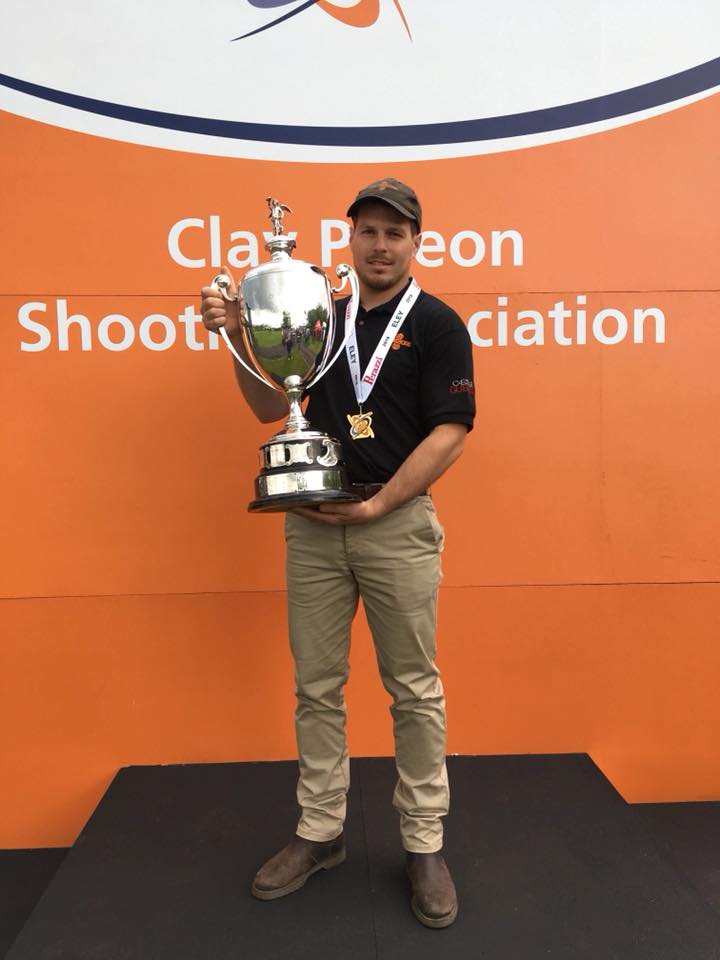 ___________________________________________________
HEREFORD & WORCESTER DTL COUNTY CHAMPIONSHIPS 2018
Mid Wales Shooting Ground kindly held these Championships for us on 22nd April with fourteen H&W members taking part. With a superb score of 100/299 it was Dan Price that took the County title. Runner up, not far behind was Paul Cerri with 100/296. In joint third spot are Lee Kirby 100/292 and Chris Moule with 99/292. The Veterans title was taken by Rob Haines on 98/289 with Trevor Lloyd in second place on 98/286. Karen Vaughan retained her Ladies title with 89/255. The Junior title was won by Jack Ruane on 99/289 with Thomas Burns in second spot on 97/283. Our Colt Champion is Aiden Hickey with a score of 88/254. Our thanks to Mid Wales SG and all their team and to everyone that made the journey to Wales for this Championship.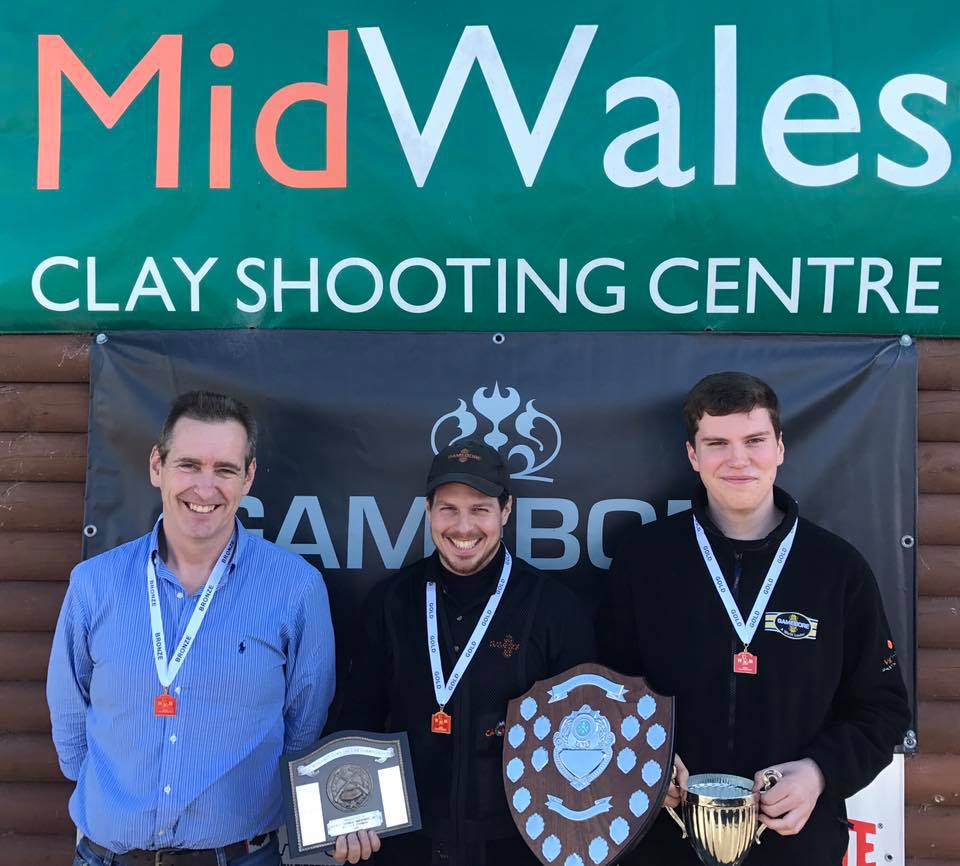 Paul Cerri, Dan Price and Jack Ruane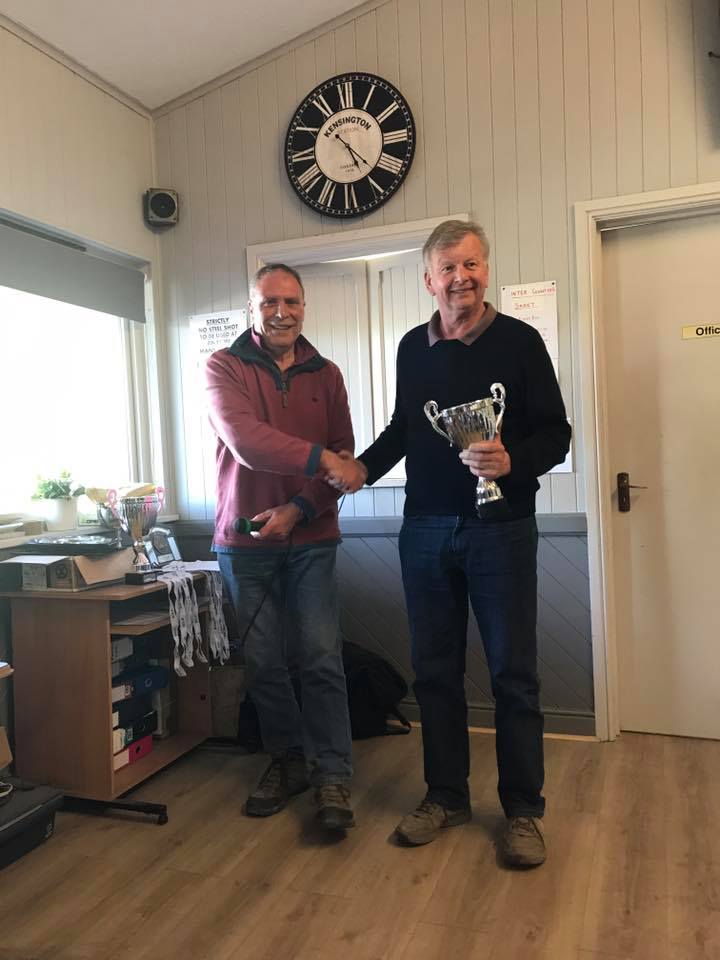 H&W DTL Manager Jerry Ruane presenting Rob Haines with the H&W DTL Veterans trophy
_______________________________________________________
DTL GRAND PRIX AT FAUXDEGLA SHOOTING GROUND 2018
Fauxdegla was the venue for this Championship on the 1st and very snowy 2nd April 2018. With a 200/594 Lee Kirby was second overall. There was good competition in the Juniors with two H&W members shooting for the Junior title. In second place with a score of 193/571 was Jack Ruane, but the Junior title went to 16 year old Thomas Burns with a score of 197/580.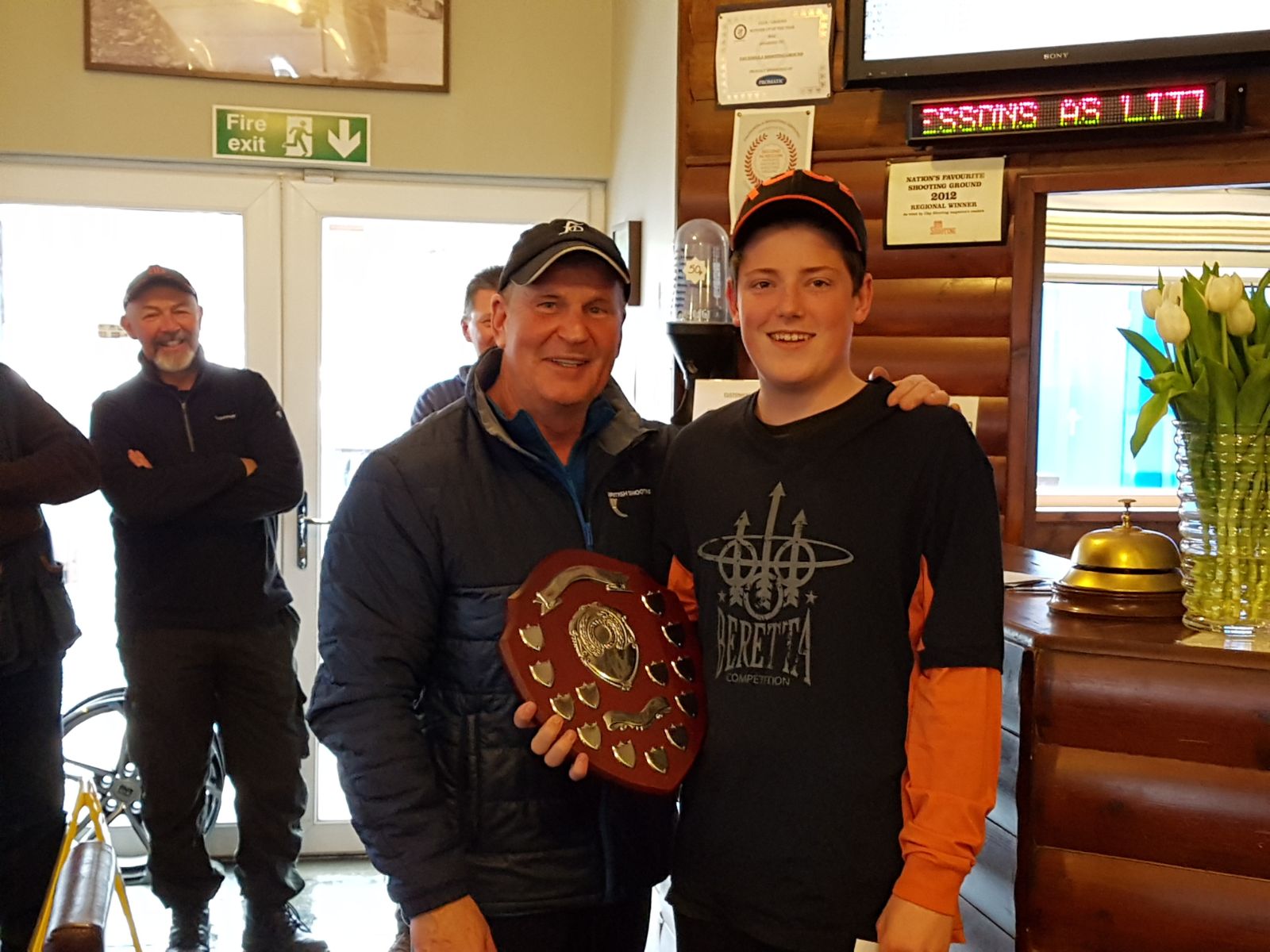 THOMAS BURNS RECEIVING HIS WINNING JUNIOR TROPHY FROM MIKE FAUX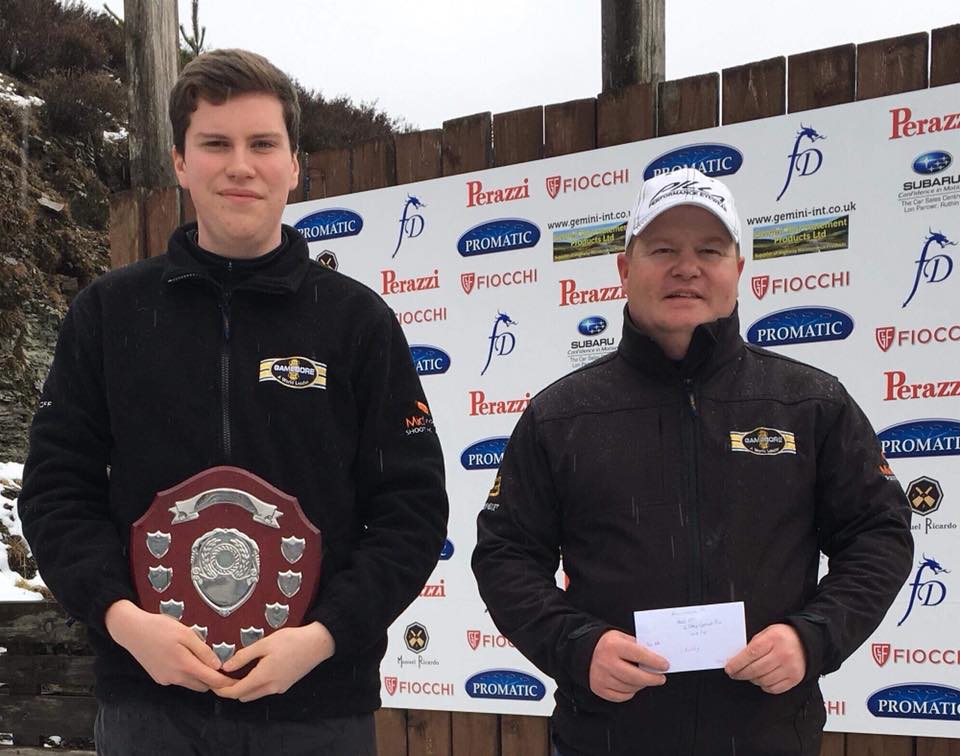 JACK RUANEWITH HIS 2ND PLACE TROPHY & LEE KIRBY
_________________________________________________________________________
BEVERLEY SG - CHAMPION OF CHAMPIONS 2018
The Champion of Champions DTL competition took place at Beverley on the 30th and 31st March 2018 with 16 year old Thomas Burns taking the Junior High Gun with a score of 199/579. Well done Thomas.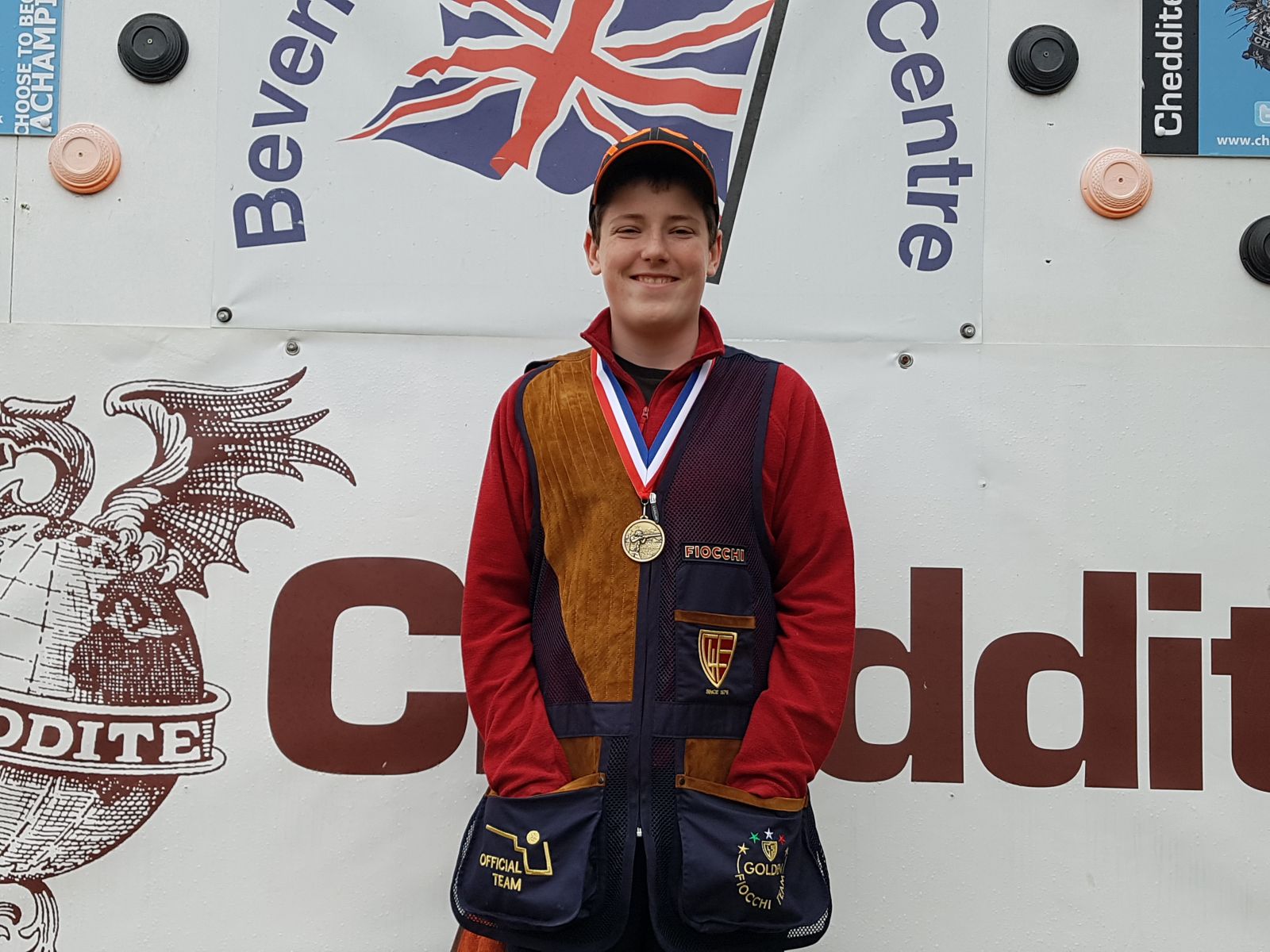 THOMAS BURNS
______________________________________________________________________
BYWELL DTL CLASSIC 2017
A brilliant performance from Jack Ruane taking the Junior high gun at the Bywell 400. Jack also came first in the Junior double rise with a score of 91, 4th in the British and English single barrel and 4th in the Junior Bywell Classic. Chris Moule with a score of 100 and after a tense shoot off came third in the British Open single barrel, Chris also came third in the (AA) classic with a score of 596/600. Lee Kirby with a score of 593/600 came 5th in the (AA) Bywell classic and 5th in the British Open single barrel with a score of 99. (Jerry Ruane)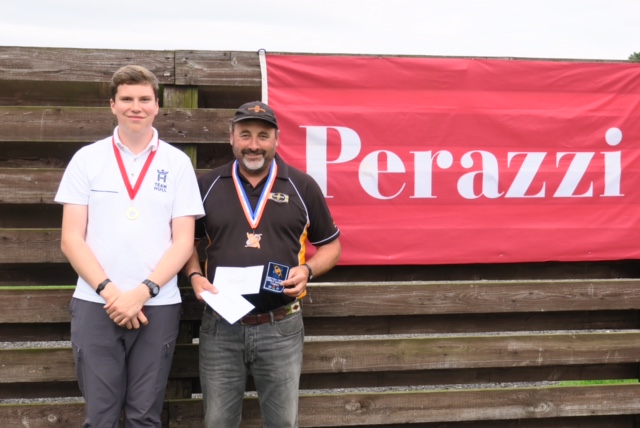 JACK RUANE AND CHRIS MOULE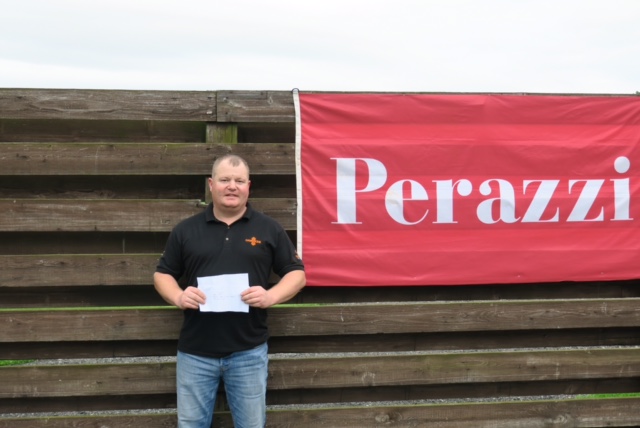 LEE KIRBY
_____________________________________________________________________________
HEREFORD & WORCESTER DTL COUNTY CHAMPIONSHIPS 2017
There was a good turn out at Park Farm Shooting Ground for this years County DTL Championships. Unfortunately it clashed with a big DTL shoot at Bywell which was unavoidable , especially how tight the shooting calendar is. The weather was perfect with bright warm sun and no wind. Our thanks to everyone that were there and shot the excellent targets. The eventual winner with a score of 99/293 is Rob Haines which also gave him the veterans title as well. Ladies Champion with 88/259 is Karen Vaughan who retains the trophy from last year. There were no Juniors taking part but we had three young Colts, so it was decided to give the Junior trophy to the highest Colt which is Will Goodman shooting a 91/269 and the Colts trophy went to Aidan Hickey with 87/255. Well done to everyone that took part and for supporting the County and of course to all the staff at Park Farm for their hard work and also to Di and Sarah that fed and watered us all.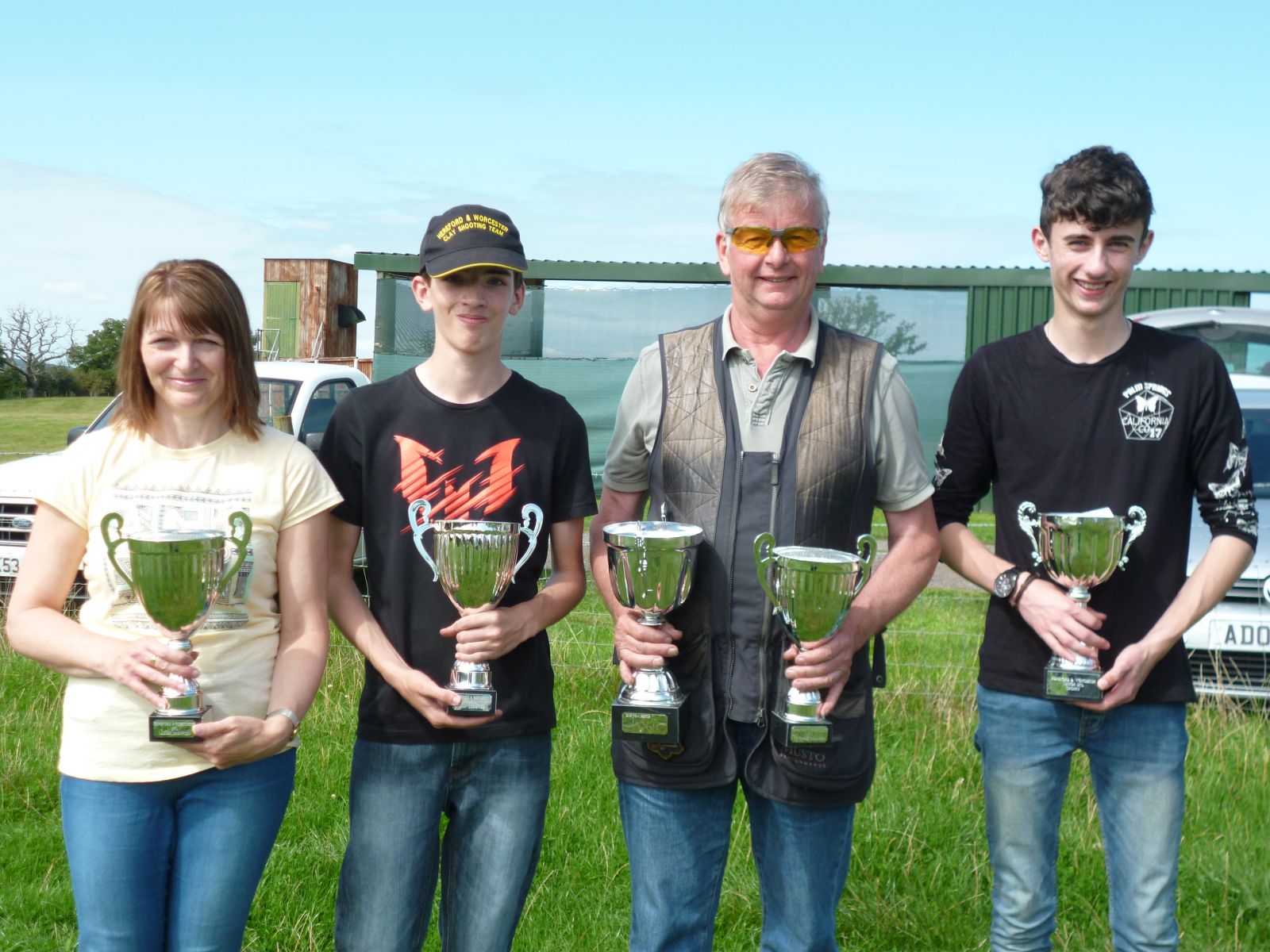 Ladies Champion Karen Vaughan, Colt Champion Aiden Hickey, County Champion and Veterans Champion Rob Haines and Junior Champion Will Goodman
1st - 99/293 - Rob Haines - County Champion and Veterans Champion
2nd - 98/291 - Dan Price - Runner Up
3rd - 98/284 - Andrew Foxall
4th - 95/283 - Russell Vaughan
5th - 96/281 - Trevor Lloyd
6th - 95/274 - Rod Davies
7th - 91/270 - Roy Spooner
7th - 95/270 - Fred Goodman
9th - 91/269 - Will Goodman - Junior Champion
10th - 90/264 - Richard Atkins
10th - 95/264 - G Blackwell
12th - 89/262 - Graeme Walker
13th - 88/259 - Karen Vaughan - Ladies Champion
14th - 87/255 - Aiden Hickey - Colt Champion
15th - 81/233 - John Boraston
16th - 81/226 - Sue Perry
17th - 72/211 - Ian Currie
18th - 68/194 - Pat Smith
19th - 63/182 - H Jones
20th - 60/172 - R Jones
_________________________________________________________________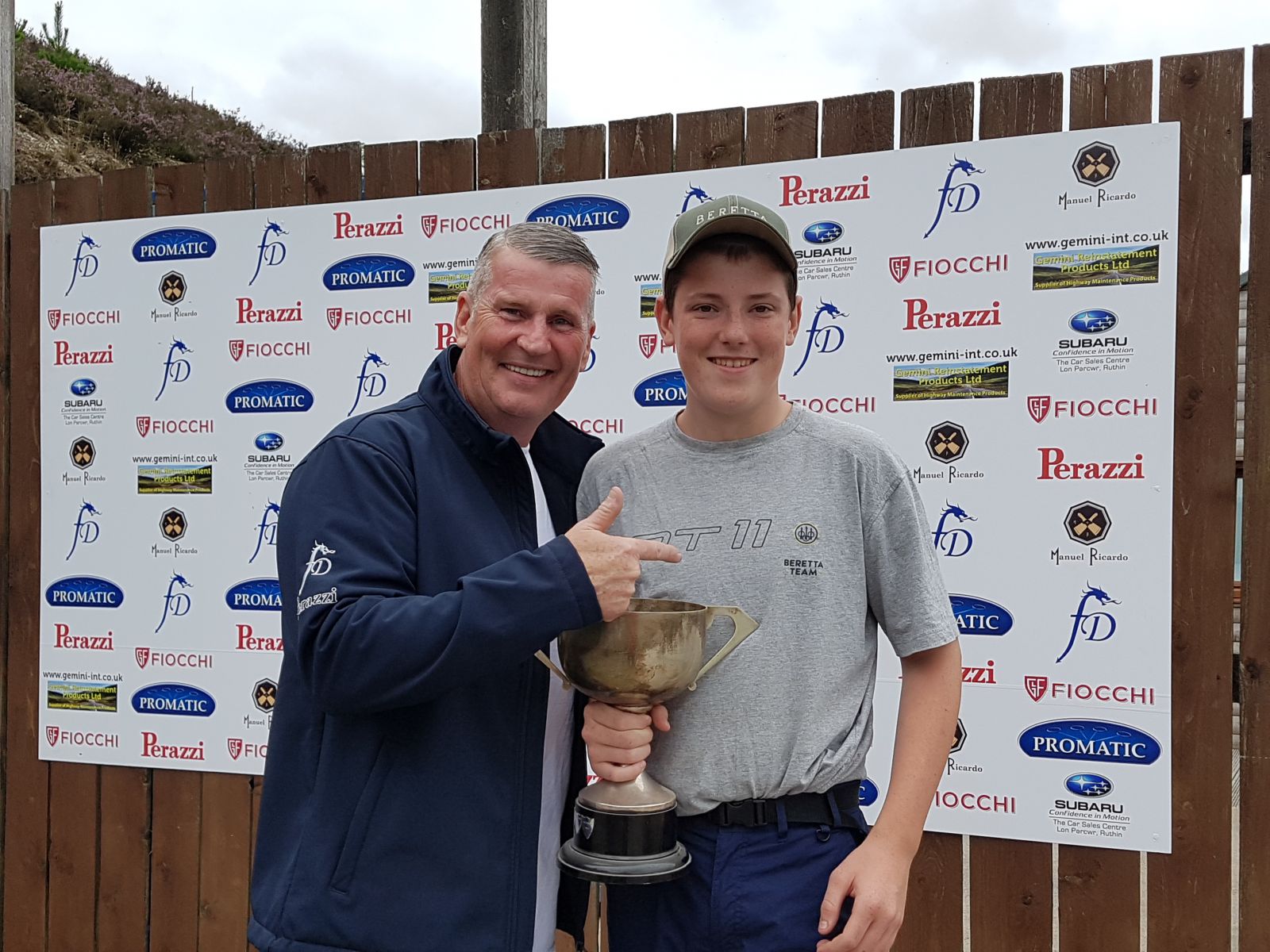 Tom Burns left with Mike Faux
Sunday 20th August saw 15 year old Thomas Burns shooting the 100 registered DTL competition at the fabulous Fauxdegla SG situated a short distance from the top of the iconic Horse Shoe Pass just outside Llangollen. Tom's squad kicked off at 1pm and unknown to Tom he was shooting in the company of Mr DTL himself Paul Chaplow. Tom shooting his Beretta DT11 with Fiocchi cartridges shot his first 100 straight, finishing with a score of 100/295 to take C class, colts and junior classes. It must be said that the effort put in to this ground by Mike and Debbie Faux should be applauded and supported by all shooters being able to shoot all the disiplines available. Many thanks to Mike, Debbie and their team. BTW Paul Chaplow shot another perfect 100/300 - Well done Paul, on his 144th 100/300! (Phil Gutteridge)
_________________________________________________________________
WEST MIDLANDS INTER COUNTY DTL CHAMPIONSHIPS 2017
H&W Seniors - Gold medal
H&W Juniors - Gold Medal
H&W Veterans - Bronze medal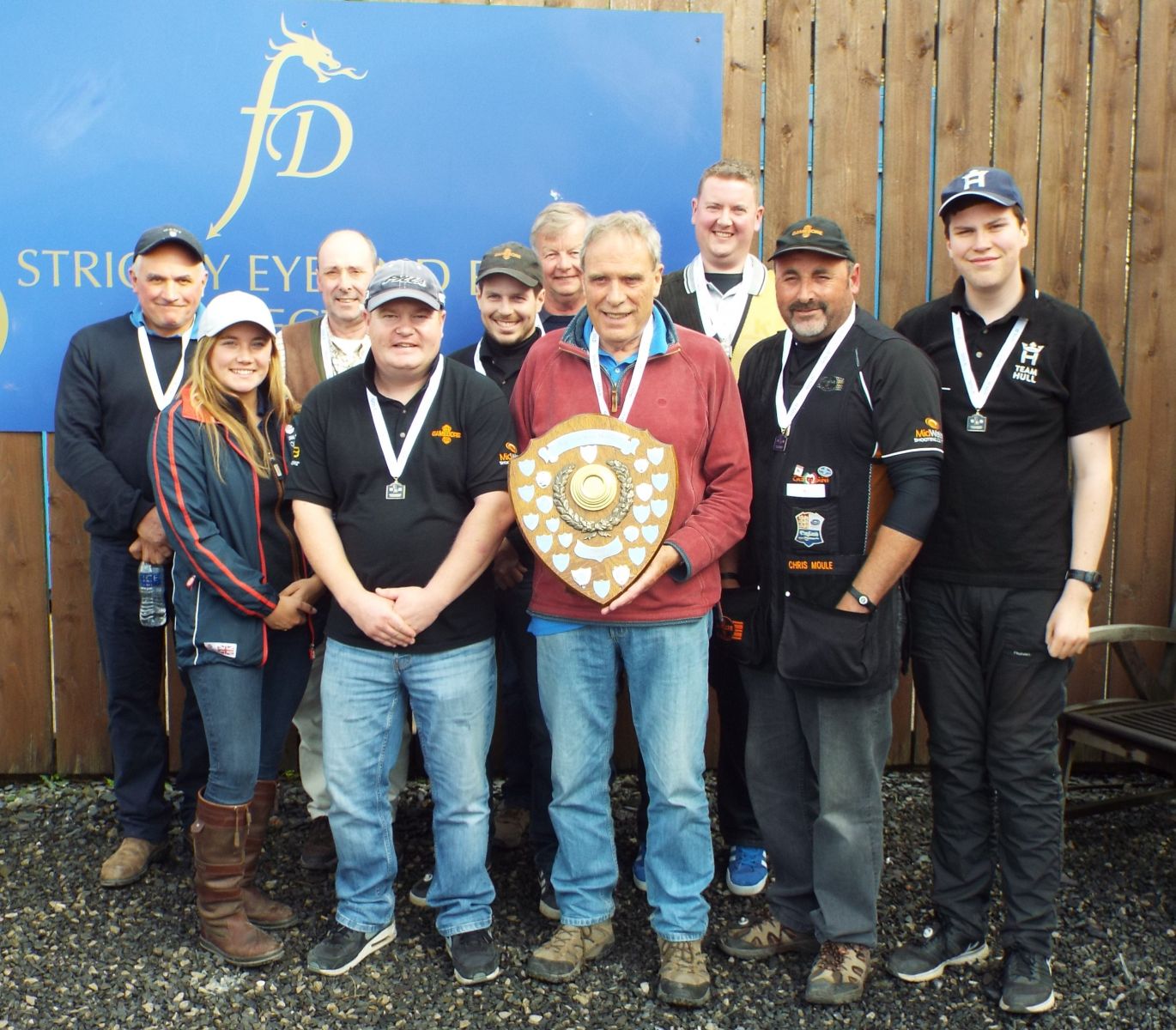 Ian Parkinson (vet) Emma Parkinson (Lady) John Mason (Sen) Lee Kirby (Sen) Dan Price (Sen) Rob Haines (Vet) Joint DTL Manager Jerry Ruane, Lee Ratcliffe (Sen) Chris Moule (Sen) Jack Ruane (Jnr)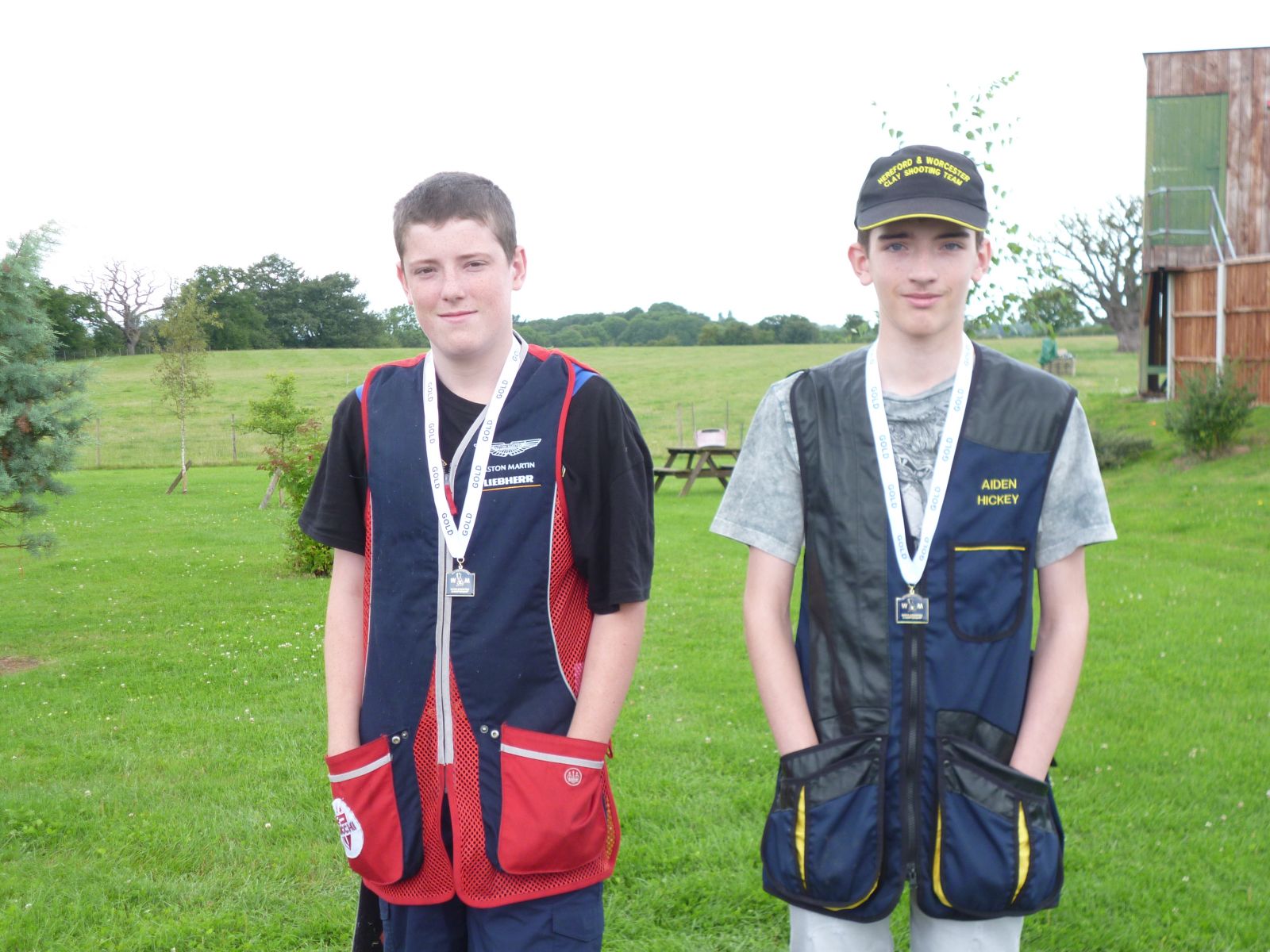 Tom Burns and Aidan Hickey (Juniors)
______________________________________________________________________________________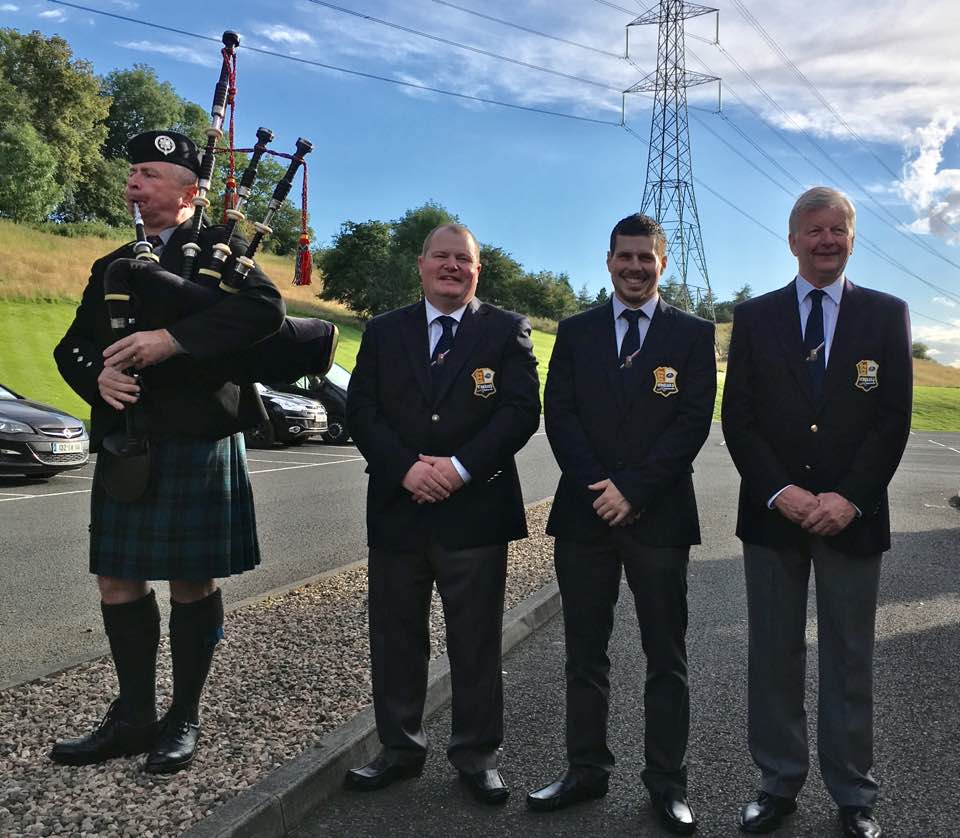 Lee Kirby, Dan Price and Rob Haines at the 2017 DTL Home International in Scotland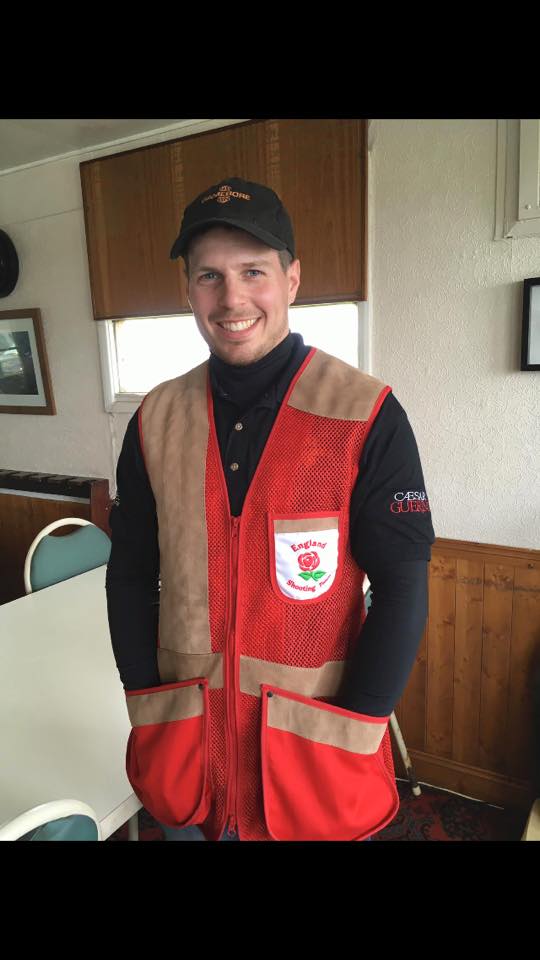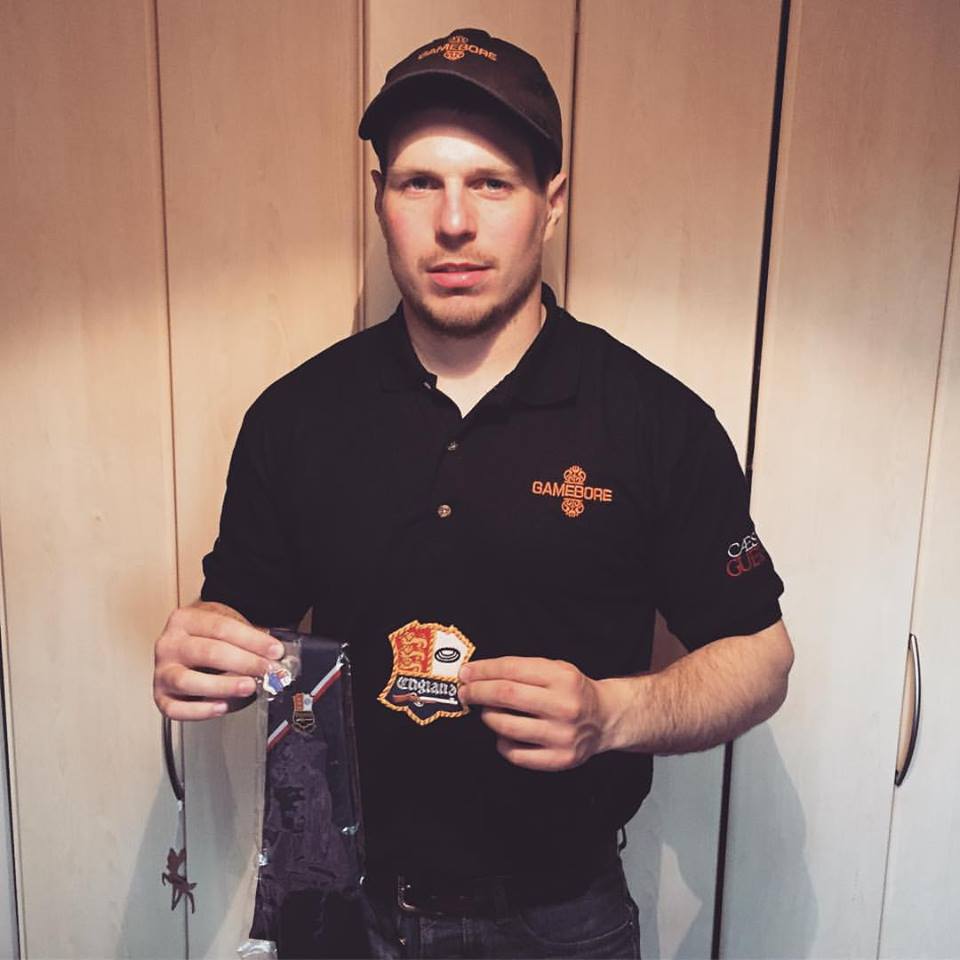 Dan Price qualified for the England DTL HI team on 21st May 2017 his first cap
Congratulations to the following H&W members that have qualified for the England DTL team. Lee Kirby (199/585+199/594) his sixth cap, has qualified for the Senior HI and the World Championships which takes place in Australia. Dan Price (198/589+198/590) his first cap qualifying for the Senior HI. Rob Haines has qualified for the HI and European Championships in the Super Veterans category. Well done to all of you an excellent result.
_____________________________________________________________
DTL GRAND PRIX 2017
The DTL Grand Prix was held at Fauxdegla SG on Saturday 1st and Sunday 2nd April. High gun and Champion with a score of 596/600 was H&W member Lee Kirby and Jack Ruane is the Junior Champion. Excellent shooting Lee and Jack.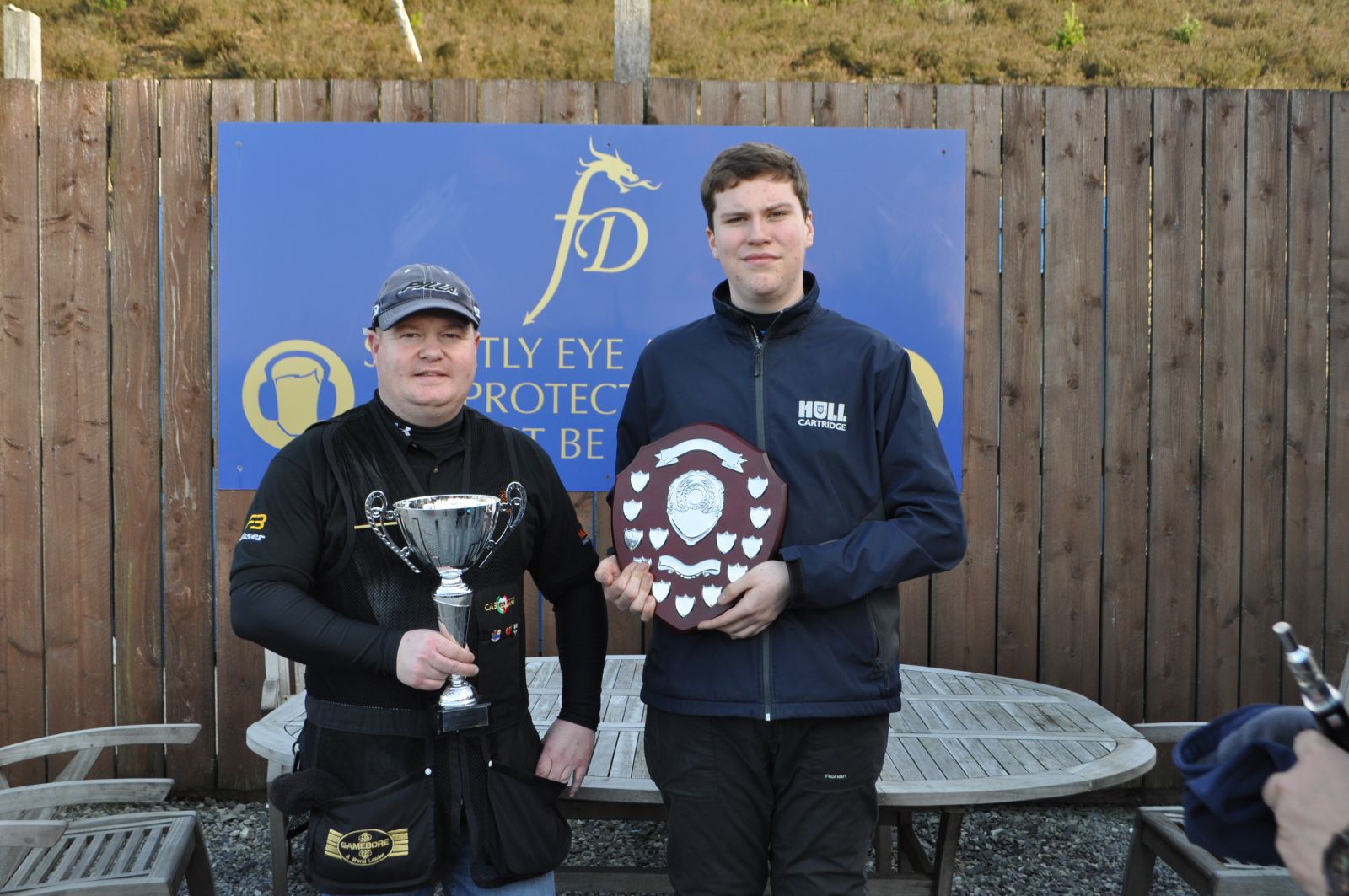 LEE KIRBY AND JACK RUANE
______________________________________________________
WEST MIDLAND AREA DTL CHAMPIONSHIPS 2017
This year Holmes Chapel, Cheshire hosted this championship on 26th March. With a score of 100/297 H&W member Lee Ratcliffe was high gun and Area Champion with Jack Ruane winning the Area Junior silver medal. Many congratulations to both of you.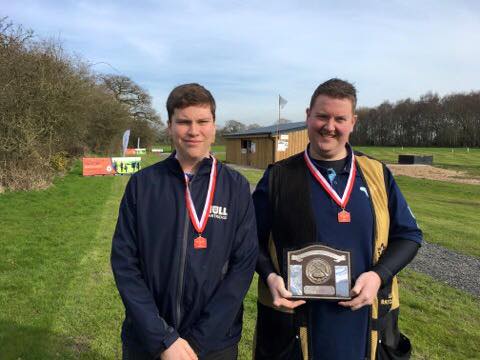 Jack Ruane WM Area DTL Junior Silver medal winner and Lee Ratcliffe WM DTL Area Champion
--------------------------------------------------------------------------------
WEST MIDLANDS INTER-COUNTIES DTL - FAUXDEGLA 2016

This year the combination of holidays, work, personal choice & other DTL events on the same day gave more H/W shooters the opportunity to shoot for the County. A dry overcast day with the possibility of sunshine was the forecast which saw four teams entered from Hereford & Worcestershire. It was very encouraging to see three junior shooters entering the competition and also their friends and family that came along to support them. Seniors - Ian Parkinson 292, Craig Miles 281, Mike Lloyd 277, Rob Hart. 277 and Mike Perry 269. Ladies - Emma Parkinson 277 and Sue Perry 242. Juniors - Will Goodman 257 and
Aiden Hickey 241. The Veterans, Rob Haines 294 and Andy Foxall 289 won the Vets Silver Medal. An excellent day was had by all with some good scores being achieved, but a special thank you must go to Ian Parkinson for his last minute offer to shoot for the team and the excellent score that he achieved.
Our thanks must go to Mike, Debbie and the staff, the targets were perfect as was the refereeing & catering. The ground and its modern up to date facilities are indeed a credit to all the Fauxdegla team. (Andrew Foxall)
____________________________________________________________________
ENGLAND DTL TEAM 2016
We would like to congratulate Lee Kirby, Chris Moule and Rob Haines after securing their places in the 2016 DTL team. Lee and Chris will be part of the Senior squad with Rob in the Super Veterans. Rob will also take part in the European and World events. Well done and we wish you all well.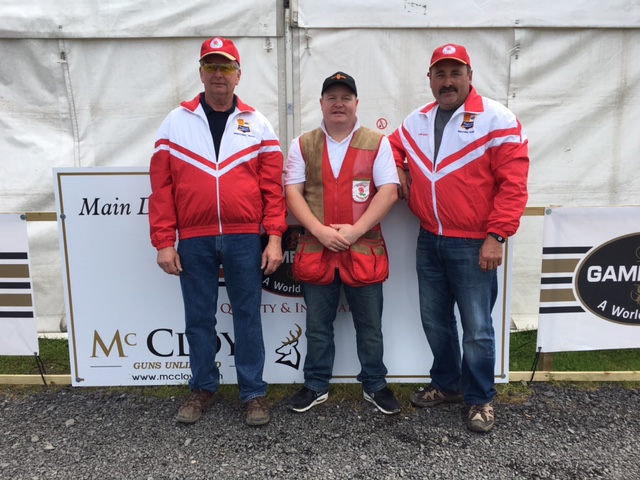 Rob Haines, Lee Kirby and Chris Moule
_____________________________________________________________________________
NORMANTON SG
At a recent DTL competition at Normanton on 14th May, Andrew Foxall was high gun and top Veteran with a score of 99 ex 294. Well done Andy.
___________________________________________________________________________
HEREFORD & WORCESTER DTL COUNTY CHAMPIONSHIPS 2016
A bright sunny day welcomed the 8 squads of DTL shooters that visited Park Farm shooting ground on Sunday 8th May. There were some very good scores achieved ending with the following results from Hereford & Worcestershire shooters.
Seniors
1st Lee Kirby 100/299 High Gun & County Champion
2nd Nick Dean 100/296
3rd Chris Moule 100/292
Veterans
1st Rob Haines 99/295
2nd Richard Atkins 98/289
3rd Andy Foxall 97/285
Ladies
1st Karen Vaughan 94/275
2nd Jackie Cotton 92/274
3rd Sue Perry 71/203
Juniors
Jack Ruane 96/279
So very well done to all the competitors and a big thank you to Phil & Di and all the Park Farm crew for staging the event which provided excellent targets, refereeing and catering facilities. (Andrew Foxall)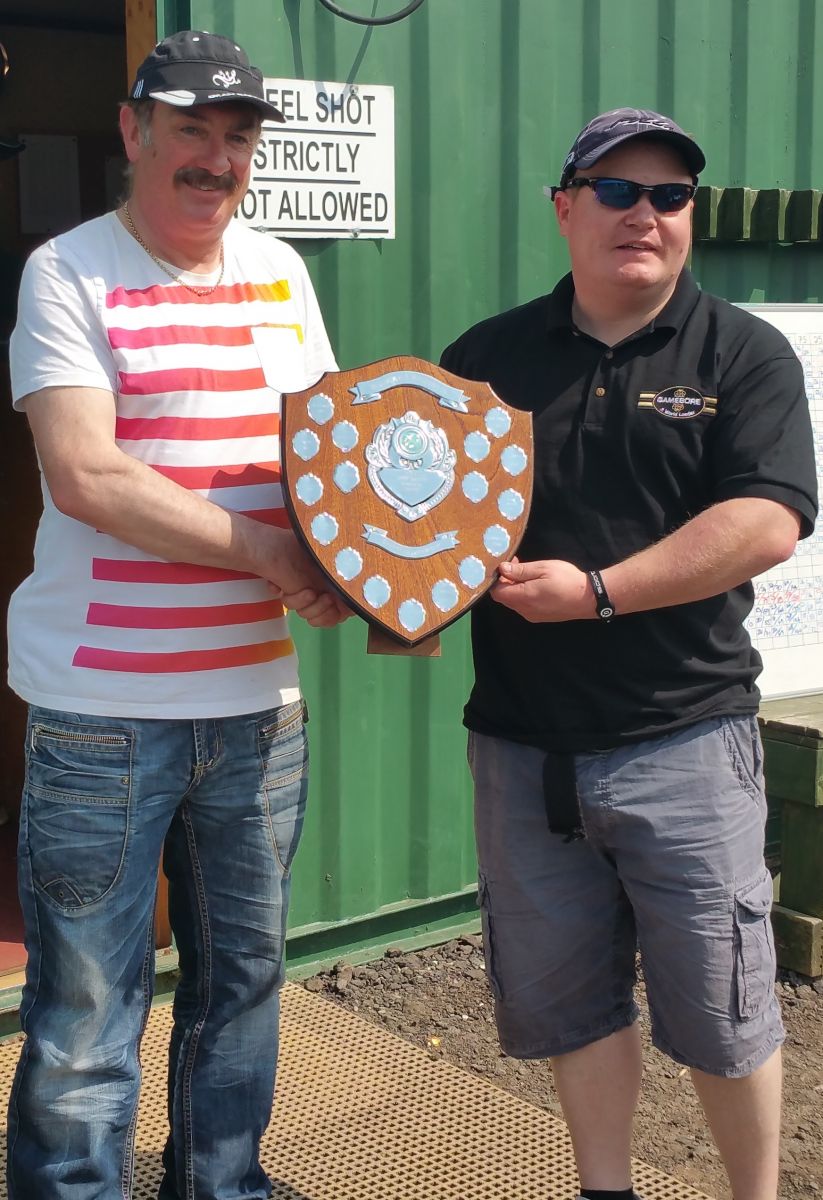 LEE KIRBY COUNTY CHAMPION (RIGHT) PRESENTED WITH THE H&W DTL TROPHY BY ROD DAVIES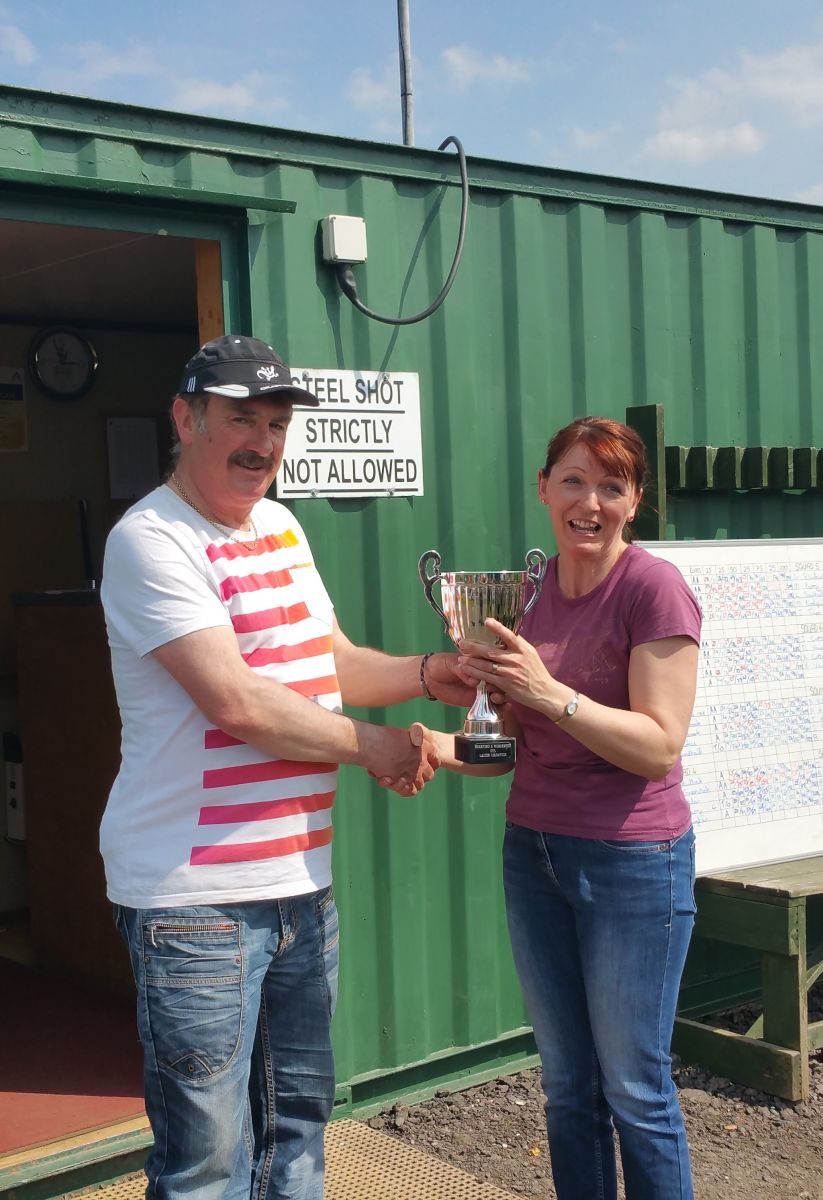 LADIES CHAMPION KAREN VAUGHAN RECEIVING THE LADIES DTL TROPHY FROM ROD DAVIES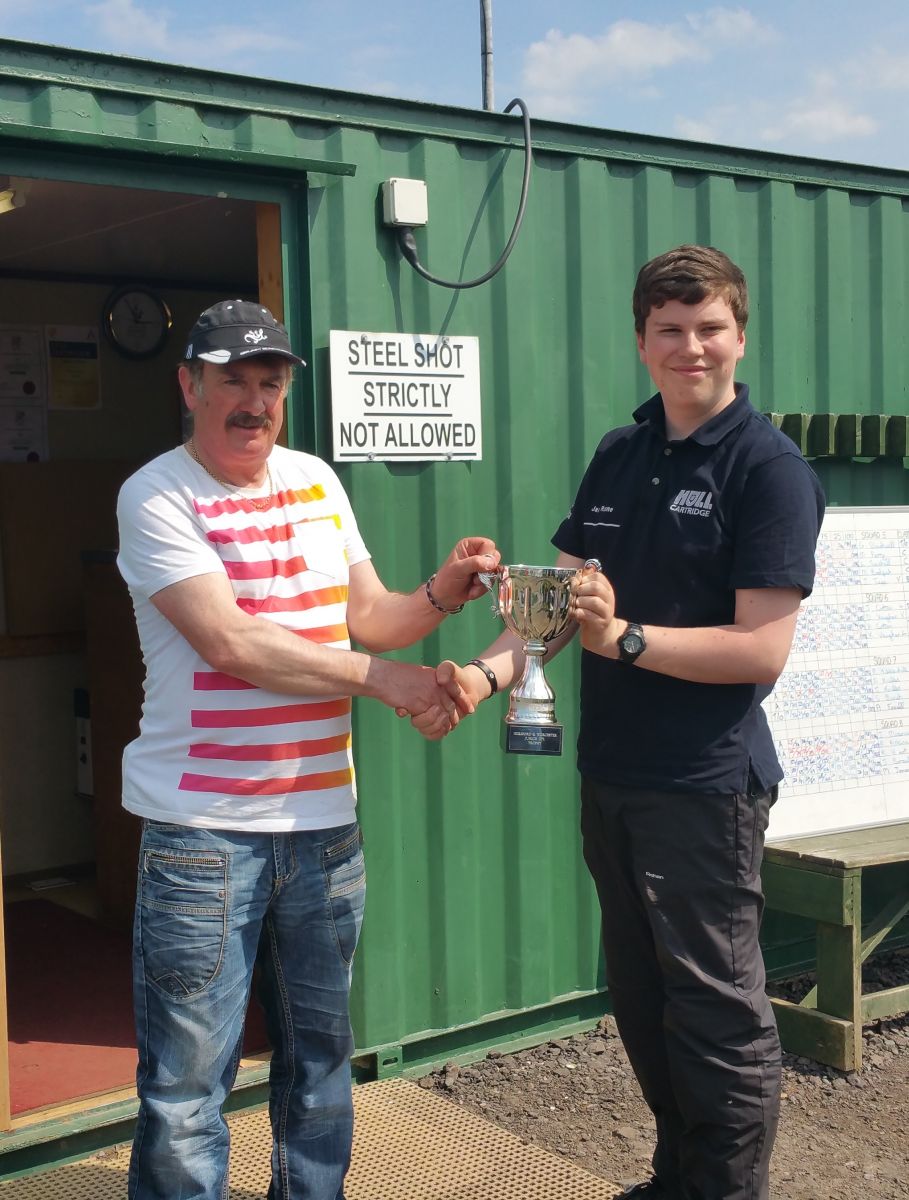 JACK RUANE - JUNIOR CHAMPION RECEIVING THE DTL TROPHY FROM ROD DAVIES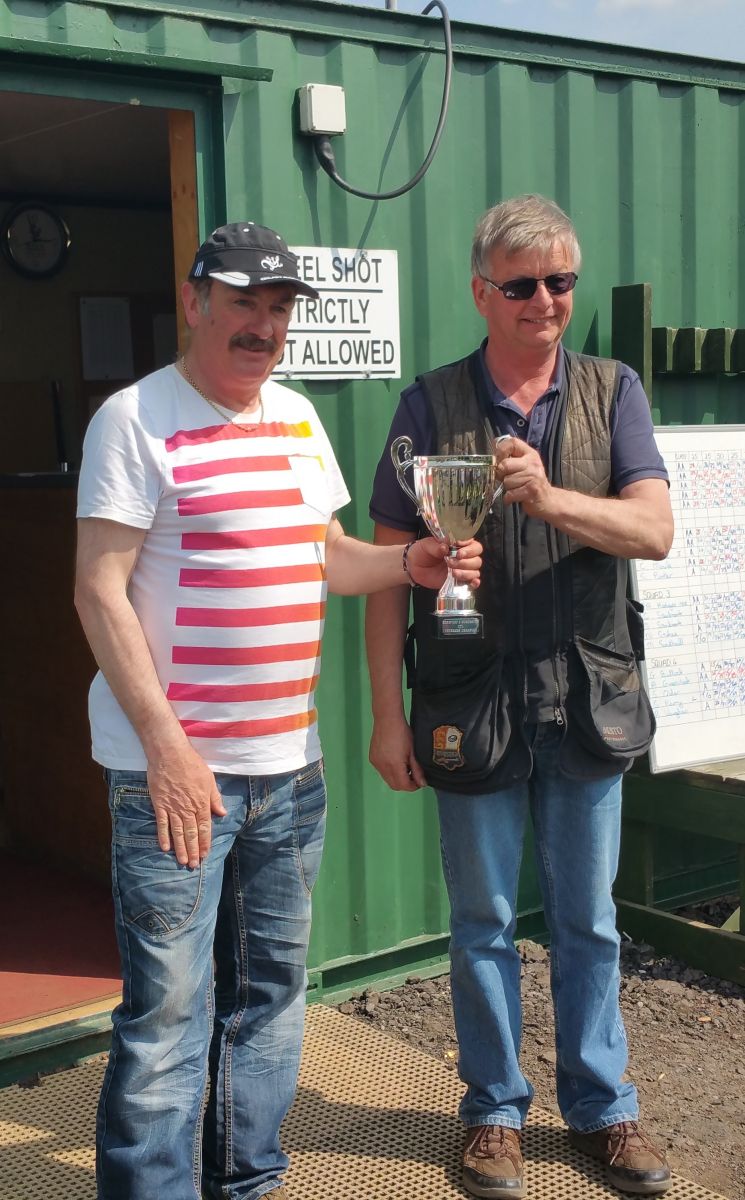 VETERANS CHAMPION ROB HAINES RECEIVING THE DTL VETS TROPHY FROM ROD DAVIES
___________________________________________________________________________________________
WEST MIDLAND AREA DTL CHAMPIONSHIPS 2016
The WM Area DTL competition took place at Mid Wales SG on Sunday 27th March which resulted in some very commendable scores from all the H/W shooters. The weather conditions were challenging to say the least with rain and very blustery conditions throughout, with the odd lucky squad getting a few very welcome rays of sunshine.
High Gun, Area Champion and first in AA class went to Chris Moule with an exceptional score of 100/299 so very well done Chris.
Individual scores were:-
Lee Kirby Silver AA 99/296
Rob Haines 1st Veterans 99/294
Jack Ruane 1st Juniors 96/285
Paul Cerri 96/285
Russell Vaughan 96/284
Andy Foxall 96/281
Dan Price 97/280
Jason Price 94/275
Mike Perry 93/273
John Boraston 90/262
Sue Perry 89/258 Ladies Silver
Thank you everyone who attended the shoot and many thanks to Arthur Williams and all the Mid Wales team for letting us stage the event at their ground and for keeping everyone fed and watered.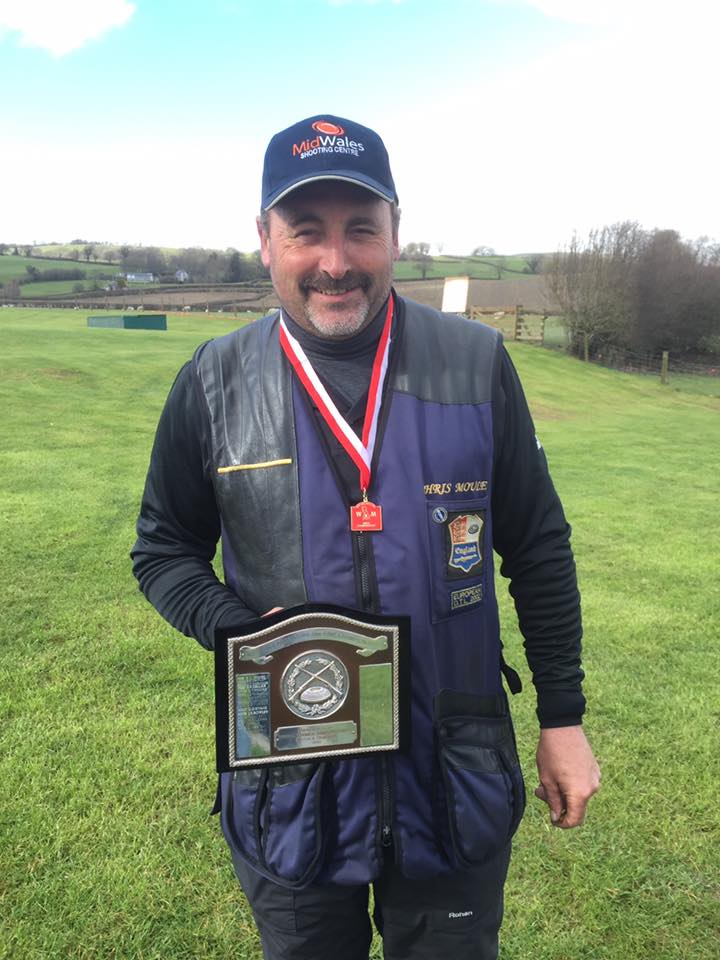 CHRIS MOULE - WEST MIDLANDS AREA DTL CHAMPION 2016
;DTL WINTER SERIES 2016
It was a bright, dry day at Mid Wales SG on Sunday 13th March which saw the 6th and final Krieghoff DTL winter series competition taking place. H&W shooter Chris Moule won the overall prize of a free entry to the Krieghoff DTL competition at Mid Wales for 2016, so very well done Chris. Although there were excellent scores from many of the H&W shooters, one in particular was from Dan Price who in his first registered DTL shoot achieved 100/297 finishing 4th overall which was a fantastic achievement, so well done Dan I am sure there will be a lot more to follow!! Other H&W scores were
3rd - AA - Lee Kirby 100/298, 4th AA Dan Price 100/297
6th -A - Jason Price 100/296
6th - A - Russell Vaughan 100/296
10th - AA - Chris Moule 99/295
21st - AA - Rob Haines 98/291
26th - AA - Paul Cerri 97/288
and Jack Ruane A class 96/283.
(Report by Andrew Foxall)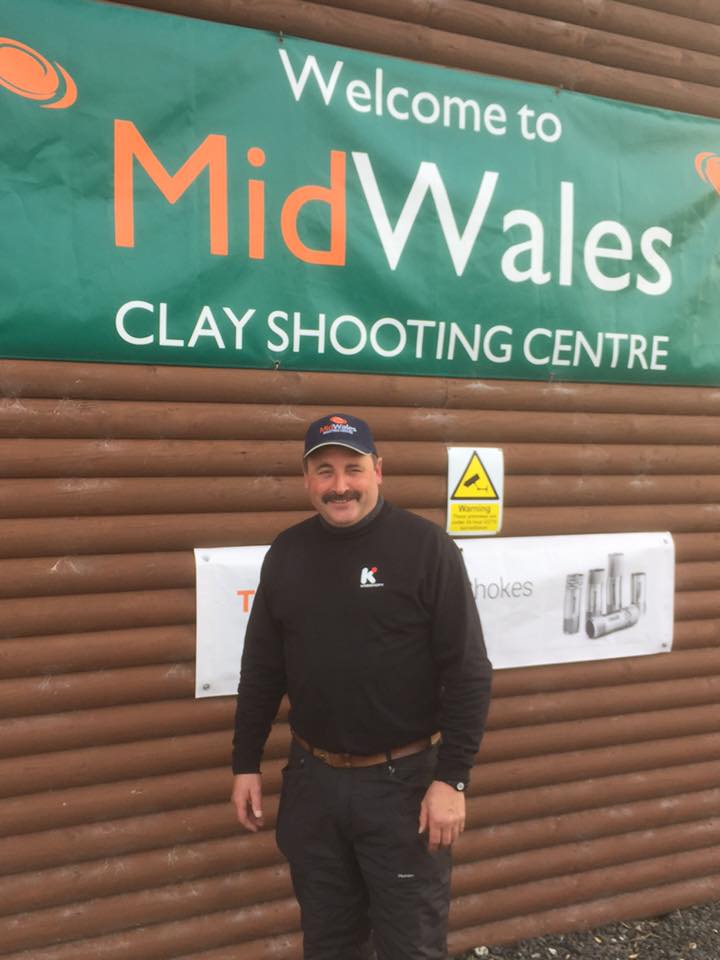 ========================================================================
NATIONAL INTER-COUNTIES DTL 2015
The National Inter-Counties DTL championships took place at Northampton SG on Saturday 3rd and Sunday 4th October. Well done to Lee Kirby who took High Gun with a brilliant score of 299/300, this is the second year Lee has won the trophy. H&W came third in the team event. Good shooting by everyone.
100/299 - Lee Kirby
100/296 - Chris Moule
97/287 - Paul Cerri
98/285 - Lee Ratcliffe
89/260 - Jack Ruane
90/252 - Jason Price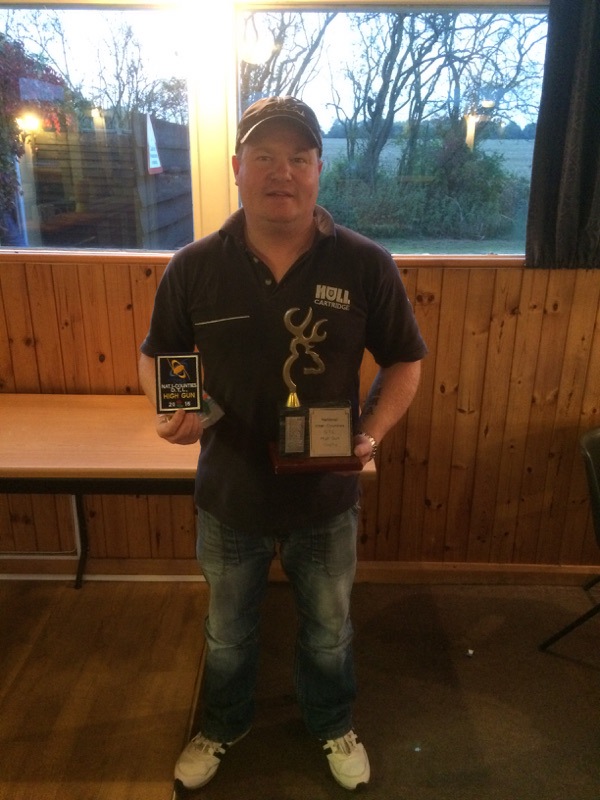 LEE KIRBY
---------------------------------------------------------------------------------------------------
WEST MIDLANDS INTER-COUNTIES DTL CHAMPIONSHIPS 2015
H&W sent teams of seniors, veterans and ladies to Fauxdegla for this inter-counties competition on Sunday 6th September. The outstanding shooter of the day was H&W's
Senior Lee Ratcliffe shooting 100/300 again and taking high gun. The other senior members where Lee Kirby 100/295, junior Jack Ruane 98/289 (he was put in the seniors as we couldn't get a junior team together), Mike Lloyd 96/275, Peter Gault 91/269, Paul Colley 93/263 and Mike Perry 87/252. They were placed 6th overall in the senior teams. The veteran team was Andrew Foxall, who shot a very impressive 100/297 which was a PB for him, with Rob Haines 99/294 which gave them the veterans gold medal. Our Ladies also came away with a medal, winning Bronze, so well done to Lisa Sanders 95/271 and Sue Perry 90/263. This was Sue's 1st experience at inter-counties so well done to Sue and to all our members that travelled to North Wales.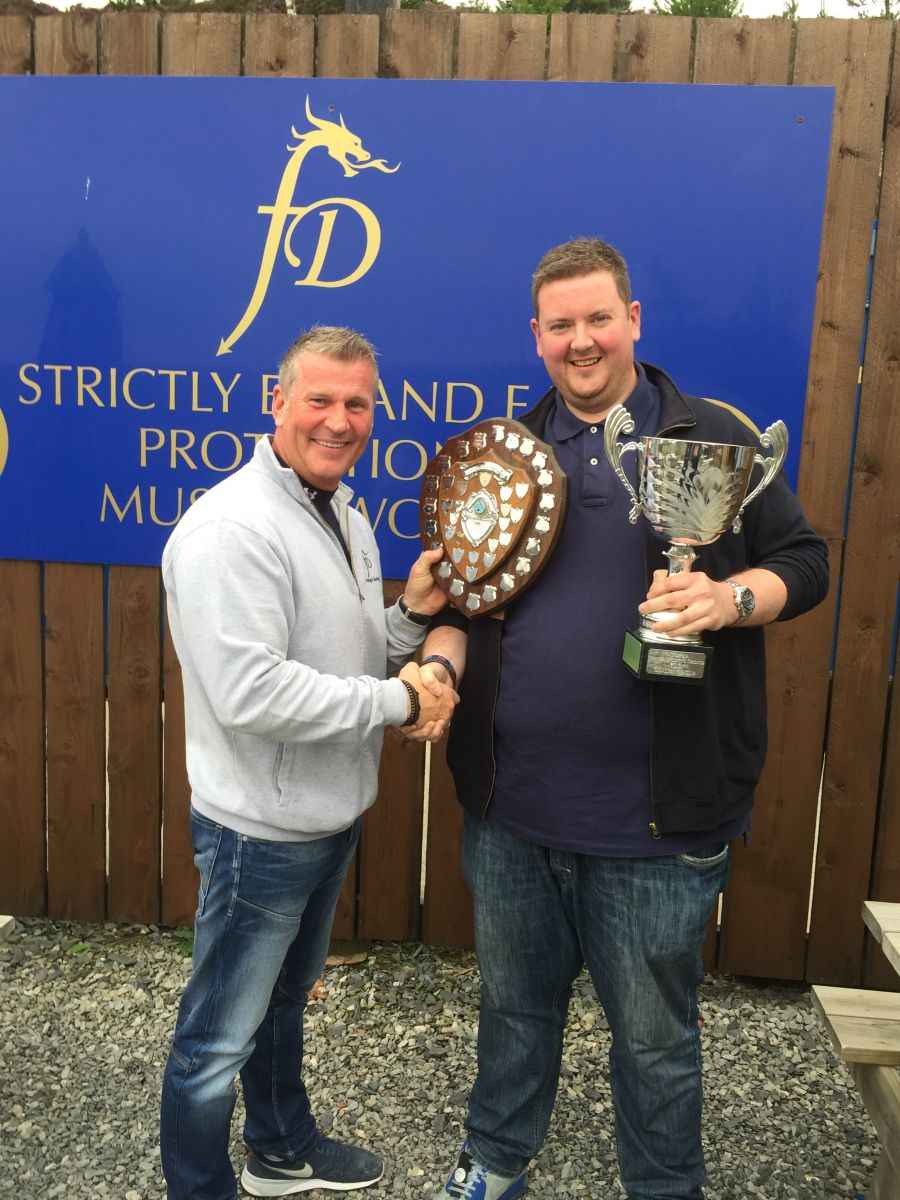 LEE RATCLIFFE 100/300 - DTL HIGH GUN AT THE WEST MIDLANDS INTER-COUNTY CHAMPIONSHIPS 2015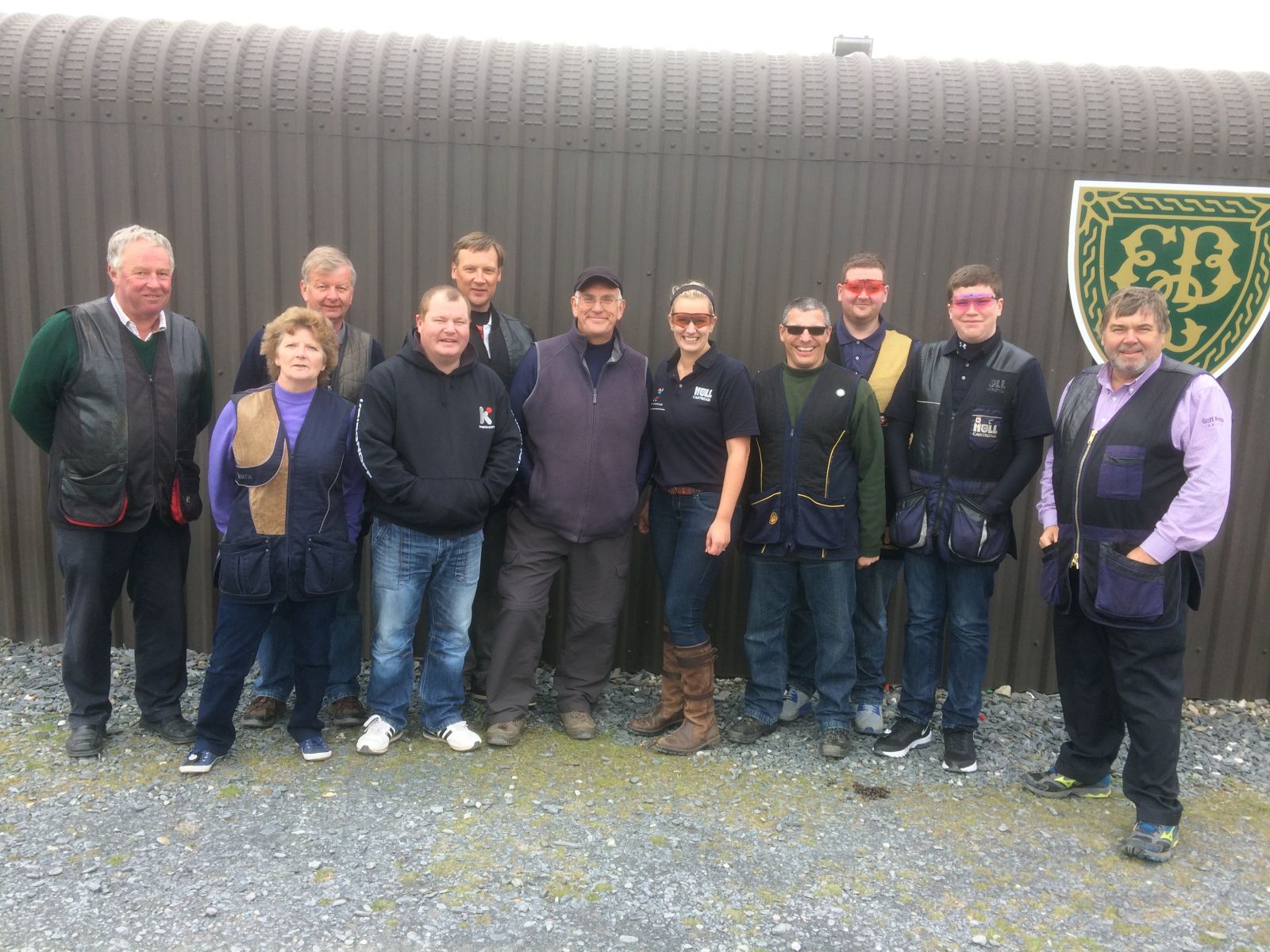 HEREFORD & WORCESTER TEAMS AT THE WEST MIDLANDS INTER-COUNTIES DTL CHAMPIONSHIPS 2015
PAUL COLLEY (S), SUE PERRY (L), ROB HAINES (V), LEE KIRBY (S), PETER GAULT (S), ANDREW FOXALL (V),
LISA SANDERS (L), MIKE LLOYD (S), LEE RATCLIFFE (S), JACK RUANE (S), MIKE PERRY (S)
VETERANS - GOLD MEDAL, LADIES - BRONZE MEDAL, SENIORS - 6TH OVERALL
----------------------------------------------------------------------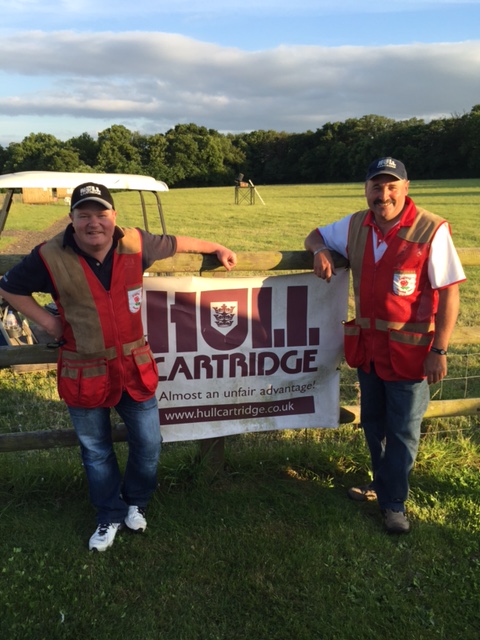 LEE KIRBY AND CHRIS MOULE HAVE ONCE AGAIN GAINED THEIR ENGLAND TEAM PLACES IN THE 2015 DTL SENIORS SQUAD
------------------------------------------------------------------------------------------------------------------------------------
KRIEGHOFF DTL 2015
Hereford and Worcester DTL members shone at this years Krieghoff at Mid Wales Shooting Centre. To be in with a chance of winning your going to have to shoot 100/300 as a minimum. People spend a lifetime trying to achieve just that, but three of our county shooters achieved this when needed most. The first to do this was Lee Kirby who put the first one in on the Saturday. Lee went on to the Saturday shoot off but dropped a target and sadly did not become Saturday's winner. You get two chances to win this competition as Saturday's high gun goes up against Sunday's high gun. With over 400 entries Jack Ruane our 16 year old Junior shot his first 100/300 and also the first one of the day. Jack who has been shooting DTL under the guidance of Lee Kirby for the last six months was overjoyed. The whole squad roared with applause when the line had finished with Jack smoking his last target. The whole of the ground was buzzing with the news. This was no doubt one of the highlights of the whole competition that someone so young had hit the magic figure. However the next wave of shooters produced another perfect 100/300 score by Chris Moule. Chris has been on brilliant form recently and we knew he was going to get one at some point. Again to pull one out of the bag at the biggest DTL shoot of the year is a fantastic achievement. Jack and Chris both went through to the Sunday shoot off but sadly did not win. We are currently waiting for confirmation from the CPSA to find out if Jack is the youngest person to shoot a 300.
WATCH THIS SPACE!! (report from Paul Cerri)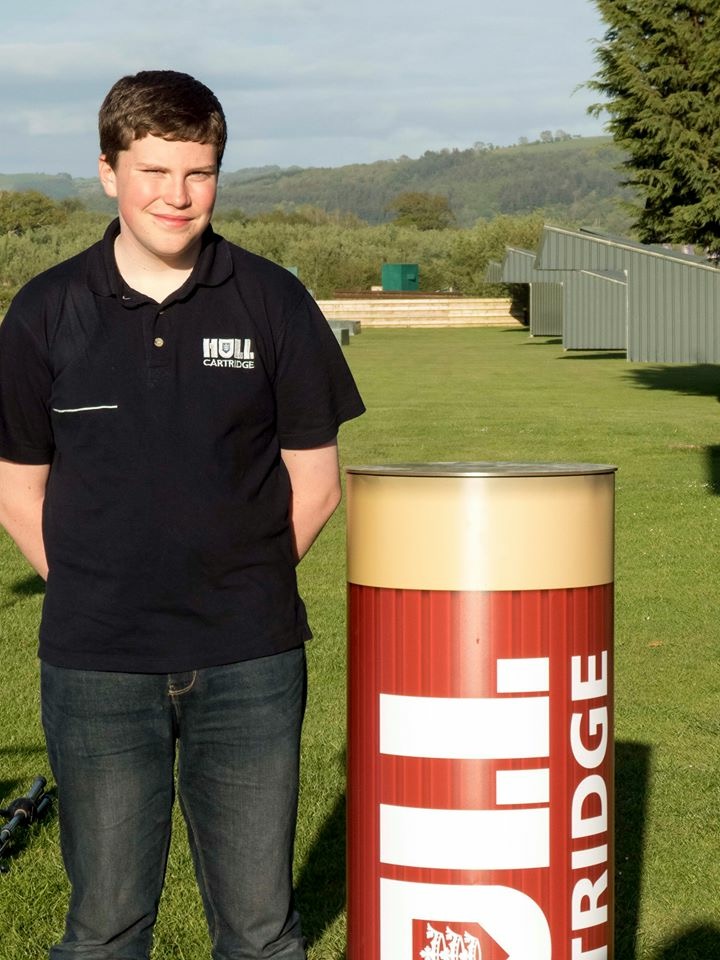 Jack Ruane after his 100/300 score
--------------------------------------------------------------------------------------------------
WEST MIDLANDS AREA DTL CHAMPIONSHIPS 2015
H&W DTL shooters came away with a haul of medals at the recent Area Championships that were held at Mid Wales on Sunday 26th April. Lee Kirby and Paul Cerri finished the day on the same score, 100/299. The shoot off, saw Lee going straight on 25/75 taking the Area title and Gold medal with Paul on 25/74 taking the Silver medal. In the veterans Rob Haines and Ian Coley from Gloucestershire both shot 294. Rob won the eventual shoot off and is Area veteran Champion with young Jack Ruane taking the Area Junior title scoring 94/274. This is a great result for Hereford & Worcester shooters. There were 115 entries.