HEREFORD & WORCESTER Website : UT
HEREFORD & WORCESTER UT COUNTY CHAMPIONSHIPS - 14th April 2019 – RUGBY & DTC
A very cold wind blew into the ranges at Rugby for the Hereford & Worcester UT County Championship. At least it didn't snow! Nick Stokes took an early lead with 24 and 23 and was leading the event at one stage but the pressure got to him and his last round score of 19 lost him the County Championship. Phil Sanders kept his cool and finished with a nice last round 24. It was a close competition with good score although not many Hereford & Worcester entrants. Phil Sanders is our County Champion and Veteran Champion on 90 with Nick Stokes Runner Up on 88, myself (Rod Davies) and Stuart Palmer were equal third on 87. A well run day at Rugby with a nice early finish. (Rod Davies)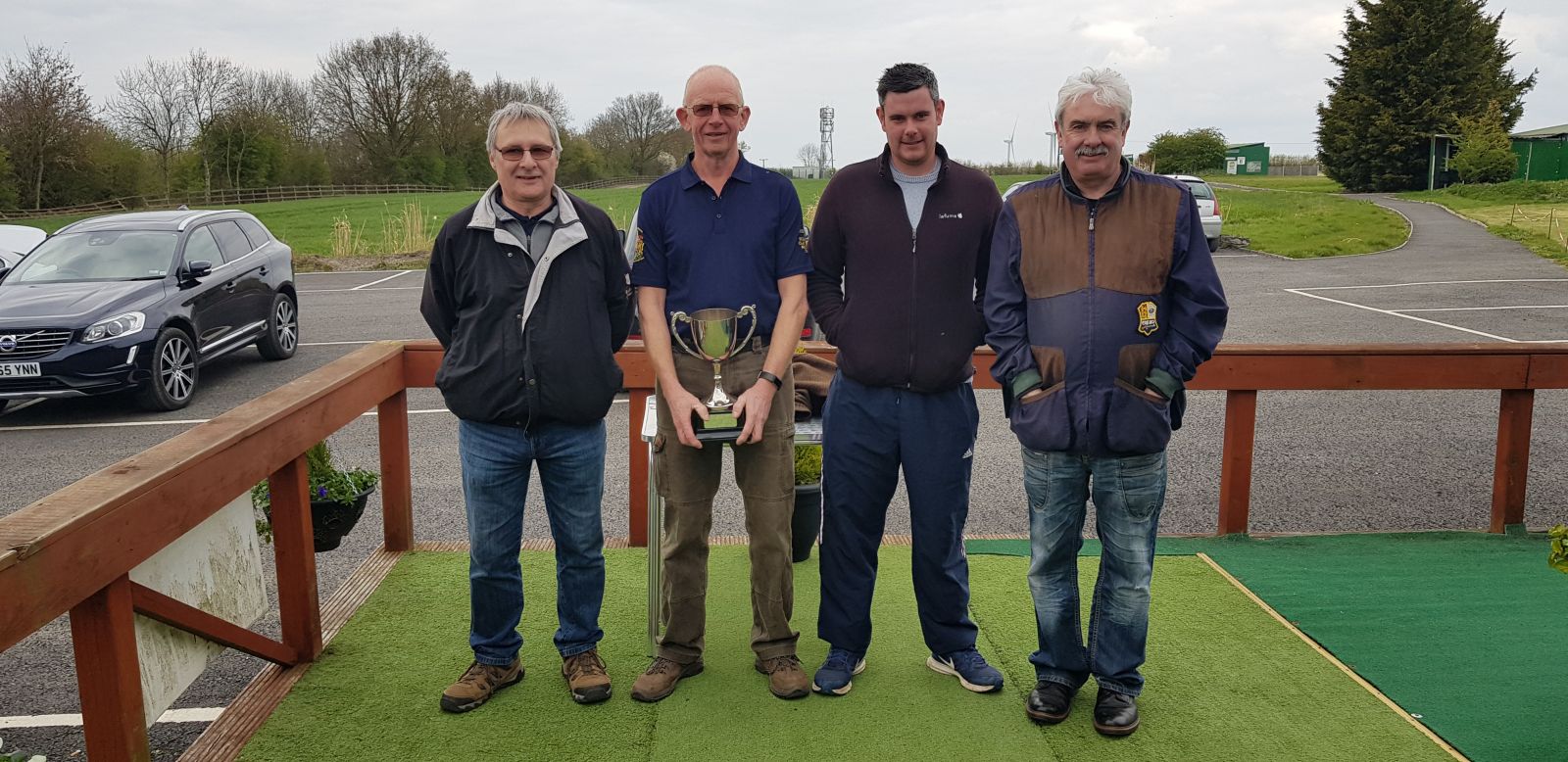 Nick Stokes, Phil Sanders, Stuart Palmer and Rod Davies
_______________________________________________________________
WEST MIDLANDS AREA AND INTER COUNTIES UTR CHAMPIONSHIPS 2018
A full team from H&W entered the West Midland Area and Inter County UTR on Sunday 15th July at Rugby & District Trap Club. With a final total score of 463ex500 they won the team Silver medal. The team consisted of Stuart Palmer 95, Phil Sanders 94, Richard Allen 95, Jo-Ann Allen 86, Rod Davies 92 and Fred Goodman 87. The winners of the Gold medal were Staffordshire 473ex500 and in third place taking the Bronze was Cheshire 462ex500. In the Area competition Richard Allen won the Veterans Silver medal, Jo-Ann Allen won the Ladies Silver medal and young Will Goodman won the Junior Silver medal.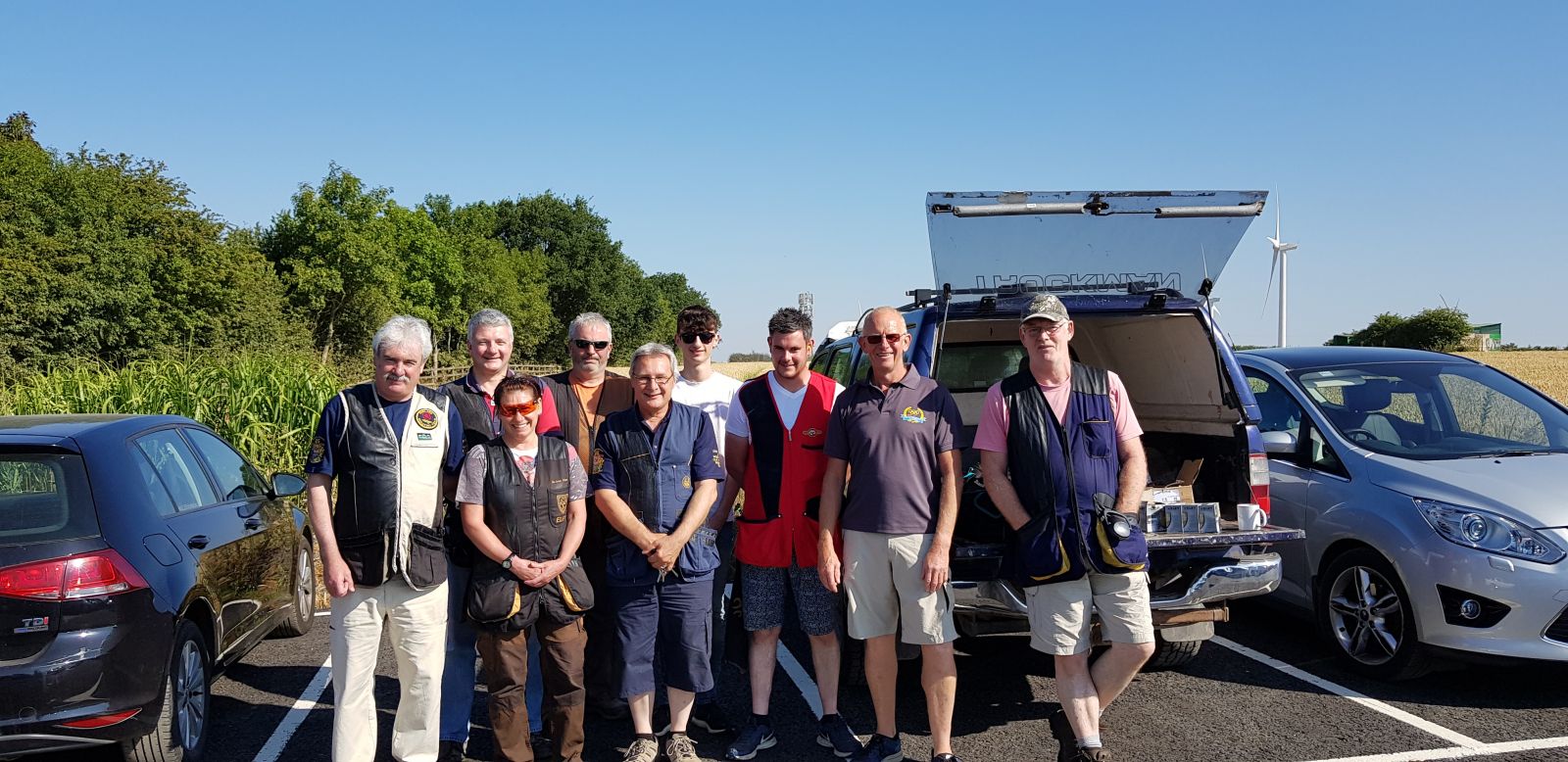 Rod Davies 92, Richard Allen 95, Jo-Ann Allen 86, Fred Goodman 87, Nick Stokes 90, Stuart Palmer 95,
Phil Sanders 94 and Glyn Blackwell 78.
____________________________________________________________________
HEREFORD & WORCESTER UTR COUNTY CHAMPIONSHIPS 2018
The H&W UTR County Championships took place on 17th June 2018 at Rugby & DTC. County Champion and Veterans Champion is Rod Davies 93ex100, Runner Up is Stuart Palmer 91ex100 and Junior Champion is Will Goodman with 87ex100.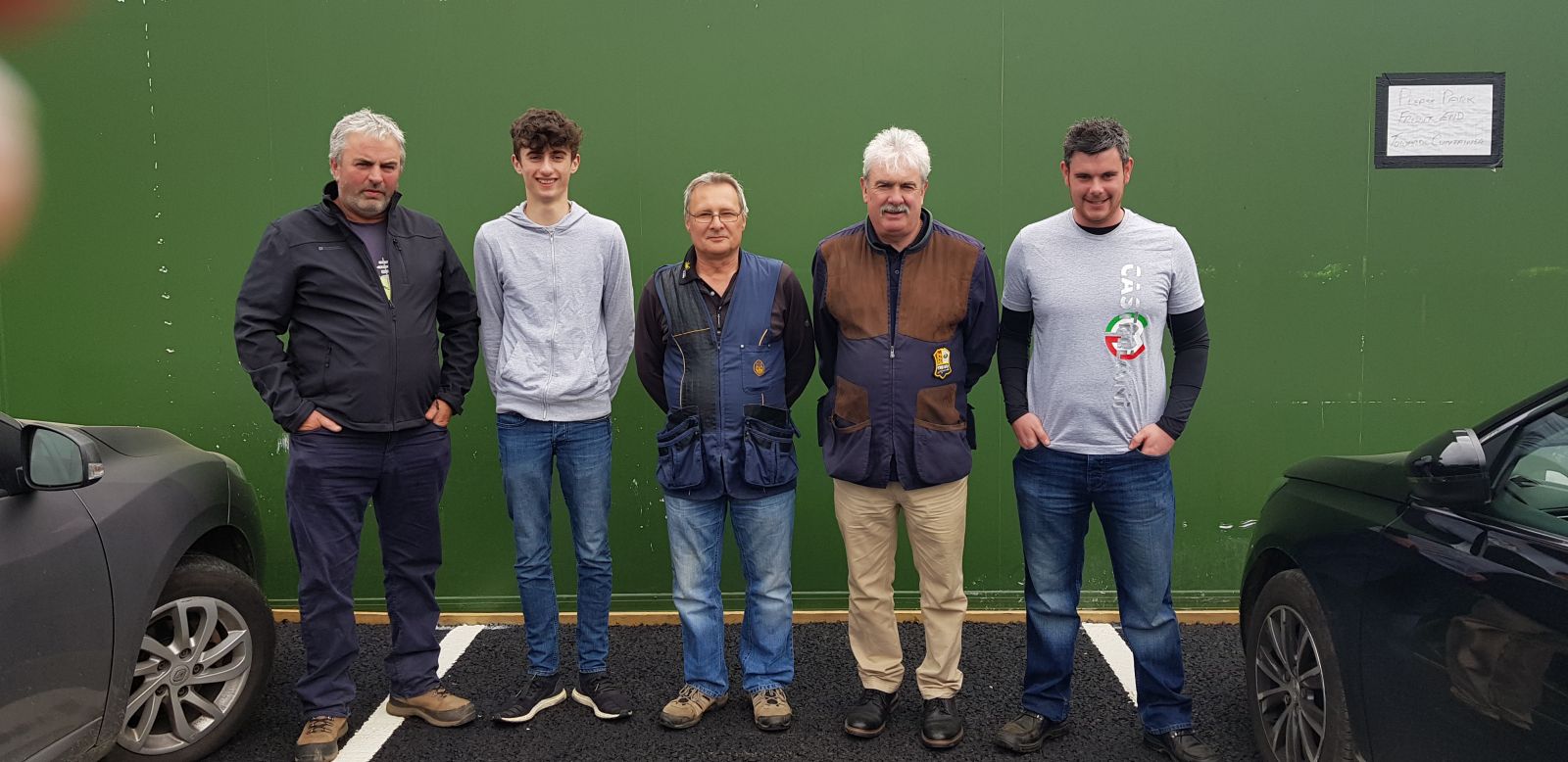 Fred Goodman 83ex100, Will Goodman 87ex100 Junior Champion, Nick Stokes 79ex100,
Rod Davies 93ex100 County Champion and Veterans Champion, Stuart Palmer 91 ex 100 Runner Up.
____________________________________________________________________________
West Midlands Area & Inter Counties UT 2017
Our Senior Team consisted of the following shooters:
| | |
| --- | --- |
| R. Allen | 93 |
| R. Davies | 93 |
| G.Goodman | 88 |
| M. Jones | 85 |
| W. Goodman | 82 |
| N.Stokes | 79 |
Fred Goodman shot a 25 straight on his first ever line of UT! Plus his Son William shot a very respectable 82 on his first ever go at UT!
With the 5 from 6 scores to count we entered a score of 441 which put us just 1 point away from the Bronze medals won by Gloucestershire on 442! So it was Staffordshire 459, Shropshire 456, Gloucestershire 442, Hereford & Worcester 441, Warwickshire 437 and Cheshire 424.
Area results were as follows:
Area Champion: Matt Panter on 97
Silver medal: J Boulton on 95
Bronze medal: G. Stanford-Iddon on 94 after countback
Ladies & Junior Gold: Rebecca Fergusson 89
Ladies Silver medal: Gill Grealey
Ladies Bronze medal: Jess Moore
Junior Silver medal: Sam Sears
Junior Bronze medal: Will Goodman & Hayden Coley
There were three Veterans on 93 so countback was used to decide the order.
Veteran Gold medal: J Kyriakou
Veteran Silver medal: G. Wainwright
Veteran Bronze medal: R. Davies
(Rod Davies)
____________________________________________________________________________________
H&W UNIVERSAL TRENCH COUNTY CHAMPIONSHIPS - RUGBY & DTC 30th JULY 2017
County Champion - Lee Betts 92/100
Runner up - Rod Davies - 91/100
Veteran Champion - Rod Davies - 91/100
Junior Champion - Tom Betts 83/100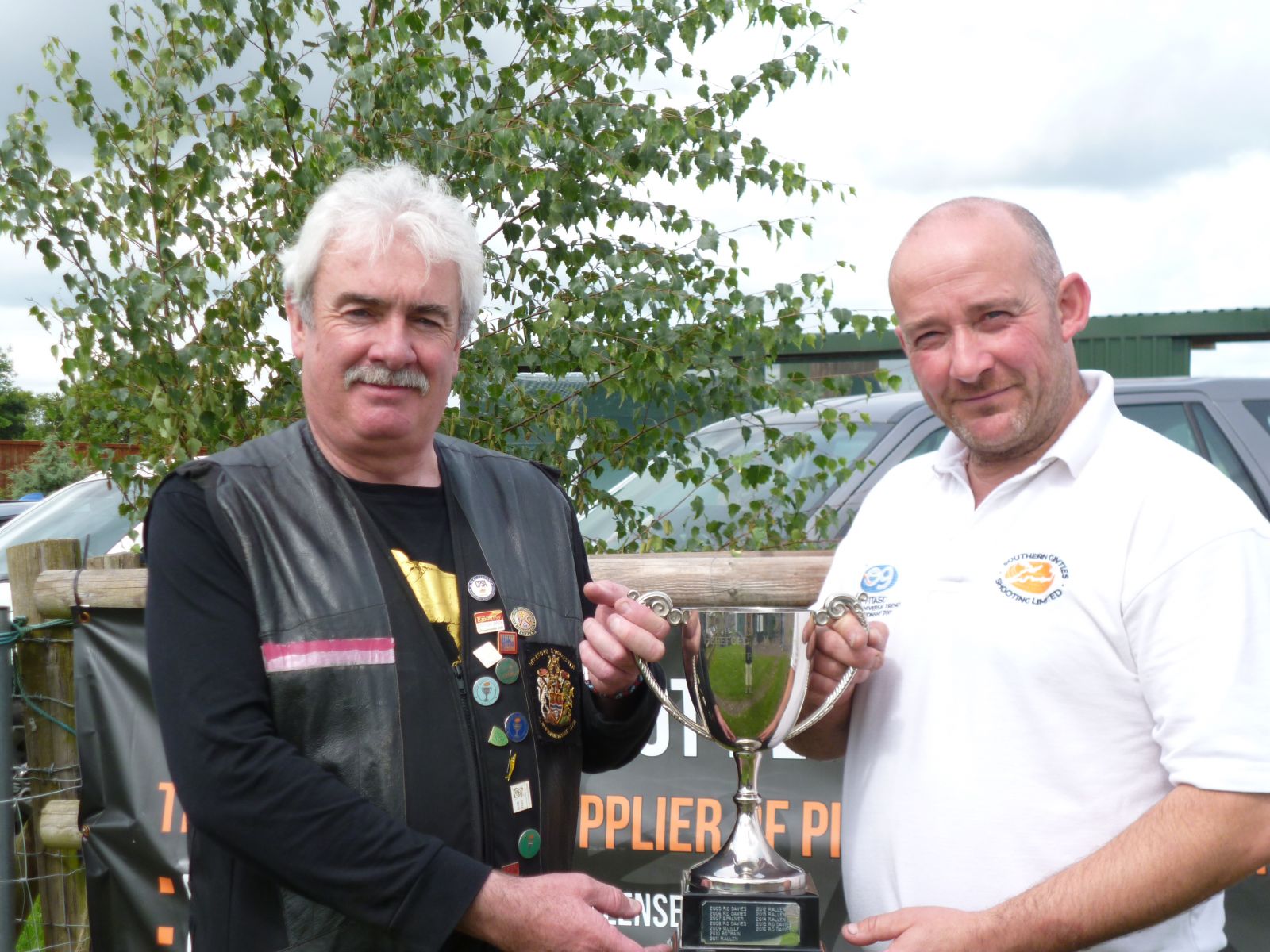 Lee Betts (right) receiving the County UT trophy from Rod Davies
__________________________________________________________________________________________________________
UK UT CHAMPIONSHIPS/GB SELECTION – SOUTH WALES 2000 – 6t Jh/7th MAY 2017
H&W shooters put in some brilliant performances with Lee Betts, 191ex200, winning the Senior's bronze medal after a shoot-off with David Kirk, and Jo Allen, 171ex200, winning the Ladies bronze medal. Jo also confirmed her place in the Ladies' GB team for the European UT Championships to be held at Lonato in June, this being her 3rd GB cap for UT. H&W came so very close to having a total of three members in the GB team for Lonato: Lee Betts narrowly missed out on a place in the Senior team after a shoot-off against Adam Gutteridge, and Phil Sanders, 183ex200, shot off against Steve Ling for a place in the Veteran's team – taking it to single barrel 'sudden death' in the process. At the 'sudden death' stage both Steve and Phil missed their first target, Steve then connected with his second but sadly Phil didn't so the place went to Steve. (Richard Allen)
Universal Trap County Championship 2016
We held the UT County Championship at Rugby Gun Club again this year but sadly entries were fairly low.
The County Champion was Rod Davies on a score of 89 followed closely by Stuart Palmer on 87.
Stuart shot a brilliant 25 straight on his last layout but sadly missed out this year.
Craig Miles with a new gun shot a 83 and Andy Foxall with 81 just crept past Mike Lloyd who shot 80.
Thanks to those who attended and a special thanks to John Nightingale and his crew at Rugby.
Whilst writing this report it would be rude not to mention a regular shooter at Park Farm called Dave Winter who shot an excellent 95.
Let's hope for some more entries next year.
_______________________________________________________________________________
WESTMIDLANDS AREA AND INTER-COUNTY UTR CHAMPIONSHIPS 2016
Rod Davies became area and veterans champion after scoring 93/100 and a 25 straight in the shoot off. Phil Sanders shot an excellent 92 and received the bronze medal in the veterans catagory, and keeping the family tradition going, Lisa Sanders took the gold medal in the ladies catagory whilst Tom Betts took the junior bronze medal.
The H&W team consisted of Rod Davies 93, Phil Sanders 92, Craig Miles 86, Nick Stokes 82, Lisa Sanders 82 and Mike Perry 56 won the bronze medal in the I/C event just missing out on the silver by one target.
Well done to everyone that competed and thanks to John, Keith and Trevor for another good event at Rugby.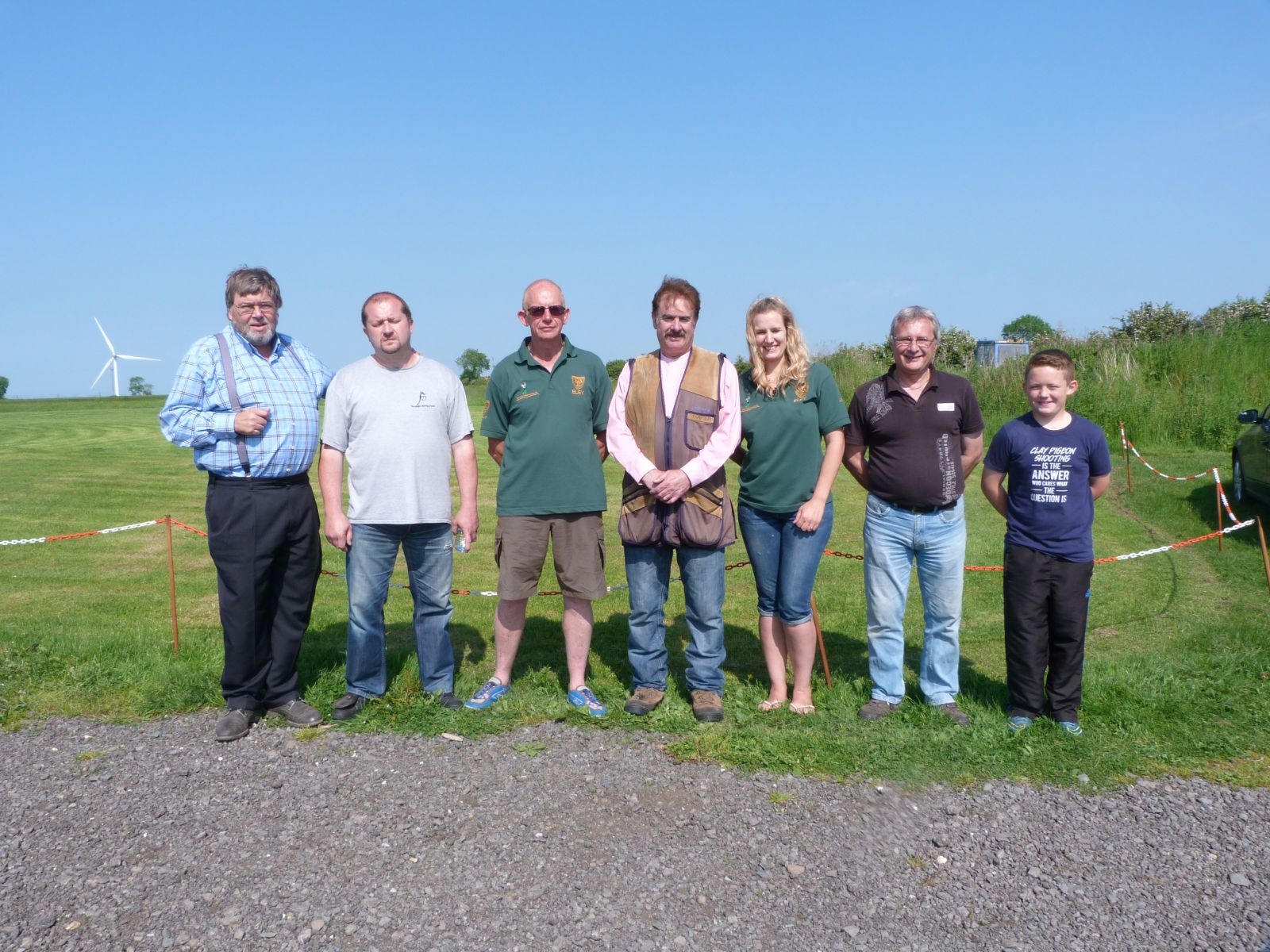 MIKE PERRY, CRAIG MILES, PHIL SANDERS, ROD DAVIES, LISA SANDERS, NICK STOKES AND TOM BETTS
___________________________________________________________________
HEREFORD & WORCESTER UTR COUNTY CHAMPIONSHIPS 2015
We had excellent weather at Rugby on 4th October for the Universal Trap County Championship considering it was October. However the attendance from Hereford and Worcester shooters was very poor. We only had 4 members attending this event so we will need to discuss this event at the next committee meeting to see if it is viable for 2016. The results are as follows: County Champion was Rod Davies with 94ex100 (Winner A Class), Veteran Champion was Andy Foxall on 67 and the Ladies Champion was Sue Perry with 50. Mike Perry was the other shooter and he scored 62. Many thanks to John Nightingale and his Staff for another well run event. (Rod Davies)
---- --------------------------------------------------------------------------------------------------
HEREFORD & WORCESTER UNIVERSAL TRENCH COUNTY CHAMPIONSHIPS 2014
The 2014 Hereford & Worcester UT County Championship was held at Rugby & District Trap Club on Sunday 12th October. Although 8 squads took part in the competition, only 4 Hereford & Worcester shooters were present - a very disappointing turnout. Nevertheless, the Championship was as closely fought as usual with Richard Allen eventually taking the County title for the 4th year in succession with a score of 91. Rod Davies took the runner-up spot only 1 target behind on 90, and Jo Allen took the Ladies title with a score of 87. A special mention must go to Andy Foxall who took the Veteran's title with a very creditable score of 63 in his very first UT competition - well done Andy! As ever, our sincere thanks go to John, Keith, Trevor and the team at Rugby for providing us with excellent targets and a well-run shoot. (Richard Allen)
---------------------------------------------------------------------------------------
WEST MIDLANDS AREA AND INTER COUNTIES UNIVERSAL TRENCH CHAMPIONSHIPS 2014
The Inter-County and Area UT competition was held at Rugby & District Trap Club on Sunday 10th August in varied conditions. There were heavy downpours with many of the acoustic systems filled with water due to the heavy driving rain and the pumps were on most of the day emptying the trap bunkers due to the excessive rain. Please can I thank the Hereford & Worcester shooters that fought through the Hurricane Bertha downpours to represent their County at this event.
I know at one point I was doing just 45mph on the M42 and the car still decided to aquaplane which was not a good start to the day.
It was a shame that we couldn't make a full team (6) but we managed 5 out of the 6 so we had a scoring team in the end. The Hereford & Worcester Team ended up in 4th place just outside the medals but only by a few clays. It was a tight competition in the main team event with Warwickshire coming second only 1 point in front of Cheshire. Hereford & Worcester team scores were as follows, Phil Sanders 83, Richard Allen 90, Rod Davies 92, Lisa Sanders 77 and Jo-Ann Allen 80. Rod Davies (me) managed to win a Bronze Medal in the Area Senior catagory. In the Area competition the Ladies made a good medal haul with Jo-Ann taking the Gold medal and Lisa the Bronze medal. Well Done Ladies yet again. Thanks to John and his staff at Rugby for another good days shooting under very difficult conditions. (Rod Davies)
--------------------------------------------------------------------------
HEREFORD & WORCESTER UNIVERSAL TRENCH COUNTY CHAMPIONSHIPS 2013
We held this championship at Rugby & District Trap Club on Sunday 6th October with five H&W members taking part. The scores were the closest yet in this year's championships and the eventual winner and County Champion, shooting 87/100 is Richard Allen with Rod Davies runner up on 86/100. In third place, giving the men a good run for their money, is Jo-Ann Allen on 85/100 and also taking the Ladies title. The Veterans Champion shooting 72/100 is Mick Jones.
--------------------------------------------------------------------------------
ENGLISH OPEN UNIVERSAL TRENCH
The English Open Universal Trench Championship took place on 12th May 2013 at Southern Counties SG. Congratulations to H&W's Mark Lilly who came 2nd in 'B' class.
--------------------------------------------------
UNIVERSAL TRENCH COUNTY CHAMPIONSHIPS 2012
As Usual these championships were held at Rugby and District Trap Club on Sunday 5th August.
No report as yet but results as follows:
1st Richard Allen 94/100
2nd Philip Sanders 93
3rd Kevin Cotton 87
Joint 4th Mark Lilly 80
Joint 4th Nick Stokes 80
Joint 4th P Lilly 80
7th Roy Hampton 78 - Veterans Champion
8th Jo-Ann Allen 74 - Ladies Champion
The first three also won their class.
-----------------------------------------------------------------------------------------------------------------------------------
UNIVERSAL TRENCH AREA & INTER COUNTIES CHAMPIONSHIPS 2012
This years UT Championships were held at Rugby & District Trap Club on Sunday 8th April. In the Inter Counties competition Hereford & Worcester came in 4th with a score of 396.
The Area Junior Champion is Bradley Strain from H&W with an excellent score of 92/100. Also from H&W Jackie Cotton won the Area Ladies Silver medal.
---------------------------------------------------------------------------------------------------
UNIVERSAL TRENCH COUNTY CHAMPIONSHIPS 2011
Once again we thank John Nightingale and his team for letting us hold our county championships at Rugby on Sunday 9th October 2011. Richard Allen is county champion with a score of 93/100, runner up and junior champion is Bradley Strain on 90 with J0-Ann Allen coming in 3rd place and taking the ladies title with 86/100. There were no veterans at this event.
-----------------------------------------------------------------------------------------------------------------------
BRADLEY STRAIN - NEW CAP FOR GB UT TEAM
-------------------------------------------------------------------------------------------------------------------------
H&W County U/T Championships 2010
The U/T County Championships were held at Rugby & DTC on Sunday 23rd May.
We were blessed with a scorching hot day and, as usual, superb targets from John and his team.
All this meant that scores were going to be high and H&W shooters did not fail to deliver with Bradley Strain, Nick Stokes and Richard Allen all level on 72/75 after three rounds with all to play for.
Nick and Bradley both shot 25 straight in the last round shooting 97/100 and shooting off for the county trophy and high gun on the day. Bradley just won by one clay after the shoot off, ending as county and junior champion.
Richard dropped two clays on his last round but finished 3rd with 95.
Our ladies champion is Jo Allen scoring 92 ( I can`t believe Richard beat you ) and our veterans champion is Ron Braithwaite, a welcomed sporting shooter trying his hand at trap shooting.
Looking at the scores on the day our top 5 shooters scored 474/500 averaging 94.8 giving us a very creditable score for the Inter Counties.
I know it has to be done on the day but H&W trap shooting is on the up and we have proved we can do it with recent DTL scores so well done to all our shooters and keep it up and lets make H&W a county to fear in the future.
Individual scores
1st Bradley Strain 97 County & Junior Champion
2nd Nick Stokes 97 Runner-up
3rd Richard Allen 95
4th Mark Lilly 93
5th Jo Allen 92 Ladies Champion
6th Rod Davies 89
7th Paul Lilly 87
8th Stuart Palmer 84
9th Jackie Cotton 83
10th Kevin Cotton 80
11th Ron Braithwaite 77 Veterans Champion
12th Phil Mucklow 75
H&W COUNTY UT CHAMPION & JUNIOR CHAMPION 2010 BRADLEY STRAIN
H&W LADIES COUNTY UT CHAMPION 2010 JO ANN ALLEN
H&W VETERANS COUNTY UT CHAMPION 2010 RON BRAITHWAITE