HEREFORD & WORCESTER Website : Welcome
WELCOME TO THE HEREFORD & WORCESTER WEBSITE
TO ALL HEREFORD & WORCESTER JUNIORS
During AOB at the AGM, an offer was made to H&W Juniors from Joe Kitson. He will coach skeet discipline to any juniors living in Herefordshire or Worcestershire free of charge. Also the Sanders family from Park Farm SG, Ombersley will allow their skeet range to be used for this purpose, also free of charge. The only cost to the junior will be cartridges, but if you are a full CPSA member, H&W committee will provide you with 100 cartridges FOC. If you are interested or require any further information please contact Pat Smith at patriciasmith@sky.com or you can phone on 01527 450682 or 07969 452580, with all your details. This is a wonderful offer to any Juniors living within the two counties and we would like to express our thanks to Joe Kitson and the Sanders Family for this very generous offer.
--------------------------------------------------
AGM
The day started at 10am on Saturday 9th February 2013 with a shoot at Park Farm SG, with Skeet, DTL and Compact Sporting available. There were sixteen entries in the skeet competition with a shoot off between Joe Kitson and Roy Spooner to decide the winner. After both finishing on 24 each in the first round they shot another round and the eventual winner was Joe beating Roy by just 1 target. On 23/25 was Ken Oakes, Phil Kitson, Luke Sanders and Paul Cerri, Junior Dan Charlton shot 22/25. Out of the 18 entries that shot the DTL Paul Cerri was the eventual winner with 25/72. Joe Kitson was 2nd with 24/72 and third place Phil Sanders 25/71. The Compact Sporting took 11 entries with Rod Davies and Phil Kitson both shooting straight 25/25. After a shoot off Rod shot another 25 straight, making him the winner. Paul Cerri shot 24 and Joe Kitson 23. At 1pm we headed for the King's Arms, Ombersley for our AGM with 20 people in attendance. Among everyone that joined us were members from Staffordshire who we were pleased to see and made welcome. The minutes of the previous AGM where approved with reports from last year's Chairman, Secretary and Treasurer read out. The new committee was then elected. Chairman is Rod Davies, Vice Chairman-Nick Stokes, Secretary-Pat Smith and Treasurer Jackie Cotton. Other committee members are Matt Pugh, Kevin Cotton, Dan Cooper, John Hadley, Simon Jones, Claire Haywood and Roy Hampton. After the meeting some of the 2012 trophies and badges were handed out, as only a few winners attended. We would like to thank everyone that shot in the morning (in the wet) and also to those that came to the meeting. We would especially like to thank the Sanders family at Park Farm for opening up for us and also to Kate and Alice.
After the AGM we held a committee meeting and team Managers were elected. Kevin Cotton –All Round, Pat Smith-Skeet, Nick Stokes–Trap and Matt Pugh-Sporting with help from Julian Morris.
--------------------------------------------------
PARK FARM SHOOTING GROUND
Park Farm Shooting Ground, Ombersley have added a Compact layout to their other disciplines. It costs £6 per round for 25 with no cartridge restrictions and very interesting targets. Contact Phil Sanders on 01905 620237 or 07860 214903 for further details.
--------------------------------------------------
HEREFORD & WORCESTER FUNDRAISER 2012
We held a fundraiser competition at Park Farm Shooting Ground on Sunday 14th October. We had a wonderful turnout of shooters and although the first squad of shooters shot in the fog it turned out a wonderful dry, sunny and warm day. There were three disciplines available, English Skeet, DTL and Sporting. As I have said the first squad of skeet was shot in the fog and this produced some of the best scores of the day with Brian Smith shooting a 25 straight and Jason Taylor a 24. The second round saw Brian shoot 23 giving him a total score of 48/50 with Jason shooting 23 giving him 47/50. Two others were hot on their heels. Simon Jones and Roy Spooner also finished on 47/50, so a shoot off had to be decided for runner up as Brian Smith was the skeet Champion and Veterans Champion. We had a sudden death shoot off between Simon, Jason and Roy on station 4 with Simon Jones the eventual winner. A young man who has not been shooting very long, Matt Dyson won the Juniors with 38/50 and the Ladies winner is Pat Smith with 43/50. The DTL was an interesting competition with many good H&W DTL shooters not coming up to their usual standards. Right up to the last minute we thought that Rob Haines had won with 48/140 but Ron Braithwaite came in with 49/143 making him DTL Champion and Veterans Champion with Rob runner up. Ladies title went to Jackie Cotton. The Sporting competition was very interesting. Jane Taylor is the Sporting Champion, not only beating the rest of the field but absolutely thrashing them with 47/50. Juniors Dan Charlton and Matt Dyson shot off for second place after finishing on 42/50, with Dan taking runner up and Junior title. Jane Taylor also won the Ladies. The H&W committee cannot thank the Sanders family enough for helping us out with this shoot and also for the monies raised for us. We also thank everyone that attended and to all the staff at Park Farm, as we had a very enjoyable day.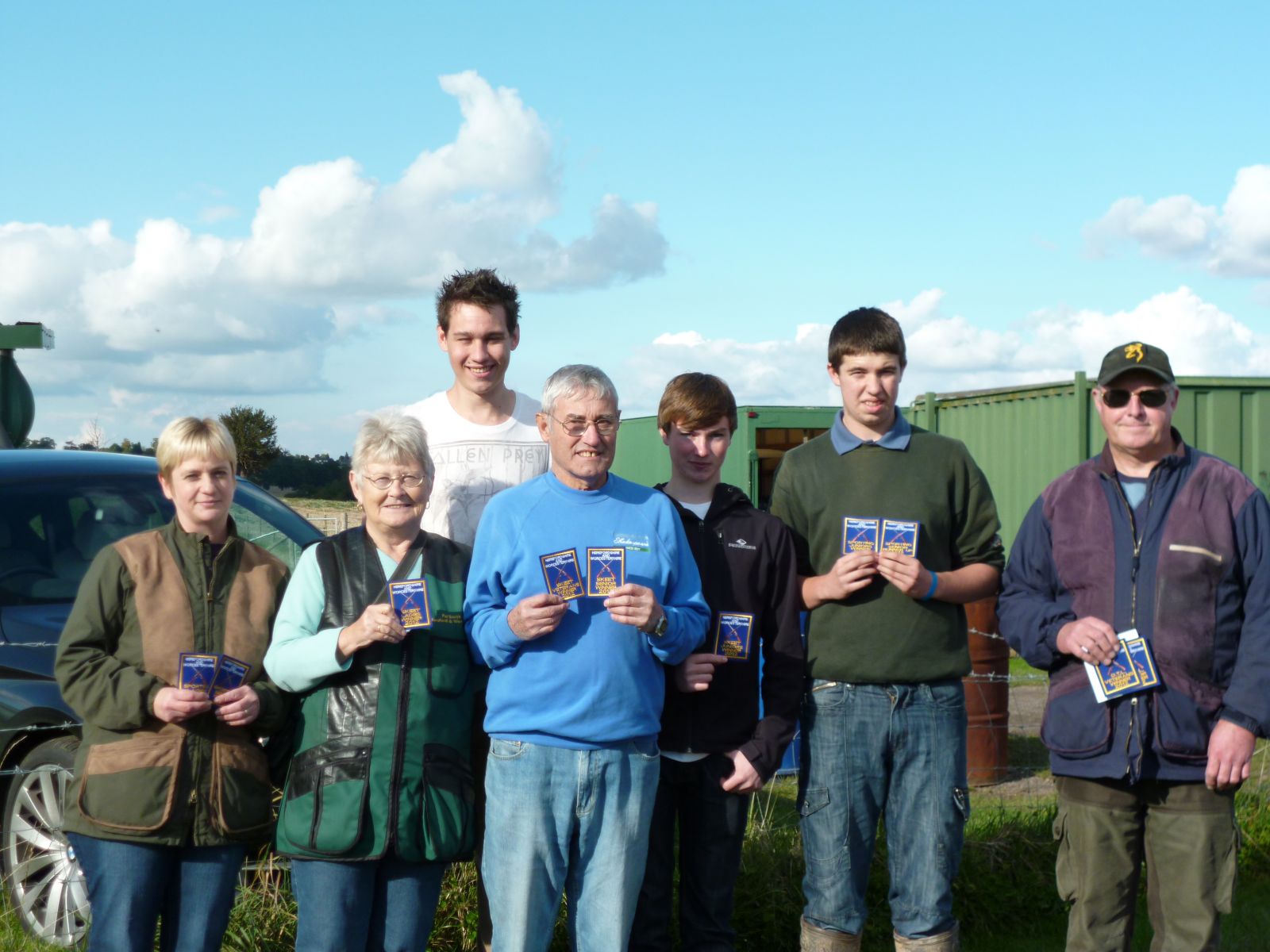 Jane Taylor, Pat Smith, Simon Jones, Brian Smith, Matt Dyson, Daniel Charlton
and Ron Braithwaite
--------------------------------------------------
CPSA TOP 20 LISTING FOR 2011
Congratulations to the following ten H&W members that have made the top 20 listing.
DTL
1st Rob Haines in the Veterans
6th Sam Godfrey in Juniors
Joint 5th Rob Haines in Seniors
Joint 8th Lee Betts in Seniors
Joint 20th Paul Cerri in Seniors
Joint 20th Jason Price in Seniors
ABT
2nd Bradley Strain in the Juniors
3rd J0-Ann Allen in the Ladies
DOUBLE TRAP
3rd Stevan Walton in the Seniors
OLYMPIC TRAP
16th Mark Hampton in the Seniors
SPORTING
10th Rebecca Sealey in Ladies
UNIVERSAL TRENCH
11th Mark Hampton in Seniors
--------------------------------------------------------------------------------------------------------------------------------------------------
ENGLAND DTL TEAM 2011
Congratulations to Paul Cerri (Worcestershire) and Jason Price (Herefordshire) who have both made the England DTL team this year
-------------------------------------------------------------------------------------
ENGLAND ABT TEAM 2011
Congratulations to Jo-Ann Allen for representing England in the Ladies ABT team. She went on to win England Ladies high gun and also overall Ladies high gun. Also on the team of Juniors was Bradley Strain who also went on to win Junior England high gun and overall Junior high gun.
-------------------------------------------------------------------------------------