East Midlands Website : News
Intercounties DTL 2021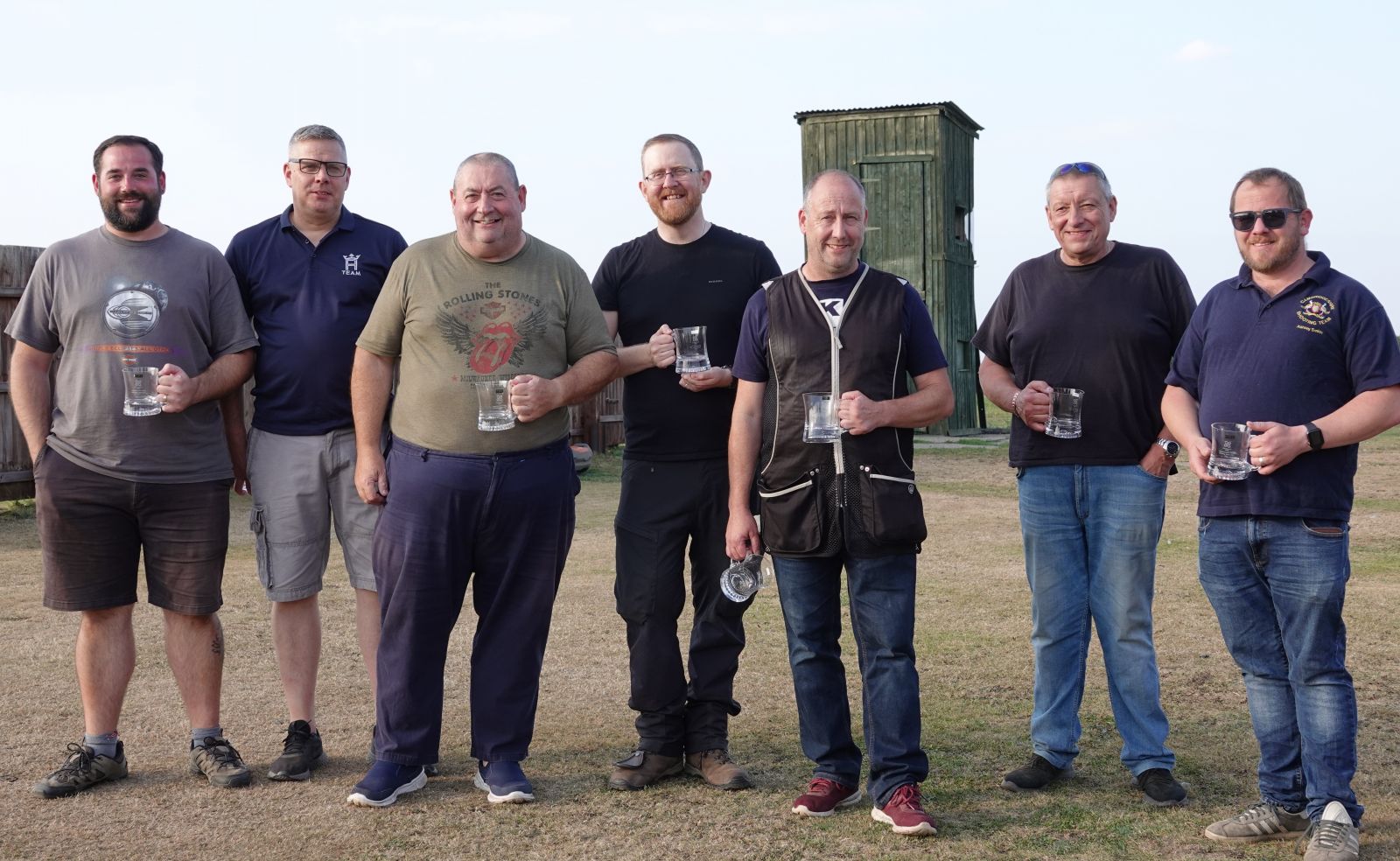 SOLID CAMBS TAKE THE TITLE
The sun shone on the six competing teams and the 97 shooters in the East Midlands Intercounties DTL at Nottingham & District at the weekend with just Bedfordshire and Northamptonshire failing to make it to the starting line.
There were six-ton straights in the senior competition, Geoff Howlett from Suffolk, and Richard Morris from Cambs getting the closest to a perfect day finishing on 100/299.
Three of the tons came from the winning senior team Cambridgeshire, who snuck up on the rails after Norfolk had only just snatched the lead from the home team Nottinghamshire. Finishing on a team score of 1763/1800 they were just 9 points in front of runners up Norfolk. So, its many congratulations to the winning Cambs team of Chris Morris 100/297, Richard Morris 100/299, Matt Sheldrake 100/297, Chris Hall 99/294, Phil Barnard 97/280, Steve Eley 99/296, and Ash Smith 93/269.
It was a noble effort from the Norfolk team who had a journey of over 2 hours to contend with before shooting, but at least they could console themselves with the runners up glassware, so once again it's congratulations to John Reynolds 99/291, Niall Crumpler 97/289, Richard Gilbert 98/292, Simon Owen 100/296, Jason Matthewson 97/291, David Taylor 92/271, and Richard Sutterby 99/295.
19-year-old Megan Williams from Lincolnshire created a bit of East Midlands history by becoming the first Junior Lady to win JHG at an East Midlands Intercounties shoot. Megan scored a superb 98/290 to claim this accolade by just one point and this on top of partnering Oli Roberts 94/275 to claim the Junior team title for Lincolnshire.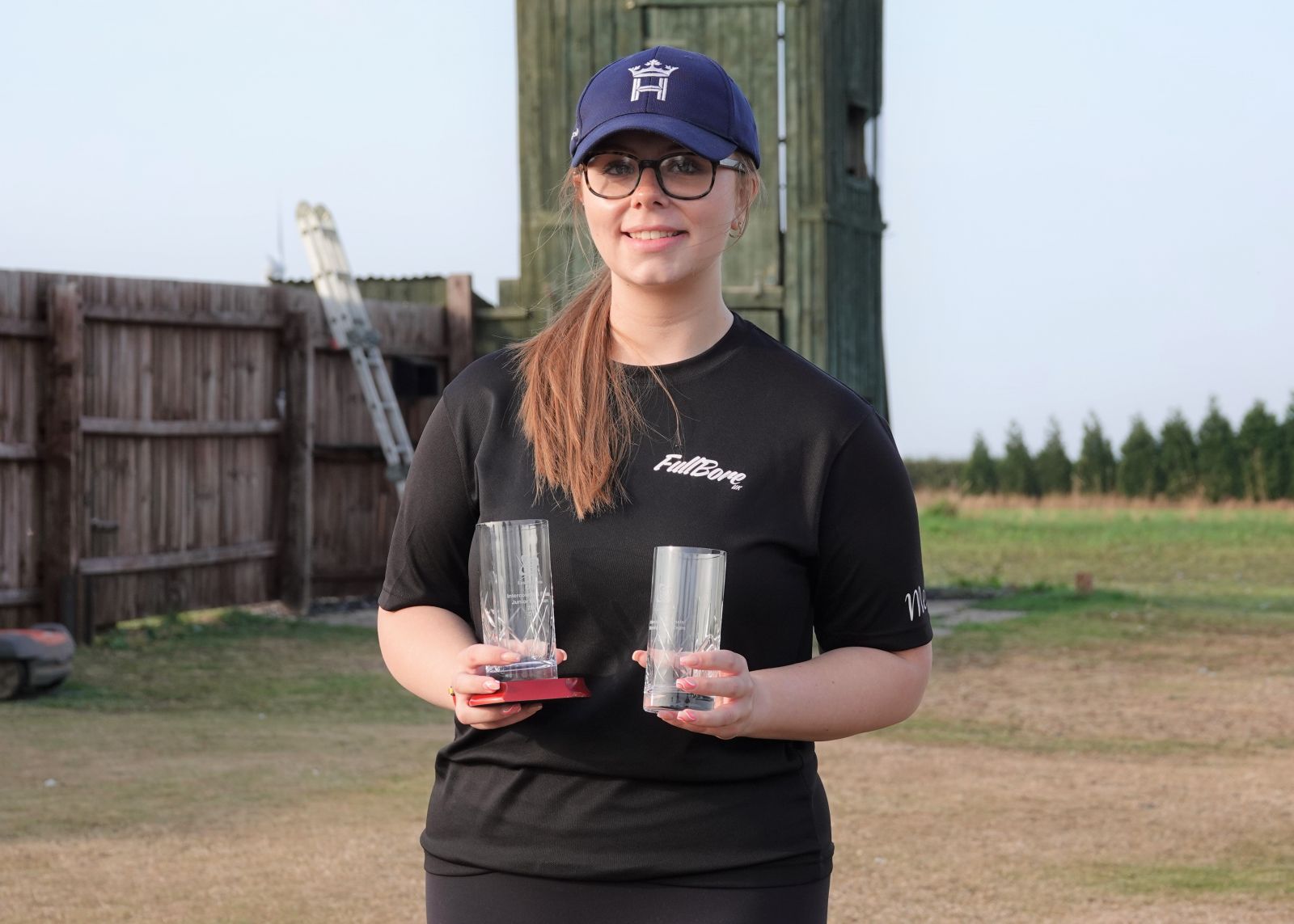 Megan Williams (Lincolnshire) - Junior High Gun
It was further good news for Lincolnshire as they also won the Ladies team competition beating nearest rivals Cambs by 11 points. Saira Boardman led the way on 98/287 and was well backed up by Rosie Parkinson on 93/273 to take the title.
In Veterans we had a very strong field of competitors many of which had one won this title in the past and it was the home team Nottinghamshire that prevailed scoring a narrow 8-point victory over fierce rivals Lincolnshire. Regional stalwart Ken Rimington and Chris Uren did the damage both recording 99/294 to give them a final winning total of 588/600, Carol Reading 88/256 and Gordon Hodgkinson 91/269 completed the winning line up.
Many thanks to all the shooters that represented their counties so well and in turn supported the East Midlands region. Also, many thanks once again to all the team at Nottingham & District for a superbly organised day.
Prize Money
1st AA – Geoff Howlett
2nd AA – Paul Neal
1st A – Matt Sheldrake
2nd A – Garry Sayles & Lee Wilcoxson
4th A – John Winn
1st B – Richard Sutterby
2nd B – Chris Hall
3rd B – Megan Williams & Tom Fair Jnr
1st C – David Robinson