East Midlands Website : News
INTERCOUNTIES ALL ROUND 2021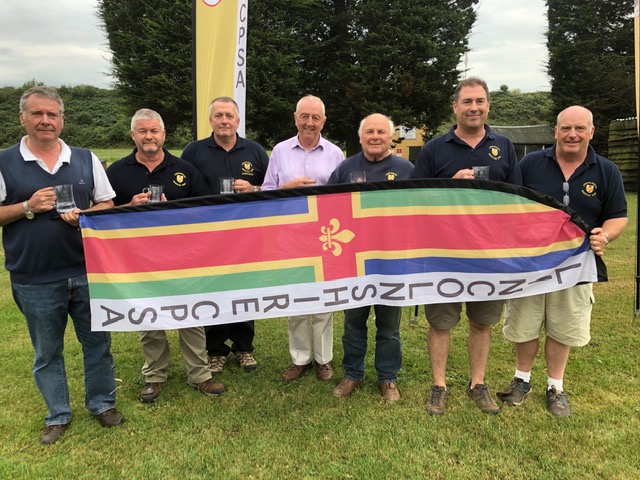 BEDS WIN, BUT LINCS EYE THE BIGGER PRIZE
Leg 3 of 6 in the Directors Trophy and Intercounties series of shoots with the All Round at Northampton Shooting Ground next on the agenda. 85 shooters and six counties made it to the starting gate with just Norfolk and Leicestershire unable to field a team.
With county shooters scattered around the days squads it was a job to determine what was going on, plenty were doing the calculations gathered around the scoreboard, but it was far from an exact science, and it came as a bit of a surprise that Bedfordshire had sneaked in under the radar to take the Senior Team title on 527/600 and ahead of those with a rich pedigree in this discipline.
Old hands at this Intercounties game will tell you the name of the game is consistency of scores, its no-good recording two or three top totals with nothing much to back it up, it's all about supporting scores and that was the story of the Bedfordshire victory. Top scorer for Beds was Gavin Smith 92, with Joe Heast 91 just one target behind, then came Paul Burgoine on 89 and hot on the heels a trio of 85's from Stephen Smith, Richard Flint, and PJ Walker. Ian Porter 76 completed the winning line up.
Runners Up were Lincolnshire achieving their best start in the Intercounties Directors Trophy since its conception and have possibly got their eyes on a bigger prize, with the focus clearly on claiming the Directors Trophy for the first time. Top scorer for Lincs and highest scoring shooter of the day was Pete Atkin on 94, John Allenby and Phil Porter backed that up with a brace of 90's, Phil Thomas finished on 86, Donovan Jenkin on 81, and David Dale 79, to give them a team total of 520/600, Chris Bone 77 and Scott Lee-Ray 76 completed the jubilant Lincs line up.
Just three Ladies teams to fight over the spoils of the day but it was a close affair with just 1 clay separating the victorious Notts quartet over Lincolnshire duo Rosie Parkinson and Georgina Barrett who both scored 78. Catherine Smalley top scored for Notts on 81 and she was also joint top scoring lady on the day sharing that accolade with Northants shooter Kirstin Vogel. Hayley Denoon got the critical score of 76 to give Notts victory scoring 157/200, Alix Gregory 69 and Kathryn Smith 60 completed the winning Notts team.
In Veterans once again Team Lincolnshire were the dominant force, Richard Gray led the charge scoring a superb 92/100, and John Winn 83, Norman Smith 82, and John Toombs 79 backed that up to give Lincolnshire a team total of 175/200, 7 clays in front of second place finishers Bedfordshire who boasted the formidable duo of John Stanton and Glen Moore in their ranks.
Although there were one or two junior shooters in the event, all had been drafted into Senior & Ladies teams, so there was no Junior team event, and as the leading junior had to shoot as part of a junior team there was no JHG trophy awarded either.
Many thanks to all shooters for representing their counties and supporting the region, and of course many thanks to Martine, Pete, Roy and all the refs for a good day's competition.
Next Stop – Nottingham & District for the Intercounties Skeet on Sunday September 19th (Next Sunday).