HEREFORD & WORCESTER Website : news
HEREFORD LIONS CHARITY SHOOT 2019
This was held at South Worcester SG on Friday 16th August in very bad weather conditions. Matt Pugh was high gun with a score of 54ex60, runner up Julian Morris 52 and in joint third place Carl Bloxham and Ian Palmer on 51.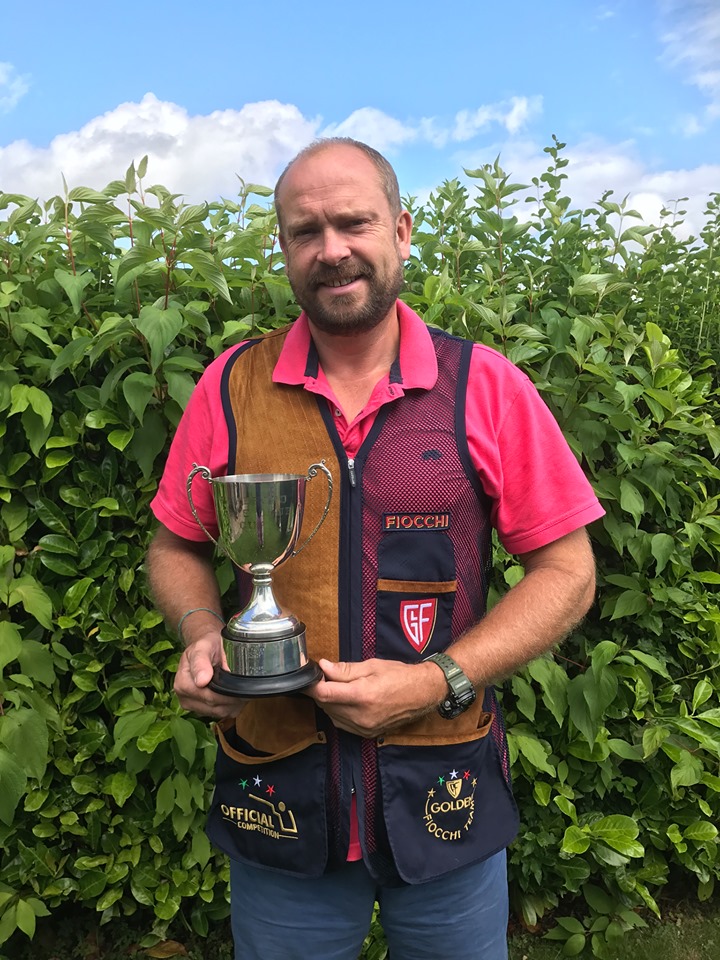 =====================================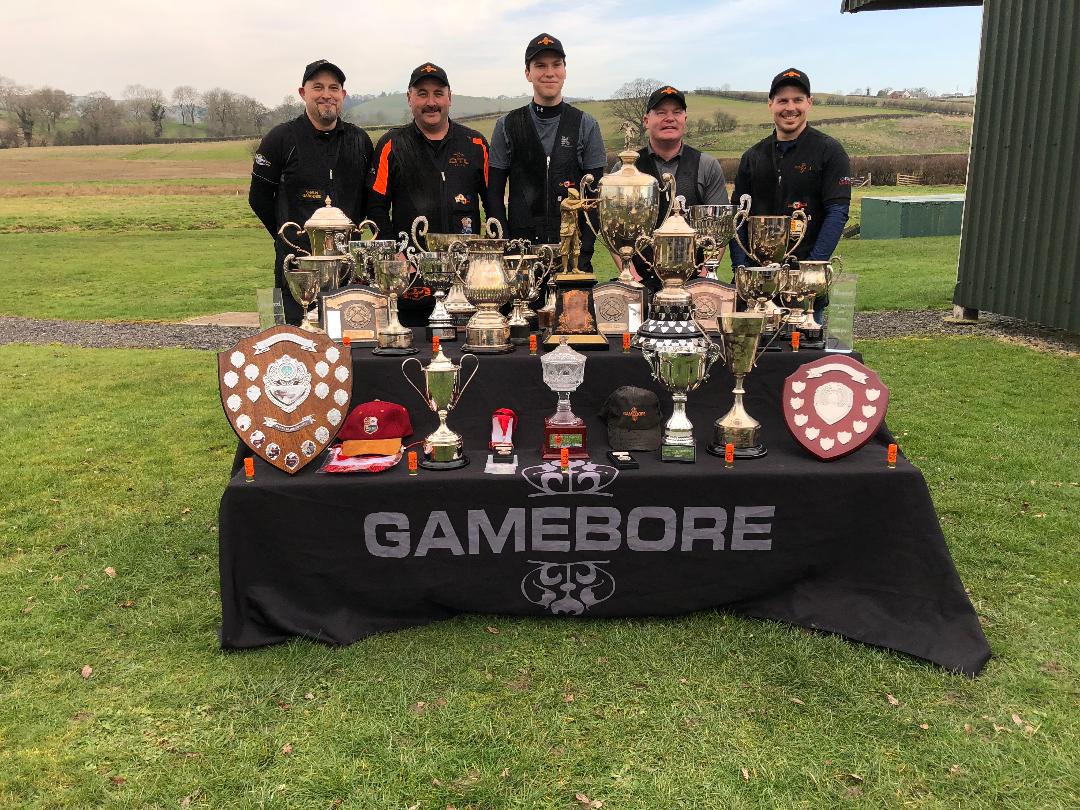 The Gamebore squad with their haul of trophies from 2018
Shaun Gardner, Chris Moule H&W, Jack Ruane H&W, Lee Kirby H&W and Dan Price H&W
_____________________________________________________________________
HEREFORD & WORCESTER AGM, DINNER, PRESENTATION, COUNTY CHAMPIONSHIP AND MEMORIAL CHARITY SHOOT 9th FEBRUARY 2019
Park Farm Shooting Ground was the venue for todays shoot and we would like to thank the Sanders family and to everyone that helped out on an excellent day. The 50 bird Compak Sporting County Championships were well attended with Julian Morris taking the county title after a shoot off with Matt Bodfish, both scoring 46. The ladies title went to Natalie Jones on 39, Junior title went to Brandon Smith on 41, Veterans title went to Wes Harris on 44 after a shoot off with John Tarplee and the Colt title went to Harry Pugh.
The John Hadley memorial charity shoot was also well attended which consisted of 25 normal DTL and 25 special DTL shot on the ABT. Paul Cerri won the trophy with an excellent 49/145 after a shoot off with Julian Morris. Emma Parkinson won the ladies on 46/130, Will Goodman won the Juniors on 46/133 and Tim Smith won the veterans on 47/135. Thank you to everyone that attended, to Park Farm SG for donating the Championship trophy and to everyone that helped make it a very successful day.

We then headed to The March Hare Inn, Broughton Hacket to finish the excellent day off. After a wonderful 2 course carvery the AGM took place with 42 attending. This year's committee was elected as follows - Chairman/Rod Davies, Vice Chairman/ Nick Stokes, Secretary/Pat Smith, Treasurer/Nick Stokes. Committee members - Matt Pugh, Graeme Walker, Jerry Ruane, Brandon Smith, Tim Smith, Roy Spooner, Matt Bodfish, Brian Smith, Danielle Brown and Lee Kirby.
After the AGM the 2018 county championship awards were presented and as H&W have won the Lyalvale Senior, Ladies and Junior trophies in 2018 a special badge was awarded to all members that took part in the teams. We also won the Gun Up trophy and came 3rd in the Gun Down. Thanks once again to all members that attended also to family and friends that helped make the day very enjoyable.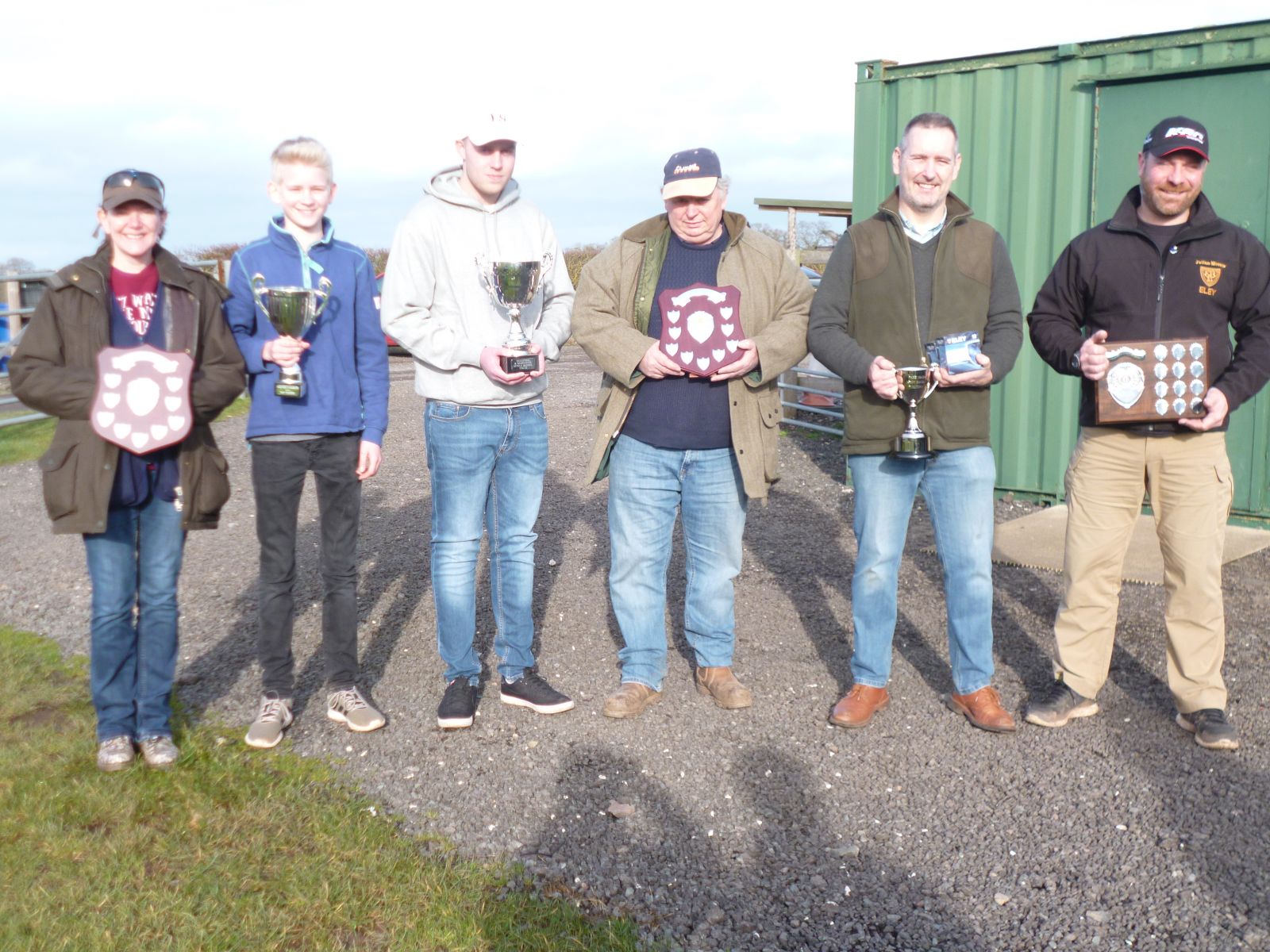 Natalie Jones - Ladies Champion Compak Sporting, Harry Pugh - Colt Champion Compak Sporting, Brandon Smith - Junior Champion Comak Sporting, Wes Harris - Veterans Champion Compak Sporting, Paul Cerri - Winner of the John Hadley Memorial Cup held over 50 bird DTL and Julian Morris - County Champion Compak Sporting.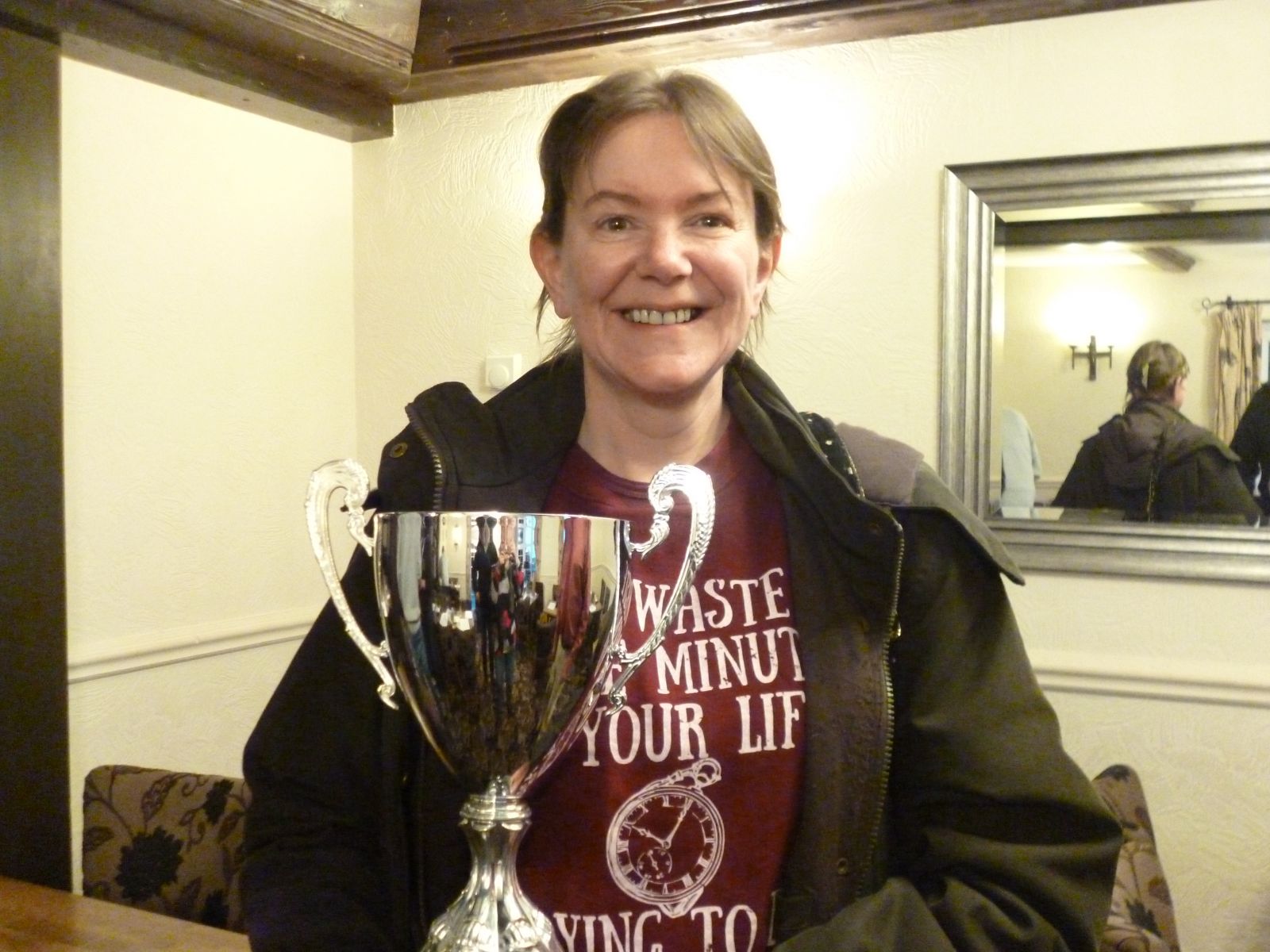 Natalie Jones with the H&W 2018 Ladies English Sporting trophy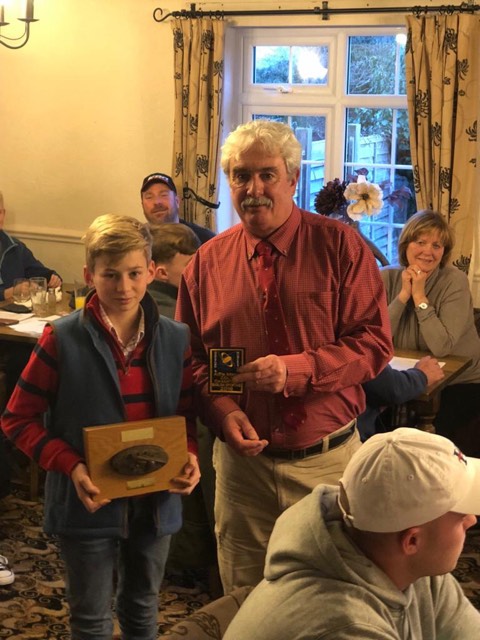 Alfie Mann picking up the H&W Colt English Sporting trophy from Chairman Mr Rod Davies
__________________________________________________________________________________________________
HEREFORD & WORCESTER AGM, DINNER, PRESENTATION
PLUS COUNTY CHAMPIONSHIP AND CHARITY SHOOT 2019
Fantastic news from Hereford & Worcester CPSA. This year in the West Midlands Lyalvale Trophy Inter County events we have not only won the Senior trophy but also the Ladies, Juniors and Gun Up trophies. This has been a wonderful effort by ALL Hereford & Worcester Inter County team members taking part and as a result of this we will be presenting all members that took part in the main teams an award badge at our AGM that takes place on 9th February 2019. So please come along to collect your special badge.
Also on the 9th February we will hold the following shooting disciplines at Park Farm SG, Main Road, Ombersley, Worcester, WR9 0EX with entries 10 am till 11 am. The H&W 50 bird Compak Sporting County Championships and the John Hadley Memorial Charity Shoot which will consist of 50 bird DTL (25 normal DTL plus 25 special DTL). John was a valued member of H&W and was always available to take part in any County Championship, Area Championship and Inter County Championship whenever asked to do so. John was a one off and for those of you that didn't know him you missed a rare treat. Please support this event.
The Sporting will also be available on the 9th February for practice.
After the shooting has been completed lunch will be available at The March Hare Inn, Broughton Hacket, WR7 4BE at approximately 2.30 pm – 3 pm which is a two course carvery costing £11 per person. To book lunch please contact Pat Smith on 07969 452580.
After lunch the AGM will take place to select a new committee for 2019, if you are interested please contact one of the existing committee members. Then the 2018 County awards will be presented to the following members.
Aiden Hickey, Alfie Mann, Anthony Blandford, Archie Parker-Smith, Brandon Smith, Chris Moule, Dan Price, Dee Ward, Emma Parkinson, Harry Pugh, Ian Parkinson, Jack Ruane, Jo Ann Allen, John Smith, Julian Morris, Karen Vaughan, Lee Kirby, Luke Sanders, Matt Bodfish, Matt Woodruffe, Natalie Jones, Nick Dean, Nick Rees, Pat Smith,
Paul Cerri, Phil Smith, Richard Allen (Skeet), Richard Allen (Trap), Rob Haines, Rod Davies, Roger Ward, Stuart Palmer, Thomas Burns, Tim Smith, Tom Betts, Tom Harris,
Will Goodman
WEST MIDLAND LYALVALE AWARD WINNERS 2018
Luke Sanders, Simon Jones, Matt Woodruffe, Roy Spooner, Roger Cooper, Paul Colley, Richard Allen (trap), Rod Davies, Phil Sanders, Michael Jones, Stuart Palmer, Nick Dean, Phil Smith, Matt Bodfish, John Smith, Kevin Cotton, Jo Ann Allen, Craig Miles, Lee Kirby, Chris Moule, Dan Price, John Mason, Paul Cerri, Fred Goodman, Tim Smith, Graeme Walker, Julian Morris, Nick Rees, Gareth Butler, John Tarplee, Matt Pugh, Wes Harris, Brandon Smith, Emma Parkinson, Becky Savins, Pat Smith, Jackie Cotton, Lisa Cooper, Karen Vaughan, Fiona Caren, Danielle Brown, Natalie Jones, Archie Parker-Smith, Dan Mills, Will Goodman, Tom Harris, Thomas Burns, Jack Ruane and Aiden Hickey.
__________________________________________________________________________________
HEREFORD & WORCESTER LADIES TRAINING DAY 2018
Hereford & Worcester CPSA held a very successful Ladies training day at Park Farm Shooting Ground on Saturday 25th August. The 11 ladies that took park had a very enjoyable and instructive day with coaching on Sporting, English Skeet and DTL. We look forward to seeing them all again very soon. Our thanks to the coaches, Rod Davies, Glenn Crowther, Matt Woodruffe and Lucy Righton for helping us out. Also our thanks to Rod for the refreshments and to Gill for the lovely cakes she made for us.
Gill Hibberd, Rod Davies, Sue Hallett, Matt Woodruffe, Robyn Johnson, Glenn Crowther, Grace Clutterbuck and Kelly Stringfellow
___________________________________________________________
LADIES TRAINING DAY
H&W will hold a Ladies training day (Senior, Veteran or Junior Ladies) at Park Farm SG on Saturday 25th August with a 10.30 start. All applications to be made to Pat Smith on 07969 452580 with the decision being filtered to eligible Ladies in the following order.
Member of the CPSA

Potential new member of the CPSA with a shotgun certificate.

Potential new member of the CPSA without a shotgun certificate.
Funding has been agreed with West Midlands Regional Committee for up to 10 shooters to take part. Each shooter will receive 100 cartridges to shoot 3 cards of 25 but we are stipulating that one of these cards of 25 must be shot at DTL, the shooter can nominate the other 50 clay's of their choice, either Skeet, Sporting or a mix of two of the three disciplines. Coaches will be there to look after all three disciplines. This will be on a first come first serve basis but if we receive more applications than stipulated we feel another course could be booked in the future.
_______________________________________________________
JOHN HADLEY
It is with great sadness that I have to report the death of Mr John Hadley on Wednesday 30th May 2018. John had been on the Hereford & Worcester committee for many years and was a very keen DTL shooter and shot in many of the County DTL teams at Inter Counties. He was also a very keen fly fisherman. He will be missed by many people. His funeral will take place at 11.30 am on Wednesday 20th June 2018 at Worcester Cremetorium.
____________________________________________________
HEREFORD & WORCESTER CPSA AGM
Our AGM took place at The March Hare Inn, Broughton Hackett on Saturday 10th February 2018 at 5pm with 30 members attending.
After the acceptance of last year's minites we heard reports from the outgoing Chairman, Secretary and Treasurer. The Chairman thanked everyone for attending. He highlighted how close H&W had come to winning all catagories of the Lyalvale shield with Seniors, Ladies, Juniors, Veterans and Gun Up Trophy all in 2nd position and Gun Down Trophy 3rd. The Chairman urged our members to support the team managers when selecting Inter County teams. Also we will arrange another Ladies day with H&W sponsoring this event.
The Secretary detailed all members that had excelled in 2017.
The Treasurer was happy with the H&W balance as we'd had another good year.
The election of new officers for 2018 took place as follows:-
Chairman - Rod Davies
Vice Chairman - Nick Stokes
Secretary - Pat Smith
Treasurer - Nick Stokes
Matt Pugh
John Smith
Graeme Walker
Jerry Ruane
Andrew Foxall
Brandon Smith
Tim Smith
Roy Spooner
Brian Smith
Archie Parker-Smith
Lee Kirby
Matt Bodfish
Paul Cerri
The meeting closed at 5.30pm
We then held the presentation awards for 2017.
_____________________________________________________________________
AGM
The AGM took place on the 4th February 2017 at the Leaking Well with over 40 people attending. After both the Chairman, Secretary and Treasurer had given their reports for 2016 the 2017 committee was elected. Rod Davies (Chairman), Nick Stokes (Vice-Chairman), Pat Smith (Secretary), Nick Stokes (Treasurer), Simon Jones, Mike Perry, Matt Pugh, John Hadley, Wes Harris, Graeme Walker, Jerry Ruane, Andrew Foxall, Brandon Smith and Archie Parker-Smith. This followed the first of our 2017 County Championships which we held at Park Farm SG. The Skeet Doubles County Championship was won with a very impressive 48ex50 by Brandon Smith, he also won the Junior title. The Compak Sporting County Championship was won by Phil Smith on 48ex50. (full details in the discipline section)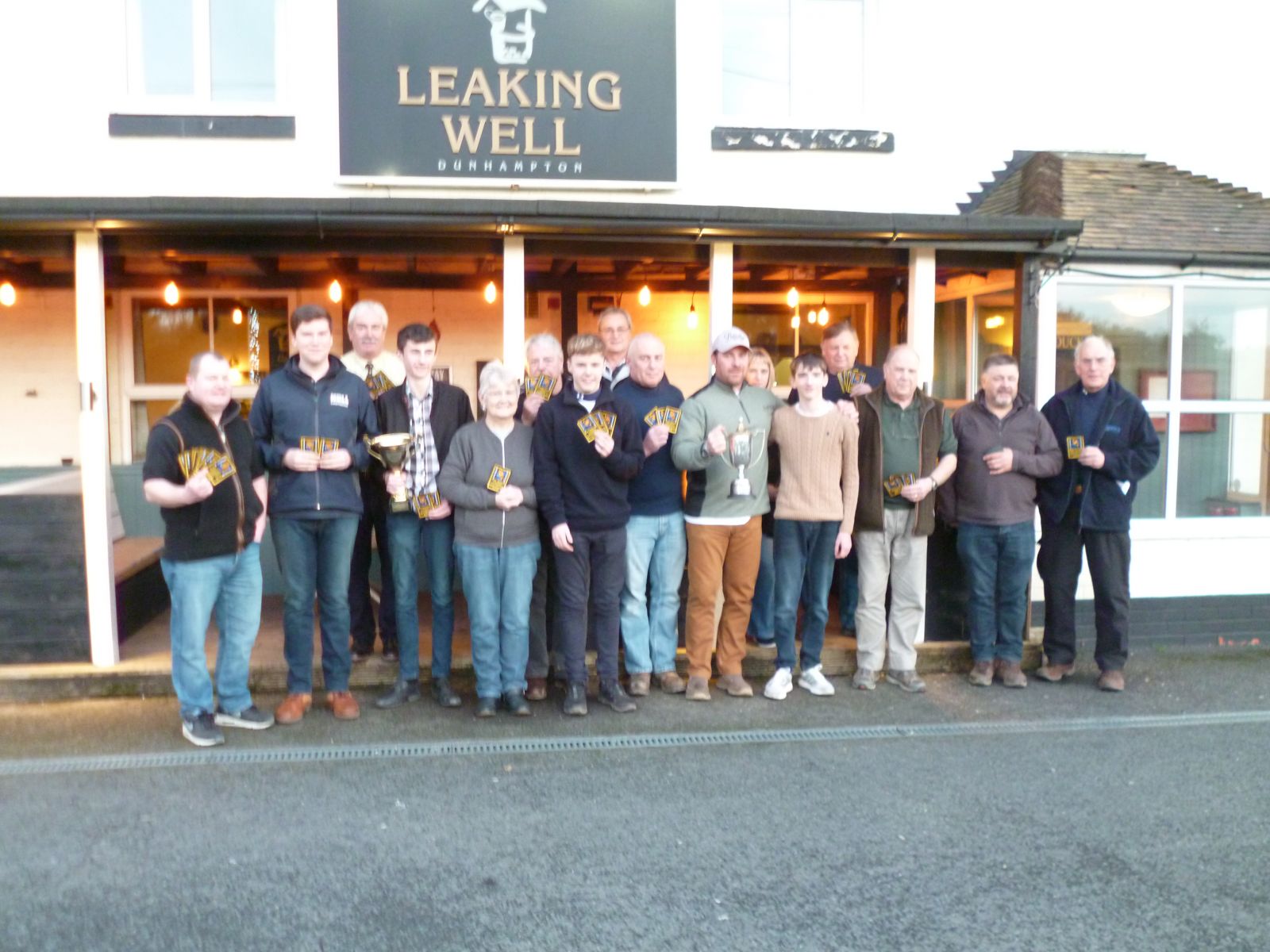 2016 Champions with their awards
_____________________________________________________________________________
Appendix 1.
WEST MIDLANDS CPSA 2017.
ELIGIBILITY OF CPSA MEMBERS TO PARTICIPATE IN COUNTY TEAMS / CHAMPIONSHIPS.
Following earlier disputes / protests over the eligibility of members compete in a County Championship or to represent a particular County as a member of a County Team participating in Inter – County competitions , the West Midlands Regional Committee will have regard for the following protocol to rule on eligibility.
Under most circumstances the County shown on a members's association membership card will be taken as demonstrating eligibility to compete on behalf of that County.
In the event of any protest, dispute or doubt over the accuracy of the County information recorded on the members current membership card, their residential address recorded on their current Firearms – Shotgun Certificate will be regarded as holding primacy in respect of demonstrating their current residential address and therefore the County area that the member should be representing or competing on behalf of.
Where such disputes arise at the time of a County Championship or an Inter Counties event the member should be requested to produce their Shotgun Certificate as proof of residential address before any score from that individual can be accepted to influence the result of the event.
For the avoidance of doubt, any entry to a West Midlands Championship event under Welsh or other potentially eligible memberships rather than a CPSA membership, where an individual holds membership of multiple associations will NOT be eligible for any West Midlands awards unless they use a valid CPSA membership number when entering the competition.
_____________________________________________________________________________