HEREFORD & WORCESTER Website : OSK
HEREFORD & WORCESTER OLYMPIC SKEET COUNTY CHAMPIONSHIPS 2019
Gloucester CSC held the H&W O/Skeet county championships on 7th April with six members competing but this was a lot more than normally shoot this discipline so we were well pleased. County champion and junior champion is Mitchell Brooker-Smith scoring 86/100 with Anthony Blandford taking runner up spot and veterans title on 74/100. Emma Parkinson took the ladies title with a score of 63/100. A very big thank you to all members that took part, Mitchell Brooker-Smith, Anthony Blandford, Ian Parkinson, Emma Parkinson, Paul Colley, Maxine Smiles Cooke and to Graeme, Paul, Dave, Anthony and Jane (catering) for looking after us. We had a very enjoyable and fun day.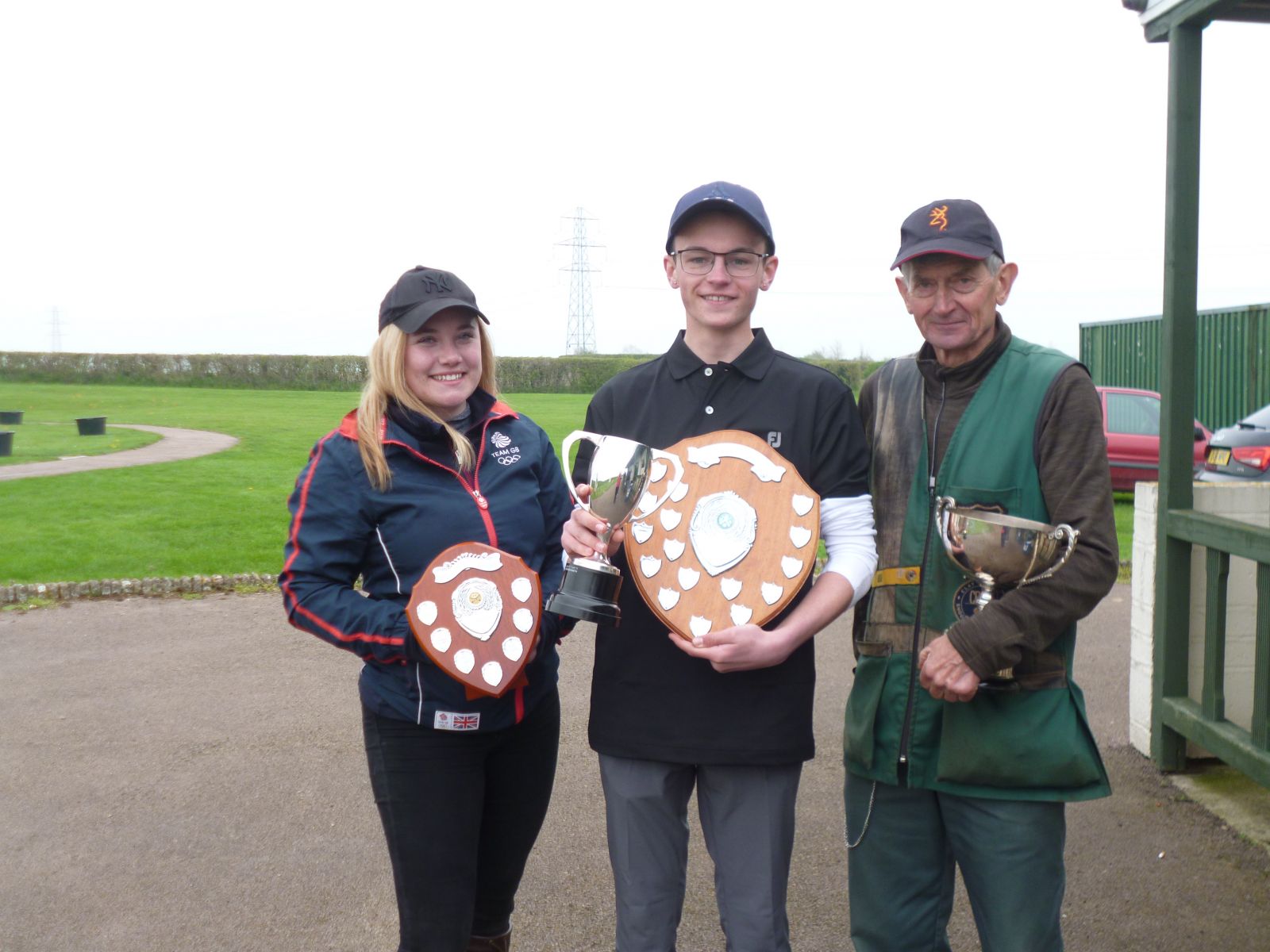 Emma Parkinson ladies champion, Mitchell Brooker-Smith county champion and junior champion, Anthony Blandford runner up and veterans champion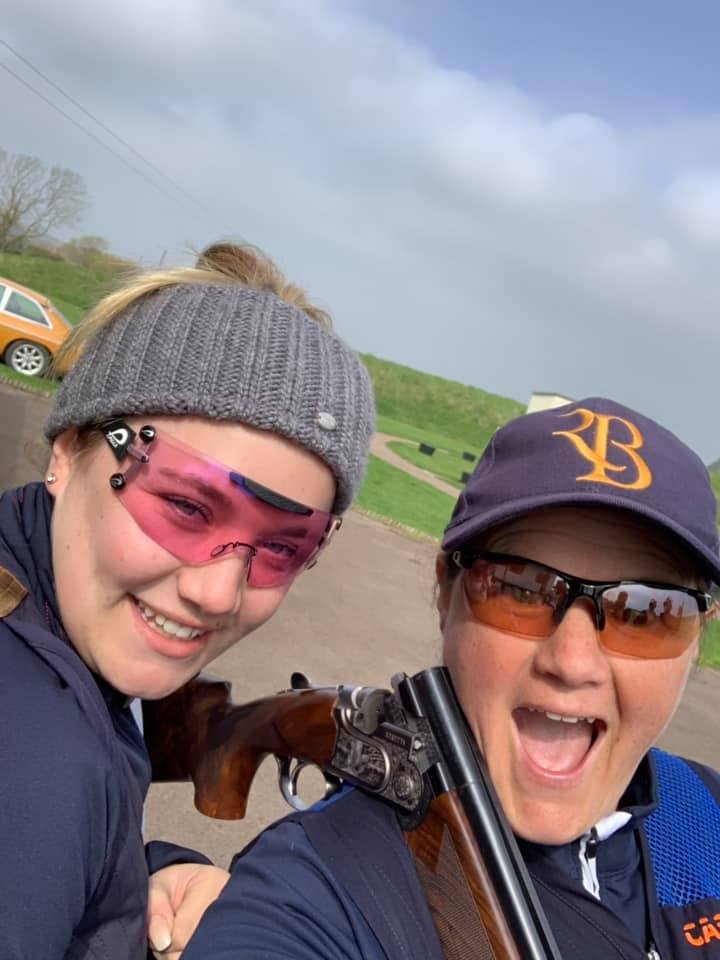 Emma and Max having a fun day
_________________________________________________________________
ENGLISH OPEN & ENGLISH GRAND PRIX OLYMPIC SKEET 2019
The English Open and English Grand Prix Olympic Skeet championships took place on Saturday 30th and Sunday 31st March at Doveridge Clay Sports. Young Mitchell Brooker-Smith came 3rd overall in the English Open (94/100) and 2nd overall in the English Grand Prix (186/200). To finish in these positions he had to undergo two intense shoot offs. He also came 1st in the Colts in both events and 1st in 'B' class in the English Grand Prix. A wonderful result for Mitchell and congratulations to him.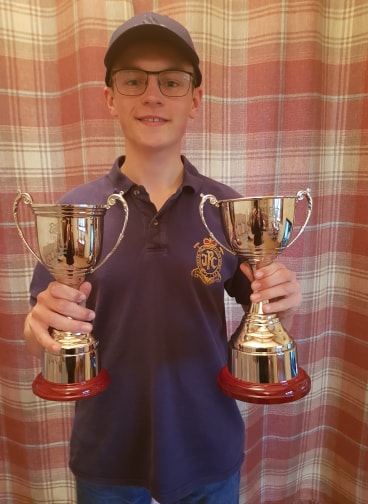 _____________________________________________________________________________________
WEST MIDLANDS INTER COUNTY & AREA OLYMPIC SKEET CHAMPIONSHIPS 2018
The West Midlands Area and Inter County Olympic Skeet Championships took place at Gloucester Gun Club on 22nd July. There were four teams from the West Midlands Region taking part in this competition. Gloucestershire won the Gold medal 182/200, Hereford & Worcester won the Silver medal 151/200 - Tim Smith 81, Paul Colley 70 and Graeme Walker 67.
Cheshire won the Bronze medal 147/200 with Warwickshire in fourth place 131/200. In the Area competition Tim Smith won the Area Veterans Gold medal. A great day and great organisation, thanks to Paul Tudge.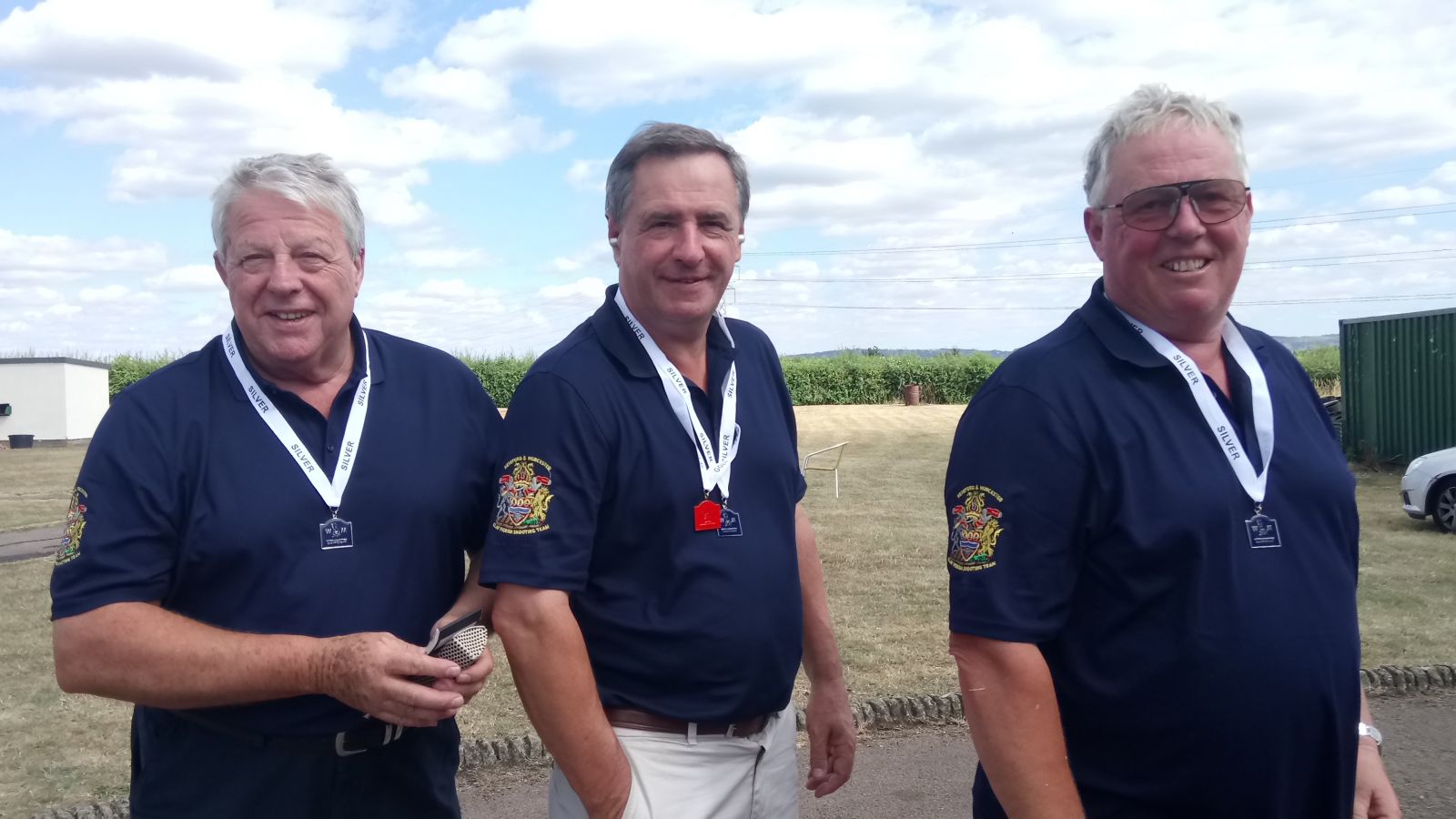 Graeme Walker, Tim Smith and Paul Colley
___________________________________________________________________________
HEREFORD & WORCESTER OLYMPIC SKEET CHAMPIONSHIPS 2018
We would like to thank Gloucester Gun Club for holding this event and the warm welcome we received. The eventual winner and County Champion as well as Veteran Champion is Tim Smith with a score of 74ex100. The runner up with a score of 71ex100 is Anthony Blandford with Paul Colley in third place on 67ex100. We would also like to thank Dave, Anthony and Chef for the day Graeme Walker who supplied us with well done sausage rolls, can't beat them.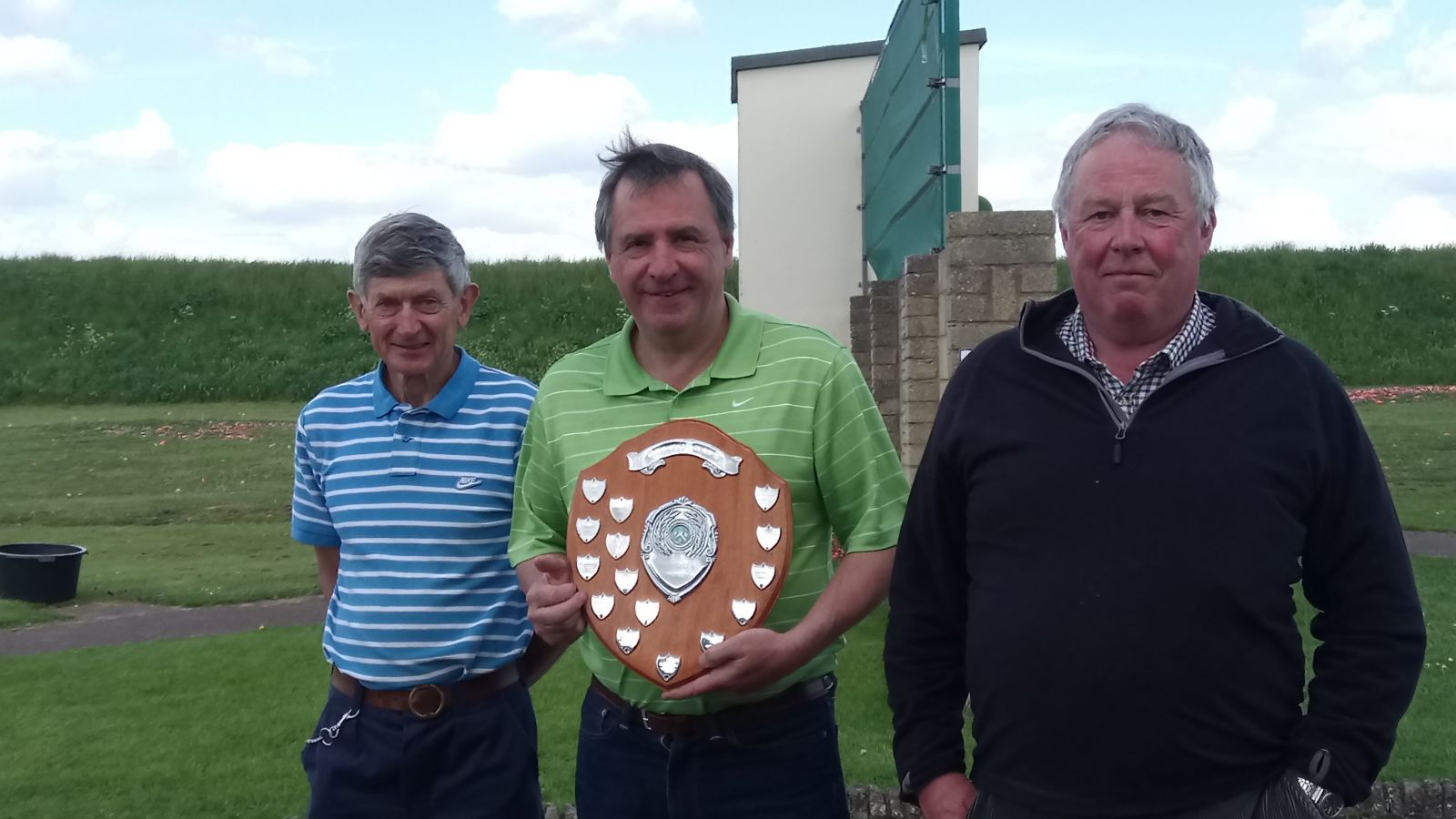 Runner up Anthony Blandford, County Champion and Veteran Champion Tim Smith and third plaxe Paul Colley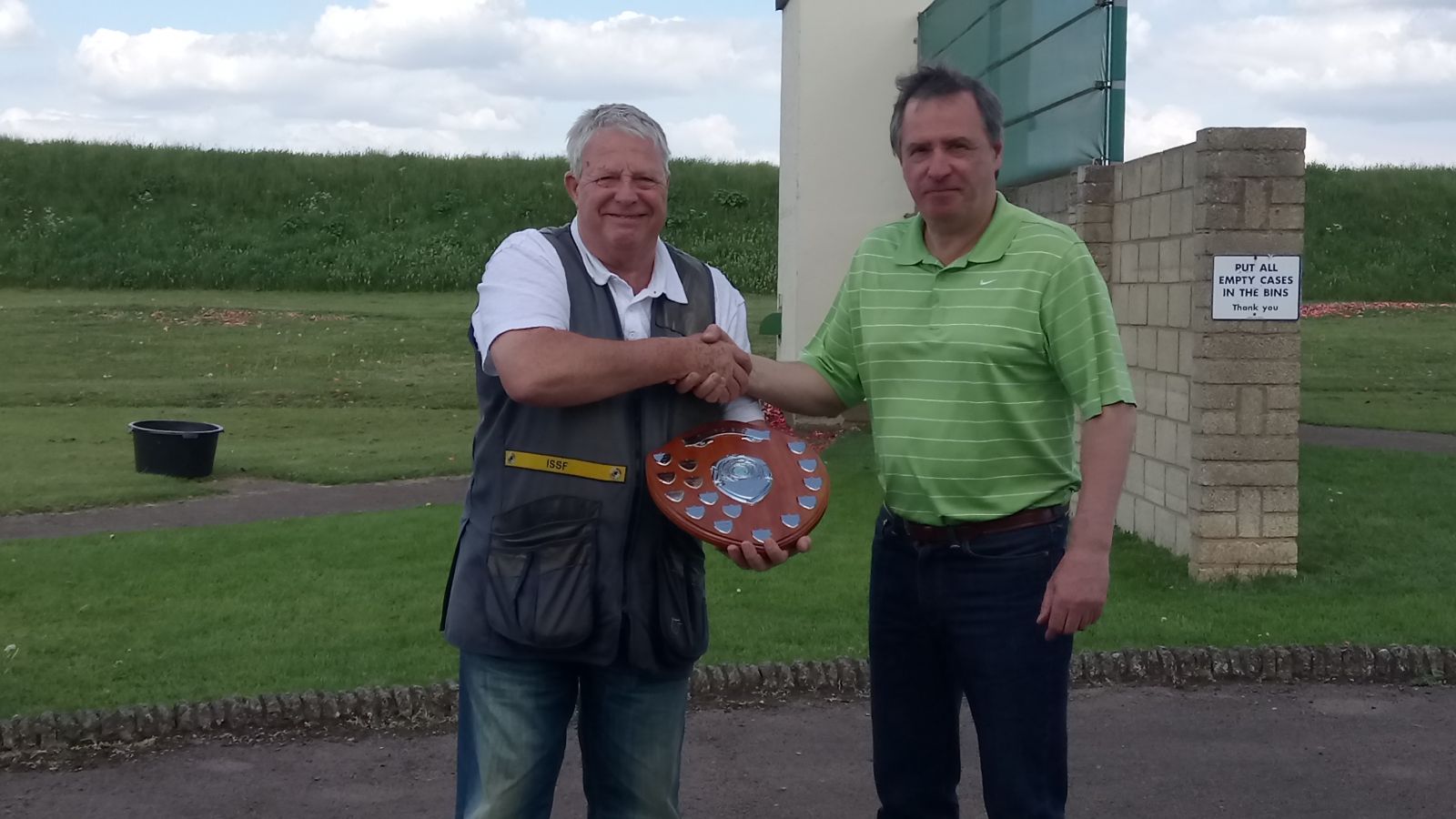 Graeme Walker presenting County Champion Tim Smith with his trophy
______________________________________________________________________
H&W OLYMPIC SKEET COUNTY CHAMPIONSHIPS 2017
These championships were held at Gloucester Gun Club on Sunday 7th May. County Champion and Veterans Champion, with a score of 76ex100, is Anthony Blandford. Junior Champion is Archie Parker-Smith with 69ex100. Only a handful of members shot this competition but our thanks to them for supporting us and also to Gloucester Clay Shooting Club for holding the event for us.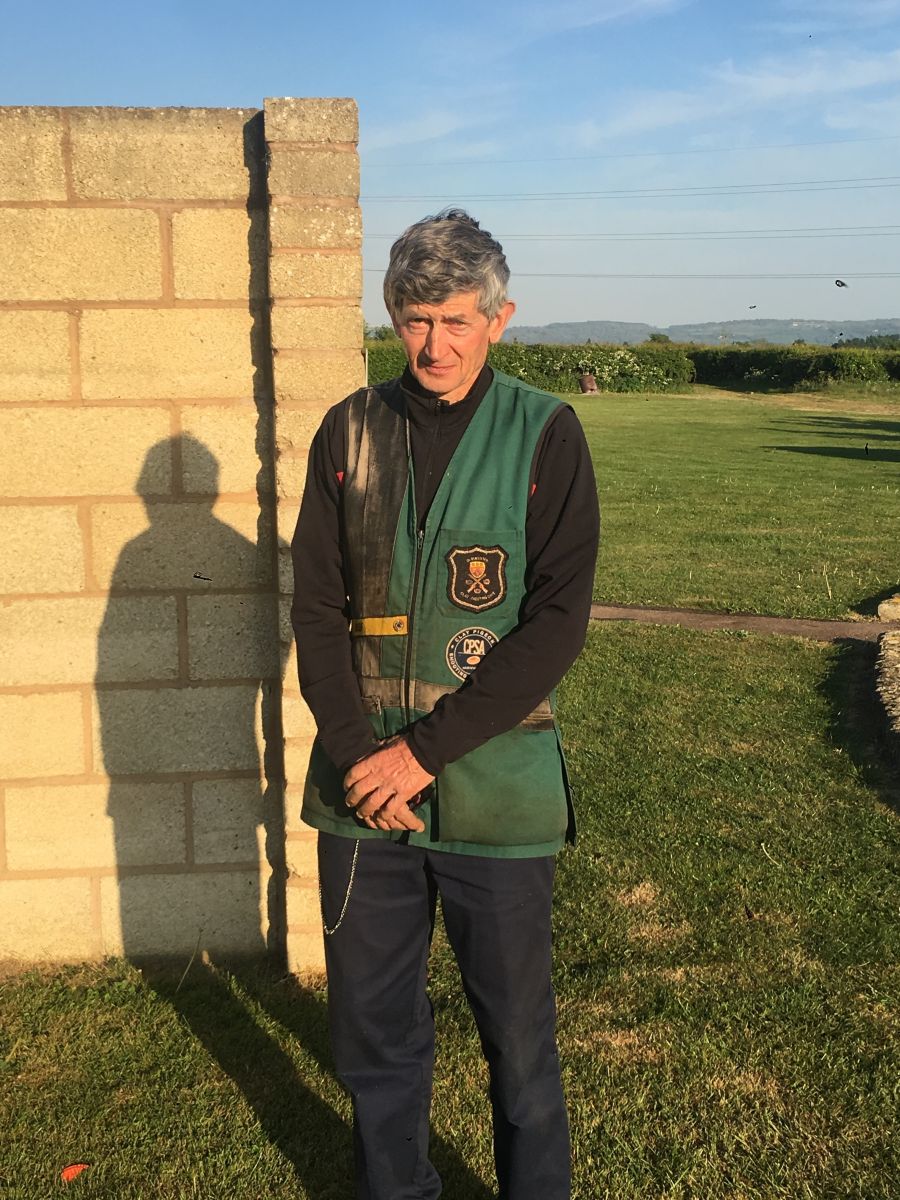 Anthony Blandford Olympic Skeet Champion 2017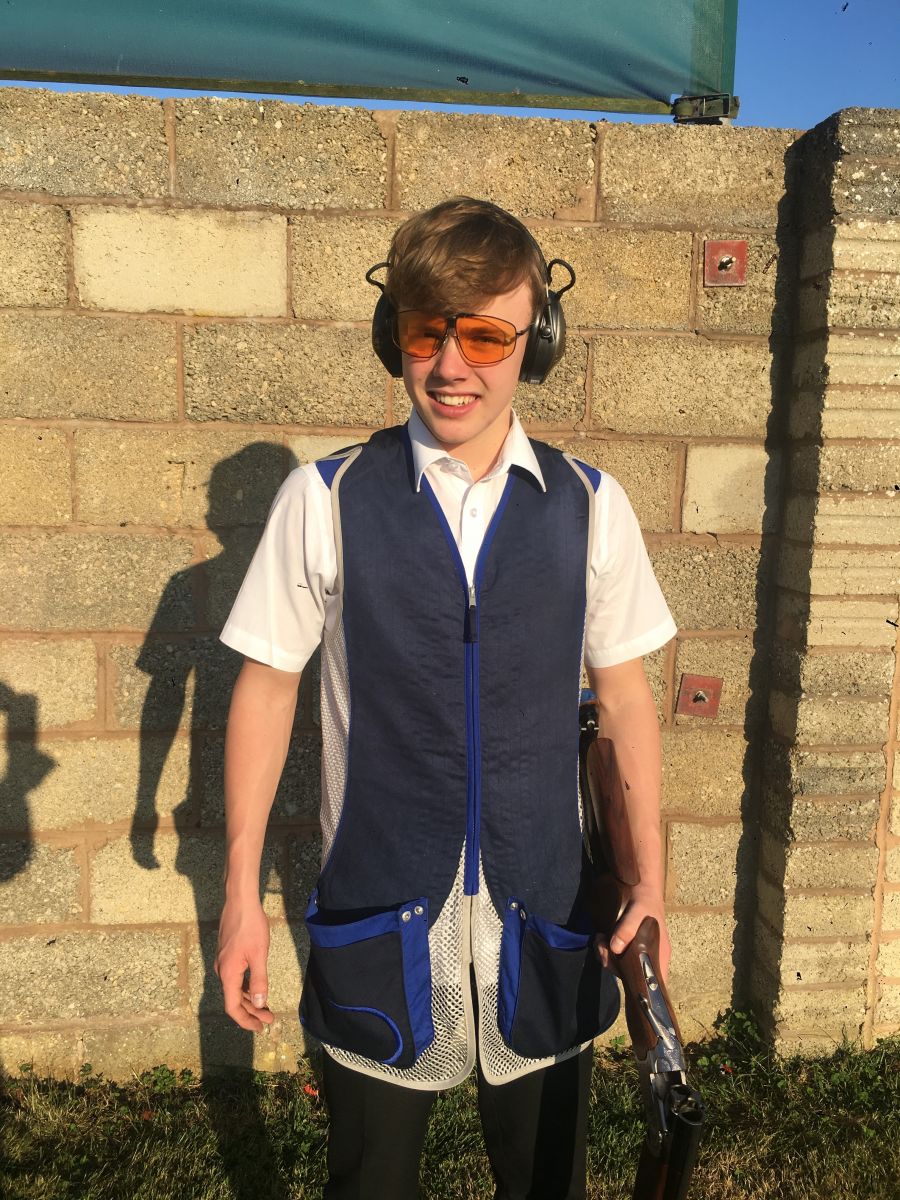 Archie Parker-Smith Junior Olympic Skeet Champion 2017
___________________________________________________________________________________________
HEREFORD & WORCESTER OLYMPIC SKEET COUNTY CHAMPIONSHIPS 2016
WEST MIDLANDS OLYMPIC SKEET AREA & INTER-COUNTIES CHAMPIONSHIPS 2016
These Championships took place on Sunday 24th July at Gloucester CSC. The County Champion shooting a very good 81ex100 is Tim Smith, he is also the Veterans Champion. Joint Runners up shooting 77ex100 are Graeme Walker and Anthony Blandford with Archie Parker-Smith taking the Junior title on 40.
The H&W team of Tim Smith, Graeme Walker and Anthony Blandford took the Bronze medal in the Inter-Counties competition. In the Area championships Tim Smith won Senior Bronze medal and Veteran Gold medal with Graeme Walker taking the Veteran Bronze medal.
Thank you to Paul Tudge and all the staff at Gloucester for a well organised day.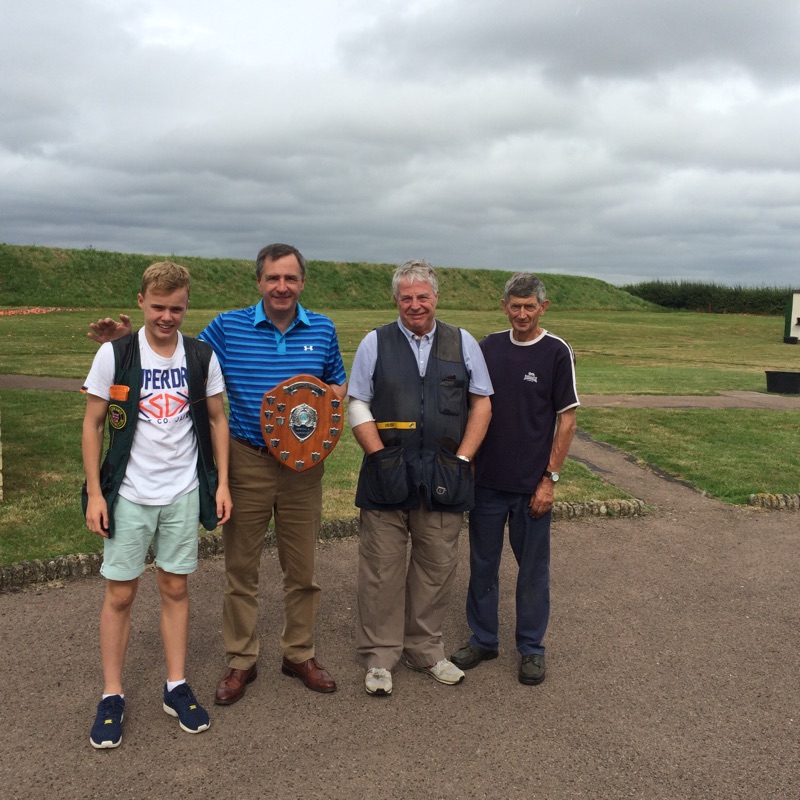 Archie Parker-Smith, Tim Smith, Graeme Walker and Anthony Blandford
_______________________________________________________________
WEST MIDLANDS OLYMPIC SKEET INTER COUNTIES, AREA &
HEREFORD & WORCESTER COUNTY CHAMPIONSHIPS 2014
Gloucester GC held these Championships on 27th July 2014. The H&W County Championship was won by Anthony Blandford with 72ex100. In second place was Ron Braithwaite on 63ex100 and third place Paul Colley on 60ex100. There were 20 shooters taking part with Hereford & Worcester winning the Inter Counties Bronze medal. Craig Lakey from Warwickshire was High Gun on 91ex100 taking the Area Gold, Paul Tudge from Gloucestershire was Area runner with 86ex100 and Graham Rendall was Area third with 75ex100 he was also the Area Veteran winner. The Lady Area winner was L Harvey from Gloucestershire with 62ex100. (Ron Braithwaite)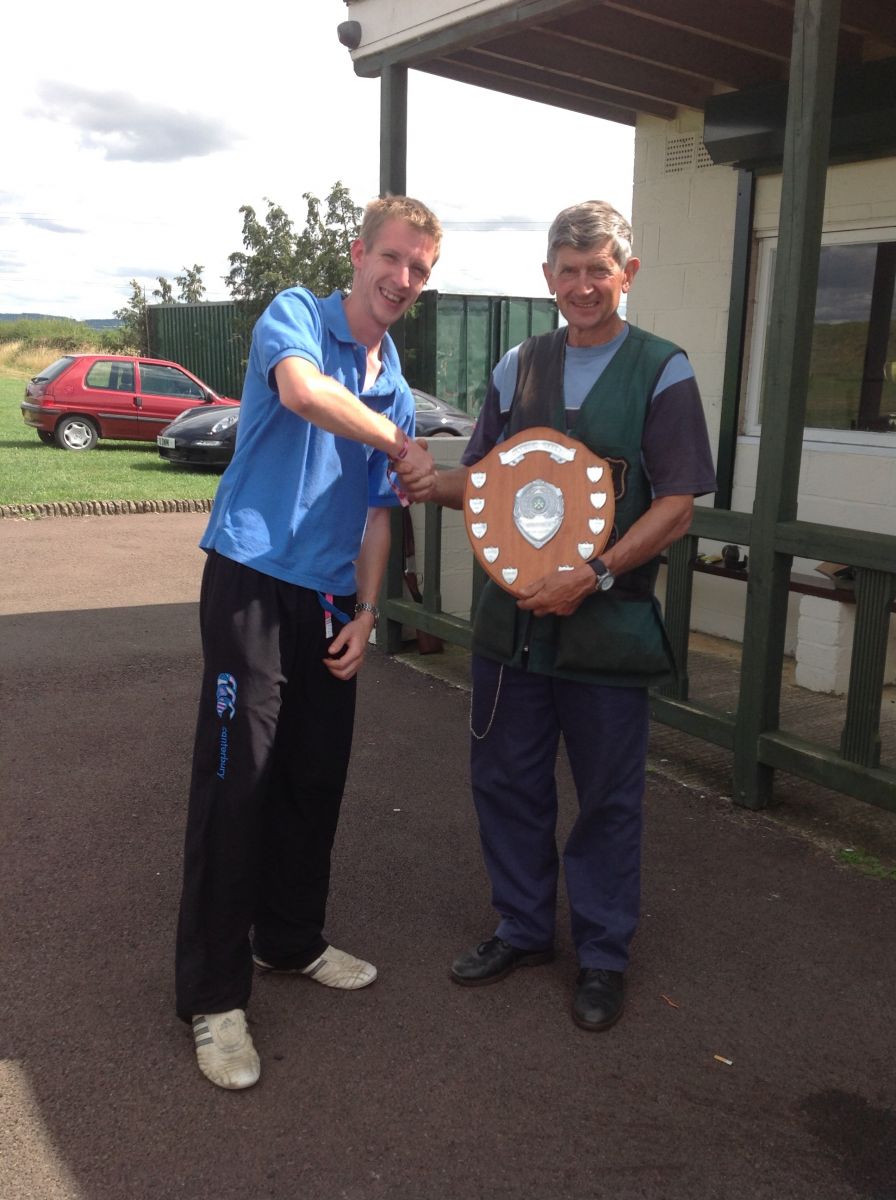 PAUL TUDGE FROM GLOUCESTER GC PRESENTING ANTHONY BLANDFORD
WITH THE H&W OLYMPIC SKEET TROPHY 2014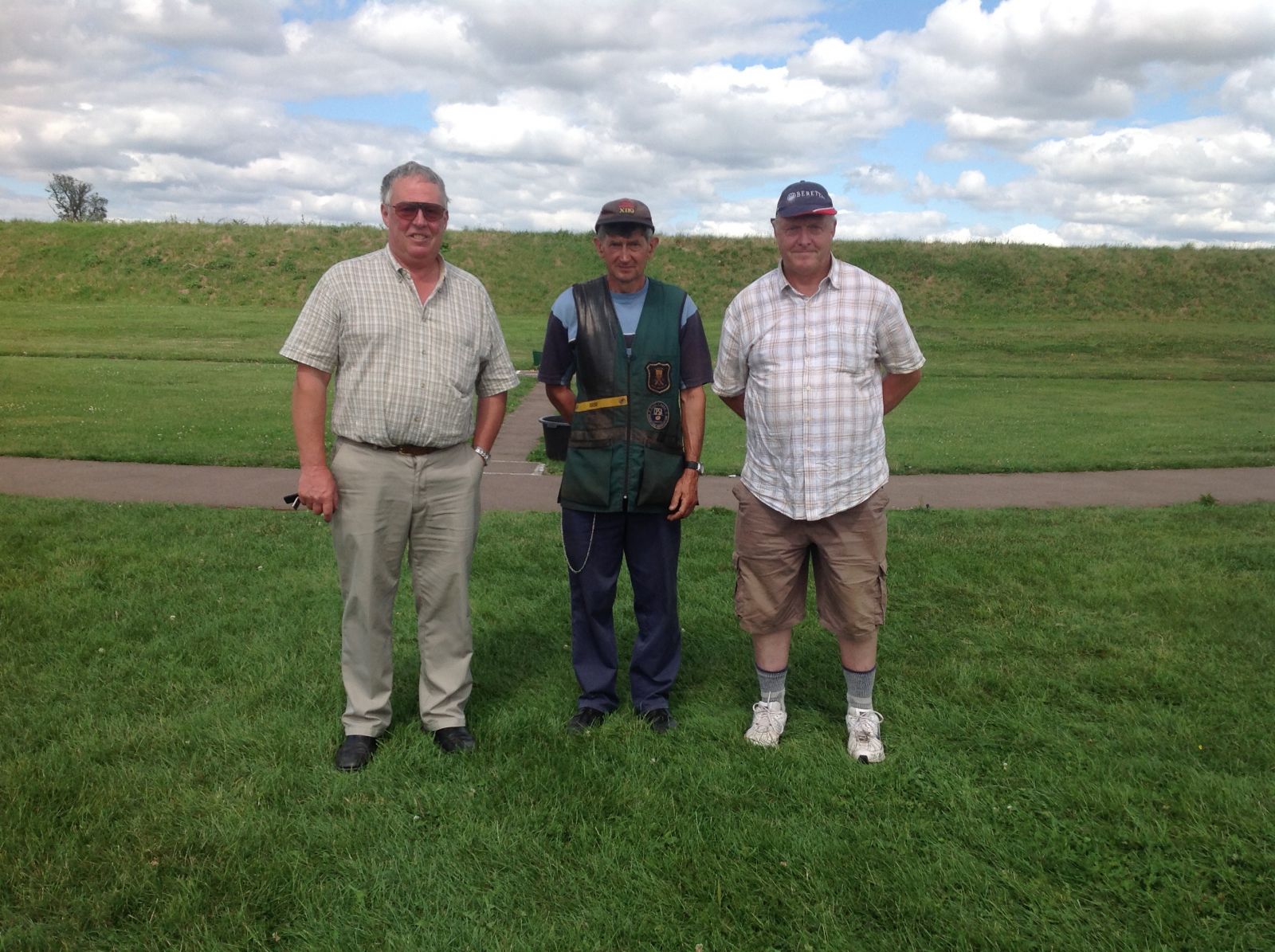 Paul Colley, Anthony Blandford and Ron Braithwaite
----------------------------------------------------------------------------
WEST MIDLANDS INTER COUNTIES AND AREA OLYMPIC SKEET CHAMPIONSHIPS AND THE HEREFORD & WORCESTER COUNTY CHAMPIONSHIPS
These Championships took place on Sunday 1st September 2013 at Gloucester GC on a fine and dry day. For those who manage to master this discipline they really do have my admiration and for someone like Paul Tudge from Gloucestershire, it's a real pleasure to watch. Shooting an amazing 97ex100 Paul is the West Midlands Area Champion, a PB for him. The Inter County Champions are Gloucestershire with H&W taking the Silver. The H&W team were made up of Graeme Walker, Anthony Blandford and Simon Jones. Graeme Walker is the H&W County Champion on 77ex100 and after a shoot off with Brian Robinson and Graham Rendal he is also the Area Veterans Champion. Well done to everyone and thank you to Gloucester Gun Club who, as always, made us very welcome. It was a shame there were no medals for anyone to pick up.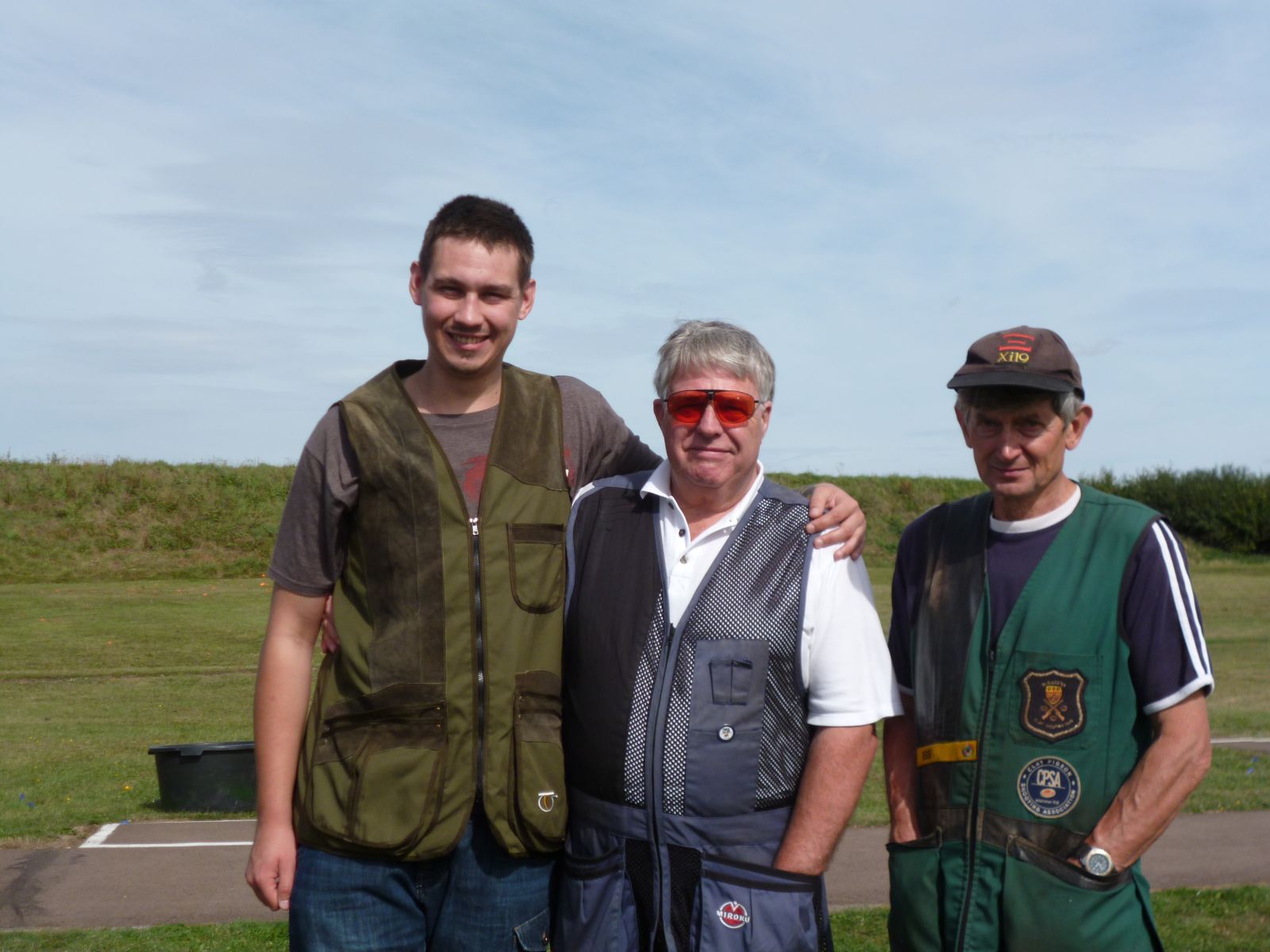 SIMON JONES, GRAEME WALKER - COUNTY CHAMPION & ANTHONY BLANDFORD
-------------------------------------------------------------------------------------------
INTER COUNTIES AND AREA OLYMPIC SKEET CHAMPIONSHIPS 2012
Hereford & Worcester won the Bronze medal at Gloucester Gun Club on Sunday 15th July. With scores from Anthony Blandford, Graham Walker and Mick Jones.
------------------------------------------------------------------------------------------------------
Hereford & Worcester County Olympic Skeet Championship 2009.
At least the heavy rain kept away for the County O/SK Championships on 26th July.
We held the Championship at Gloucester Gun Club in conjunction with the Area and I/C Championships, and a very big thank you to everyone at Gloucester for a very warm welcome and 'FUN' day!!!!
Apologies to Andrew Tudge who had to get his calculator out!!!!
County Champion and Veterans Champion is Anthony Blandford.
Gerald Kings and Simon Jones are joint runners up with Simon also taking the Junior title.
Ladies Champion was Pat Smith.
The I/C Champions are Warwickshire after a shoot off with Gloucestershire both on 161, 3rd Cheshire 156, 4th Staffordshire 138, 5th H&W 122, 6th Shropshire 77.
Derbyshire was not represented.
Simon Jones won the Area Junior Silver medal, and Pat Smith also won an Area Silver medal as well.