Cheshire CPSA Website : Cheshire CPSA Trophies
Cheshire CPSA Championship Trophies: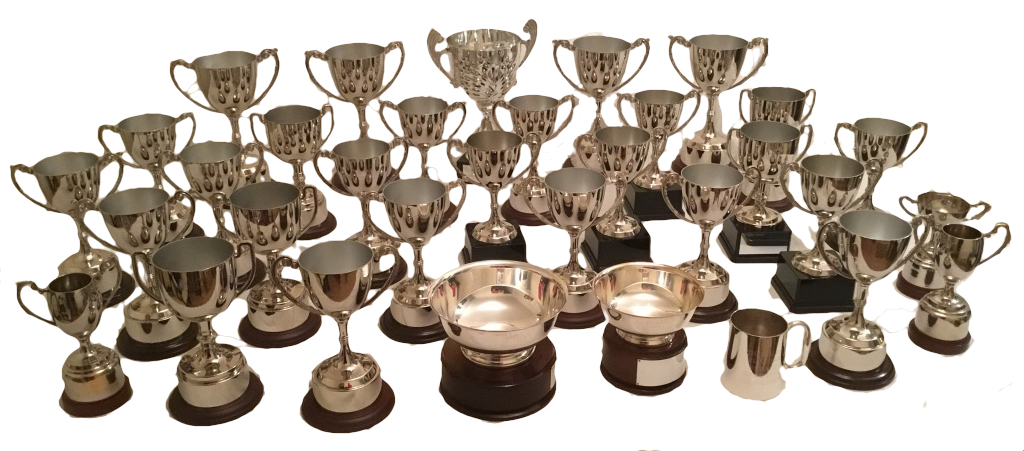 Cheshire CPSA's Trophies are administered by our Team Coordinator - Ian Cunliffe (see 'Committee' webpage) and we've recently increased our collection to 60+ Trophies, plenty to win for all. If you would like an extra Trophy to be made available for a new category (e.g. Veterans, Ladies etc.) please contact Ian accordingly. The general policy is a minimum of three entrants would need to compete (and pay levies) in the Veterans, Ladies and Junior categories and six entrants in the Seniors category for a new Trophy to be considered. If approved by the Committee, the Trophy will be purchased using the county levies. In the unlikely event of any dispute, the Committee's decision is final. Colts (under 16's) always compete in the Juniors category.
The Committee would welcome any Trophies which are donated, in recognition the name of the donor would be engraved on the new Trophy alongside the appropriate discipline.
Key:

Previous year winners,

Current year winners

,

No Competition being held

,

New Trophy awaiting first winner!
No Trophy for event - donations welcome, see above
Cheshire Trophy Winners 2022

Discipline

High Gun Champion

Mens

Veterans

Ladies

Juniors

ABT
Automatic Ball Trap

Mike Faux
Mark Wright
Andy Pownall

No Trophy

No Entry

No Entry

A/R
All Rounder

Mark Oakley
Eddie Wilkinson
Tony Dean
Lucy Earl

Lucy Earl

James B has this

D/R
Double Rise

No Trophy

No Trophy

No Trophy

No Trophy

D/T
Double Trap

No Trophy

No Trophy

No Trophy

No Trophy

DTL
Down The Line

ESK
English Skeet

ESP
English Sporting

ESP
Promatic Challenge

No Trophy

No Trophy

No Trophy

No Trophy

FITASC
Sporting

HBD
Handicap By Distance

No Trophy

No Trophy

No Trophy

No Trophy

Helice
ZZ

No Trophy

No Trophy

No Trophy

No Trophy

No Trophy

OSK
Olympic Skeet

No Trophy

No Trophy

No Trophy

No Trophy

OTR
Olympic Trap

Tom Watson
Mark Wright
Andy Pownall
Hazel Denney
Tom Watson

S/B
Single Barrel

SKD
Skeet Doubles

STR
Sportrap

UTR
Universal Trench

Mark Wright
Mike Faux
Andy Pownall

No Trophy

No Entry

No Entry
Cheshire Trophy Winners 2021

Discipline

High Gun Champion

Mens

Veterans

Ladies

Juniors

ABT
Automatic Ball Trap

Miles Machin

Mike Sargeson

Andy Pownall

Hazel Denney

No Trophy

No Entry

A/R
All Rounder

N/A
N/A
N/A
N/A
N/A

D/R
Double Rise

N/A

No Trophy

No Trophy

No Trophy

No Trophy

D/T
Double Trap

N/A

No Trophy

No Trophy

No Trophy

No Trophy

DTL
Down The Line

Thomas Warburton
Peter Relph

Andy Pownall Or

Peter Thomas

Jeannette Bushell

Toby Hurstfield

ESK
English Skeet

Chris Bethell
Colin Babcock
Jack Hope
Isabel Cartlidge
Isabel Cartlidge

ESP
English Sporting

Steve Randles
Tom Lowe
Mike Holland
Lucy Earl
Lucy Earl

ESP
Promatic Challenge

Tony Dean

No Trophy

No Trophy

No Trophy

No Trophy

FITASC
Sporting

Miles Machin
Fred Whitehurst
Eddie Wilkinson
No Entry
No Entry

HBD
Handicap By Distance

N/A

No Trophy

No Trophy

No Trophy

No Trophy

Helice
ZZ

No Trophy

No Trophy

No Trophy

No Trophy

No Trophy

OSK
Olympic Skeet

Miles Machin

No Trophy

No Trophy

No Trophy

No Trophy

OTR
Olympic Trap

David O`Donnell
Ian Cunliffe
Mike Faux
No Entry
No Entry

S/B
Single Barrel

Peter Relph
Chris Bushell
Andy Pownall
Nicola Booth
Toby Hurstfield

SKD
Skeet Doubles

Kevin O`Reilly
Ian Cunliffe
Miles Machin
Jacqui Slater
Isabel Cartlidge

STR
Sportrap

Eddie Wilkinson
Ian Cunliffe
Andrew Jones
Hazel Denney
No Entry

UTR
Universal Trench

Mark Wright
Jim Rogers
Andy Pownall

No Trophy

No Entry
Cheshire Trophy Winners 2020

Discipline

High Gun Champion

Mens

Veterans

Ladies

Juniors

ABT
Automatic Ball Trap

N/A

N/A

N/A

No Trophy

N/A

A/R
All Rounder

N/A

N/A

N/A

N/A

N/A

D/R
Double Rise

N/A

No Trophy

No Trophy

No Trophy

No Trophy

D/T
Double Trap

N/A

No Trophy

No Trophy

No Trophy

No Trophy

DTL
Down The Line

Peter Relph

Chris Bushell
John Barnett

Jeannette Bushell

Toby Hurstfield

ESK
English Skeet

Chris Bethell

Colin Babcock

Maurice

Cunningham

Hazel Denney

James Barnett

ESP
English Sporting

Scott Barnett

Mark Oakley
Mike Holland
Kerry Oakley
Lucy Earl

ESP
Promatic Challenge

Tony Dean

No Trophy

No Trophy

No Trophy

No Trophy

FITASC
Sporting

Steve Randles

Carl Vickers
TBC
No Entry
James Barnett

HBD
Handicap By Distance

N/A

No Trophy

No Trophy

No Trophy

No Trophy

Helice
ZZ

No Trophy

No Trophy

No Trophy

No Trophy

No Trophy

OSK
Olympic Skeet

N/A

No Trophy

No Trophy

No Trophy

No Trophy

OTR
Olympic Trap

N/A

N/A
N/A
N/A
N/A

S/B
Single Barrel

N/A

N/A
N/A
N/A
N/A

SKD
Skeet Doubles

Mark Haley

Colin Babcock

Maurice

Cunningham

Hazel Denney
Lucy Earl

STR
Sportrap

N/A

N/A
N/A
N/A
N/A

UTR
Universal Trench

N/A

N/A
N/A

No Trophy

N/A
Cheshire Trophy Winners 2019

Discipline

High Gun Champion

Mens

Veterans

Ladies

Juniors

ABT
Automatic Ball Trap

Mike Faux

David O`Donnell

Andy Pownall

No Trophy

No Entry

A/R
All Rounder

Tony Dean

Brett Davies

Paul Ellis

Kerry Oakley

James Barnett

D/R
Double Rise

No Entry

No Trophy

No Trophy

No Trophy

No Trophy

D/T
Double Trap

N/A

No Trophy

No Trophy

No Trophy

No Trophy

DTL
Down The Line

Peter Richards

Mark Harris

Geoffrey Rogers

Jeannette Bushell

Toby Hurstfield

ESK
English Skeet

Chris Bethell

Ian Cunliffe

Kevin O`Reilly

Hazel Denney

No Entry

ESP
English Sporting

Mike Holland

Scott Barnett

Miles Machin

Kerry Oakley

Ben Rimmer

ESP
Promatic Challenge

Tony Dean

No Trophy

No Trophy

No Trophy

No Trophy

FITASC
Sporting

Scott Barnett

Steve Randles

Neil Waterman

No Entry
No Entry

HBD
Handicap By Distance

N/A

No Trophy

No Trophy

No Trophy

No Trophy

Helice
ZZ

No Trophy

No Trophy

No Trophy

No Trophy

No Trophy

OSK
Olympic Skeet

No Entry

No Trophy

No Trophy

No Trophy

No Trophy

OTR
Olympic Trap

David O`Donnell

Darren Ginders

Mike Faux

No Entry

Tom Watson

S/B
Single Barrel

Paul Sant

Chris Bushell

Keith Waters

Jeannette Bushell

Toby Hurstfield

SKD
Skeet Doubles

Yan Armstrong

Ian Cunliffe

John Shreeve

Hazel Denney

No Entry

STR
Sportrap

Miles Machin

Carl Vickers

Paul Ellis

Hazel Denney

Tom Woodcock

UTR
Universal Trench

Paul Culverwell

David O`Donnell

Mike Faux

No Trophy

No Entry