Cheshire CPSA Website : Pull! Magazine
CPSA Pull Magazine - April 2021
Inter County Competitions. It has been decided to run Inter County Competitions this year as well as County Championships. The Team Captains are working hard to arrange dates for selection shoots that do not conflict across the various disciplines. The dates will be published here, as and when available. Please also check our website for the latest details.
Cheshire DTL Team Selection Shoots. 1) West Midlands Area DTL, Fauxdegla 18/04/21. 2) Holmes Chapel 09/05/21. 3) Nottingham and District TBC. 4) Cheshire DTL Champs, Holmes Chapel 25/07/21. 5) Bywell Weekend 12th and 13th June this is not compulsory. West Midlands Inter Counties DTL is at Nottingham 01/08/21. We will be picking the best teams that we can from the above shoots, please do what you can. If you are new to DTL and we don't know you, and you wish to be considered for selection please let us know. David Hurstfield 01477 518444, 07841 825307.
Senior team consists of 6 shooters with the best 5 scores to count. Ladies team consists of 3 shooters with the best 2 scores to count, Vets and juniors are the same.
Mickley Hall Shooting School. Are running their Summer Series again this year. Each Thursday starting on the 1st April. Also 100 Registered competitions on the last Wednesday of the month, starting on the 28th April. May 1st is Ladies Clay Shooting League.
Mickley Hall Shooting School. May 22nd is NHS charity day, and Webley Scott Demo day. 50 Target Re entry Sporting – No need to pre-book – turn up on the day. 1st card £20 2nd card £15. BBQ and raffle all day! Proceeds from the shoot will go to the NHS charity! Full range of guns available to look at and demo, with expert staff on hand to offer advice and information. Anyone who shoots / demos the Webley and Scott will be put into a prize draw for a chance of winning a prize basket. Anyone who orders / buys a Webley and Scott on the day will also receive a FREE Cap, Slip, Mug and Jack Pyke Skeet vest. Good luck to you all.
Mickley Hall Shooting School. The return of The Eley Grand Prix, running from Thursday 15th July to Saturday 17th July. It will consist of 100 targets of Super Sporting, over 10 stands, 4 traps per stand, 4 singles, and full use of gun, 2 report pairs, and 1 simo pair. There will be catering with hot and cold food and drinks. Plenty of room for parking and space for caravans. There is a huge prize pot of over £12,000. Prizes for 1st, 2nd, and 3rd in AAA/AA/B/C classes. Plus prizes for Ladies, Juniors, Vets and super Vets. Also prizes for unclassified shooters and Colts. Bookings are now being taken. Please check their website, or call for full details 0800 772 0058.
Cheshire ESK Team Selection Shoots. It is proposed to have 5 selection shoots, with the best 3 scores to count. Possibly at Doveridge Clay Sports, Fauxdegla Shooting Ground, and North Wales Shooting School. Please keep checking the website for details.
Forthcoming Dates.
FITASC, West Midlands Area Individual and Inter Counties Championship, Westfields, 8th 9th May.
ESK, West Midlands Area Individual Championship, Doveridge, 30th May.
ABT, West Midlands Area Individual Championship, Rugby, 20th June.
Mickley Hall Shooting School, Longthorne Demo Day, 26th June.
SKD, West Midlands Area Individual and Inter Counties Championship, Gloucester, 27th June.
UTR, West Midlands Area and Inter Counties Championship, Rugby and District, 11th July.
Mickley Hall Shooting School, Eley Grand Prix, 15th July to 17th July.
ESK, 100 Reg Challenge Cup, Fauxdegla Shooting Ground, £200 prize for high gun, 29th Aug.
CPSA Pull Magazine - March 2021
LADIES CLAY SHOOTING LEAGUE.....be part of it Sponsored by On The peg Clothing. We are delighted to welcome you back with a calendar full of league events starting on Saturday 1st May 2021 at Mickley Hall Shooting School. We have 6 league events scheduled there are 5 x ESP and 1 x new event Sport Trap (75 bird). We have increased the ESP events to 80 birds, and you will still have the opportunity of socially distanced coaching on the tricky stands. We are running a one day challenge competition for Skeet and DTL. All ESP and Sport Trap events will be on the first Saturday of the month, the Skeet and DTL will be as advertised, so save the dates in the diary and get booked NOW with your preferred timed squad. Check out our website and social media for the dates and venues as we are still finalising details, to give you all the best experience in the current Covid 19 restrictions.
New to LCSL then join for FREE here at www.ladiesclayshootingleague.co.uk
Email ladiesclayshootingleague@outlook.com
Call Mandy 07808 477044 – Miles 07828 149111
CHESHIRE LADIES ON THE PULL.......Come and have a go! Saturday 1st May at Mickley Hall Shooting School. For ladies who would like to have a go at shooting 1 to 1 please see our social media page for booking details and more events. Or contact Mandy 07808477044 and Miles 07828149111.
Isabel Cartlidge....the journey so far. In my primary school years, I was a keen Netball player and thoroughly enjoyed playing Goal Shooter and Goal Attack. I played alongside my identical twin Fern. Unfortunately, or fortunately as my Dad would see it, I had to retire from Netball as my patella's don't sit into the grooves of my bones and I was in constant pain so what else would a girl of 10 do to occupy her time ? I started to go shooting at our local Sunday shoots with my Dad and Uncle Dave, where I had the job of marking the scores. It wasn't until we visited Premier Guns at Doveridge, looking to purchase a gun for my Dad that we heard about Young Guns. Young Guns is a fantastic way to introduce children to shooting, and that is exactly how I got into it. I got all the information and Dad booked me on for the following Saturday. I was handed a 410, a box of 25 cartridges and headed off to the stands. Steve Owen was the first person to help me and give me lots of encouragement, and still does to this day.
After a few months of shooting at Young Guns , we purchased my first gun from Premier Guns, a Yildiz 28 gauge. Once I had my own gun, I was able to participate in the local Sunday Sporting Shoots. I did this for almost a year and in 2018 purchased a new Browning 525 20 gauge and started having some tuition at Mickley Hall for sporting.
Although I enjoyed sporting, I found that I really enjoyed shooting English Skeet, so in the summer of 2018 I started to be coached by David Beardsmore as I wanted to reach my full potential. Things progressed quite slowly as David is very particular on gun fit / mount, eye dominance and most importantly technique. Some lessons I didn't move from peg 1, none the less I was hooked. By the end of 2018 I had come a long way and with the help of Premiere Guns and their expert advice we purchased a Beretta 690 black 12 gauge.
Lessons carried on throughout 2019 preparing for the start of 2020 and a possibility of England selection. On 21st January 2020 I shot my first registered English Skeet competition at Doveridge, I wasn't overly pleased with my score but I was very pleased that I'd held my nerve and completed the competition at the age of 13. From then on, over the course of the next few weeks I shot 6 more registered shoots from Doveridge, Nottingham, The Priory and East Yorkshire we were well travelled pre COVID-19. Based on my scores, I managed to qualify for England Selection Shoots.
In March 2020 lockdown commenced and I didn't shoot for almost 3 months ! I couldn't wait to get back on the shooting range with David. I had my first lesson with David post lockdown and it was like I'd not been away, all those months when I started with David and him installing the techniques certainly paid off.
I shot the Welsh Open at Fauxdegla, finishing 3rd in Colts, the British Open Skeet at Bisley and then onto the West Midlands Area ESK Championship where I shot 89/100 winning the Ladies and 2nd in Juniors. My year ended when I was approached by Cheshire CPSA to shoot the National Inter Counties ESK. I shot Junior team event with Lucy Earl coming 2nd. Individually I shot 97/100 finishing joint 1st Ladies High Gun, so had to endure my first ever shoot off. I shot 24/25 my opponent shot 22/25 therefore I was placed 1st Ladies High Gun, and 1st in Colts.
All of this is possible because of the support I get, not only from my Mum and Dad, but from all my sponsors Premier Guns, Mercury Custom Plugs, Eley Hawk, GMK Ltd, Timberwolf, Spectrum Plant and I can't thank enough my amazing coach David Beardsmore who has a lot to put up with but always picks up the phone when I need to talk. I would encourage any young girl or boy wanting to give it a go to go and do it.
CPSA Pull Magazine - February 2021
End Of Year Review 2020. The year started with the AGM being very well attended, and the election of officers and committee members. Shortly afterwards a full programme of events and competitions was published on the website. The team selection shoots had just started when Covid 19 stuck in March, and then three months of lockdown stopped everything. However the restrictions did ease through the summer and into the autumn. But we were only able to run less than half of our normal competitions and events. Congratulations to all the Cheshire County, Individual trophy winners. Cheshire shooters featured well in the West Midlands Area Individual events of Sportrap, English Sporting, English Skeet, Single Barrel, and Down The Line. Congratulations to you all. No regional Inter Counties events were run this year. But at National Inter Counties level, Cheshire shone again in English Skeet, (Seniors runners up).Down The Line, (Juniors runners up), and All Round, (Seniors gold) with several brilliant individual performances. A wonderful achievement for you all. Let us hope that 2021 will be a better year. Happy New Year to everybody.
CPSA Top Shots 2020. Several Cheshire shooters have featured in this year's list. They are, for, English Skeet, Christian Bethell (SNR 6th), Hazel Denney (LDY 4th), Isabel Cartlidge (LDY 9th and CLT 3rd). Down The Line, Emma Percival (LDY 9th), Toby Hurstfield (CLT 2nd), Tom Roberts (JNR 1st). English Sporting, Kerry Oakley (LDY 6th), Fred Whitehurst (JNR 2nd). Congratulations to you all.
Ladies Clay Shooting League. 2020 started so promising with over 40 competitors for the opening event in March at Catton Hall, but that was the only event to run due to the restrictions of Corona virus. The LCSL prides itself on competition and coaching rolled into one spectacular enjoyable experience, and is something that we feel can be done fairly for the benefit of the emerging competitive shooter across the disciplines of ESP DTL and ESK. However, Miles and I felt this format has not been possible to execute in the current restrictive climate and although we were forever hopeful to return to the events during 2020, we succumb to the fact it was an impossible ask. Now in 2021 we are faced with yet another shooting year of uncertainty, but Miles and I are discussing how the LCSL can resume in some format and will be guided by the shooting grounds for their input on the way we need to run events to comply with new Government guidance in the future. We are missing you all, Stay Safe and well Miles and Mandy.
Covid 19 At the time of going to press, the Prime Minister Boris Johnson has said that on the 22nd of February, the situation will be reviewed and if circumstances are right some restrictions may be lifted. Let us hope that sports facilities and shooting grounds can open again.
CPSA Pull Magazine - January 2021
30th Aug Promatic Sporting Challenge and Cheshire Promatic Shield Kegworth Shooting Ground. Eleven Cheshire shooters competed in this marathon of 100 birds on Saturday and 100 birds on Sunday. The event attracted entrants from all over the country. When all the scores were in, it was Tony Dean on top with 174, Cheshire High Gun, 4th overall, and first in AA class, what a day for Tony. Congratulations to him, and well done to all those who made the trip over to Kegworth.
13th Sept West Midlands Area Individual ESK Championship Fauxdegla Shooting Ground. Bright sun shine and a stiff breeze greeted the competitors. A large field of 9 squads did their best in the difficult conditions. The early pace was set by Ian Cunliffe 96, Kevin O'Reilly 95, Miles Machin and Jim Wagstaff each on 94. Very good scores in the difficult conditions. That's how it stayed for most of the day. However when the scores came in from the last two squads it all changed. Alan Barnes (Derby) was champion with 99, in second place was Kian Maher (Staff) with 98. Then we needed a shoot off between Ian Cunliffe and Martin Walmsley (Staff) both on 96, for 3rd place. Martin won the shoot off, congratulations to him, and commiserations to Ian. We also needed a three way shoot off to decide Veterans. Kevin O'Reilly, Trevor Lewis and Graham Evans all on 95. It was all very close needing 8 targets to decide the 3 places. Graham Evans won, with Kevin O'Reilly second, and Trevor Lewis third. Cheshire Ladies had a clean sweep with Isabel Cartlidge winning Gold, Lucy Earl Silver and Hazel Denney Bronze. Isabel Cartlidge also won Junior Silver and Lucy Earl Junior Bronze. Congratulations and well done to you all.
20th Sept National Inter Counties All Round Championship, Northampton S. G. It was a quiet drive to Northampton, with the trips in the car these days being on one's own, with the Covid rules in place. But the weather stayed OK for September, and a full senior team was representing Cheshire at the National Inter Counties All round. We were the last squad out for the day, with Nottingham waiting in the wings as the leaders on the scoreboard. Starting on the DTL and then onto the ABT scores were looking good at this stage. We then moved onto the skeet which again went well, moving onto the sporting, last but definitely not least. Again scores were great with three straights, and making our way back to the clubhouse we started to think that National Champions was a possibility. It proved to be the case, taking the title by two clays from Nottingham. But just to top that, Scott Barnett (95) took the overall title, Tony Dean (94) was not only runner up but took the Vets title. Fred Whitehurst (91) took the junior title, so all in all not a bad days work and a great result for Cheshire. Well done to the whole team of Scott Barnett, Tony Dean, Fred Whitehurst, Guy Robinson, Kevin O'Reilly and Miles Machin.
18th Oct National Inter Counties ESK Northampton S.G. Cheshire's first squad was underway at 12.40 with Jim Wagstaff, John Shreeve, and Miles Machin shooting for the Vets, with Lucy Earl and Isabel Cartlidge shooting for the juniors. There were some great scores with Isabel Cartlidge (New Cap) shooting a fantastic 97, followed by Miles on 93. The juniors came runners up with 184/200 well done Lucy and Isabel. The Vets finished 4th on 183/200.
In the next squad was Colin Babcock (Senior), and Ladies Hazel Denney and Jacqui Slater with more great scores. Colin Babcock 99, followed by Hazel Denney on 92. The Ladies finished 4th overall, well done. In the final squad for Cheshire, were the rest of the senior team with plenty of great scores. Chris Bethell on 99, Kevin O'Reilly 99, Jack Hope 97, Ian Cunliffe 95 and Jim Rogers 92. The senior team finished runners up on a fantastic 489/500 well done. The day was rounded off with Isabel Cartlidge taking the Colts title, and then the Ladies title after a tense shoot off. Kevin O'Reilly narrowly missing out on the Vets title after another tense shoot off. We'd like to take the opportunity to thank all the Cheshire shooters for their continued support, and look forward to shooting with you all again next season. ESK Manager Colin Babcock, Assistant Manager Maurice Cunningham.
CPSA Pull Magazine - December 2020
11th July Mickley Hall, Kevin Howarth Memorial Shoot. Of the many shooters and friends who turned up at the celebration of having known Kevin I think it is fair to say, he left a long and lasting impression on all who knew him. I for one will always remember Kevin for the friend and true gentleman that he was. In the world of shooting both game and clay, Kevin had many friends, from Cheshire CPSA's point of view he left a professionalism second to none in everything he did, in fact it was because of Kevin that the committee went on to win so many awards.
Karen, Victoria and Emily would like to take this opportunity to thank all who came and supported the event, and also dared to eat a burger cooked by their own fair hand. We would also like to thank the people who gave up their time to help and those who donated prizes for the raffle. It was a very successful day for the North West Air Ambulance, a charity close to Kevin's heart, as we raised in excess of seven hundred pounds.
The shoot itself was a good combination of targets for all abilities, a credit to Scott and all the team at Mickley Hall Shooting School, a big thank you to them. There were some great scores on the day with Guy Robinson on a 90, Tony Dean and Steve Randles on 91, Nick Beavis and Tim Simmonds on 92, but it was a tie at the top, both with 93 for John Jones and Rob Claybrook. Unfortunately there can only be one winner and this was done on countback, leaving Rob Claybrook to be the first to receive the fantastic Kevin Howarth memorial trophy. Commiserations to John Jones and congratulations to Rob Claybrook great shooting from both.
We look forward to this being an annual event that we can grow when we are out of Covid 19 guidelines, and once again thanks to all who turned up to support this great event, thank you ! Miles Machin.
31st Aug British Open Single Barrel, North of England Clay Target Centre. Congratulations go to Toby Hurstfield for 3rd place in Juniors with 93. Well done.
5th Sept Cheshire County English Skeet Championship. Good weather greeted us in the morning at North Wales Shooting School. Setting the early pace were Christian Bethell and Colin Babcock on 99 and 98 respectively. Great shooting guys. With still plenty of action to come, as the field had been split into four squads. With all the scores in, Christian's 99 could not be beaten, so he was declared Cheshire County Champion. Colin Babcock was Seniors Champion. Hazel Denney Ladies Champion, and James Barnett Juniors Champion with a brilliant 95. There was a tie in Veterans, with Jim Wagstaff and Maurice Cunningham both on 95. A shoot off now prolonged the tension. Maurice came out the winner by the narrow margin of just one clay. Commiserations to Jim and well done to you all.
5th Sept Cheshire County Skeet Doubles Championship. Still at North Wales Shooting School, this competition followed on from the ESK. With a smaller field and only 50 birds, the results should be in soon. The weather did not think so, with a torrential shower of rain stopping the action mid session. Mark Haley came out victorious as our new Champion. Hazel Denney was Ladies Champion. Maurice Cunningham Veterans Champion, and Lucy Earl Juniors Champion. But another shoot off was required, this time to decide Seniors Champion. Colin Babcock and Ian Cunliffe both finishing with 48. Colin was victorious, congratulation to him, and commiserations to Ian.
6th Sept English Open Single Barrel, North of England Clay Target Centre. Congratulations go to Tom Roberts for 3rd place in Juniors, and Toby Hurstfield for 3rd place in Colts. Well done to you both.
CPSA Pull Magazine - November 2020
West Midlands Area Olympic Trap Individual Championship. Fauxdegla Shooting Ground 09/08/20. In near perfect weather conditions this event ran like clockwork. The ground was looking immaculate. A testament to the hard work put in by Mike, Debbie and the team. Social distancing and special measures were in place, including a one way system through the clubhouse to make sure everybody stayed safe. The catering has been moved outside, and was superb. A total of thirteen shooters took to the field, including three from Wales, and one from Merseyside. Five West Midlands counties were represented, Hereford and Worcester having the biggest representation with four shooters. The scoring was close at the end, with Mike Faux being crowned champion on 87, great shooting Mike. In second place was Graham Evans, from Shropshire with 86. Third place went to Mark Lilley (Hereford and Worcester) and Dean Molnar (Derbyshire)both on 84.
Also happening that day at Fauxdegla was the Welsh Open Skeet Championship. A total of seventy nine shooters took part, including eleven from Cheshire. Again the scoring was close, with three shooters finishing with 99, and five with 98. The action stayed on late into the evening with three shoot offs needed to decide all the places after two Ladies finished with 97, and two Juniors finished with 97. The overall high gun was Allen Warren from Surrey, after shooting 24/25 in an extra round, then winning the tie break on peg 4. Ladies high gun was Emma Parkinson, and Junior champion was Becky Clarey. Cheshire's best shots on the day were the quartet of Kevin O'Reilly, Jim Rogers, Christian Bethell, and Colin Babcock, all scoring 96. Well done to you all.
West Midlands Area DTL Championship. Was held at Fauxdegla Shooting Ground 16/08/20. This was a very well attended shoot with 43 shooters, the weather wasn't the best with the low cloud creeping in until it met our feet!! This didn't worry Mr C Moule (Hereford & Worcester) who managed an amazing 100/300 to become the Area Champion, congratulations Chris. Vets Champion was jointly won by Mr J Barnett and G D Evans both on 290 points. Ladies Champion was won by Miss Leah Southall on 285 points. Silver medal N Booth, and Bronze medal E Percival. Juniors Champion was won by Mst T Hurstfield with 286 points. Well done everyone. ( D Hurstfield)
After the DTL had finished the ground held the West Midlands Area Single Barrel Championship. The on form Mr C Moule took the Championship by only dropping one target. What a day for Mr Moule !! Veterans was won by Mr J Barnett 93. Ladies won by L Southall with 91 and Bronze medal to J Hitchmough. (David Hurstfield).
Holmes Chapel Shooting Ground. Will be starting their Winter Series on the 11th October, running through to the 28th March. Twelve shoots with the best six to count. Good luck everyone.
British Open English Skeet at National Clay Shooting Centre 21/08/20. This was a very close contest with 3 shooters finishing on 100. After an extra round shoot off, and a tie break Natalie Bales (Wales) was declared winner. With Sam Green (Norfolk) second, and Archy Stannard (Norfolk) third. Just missing out of the top spot with 99 was Christian Bethell. Other Cheshire shooters making the trip were C Babcock, J Hope, J Rogers, and I Cartlidge. Well done to you all.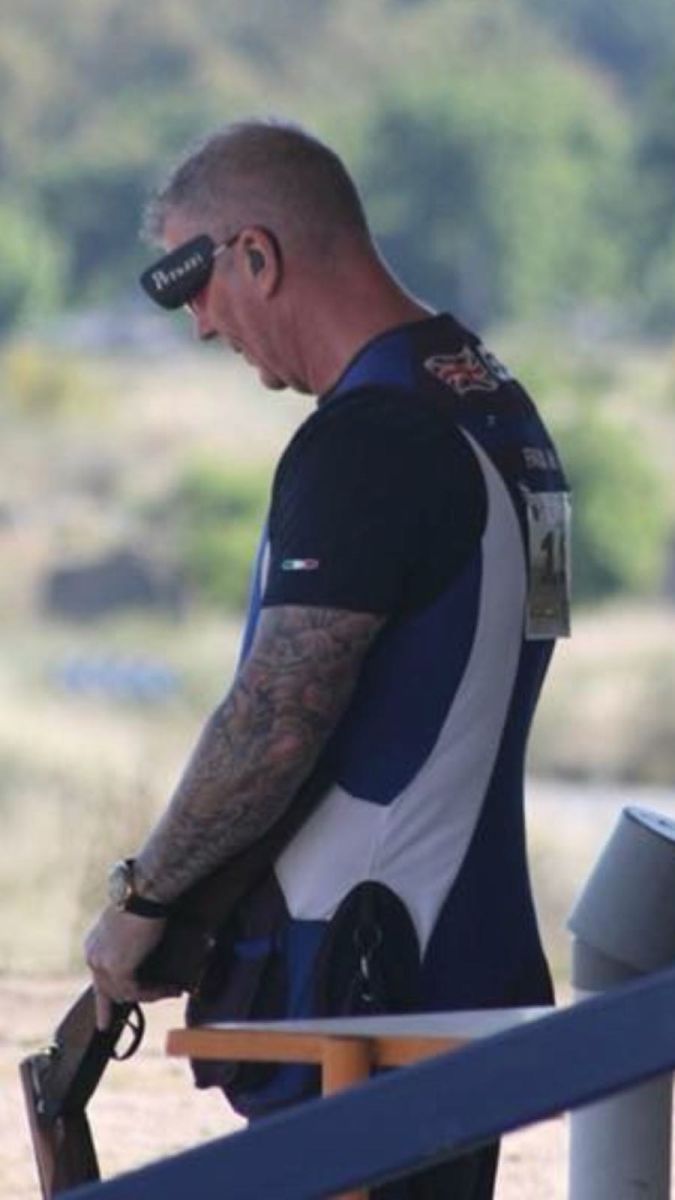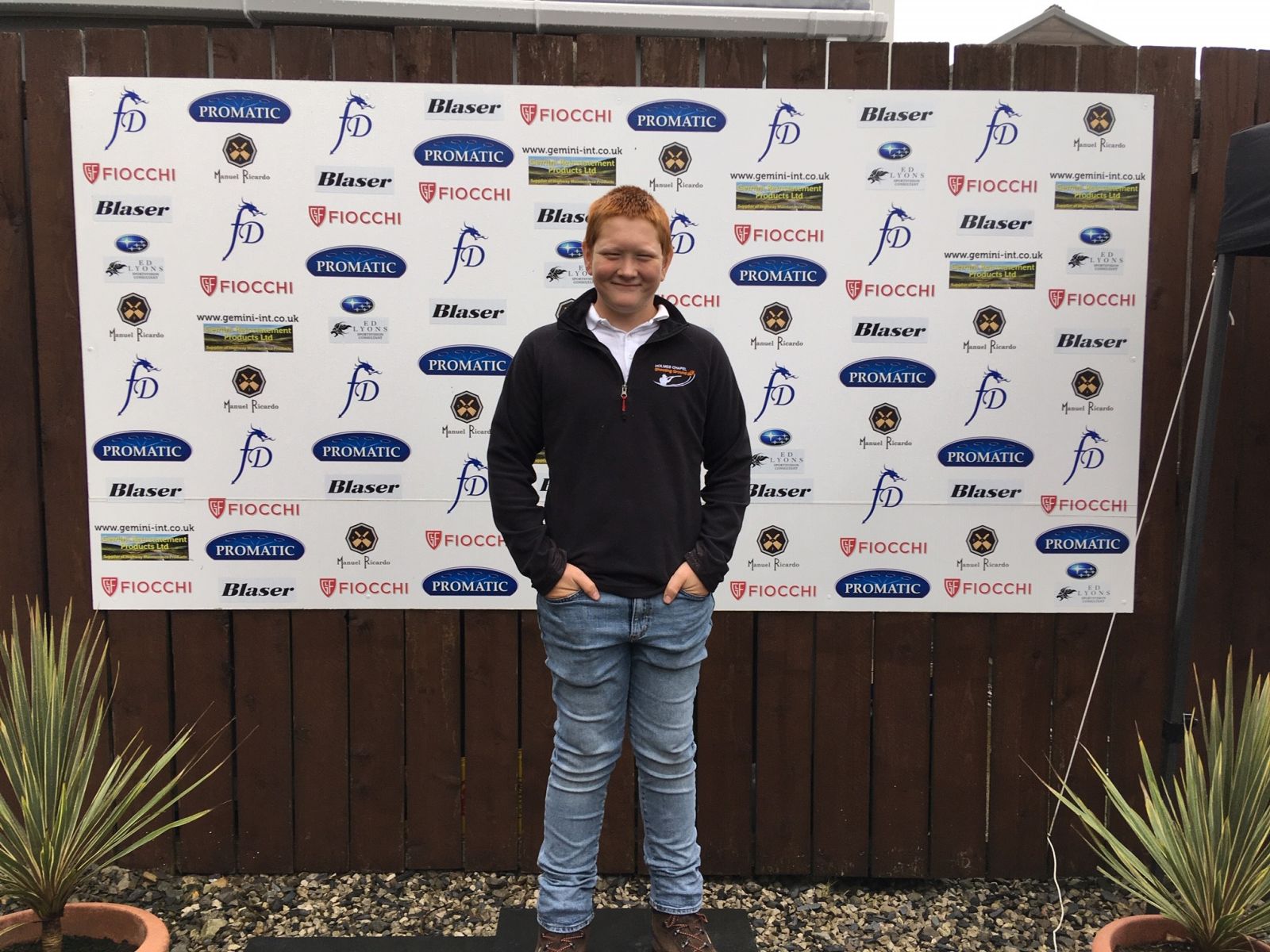 CPSA Pull Magazine - October 2020
Good News In Wales. As of Monday 6th July the five mile travel restriction has been lifted. North Wales Shooting School has reopened on Thursday, Friday and Saturday. No advance booking required, just turn up. Some special measures are in place. Fauxdegla Shooting Ground has reopened on Wednesday, Thursday, Friday, Saturday and Sunday. But at the time of going to press Mid Wales Shooting Ground is still closed.
Registered Skeet at Fauxdegla Shooting Ground. A small dedicated group of seven skeet shooters from Cheshire made their way over to Fauxdegla Shooting Ground on Sunday 12th July, for the first registered skeet event since the easing of restrictions. Top Cheshire shots were Christian Bethell, and Jack Hope with a wonderful 98. Christian took first in AA class and joint second overall, whilst Jack was second in A class, and joint second overall. Following closely was the trio of Colin Babcock, Kevin O'Reilly and Jim Wagstaff all on 94. Hazel Denney represented Cheshire ladies, and it was lovely to see Bill Hope, out shooting again. The weather was glorious, and the event was very well run. A big thank you goes to Mike, Debbie, and all the team for putting on a great shoot, and helping us get back in the swing of things.
Cheshire ESP County Championships, Sunday 26th July, A wonderful turnout of 60 Cheshire shooters went to Catton Hall Shooting Ground. The day was mainly dry and overcast with a fresh breeze. This did not prevent some very good scoring. County Champion is Scott Barnett with 96 (and first in AA class), Men's Champion Mark Oakley on 92, Ladies Champion Kerry Oakley with 84, Veterans Champion Mike Holland on 87, Junior/Colts Champion Lucy Earl on 78. Also winning prizes were Albert Moss, joint 3rd in A class, Jamie Robbins, 3rd in B class 86, Lee Williams, 1st in C class 80, Robert Ward-Dutton and Julia Payne, joint 2nd in C class 75. Congratulations to you all, very well done.
Cheshire DTL County Championships, Sunday 26th July. Well what a day, who'd have believed how windy it became...It didn't deter some of you though, there were 14, 100 straights today, great shooting everyone, the best was Mr C Moule with 100/299 great shooting Chris!! In AA class 1st K Bond & A Greenstock 100/298, 3rd D Price & R Haines 100/297. A class 1st C Bushell & G Nutter 99/294. 3rd A Halln 100/293 & C Harris 99/293. B class 1st M Warburton 99/293, 2nd P E Jesson 98/289, 3rd D A Owen 98/283. C class 1st M Boon 94/277, 2nd J Tennison 92/268, 3rd S Milroy 92/267. Now for the Cheshire Championship! Cheshire Champion was Mr p Relph 295. Senior Winner was Mr C Bushell 294. Veteran Winner was Mr J Barnett 289. Ladies Winner was Mrs J Bushell 289. Junior Winner was Mst T Hurstfield 282. There were 33 Cheshire shooters, which was a great turn out, many thanks to everyone that came today. We'd just like to say thanks, and we hope you enjoyed your day with us, hope to see you soon, thanks from Dave, Helen, Toby and Jane...
CPSA Pull Magazine - September 2020
English Sporting (ESP) County Championship. It is still hoped that we will be able to run this competition sometime before the end of the year. Keep checking the website for further details.
English Skeet (ESK) County Championship. It is still hoped that we will be able to run this competition. Originally scheduled for 10th October at North Wales shooting Ground, if the restrictions on competitions are relaxed, the date may be brought forward.
Resumption of CPSA Registered Shoots. As from 1st June all Registered Grounds in England are able to resume Registered competitions. Special temporary measures have to be in place as well as social distancing. The special temporary measures vary by discipline, so please check the CPSA website for full details. Check with the shooting ground before travelling.
West Midlands Shooting Ground. Has reopened on Thursdays, Fridays and Saturdays for Sporting and Sport Trap. This must be booked and paid for in advance, and special measures are in place. Please contact the ground for further details.
Lucy Earl, my story so far. I started shooting when I was around 15. My dad's friend introduced us to sporting through our local ground, which is when we bought a Beretta Silver Pigeon that we shared. I didn't start shooting competitions until I was nearly 17, after having some lessons from Phil Daniels, who taught me the basics. He improved my scores dramatically and inspired me with all of his shooting successes. I was introduced to the competitive atmosphere by the Ladies Clay Shooting League. At my first event with them in 2019 I won high gun and went on to place runner up in the league overall. After starting at the Ladies League, I joined the CPSA and represented Cheshire for English Sporting at the Inter Counties last year. I currently shoot a Syren Elos N2 sporting gun, which I shoot for both sporting and skeet.
I have since tried English and Olympic Skeet, DTL and Sportrap. My favourite discipline is English Skeet, but I still love the variety of English Sporting. I have recently started to shoot some more DTL with a Miroku trap gun and I am really enjoying it. My favourite registered ground is Doveridge Clay Sports, because of the huge range of disciplines you can shoot there and for non registered I love Leek and District Gun Club. I am most inspired by Amber Hill because of the hard work and effort that she has put in to have achieved so much as a young shooter.
I get the most pleasure from seeing my scores improve and knowing that my commitment and determination is paying off, but I obviously like breaking clays and winning competitions! I am thrilled to say that this year I joined Team Lyalvale Express. Everyone is fantastic and really supportive. I applied to join the team through my local gun shop, Central Guns, after shooting Express cartridges since I started, and I was lucky enough to receive an offer of sponsorship.
In future, I'm planning on trying more disciplines to decide which one I want to pursue, whilst continuing to shoot sporting and skeet at a higher level, at some major competitions. I hadn't had many competitions planned for this year as I was meant to be sitting my A levels, but due to COVID 19 they were cancelled so I have time to make some improvements before next year. I'm aiming to shoot at National level before I leave Juniors in a few years time, so I will be working towards this.
The advice I would give to someone looking to take up English Sporting is to get a few lessons with a good coach that works with your way of shooting, instead of trying to change everything at once, so that you don't get the chance to pick up bad habits or get overwhelmed by so much change. I'd also say to not compare yourself to others too much, because even though some healthy competition can inspire you to improve, constantly comparing scores with someone who has been shooting a lifetime when you have just started can be disheartening.
CPSA Pull Magazine - August 2020
International World Rankings. Congratulations to Cheshire shooters Tony Dean and Andy Jones. Tony is listed in the top ten Seniors in both Compak Sporting and FITASC Sporting, and Andy Jones in the top ten Veterans, ahead of John Bidwell in Compak. Great shooting guys, keep it up.
Skeet Selection Shoot. It was the first ESK team selection shoot on Sunday 15th March. Showers of rain hampered the early and late starters, and it was overcast most of the day. Nineteen Cheshire shooters made the trip to Doveridge. High gun of the day was Colin Babcock with a 99, other high scorers were Jack Hope 97, Miles Machin 96, James Barnett and Ian Cunliffe on 94. It was also good to see so many Ladies and Juniors taking part. Well done to you all.
Holmes Chapel Shooting Ground. After much soul searching, following the government's announcement yesterday, we feel that we have no option but to shut the shooting ground with immediate effect, for the safety of our customers. We know this is not what you want to hear but due to the current situation we feel it is the right decision to make. As this is an ever changing situation we will keep you updated. We wanted to take this opportunity to say a huge THANK YOU for your support and helping us build a reputable shooting ground. Please keep yourselves safe and well in this difficult time. David Hurstfield.
North Wales Shooting School. Closed until further notice. We will of course be keeping you up to date with our news through the normal channels of social media and our website regarding our reopening. We have set up a new line of contact via the mobile 07835700447 for URGENT enquiries, that will be manned 9am till 5pm. Most importantly though , we wish all of our customers and friends the very best in these difficult times.
Mickley Hall On behalf of the Mickley Hall Team it is with great sadness that we are writing this post. We have decided to temporarily close the shooting ground in line with Government advice as of 23rd March. But our on line store will continue to stay open. Also Scott will be available to discuss gun sales, cartridges, clay's etc. You can contact Scott on 07766252438. Please can I remind you that no cold calls to the shooting ground. If you have any questions please do not hesitate to contact us on 07766252438 or admin@mickleyhall.com. We would also like to take this opportunity to thank all of our lovely customers for understanding and for your cooperation during this time.
CPSA Announcement. The English Open English Sporting, and English Open English Skeet are cancelled.
All registered shoots are cancelled. This decision will be reviewed weekly to consider changes to the situation and Government guidance.
All CPSA Premier League shoots have been postponed. The series will provisionally resume on 28th June at Southdown Gun Club.
West Midlands Area and Inter Counties FITASC Competition, and Cheshire County Championship. Well the weather couldn't have been much worse for the FITASC but the turnout was good with both Saturday 29th Feb and Sunday 1st March full to Capacity at Garlands, making Steve very happy he almost smiled, competitors that shot on the Saturday had the worst of the weather with not only the wind but pretty much every other type of weather there is. Sunday was the better day if you could call it that, with just a little rain but the wind stayed strong. This event is not only the West Midlands Area but also the team event on top of which Cheshire holds it's FITASC Championship.
In the West Midlands Inter Counties, Cheshire had a great result finishing third, matching last years highest result, congratulations to Gloucestershire for taking gold. Miles Machin took the bronze in Vets.
In the Cheshire Championship everything went down to the wire with only one or two clays separating the front runners with one layout left to complete. The eventual winner was Steve Randles who shot an exceptional last round of 24, closely followed by Carl Vickers with Miles Machin and Tony Dean tied for Vets, and our Junior winner was James Barnett. Thank you to everyone that took part and to Steve Lovatt for a great layout.
CPSA Pull Magazine - July 2020
Cheshire DTL team selection shoot. We now have the date for the selection shoot at Nottingham and District, Sunday 19th July is confirmed.
Ladies Clay Shooting League. Our big 2020 news is, "The Festival of Ladies Shooting Event" which will be on Saturday 26/09/2020 at Doveridge Clay Shooting Ground. We have lots of items to confirm but can tell you there will be a 75 bird sporting, with have a go Skeet and DTL and much more. We will be making exciting announcements in the coming weeks so SAVE THE DATE. Congratulations to Mandy Berrisford for coming second in the CPSA Sports Personality of the Year award 2020. Mandy has also been nominated for the "BASC Ladies Shooting Star Award 2019". Keep up the good work Mandy. The League now has over 200 members, averages 30 shooters per event, and many of them have made the County teams.
Cheshire CPSA AGM. Over forty attended, and it was good to see some new faces. From the Chairman's report we learned that 2019 was a great year for Cheshire shooters. We had 147 competition entrants. Ten new caps for the county. Fourteen Cheshire shooters featured in the CPSA top 20 rankings. Seven Cheshire shooters represented England or GB in international competition. Cheshire was second overall in the Lyalvale Challenge. The debate continues reference lead shot versus steel shot, and the rules for under 18s owning or having access to shotguns are changing, we will let you know when we have something definite. Ladies participation in clay shooting is increasing, which is good.
It was decided to keep Cheshire Air Ambulance as our chosen charity. The committee have received a letter from Andy Duncan thanking us for our support, and he goes on to say that they started with one helicopter, they now have three. During 2019 they were called out to 2,000 incidents, and their running costs are £9.5 million per year.
There will be a Kevin Howarth memorial shoot at Mickley Hall on 11th July , more details will be available soon.
Full details of all your new committee members, team captains, vice captains, and their rolls are now on the web site.
Please support your County teams, and let us see if we can make 2020 even better for Cheshire than 2019.
West Midlands Clubman Event. Has been a great success during 2019, and we are now looking at taking it to a National level.
Team Selection Shoots. Details of all the team selection shoots, across all disciplines are now on our web site. Please check under your relevant discipline.
Championship Fixtures. For details of all the Cheshire individual, and West Midlands Area Championship shoots, please go to the Championship Fixtures page on our web site.
Eley English Sporting Ladies Championship, will be held at Mickley Hall Shooting School, on Saturday 30th May. It is a 100 Bird competition. Entry fees are £45 per individual, or £180 per team of 4 Ladies. First squad out at 10am. Last squad out at 1pm. Please note, Prior bookings only, Tel 0800 7720058 or via the website www.mickleyhall.com
Forthcoming dates.
15th March ESK Team selection, Doveridge.
26th March Cheshire Shield Police ESP, West Midlands Shooting Ground.
29th March ABT Cheshire Individual Champ, Fauxdegla.
19th April DTL, West Midlands Area Individual Champ, Fauxdegla.
4th and 5th April ESP West Midlands Area Individual Champ, Garlands.
5th April ESK Team selection shoot, Doveridge.
12th April ESP Team selection shoot, Oakedge.
13th April CSP West Midlands Area Individual Champ, Garlands.
19th April DTL Team selection shoot, Fauxdegla.
3rd May ESP Team selection shoot, Garlands.
24th May Universal Trench, Cheshire Individual Championship, Fauxdegla.
CPSA Pull Magazine - June 2020
Cheshire Top Shots. Congratulations to all those Cheshire shooters that feature in the list of Top Shots, from the last edition of Pull magazine. Cheshire has been well represented, with a total of fourteen shooters covering eight disciplines. They are, for Down The Line, Eleanor Hardy, Toby Hurstfield, and Tom Roberts. For English Skeet, Christian Bethell, Ian Cunliffe, and Hazel Denney. In English Sporting, Kerry Oakley and Fred Whitehurst. In Compak Sporting, Carl Vickers and Andrew Jones. For Automatic Ball Trap, Michael Faux. For Olympic Skeet, Alexander Wilkinson. In Olympic Trap, Fred Thornley. In F.I.T.A.S.C. Thomas Woodcock. A great achievement.
All Cheshire Shooters. A reminder to all Cheshire shooters with aspirations to shoot for your County. Please check our web site, and the "Forthcoming dates" paragraph of Pull magazine, for the dates of Team Selection Shoots. These will be published as soon as possible after our A.G.M.
North Wales Shooting School 28/12/2019. A small but dedicated group of English Skeet shooters opened the new season of the 50 bird skeet league. The weather was good for the time of year, and high scoring was expected. Alas nobody managed a 50 straight. But three shooters tied for first place with 49s. They were Colin Babcock, Jack Hope, and Dave Tavernor, who all took home 100 cartridges. The next leg is on 25th January.
Mickley Hall Shooting School Development Programme. This development programme is a must for anyone looking to improve their shooting. There are seven thousand Eley cartridges available at cost price. Free instruction once a fortnight. Free clays whilst being instructed. Twelve months Mickley Hall membership included. Full details will be available @Mickleyhall.com soon.
New Committee Members. Paul Ellis is taking a break and stepping down from his duties as English Sporting, team captain. Tom Lowe and Andy Gate have volunteered to take on the role. We wish them well.
Ladies Clay Shooting League. Well the weather stayed fine for the Ladies Clay Shooting League Christmas event which this year was held at Manchester Clay Shooting Club, where we were made very welcome. The Course was tricky in parts and a high tower target needed to be hit in order to win your chocolate Santa, I'm glad to say that most got a Santa but not all, rules are rules!! It was a great day and great fun along with some competitive scores. On The Peg Clothing provided their fantastic support, which they have all year, thank you to them, prizes were also provided by A1 shot and Louise Aldford from Yorkshire Fillies, these were collected by the Ladies who straighted the most stands. High gun was a joint affair by Victoria Gallimore and Julia Payne who both finished on a great 58/75, well done to you both. Thanks also to Mike Sargeson, Paul Ellis, Miles Machin and last but not least Robert Eckersley for their support, hints and tips around the course. Thanks again to MCSC for a great day and we hope you all had a Merry Christmas.
Cheshire Down The Line team selection shoots. There are six selection shoots, with the best four scores to be used. Selection shoot at; Fauxdegla on 19th April. Holmes Chapel 14th June. Cheshire County Championship at Holmes Chapel 26th July. Please note that the Inter counties is only one week away, so be ready for a call from the Team Captain to go. Nottingham and District date to be confirmed. Plus any two registered scores submitted to David Hurstfield. The DTL West Midlands Inter Counties is at Nottingham and District on 2nd August, and the National Inter Counties is at North of England on the 27th September. Let's have a great summer of shooting, there's some great things this year so let's get Cheshire shooters there!
Cheshire English Skeet team selection shoots. Please note, these dates are provisional and subject to confirmation. Keep checking the website, and the "Forthcoming dates" paragraph in Pull magazine, as the dates will be confirmed as soon as possible. Doveridge 15thMarch. Doveridge 5th April. Doveridge 31st May. North Wales Shooting School 6th June. North Wales Shooting School 11th July .
CPSA Pull Magazine - May 2020
Cheshire County CPSA Annual General Meeting. Attention all Cheshire shooters, the date for our AGM is Wednesday 5th February, at Catton Hall Shooting Ground, starting at 7.30pm. This is your chance to have your say. Everybody is welcome.
28th Sept West Midlands Individual Sportrap, Garlands SG. Congratulations go to Tony Dean for shooting a magnificent 97, and coming second overall, and first in AA class. Also scoring well on the day were Brett Davies 88, Ian Cunliffe 86, Paul Ellis 85, and Miles Machin 81. Well done to you all.
20th Oct National Inter Counties ESK Dartford SG. After the disappointment of missing out on a Gold medal in the West Midlands Inter Counties, due to a miss calculation of the scores, we rallied round and formed a team to shoot the Nationals. The shooting got underway at just after 8.30 in the morning, the team performed well, with a combined score of 473 x 500. Chris Bethell scored a fantastic 98, followed by Jack Hope on 96, Colin Babcock 95, Jim Wagstaff 93, and Jacqui Slater 91. Thank you to all the team for travelling to Dartford and competing so well. We look forward to next year where we hope to be competing for Gold in all categories.
20th Oct West Midlands Area Inter Counties ABT at Rugby. An eventful day at the West Midlands Inter Counties ABT team competition. Weather was good with light cloud, little wind, temperature around 10 degrees. Six teams competed over the three layouts at Rugby and District Gun Club, who maintain their policy of free shooting for the under 19s. Corsivia clays give a good contrast and scores were high, though the day was long as often happens with these inter county shoots. It might well be better to compete over 75 targets in these team events. Cheshire maintained a good position throughout, with shooters Thornley, Culverwell, Faux, Gowrie, O'Donnell, and Whitehurst giving their best. Cheshire won the Silver Medal, out of six teams, with Paul Gowrie high gun for the team with 95. Our reporter understands that this is the third time of medalling in the fast trap teams this year. Well done to you all.
Cheshire's Year of DTL. With six selection shoots at the early part of the year, and very well attended the teams needed to be in place for the West Midlands Inter Counties event at Fauxdegla Shooting Ground on 25th July. It was a great start to the season, even with the weather early in the day against them the Seniors took silver, the Vets silver, Juniors silver after a shoot off for gold, and a fantastic gold for the Ladies team of Nicola Booth, Jane Hitchmough and Emma Percival.
Some got wet while others stayed dry at the DTL weekend at Bywell, but all shot well.
Our Cheshire shooters were doing well and at the end of the first day of the Eley Sponsored DTL we had Eleanor Hardy winning the Ladies title and also 3rd in the Juniors. In Colts we had Toby Hurstfield at twelve years old in 3rd place as well.
On the second day the weather had not changed much for the Dougall Memorial when our guys were on the podium again. We had Toby Hurstfield winning C Class and 2nd in Colts, with Tom Roberts winning Juniors and Eleanor Hardy coming 3rd in the Ladies.
And so to the English Open, well I know, it gets better, 1st in A Class Jezz Frith and in Colts, Toby Hurstfield was 3rd.
Well shot to all the Cheshire Shooters and what a fabulous weekend we ha d!!! Congratulations to Tom Roberts who achieved a place on the England Junior team at the Home International .
Then onto the National Inter Counties at Northampton Shooting Ground on 16th October. Were the Senior team was placed 3rd, and the Junior team of Eleanor Hardy, Tom Roberts and Toby Hurstfield took the runners up medal.
In July it was the European DTL Championship at Bywell Shooting Ground. It attracted entrants from all of our home nations and France, 253 in all. So competition was fierce. Congratulations go to John Barnett from Mickley Hall, for shooting a fantastic 197/588 and being third in Veterans class.
So overall a great DTL season for Cheshire at all levels, and the numbers in all categories looking good too, well done to all who took part.
Jez Frith - A Class winner at the English Open DTL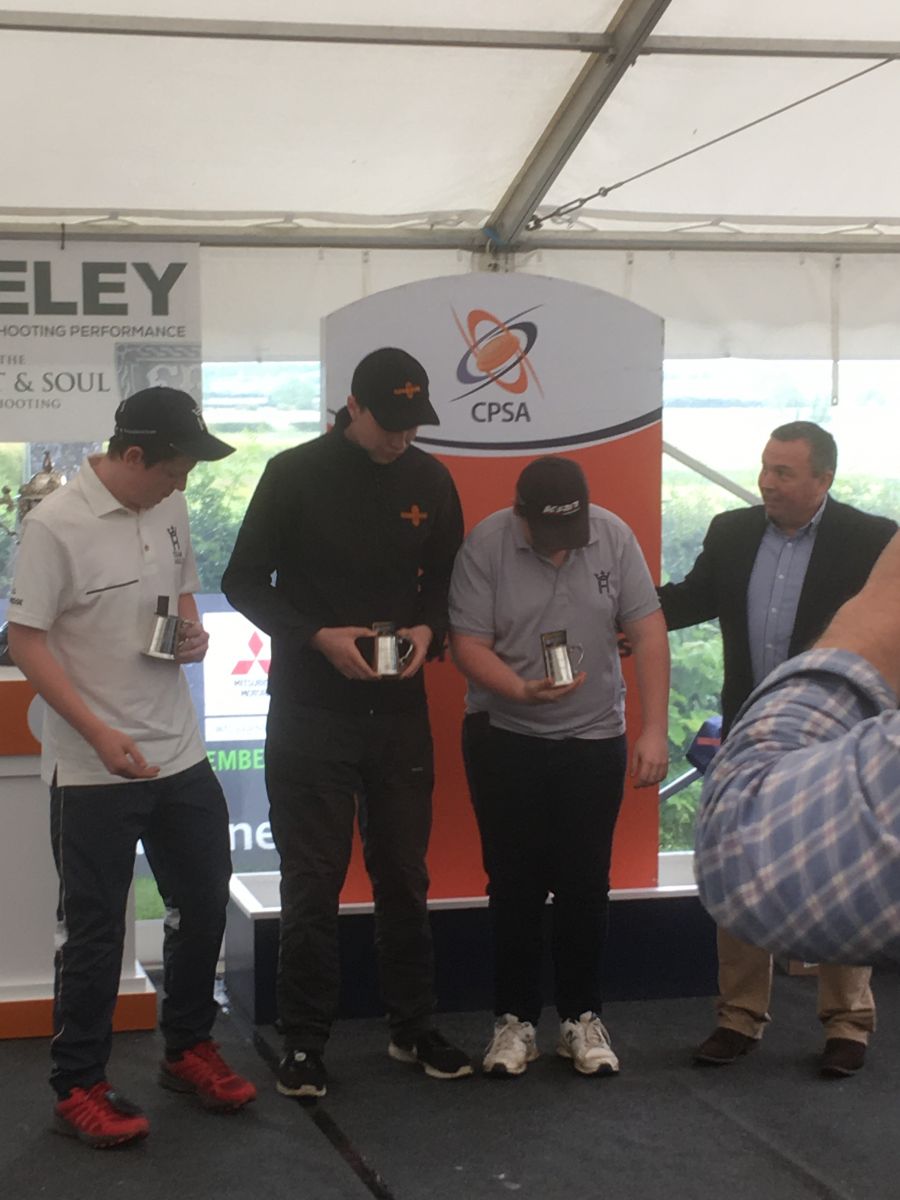 Tom Roberts - 3rd in the Juniors at the English Open DTL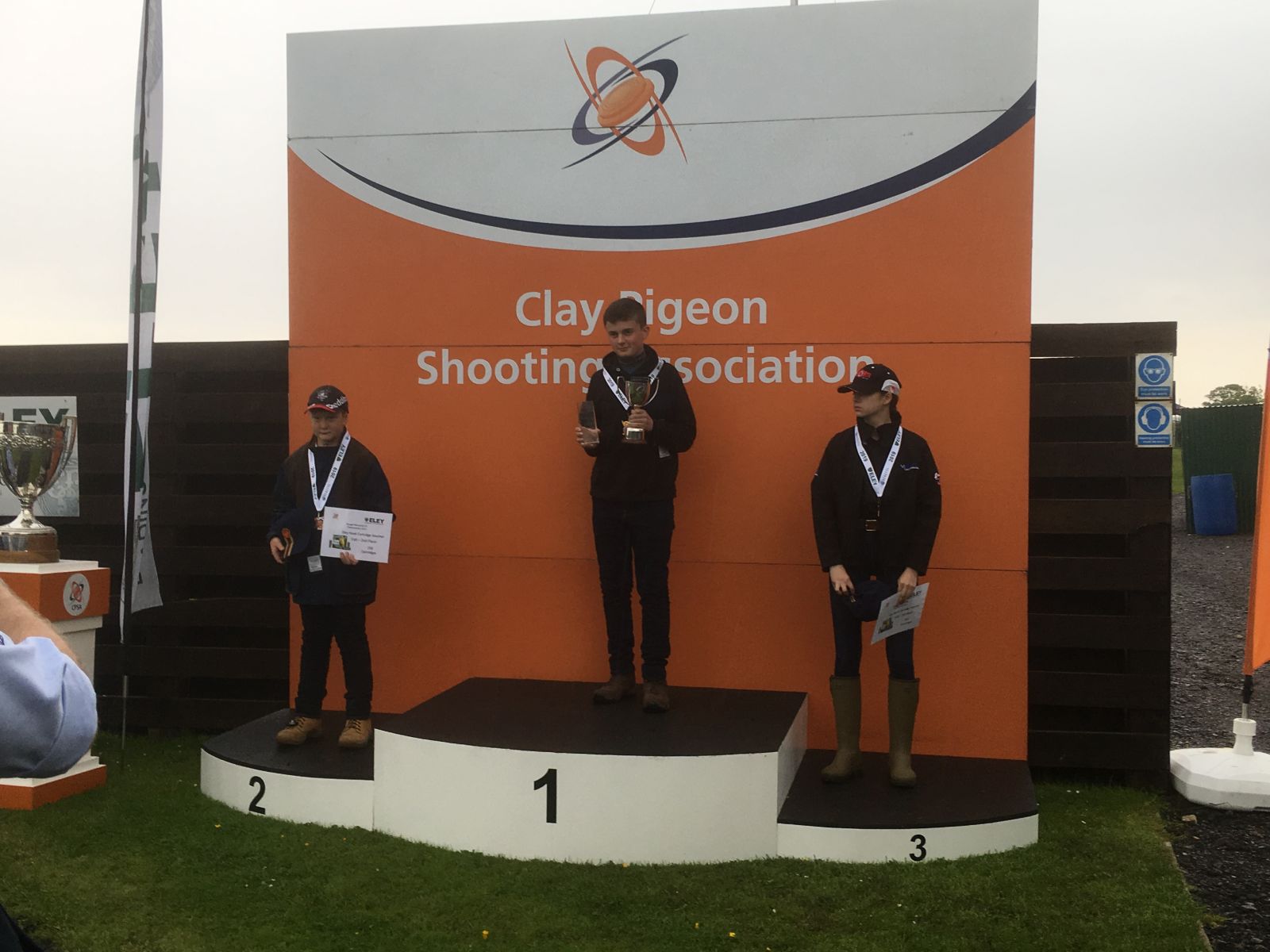 T Hurstfield - 2nd in Colts at the Enlgish Open DTL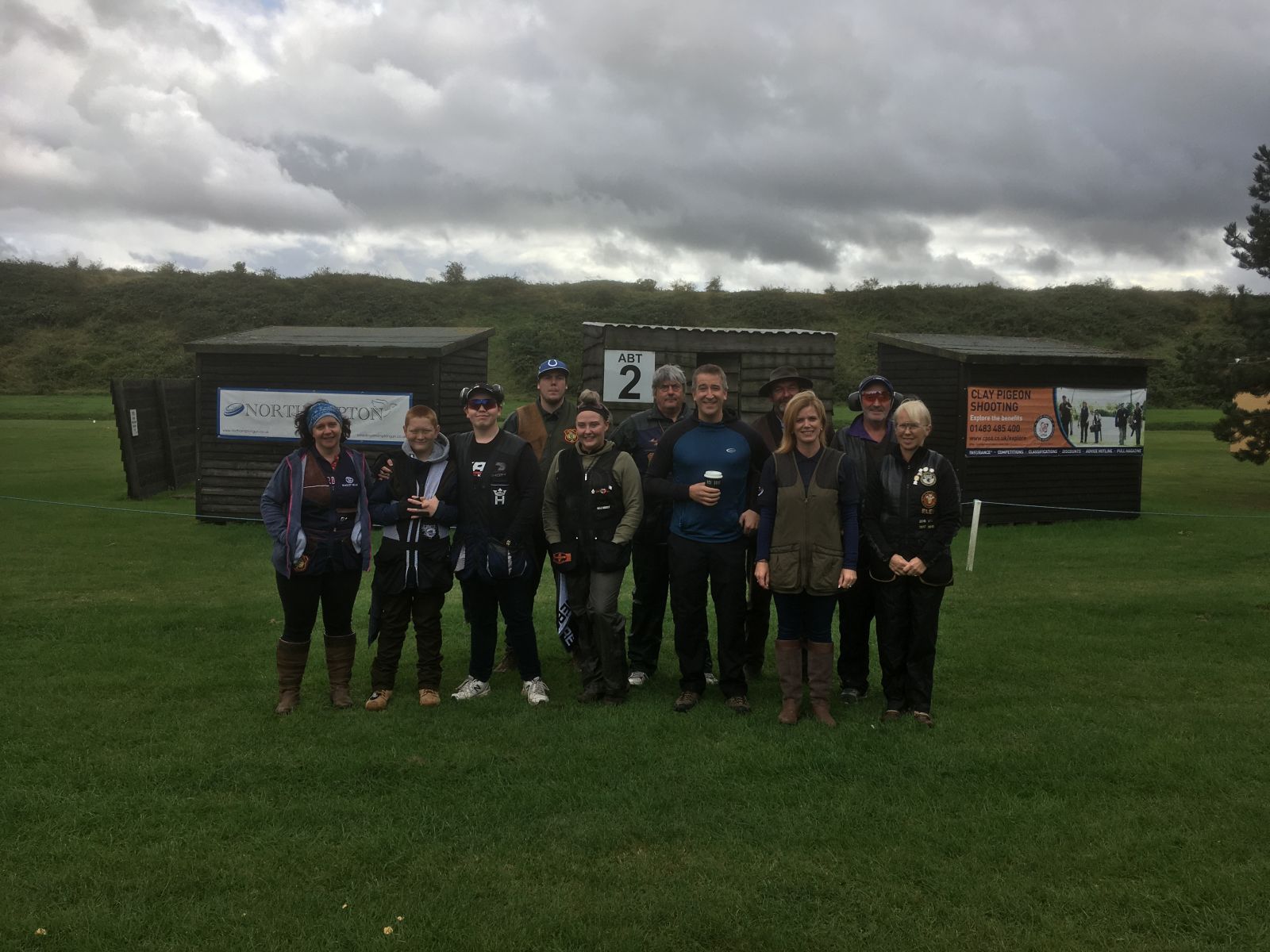 DTL National Inter Counties Team 2019
---
CPSA Pull Magazine - October 2019
28th July, West Midlands Inter Counties DTL at Fauxdegla. Five squads were booked in, Seniors gold, Seniors Red, Vets, Ladies and Juniors. New Caps shooting this year were N Booth, E Percival, T Warburton, J Tennison, E Hardy, and C M Harris. Congratulations to you all. The results after some tricky targets on a somewhat wet and windy day: The Juniors had to shoot off with Hereford and Worcester after tying on 569 points, unfortunately we were runners up by one point. Good shooting!!! Seniors were runners up to H and W. Ladies won, great result with two new caps!! Veterans were also runners up. This was a fantastic result for all of you, many thanks to you all for making the effort and time to go. The Nationals are next, so be ready.
3rd Aug, Ladies Clay Shooting League. We were back at Mickley Hall Shooting School for the 6th event in the LCSL. At our usual early briefing we had talks from Steve Randles on the SP, an eye dominance tool, and Scott Barnett on different types of cartridges with the pros and cons and what to look for when buying cartridges. The 75 bird course set by Scott Barnett had a great mix of targets to suit everyone from all classes, and what great scores we had on the day. A great turnout saw six squads take on the course. Coaching for the day was Paul Ellis, Miles Machin and Steve Randles gave up his time to not only coach a stand but to also demo the SP after the event. We would like to thank all the coaches for their time. Mandy Berrisford as usual did a fantastic job behind the scenes with her organisation and the day ran well and smoothly. The first scores started to roll in, with a great number in the 50's but Julia Payne was first to hit the 60's with a great 63. Only to be overtaken by Victoria Galimore on 65, then Chiara King shot a superb 69 to take the high gun and the top prize of a Mitsubishi to use over a weekend, kindly donated by Grenson Motor Company, a big thank you to them. Chiara also picks up a voucher from our main sponsor On The Peg Clothing, well done to her. It is fair to say that the Ladies are all improving as the year goes on, with some making their county teams and doing well in CPSA registered events across the country, and we are very proud of how all the ladies are doing and the spirit with which the events take place and the comradery that has evolved.
11th Aug, West Midlands Inter Counties Olympic Trap. Cheshire won the WMIC OT at Fauxdegla today. With an amazing score of 416 x 500, beating Hereford and Worcester on 414, Shropshire on 396, Cheshire "B" with 374 and Derbyshire on 347. Cheshire "B" consisted of two Vets (Chris Bushell and Kevin O'Reilly) two Ladies (Hazel Denney and Jeanette Bushell) and two Juniors (Fred Whitehurst and Tom Watson). Cheshire was once again the only County to enter teams in these categories and once again there were no medals provided – a shame. Cheshire Senior team consisted of Dave O'Donnell (team high gun with 87 x 100), Andy Pownall (86), Paul Gowrie (84), Mike Faux (80), Fred Thornley (79), and Bob Gallagher (78). In the Area Open Championship, Cheshire shooters featured in the medals, Tom Watson took Junior Silver, Hazel Denney took Ladies Silver, Andy Pownall took Veterans Silver, Paul Gowrie took Veterans Bronze. It is good to hear that Fred Thornley has not only qualified for the England OT team, but is this year's Captain.
8th Sept West Midlands Inter Counties English Skeet. Congratulations to Cheshire Seniors team on coming second. Cheshire Ladies came fourth, and Cheshire Veterans came fourth. Well done to you all.
21st Sept Cheshire County ESK Championship. It was a high scoring day at North Wales Shooting School with many scores in the high nineties. Two shooters finished on 99, Christian Bethell and Hazel Denney. Christian won the shoot off to be Cheshire County Skeet Champion, and Hazel was Ladies Champion. Ian Cunliffe was Seniors Champion with 97, Kevin O'Reilly was Vets Champion with 96. Congratulations to you all.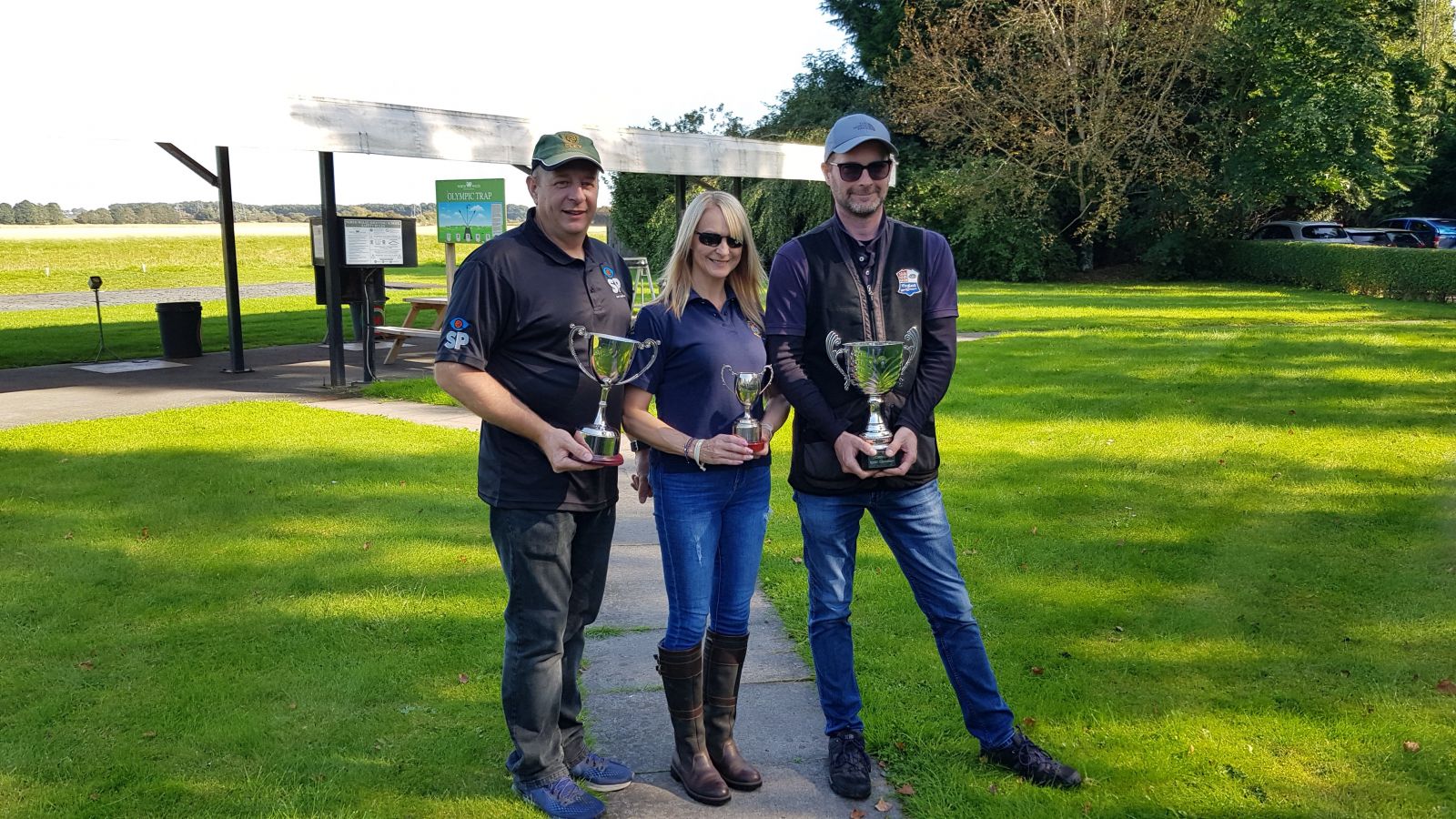 22nd Sept West Midlands Inter Counties ESP. Cheshire shooters made their way to Garlands SG. The event was both run and set up by Steve Lovatt of the Clay Shooting Company. The course was over thirteen stands and the targets were well thought out, offering the competitor a varied mixture of both colours and types with varying speeds and angles. All the targets were fair and hittable. The early starters benefited the most from the dry conditions, but those that chose to start later suffered with the poor visibility caused by the rain clouds and darkened sky, let alone the torrential downpours. Let us not though detract from an extremely competitive event which saw some amazing scores from members of all the Counties in attendance with over 300 entries on the day. Cheshire fielded 2 teams of each category and were duly rewarded for their efforts having some new caps amongst the Teams. Cheshire overall high gun was Brett Davies on a fantastic score of 93. The junior team comprising of Fred Whitehurst (88) Eddie Morris (75) James Barnett (74) took the gold medal. The seniors took the bronze medal , and our 2 Vets teams took bronze and silver, with the Red Team piping the Gold Team by 2 clays. Our Ladies Team was 4th overall which was no mean feat particularly as two of the Team, Amy Bratt and Barbara Eckersley were new caps this year, well done Ladies. Continued good shooting to all.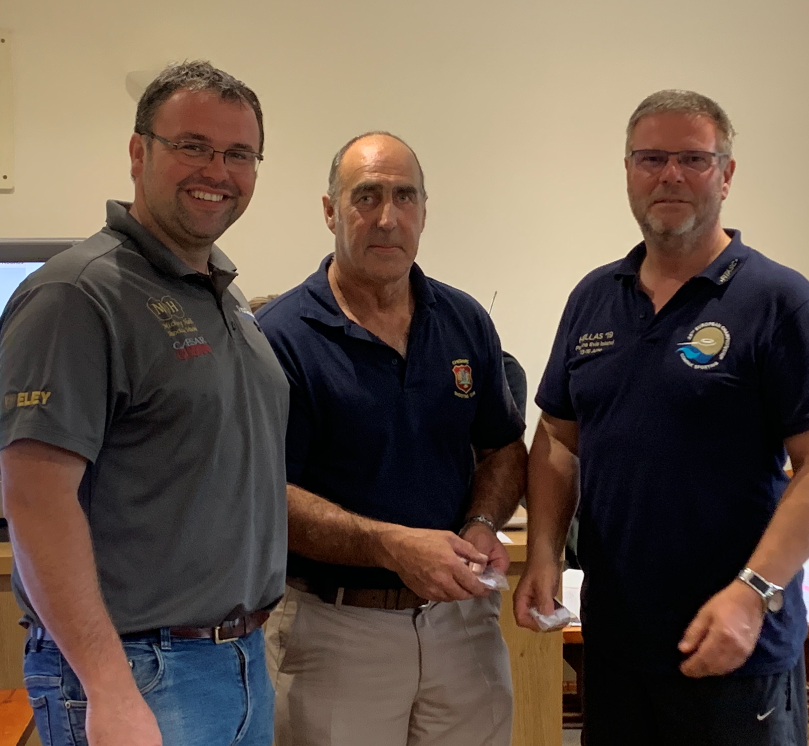 ---
CPSA Pull Magazine - September 2019
Skeet League at North Wales Shooting School. Saturday 27th July saw the tenth and last heat of the monthly ESK league. It was a great day for Cheshire skeet shooters. Colin Babcock won the heat with 50 straight, great shooting considering the terrible weather. Then for the grand final four Cheshire skeet shooters made up the top six. The final was a normal round of 25, then a round of 25 using low velocity ammunition supplied by NWSS. Some shooters coped with the different ammunition better than others. The final result was, 1st Jim Wagstaff, 2nd Colin Babcock, 4th Ian Cunliffe (after shoot off), 6th Maurice Cunningham. All six finalists received a package of prizes kindly provided by Eley Hawk. Our thanks go to the staff and helpers at North Wales Shooting School for putting on such a fun competition. We are looking forward to the next league starting in December.
Olympic skeet. Well done to all Cheshire shooters that took part in the West Midlands Area Olympic Skeet Championships, held at Gloucester SG on 21st July. The Cheshire team finished in third place, whilst Alex Wilkinson was third in the Juniors, and third in the Area Individual event. Well done everybody.
European DTL Championship The weekend of the 20th and 21st July saw Bywell Shooting Ground host this annual event. It attracted entrants from all of our home nations and France 253 in all. So competition was fierce. Congratulations go to John Barnett from Mickley Hall for shooting a fantastic 197/588 and being 3rd in Veterans class.
Ladies Clay Shooting League The 6th July saw the league descend onto North Wales Shooting School for a fantastic day of skeet. We broke the day into morning and afternoon squads, with a great turnout for both. We were very lucky indeed with the coaching to not only have Paul Ellis and Miles Machin but also a legend in his own lifetime Ian Cunliffe. Who took control of things for both sessions and started to get the dark art of skeet shooting over to the ladies judging by the improvement in the scores through the day. Jo Knapper took up the early running with Victoria Gallimore and Julia Payne then taking over the lead when Mandy Berrisford and Janine Dixon got their act together only to be pipped at the post by Lucy Earl. It was definitely fair to say the day was an overwhelming success with everyone taking plenty away for food for thought.
Universal Trench Sunday 4th August saw the West Midlands Intercounties Championships at Rugby. Cheshire shooters did very well. Paul Gowrie scored 95 for 2nd Veteran, Andy Pownall 93, Dave O'Donnell and Bob Gallagher both on 89, Paul Culverwell 88, and Mark Wright 77. Team score with best 5 to count was 454. Team results were; Warwickshire 463, Gloucester 459, Cheshire tied with Hereford and Worcester on 454, we had a great final round, so took team bronze after count back. Congratulations to you all. Great shooting.
English Sporting Selection It was the 5th selection shoot being hosted by Mickley Hall Shooting School on the 13th July, and the numbers were outstanding with 77 entries all told. The day was squaded with a number of squads starting at 10.30am and the next batch at 12.30pm, and with the weather staying fine and only a slight breeze it looked good for some great scores. The course was set by Scott Barnett, and had pretty much everything for everyone with some tricky stands to catch out the unwary. Nick Beavis, Eddie Morris (junior) and Guy Robinson took the early lead with 85, 86, and 87 respectively. Nigel Lane through a spanner in the works with a great 88 only to be knocked off the top spot by a fantastic score of 95 by Steve (SP) Randles. With things hotting up for both the Inter County teams and the Clubman event there is still all to play for, at the last but not least 6th and final selection shoot, and of course the Cheshire Championship at Catton Hall on 28th July.
---
CPSA Pull Magazine - May 2019
Great news from the Cheshire Shield, held at West Midlands Shooting Ground on 3rd March. Champion was Scott Barnett, with a score of 96, and Cheshire Shield team champions were Mickley Hall. Well done to you all. Staying at Mickley Hall, Diana Barnett won the first Welsh DTL selection shoot for the ladies, congratulations Diana.
On Saturday 30th March Cheshire Skeet shooters were out in force at North Wales Shooting School (NWSS) 50 bird Skeet League completion. In near perfect weather conditions, Christian Bethell scored 50 straight to win 250 Eley cartridges and a trophy. Congratulations Christian. The Skeet League runs from October to June, with the top 6 shooters invited to shoot in the final. NWSS also hosts registered ESK once a month, on a Saturday.
Cheshire FITASC shooter Steve Randles has launched a new eye dominance product. More information is available at www.shootsp.co.uk
Congratulations go to Ellie Harding, who has now been officially sponsored by Gamebore.
Due to a timetable clash, the WMIC ABT event scheduled for May has been postponed, date TBA.
Mike Faux has moved back into Cheshire, and so is eligible to compete for County Championships, and for Cheshire team selection.
The Cheshire ABT championship was won by Mike Faux (90+24) after a very close shoot off with Dave O'Donnell (90+23). Dave took the men's trophy again, and Andy Pownall won the vets. Regrettably there was a low entry from Cheshire shooters, and no entries in Ladies or Juniors categories.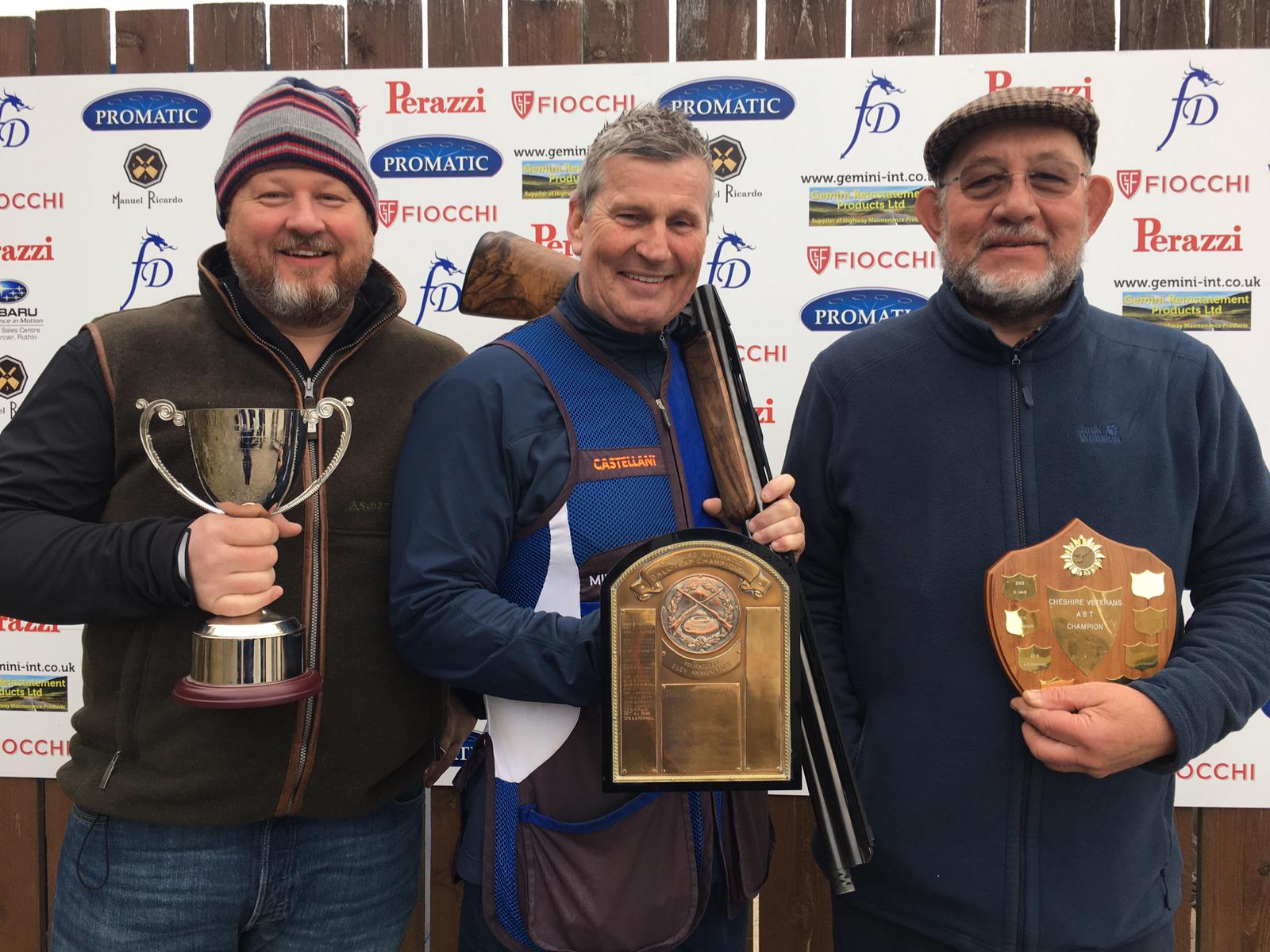 The FITASC Africa Sporting and Compac Championships were held in March, at Valley Gun Club, situated north of Cape Town, between Paarl and Durbanville. As a Beretta World Cup event it attracted competitors from more than 21 countries. In FITASC Sporting George Digweed took high gun, and Tony Dean put in a strong performance to take top place, and gold medal in Seniors scoring 180x200. In FITASC Compac Tony Dean scored 192x200 to take silver medal in Seniors, just 3 targets behind the high gun. It delivered a 1,2,3, for Great Britain, with Martin Papworth and Phil Smith also on the podium. Congratulations Tony.
A reminder to all Cheshire shooters with ambition to shoot for your county. The selection shoots have already started, please see the Cheshire CPSA website for more details. Or contact the relevant team manager, details are on the Cheshire CPSA website.
The first Cheshire selection shoot of 2019, for ESP was held at Doveridge SG on 31st March. There were 195 entries in total, and 46 of these were from Cheshire. An excellent turnout from Cheshire CPSA members, with Seniors, Vets, Ladies and Juniors all taking part. Weather was good with a little breeze. The course was over 12 stands and incorporated a variety of targets with battues, 70mm crossers, rapid distant teal and an overhead. Some appeared to have struggled on stand 9, a fast away teal, then on raport, a fast dropping overhead midi. Concentration was required, particularly on two stands throwing five pairs high into the sky. Well done John Shreeve, the only one to straight it. High gun was Carl Vickers 90, Miles Machin 87, James Savage 87, Kerry Oakley 82, E Morris 84. I would like to thank all the competitors, and staff at Doveridge for a great day. Paul Ellis.
The sun was shining on the second league event which saw 34 shooters including 2 new members, tackle a technical course set by Scott Barnett. Miles Machin, Stu Ashton and Stella Harvey pointed us in the right direction on the testing stands giving guidance to those who needed that extra bit of confidence. High Gun Victoria Gallimore matched her personal best with an impressive 65 out of 75 winning a Gift Voucher kindly sponsored by On The Peg Clothing.
Forthcoming dates
9th June DTL Selection shoot , Holmes Chapel SG
23rd June DTL Selection shoot, Holmes Chapel SG
8th June ESK Selection shoot, North Wales SS
29th or 30th June ESK Selection shoot, Fauxdegla
15th June Cheshire OT Championship
16th June ESP Selection shoot, Orston SG
13th July ESP Selection shoot, Mickley Hall SS
---
CPSA Pull Magazine - April 2019

Well the season is upon us and the first of the Inter Counties events has taken place at Garlands in the form of FITASC, this was also the Cheshire championship and what a great turnout from all counties to what was to be a number of tricky layouts set by Steve Lovatt (we expect nothing less). After the two days of competition the Cheshire team of Scott Barnett, Niel Waterman, Guy Robinson, Steve Randals, Carl Vickers and Brett Davies found themselves in a very credible bronze position, a great result for the team, well done. The Cheshire championship was a close affair with Scott Barnett taking the honours by one clay from Steve Randals who takes Men's and Niel Waterman taking Vet's.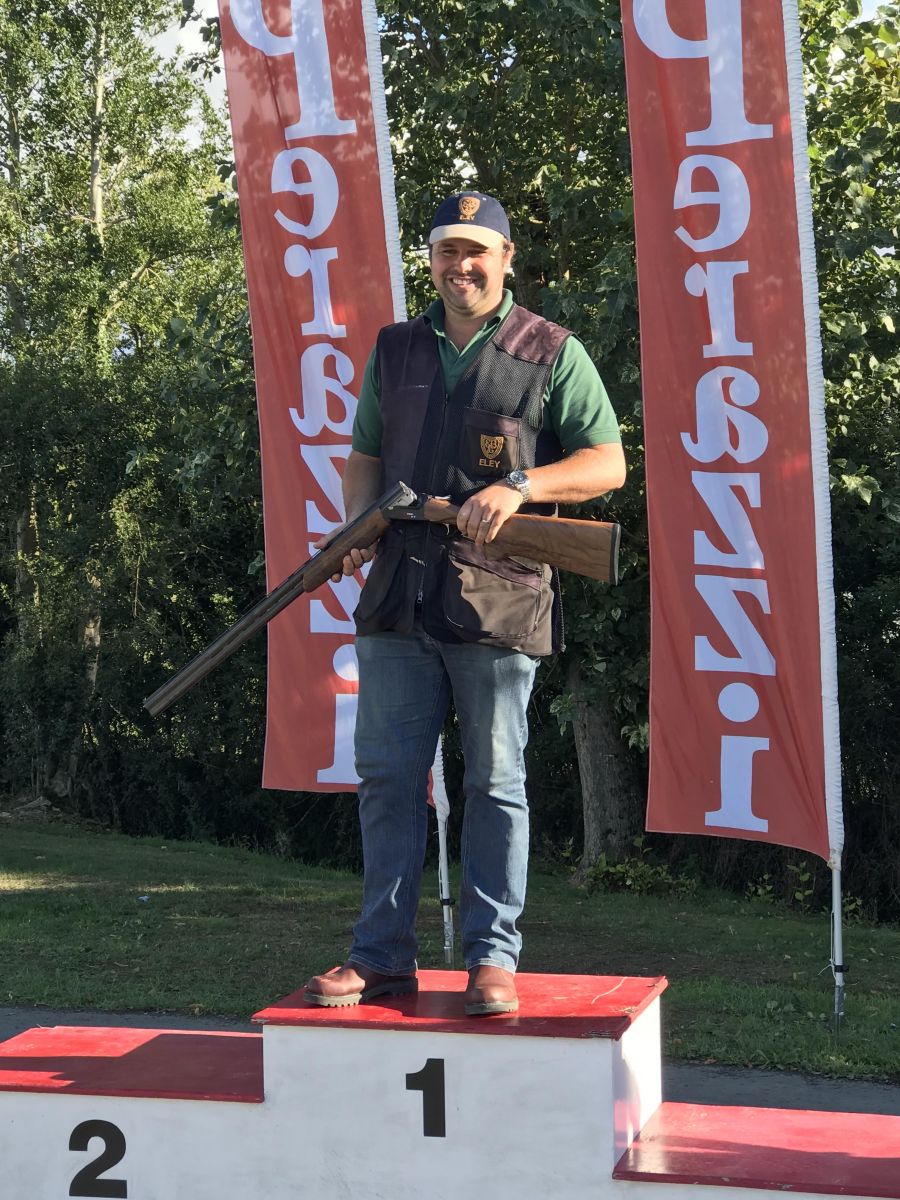 The introduction of the new Inter Counties Clubman event is underway for A, B and C class shooters which is looking like being a great addition to the year's competitions for all level of shooters we hope it gets the following it deserves as do all the counties. Any information about the event can be found on the Cheshire CPSA website.
Early in March saw the start of the Ladies Clay Shooting League and what a day it was with 41 competitors taking part on a bright and rather chilly day. Catton Hall Shooting Ground hosted the event setting great targets for the day and with the coaching from Linda Grayson and Paul Ellis great scores were turned in from all levels. It was great to see the faces from last year and new faces from this year with a fabulous atmosphere throughout the day. Our sponsor was there" On the Peg Clothing" with a scintillating array of goodies for our perusal and donating a pair of MacWet gloves for our top shot of the day Lucy Earl on her debut event with a 65 ex 75 followed closely by Victoria Gallimore and Barbara Eckersley on 64 and Sarah Oldham on 63. The team event went to Mickley Hall with all other teams hot on their heels, it looks like being a closely fought season for both individual and teams.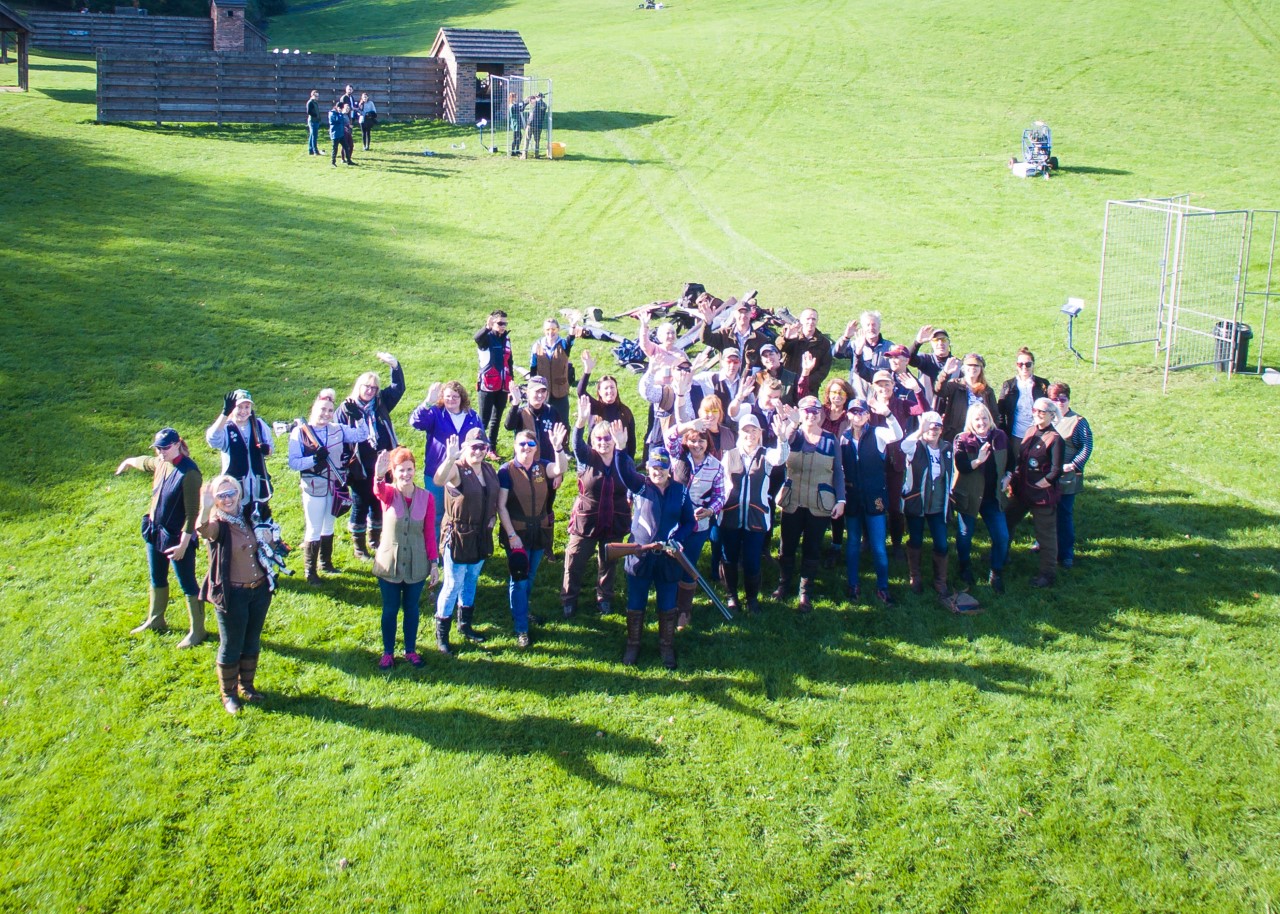 Our team managers have been working hard in the off season to get all selection shoots sorted out for the year and these can be found on the Cheshire CPSA website along with any news items and selection shoot scores as we progress through the season.
Tony Dean has had a great start to the international FITASC season with a 7th overall at the Grand Prix of South Africa, good luck for the rest of the season.
Good luck to all Cheshire shooters who are invited to the England and GB selection shoots and good luck to all Cheshire shooters for the season.
---
CPSA Pull Magazine - January / February 2019
Cheshire's AGM will be held on Wed 23rd January at Catton Hall Shooting Ground, Bradley Lane , Frodsham, WA6 7EU. Meet at 7 with a prompt 7.30 start. I hope as many of as possible can make it , it's always a great night with the presentation on at the same time.
Cheshire had some superb results in the National Inter county events, starting with the National Sporting event held at Orston Shooting Ground on the 8th October taking first place in the Veterans category was Mike Holland and John Shreeve, many congratulations to them.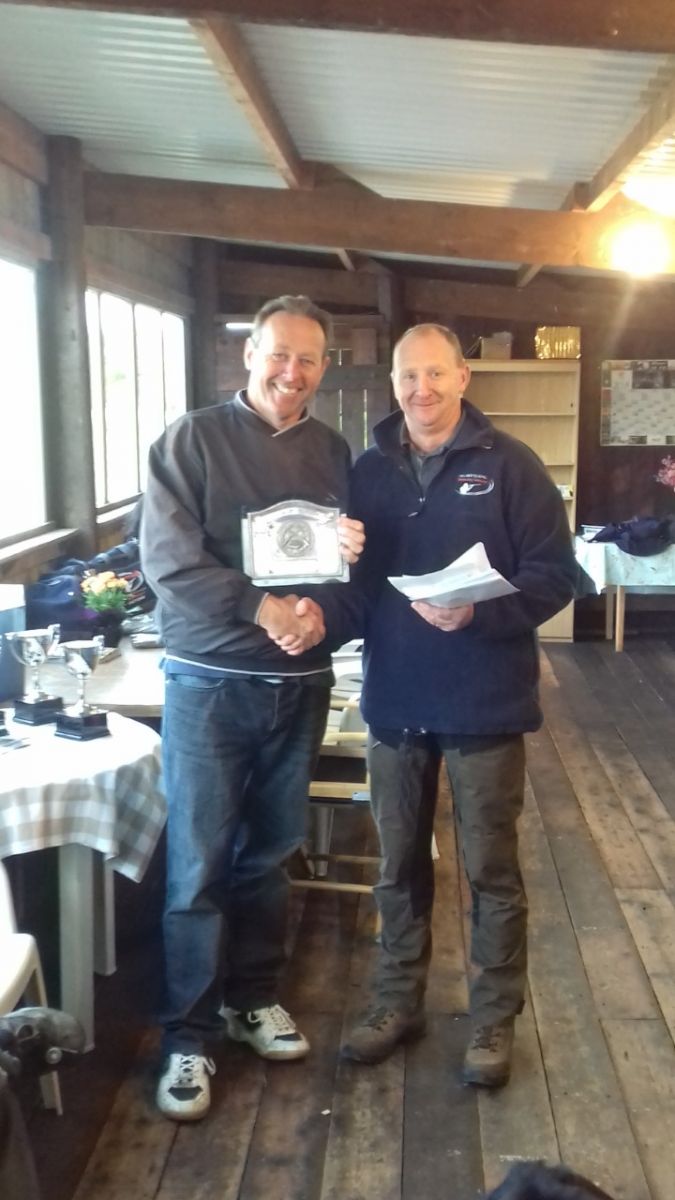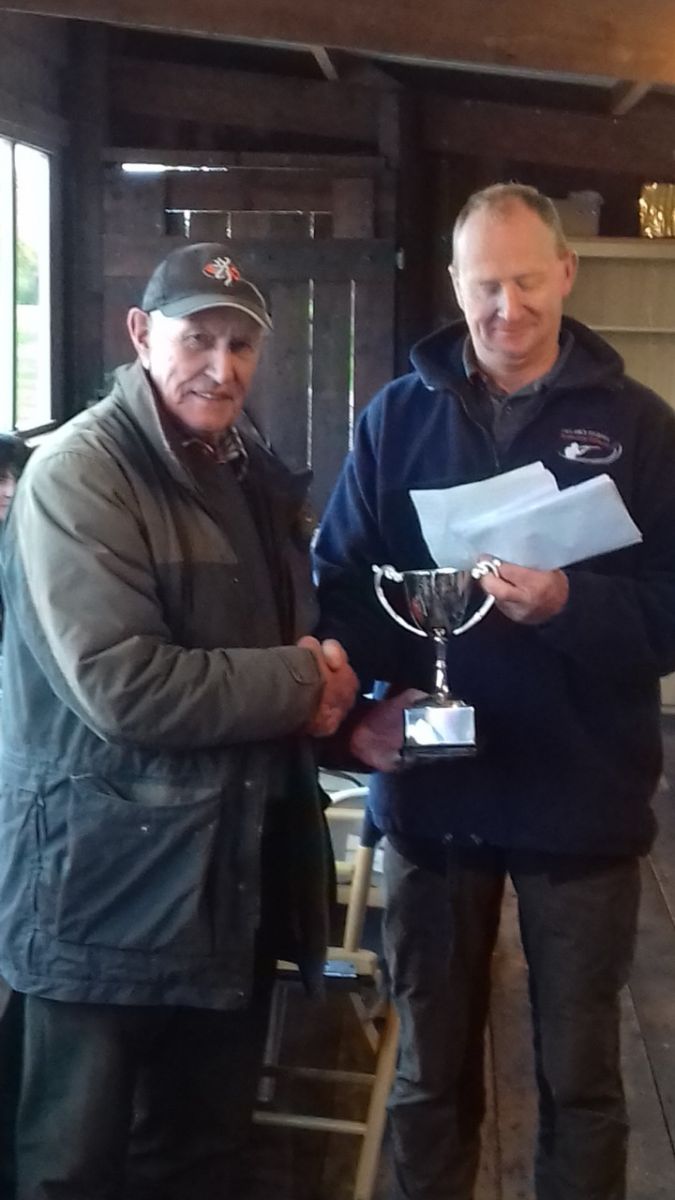 Onto the National Inter-Counties DTL at Nottingham and District Gun Club on the 16th October where our young shooters showed us the way taking runners up position in the juniors was Eleanor Hardy, Tom Roberts and Toby Hurstfield, the future is looking bright.
On the 20/21st October at Nottingham and District Gun Club was the National Inter-Counties Skeet where the top three teams were separated by just two clays. After a very tense shoot off Cheshire were victorious over Yorkshire to take the runners up medal, many congratulations to them. Veterans Paul Ellis, Jack Hope and John Shreeve(again) took the gold medal, fantastic day for all.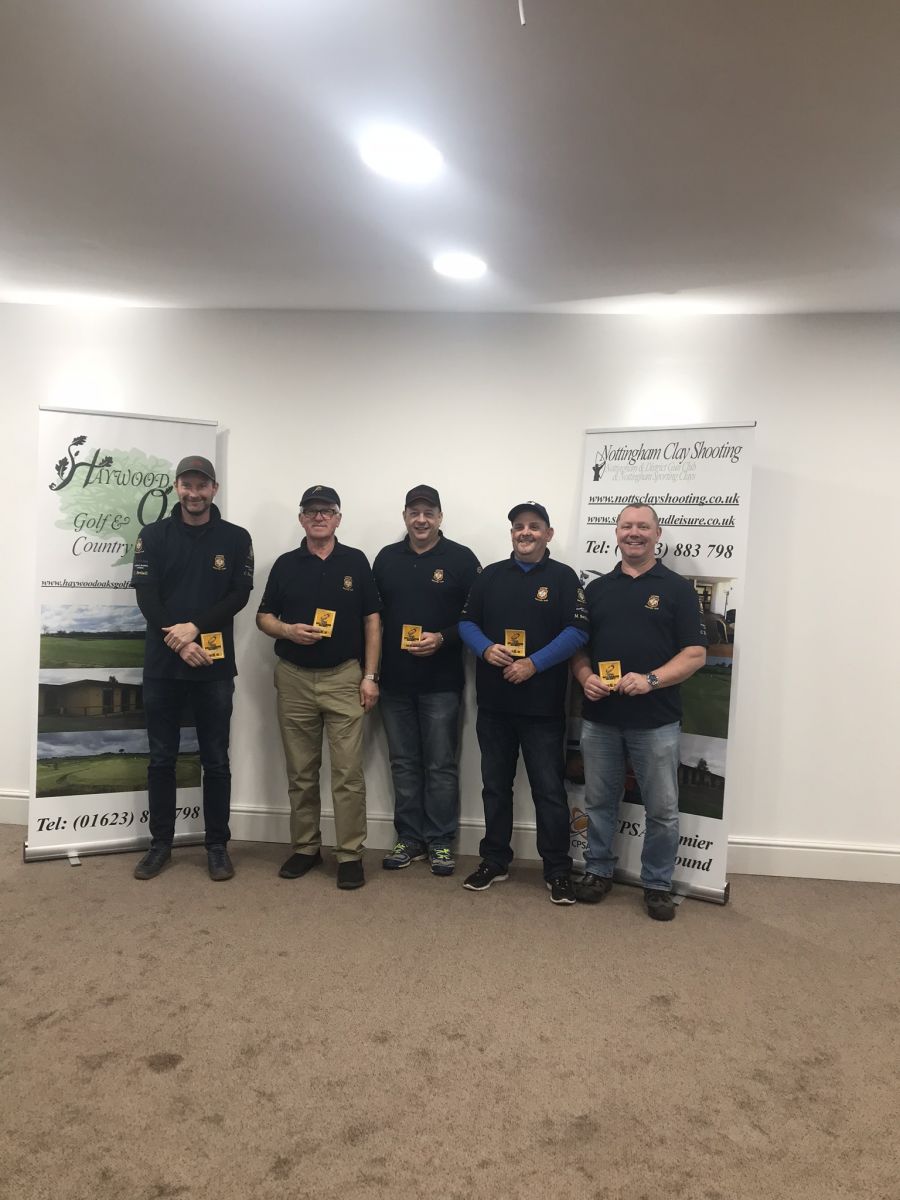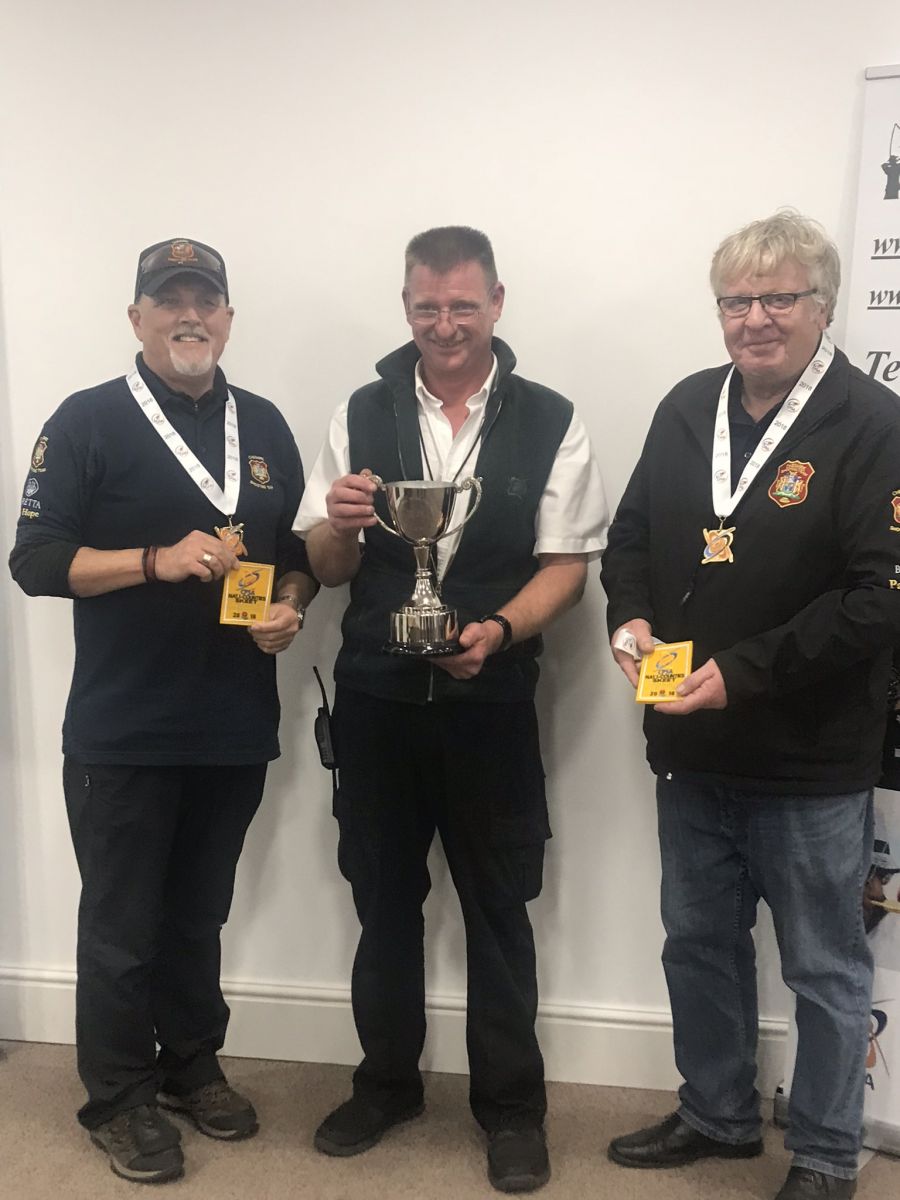 On the 4th November saw a fantastic turnout for the Cheshire single barrel championship at Holmes Chapel Shooting Ground. Although a little breezey the weather stayed fair and saw some fantastic scores. Cheshire Single Barrel Champion went to Chris Bushel, who took the title by one clay. Mens title was a three way shoot off with Peter Relph, Ed Firber and R Simson, the eventual winner was Peter Relph, Ladies was Jeannette Bushell, Vets was John Shreeve( and there he is again) and the Junior title went to Toby Hurstfield, what a great day.
At Catton Hall Shooting Ground on the 20th October saw the final event of the Ladies Clay Shooting League and what a great day it turned out to be with all places up for grabs in both the individual and team positions. Eleanor Hardy came through taking top spot for the year in the individual chased all the way by Victoria Galimore, Kirsty Fenwick and Barbara Eckersley.The team event was taken by team Mickley followed closely by team Catton and team Cloudside.
The whole day was a fantastic success with a great shoot as always by Catton Hall, bubbly and cakes courtesy of the ladies themselves, a fashion show from Mickley Hall, with our very own models, a big thank you to everyone involved. We would also like to thank the many volunteers who came along to help with the scoring and of course our coaches Becky McKenzie and Linda Grayson. Thanks to Catton Hall for the use of the room and help through the year and to all the grounds who helped with the coaching and prizes and setting some great targets. So a big thank you to Fauxdegla Shooting Ground, Mickley Hall Shooting Ground, Cloudside Shooting Ground, North Wales Shooting School, Holmes Chapel Shooting Ground . This has been a resounding success this year and we can only see it getting better and better as we move forward.We are running some coachiong sessions through the off season and looking forward to next year and if we can keep the shooting improving at the same rate as it has this year there will be some great shooters for many counties.
---
CPSA Pull Magazine - November 2018
Cheshire's FITASC Championship took place on the 11th August at Mickley Hall Shooting School, Ladies title went to Janet Gornal , Vets Mike Holland, Juniors James Barnet, Men's Kev Barnet and the champion was Steve Randles.
The 26th and 27th August at Kegworth saw the inaugural Promatic Shield event take place ending with a tie between Scott Barnet and Steve Randles both on 107/120 with Scott taking the title.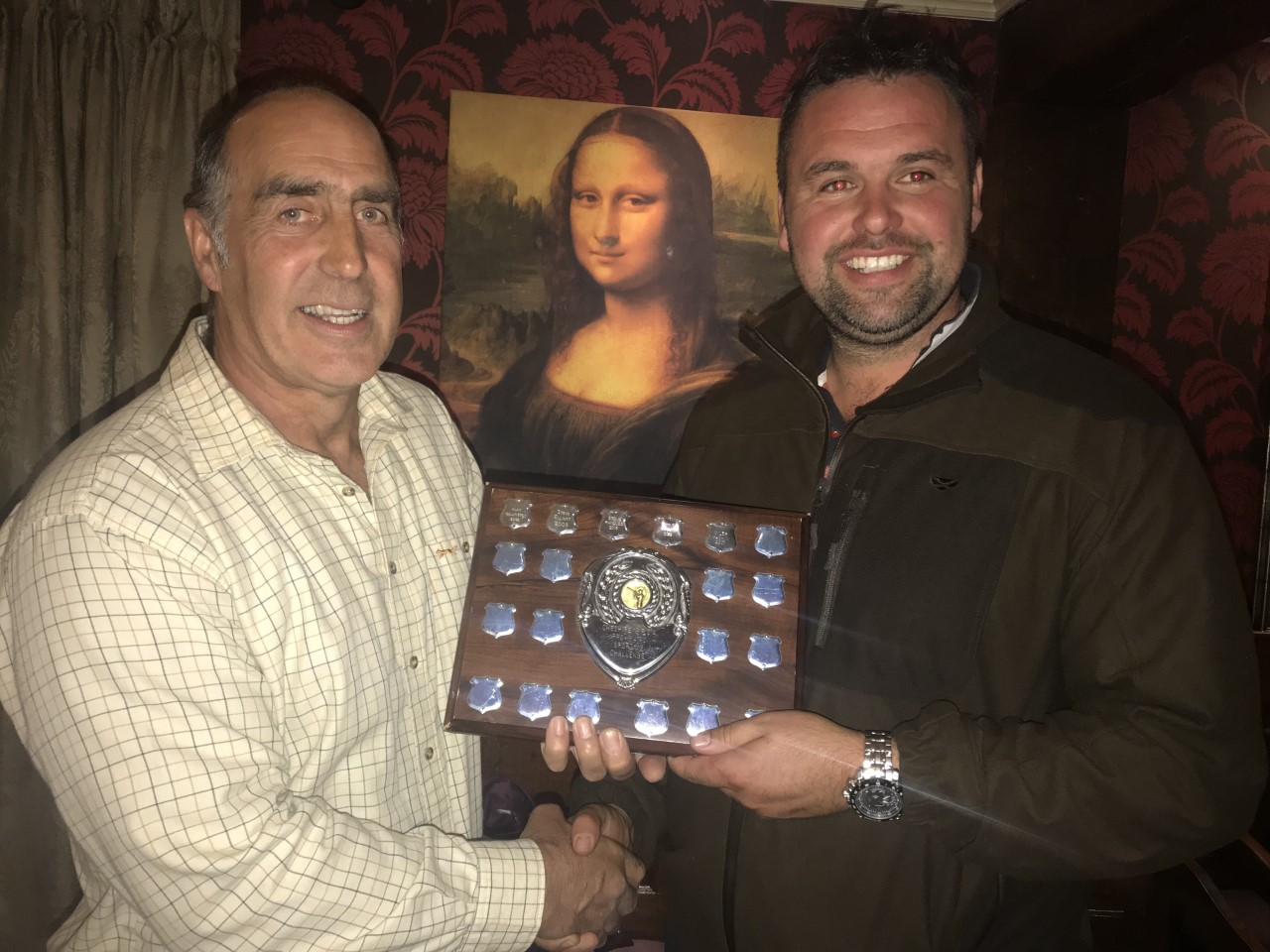 WMIC OT took place at Fauxdegla with Cheshire entering two teams with one squad made up of a Junior, Ladies and Vets team even though these are not recognised we hope in the future that they will be. Fred Whitehurst took Junior Gold and overall Bronze.
Saturday 15th saw the start of what we hope will become an annual event across the whole of the WM region, the WMIC Clubman. This year it kicked off with four counties taking part from Staffordshire, Shropshire, Cheshire and Derbyshire. Teams consisted of 12 with four from A, B and C class respectively, competitors shot as a team, in class and individually. Staffs took the overall team with Cheshire taking both B and C class as a team and individually with Nigel Lane taking B and Tom Lowe taking C. The event took place at Mickley Hall Shooting School and was shot over a 75 bird ESP layout and was a complete success with all. A big thank you to all who gave up their time to help and ref a stand, thank you.
On the same day 15th was the Cheshire Sportrap Championship which was a very close affair indeed and a tricky course set by Scott Barnet which befuddled many a competitor. Vets was won by last year's winner Mark Davenport, Ladies by Hazel Denney, Men's Steve Randles and HG was Guy Robinson by just one clay.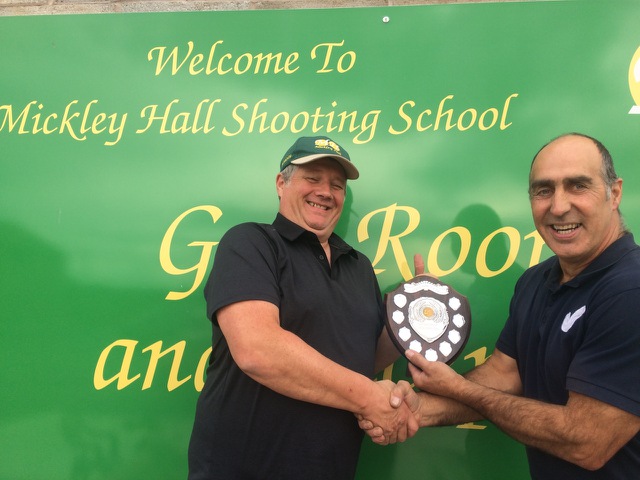 WMIC Skeet took place on Sunday 16th which was a very well attended event and though the weather was a little up and down through the day generally it stayed fair if not a little breezy. Cheshire fared well taking Senior Team Gold.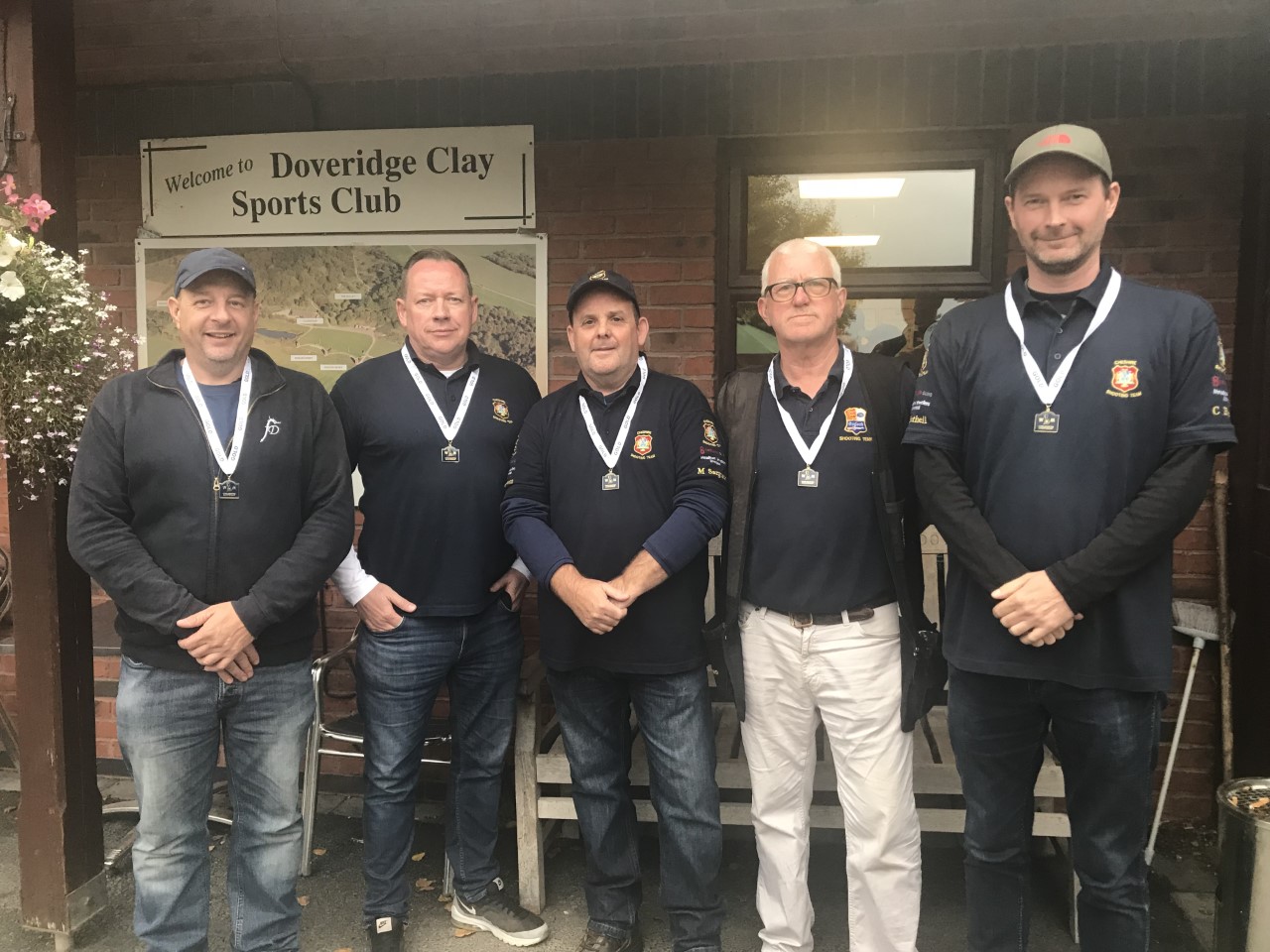 Fauxdegla had the privilege of the Ladies Clay Shooting League on the 1st September to shoot a very testing 75 bird ESP with some really devilish targets at the end. With a fantastic turnout once again and with the weather being extremely kind to us the fun started in earnest and lasted all day. Eleanor Hardy took HG with Hillary Hankin, Rebecca Ball and Kirsty Fenwick hot on her heels. Team Mickley triumphed once again followed closely by Catton and Cloudside. Thank you to Mike and Debbie and the team at FD for helping to make it a great day.
Tony Dean and Andy Jones represented Great Britain in the 15th FITASC World Championships Compak Sporting held San Martino SG in Rio Salso, Italy shot over eight purpose-built layouts with testing targets all round, Andy Jones came away with a Vets silver and Tony Dean a senior gold making that two golds for the year.
And last but not least the fantastic story of Eleanor Hardy;
Day 1
I was quite excited & nervous about shooting here, it was my second major 200 bird shoot in this discipline. I started shooting DTL in July 2018 after shooting sporting for 3½ years. Thanks to John Barnett and the Ladies clay shooting league. I turned up on the first day of the two-day event, the weather was perfect. I thoroughly enjoyed the day and shot my personal best of 98/287 which I was very pleased about.
Day 2
I turned up on Sunday it was raining and windy, but that wasn't going to stop me!! I was still overwhelmed about shooting my personal best on Saturday. I had set myself a challenge to beat my personal best today, and boy what a day it was, beating my personal best with a score of 98/289, giving me a total score of 196/576. I was so pleased with myself and my scores.
And the day didn't end there!
I went on to win C class-£200.00 and 500 cartridges, which then put me in the final shoot off with the other classification winners. And I won with a score of 25/75. Achieving High gun. I was ecstatic!!!!!
I was now in the grand final against Saturday's high gun Ian Roper. I also came joint 3rd in the ladies which I forfeited (energy needed). I also came 3rd in junior - winning my first medal in DTL. I found myself to be calm and collected in the grand final shoot off. Unfortunately, Ian beat me, but that didn't seem to matter to me, I was full of excitement, very happy on what I'd achieved over an excellent weekend of DTL. One I won't forget in a long time.
I would like to take this opportunity to thank my coach John Barnett for all his hard work; mid wales shooting school for hosting a great event and Gamebore for the generous prices. Also, a huge congratulations to Ian Roper on winning Gamebore grand prix 2018.
See you next year!!!!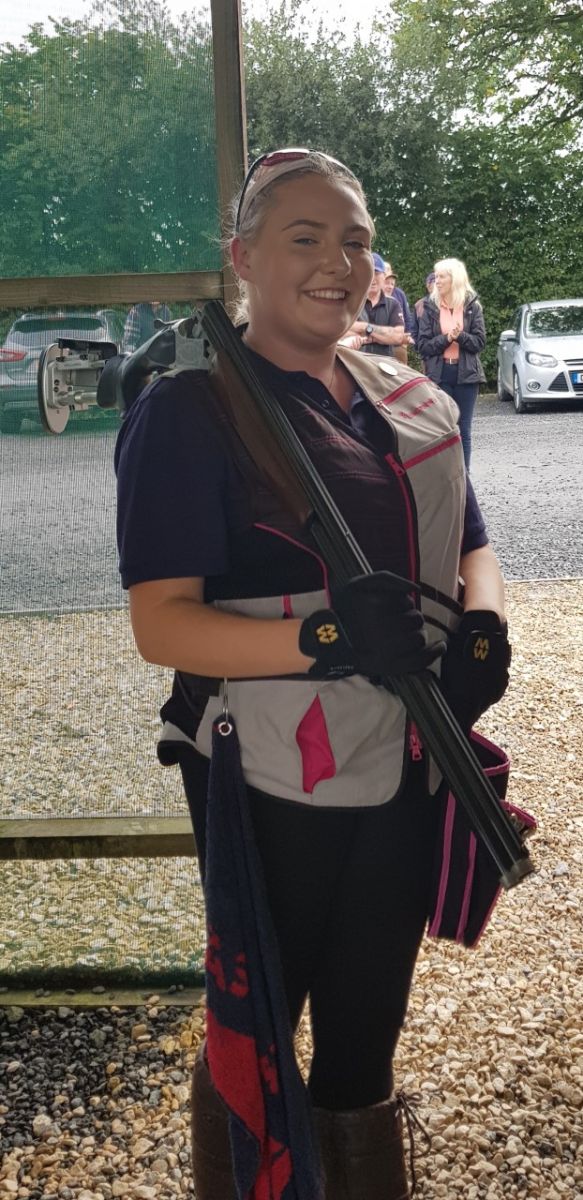 ---
CPSA Pull Magazine - October 2018
It was a fantastic turn out this year for the Cheshire DTL Championship at Holmes Chapel, especially on the ladies front, with 10 ladies taking part. Great scores with Chris Bushel taking high gun and became the County Champion followed by Peter Relph taking senior , vets was Andy Pownall, ladies Jane Hitchmough and finally juniors was Tom Roberts.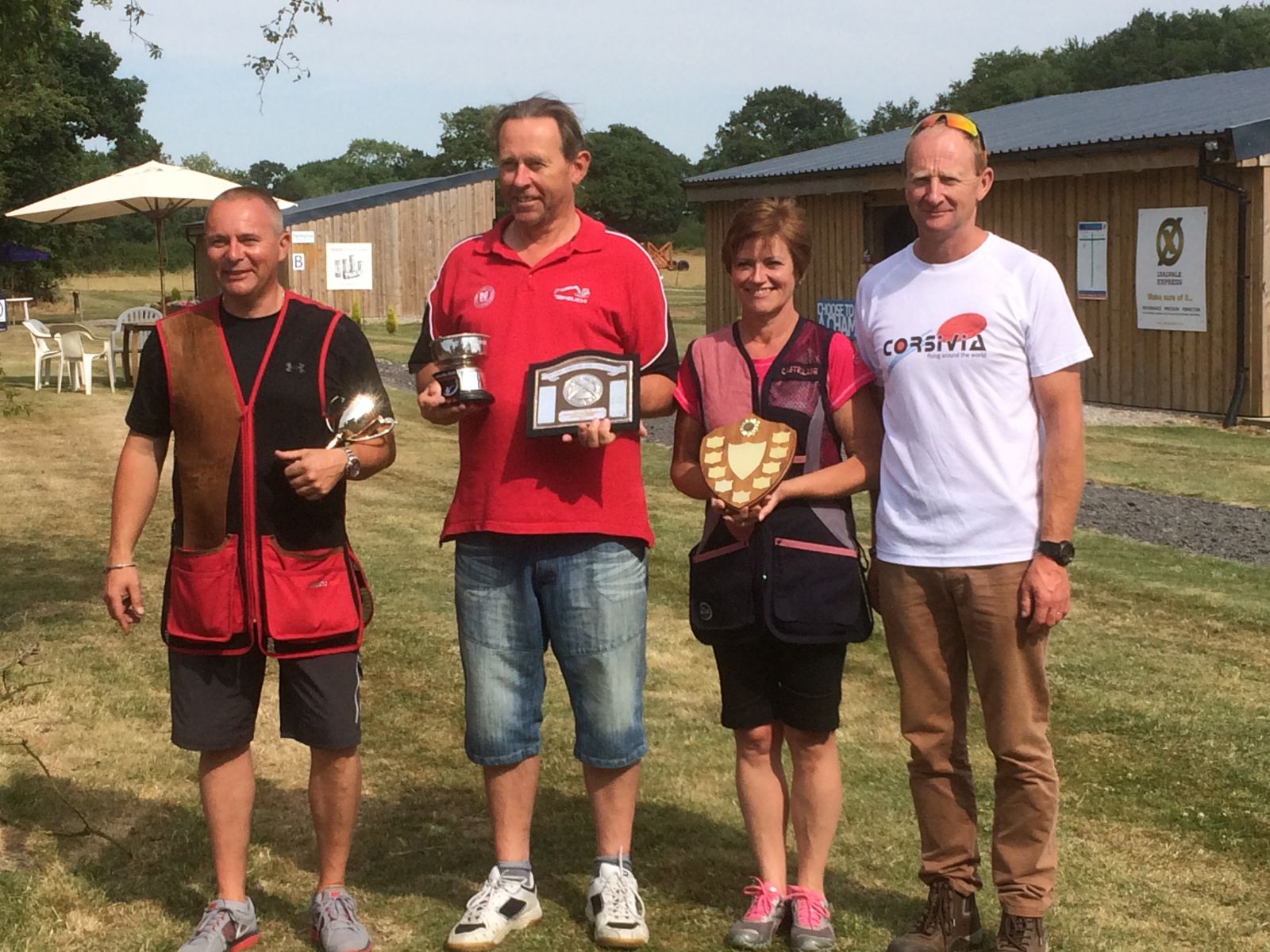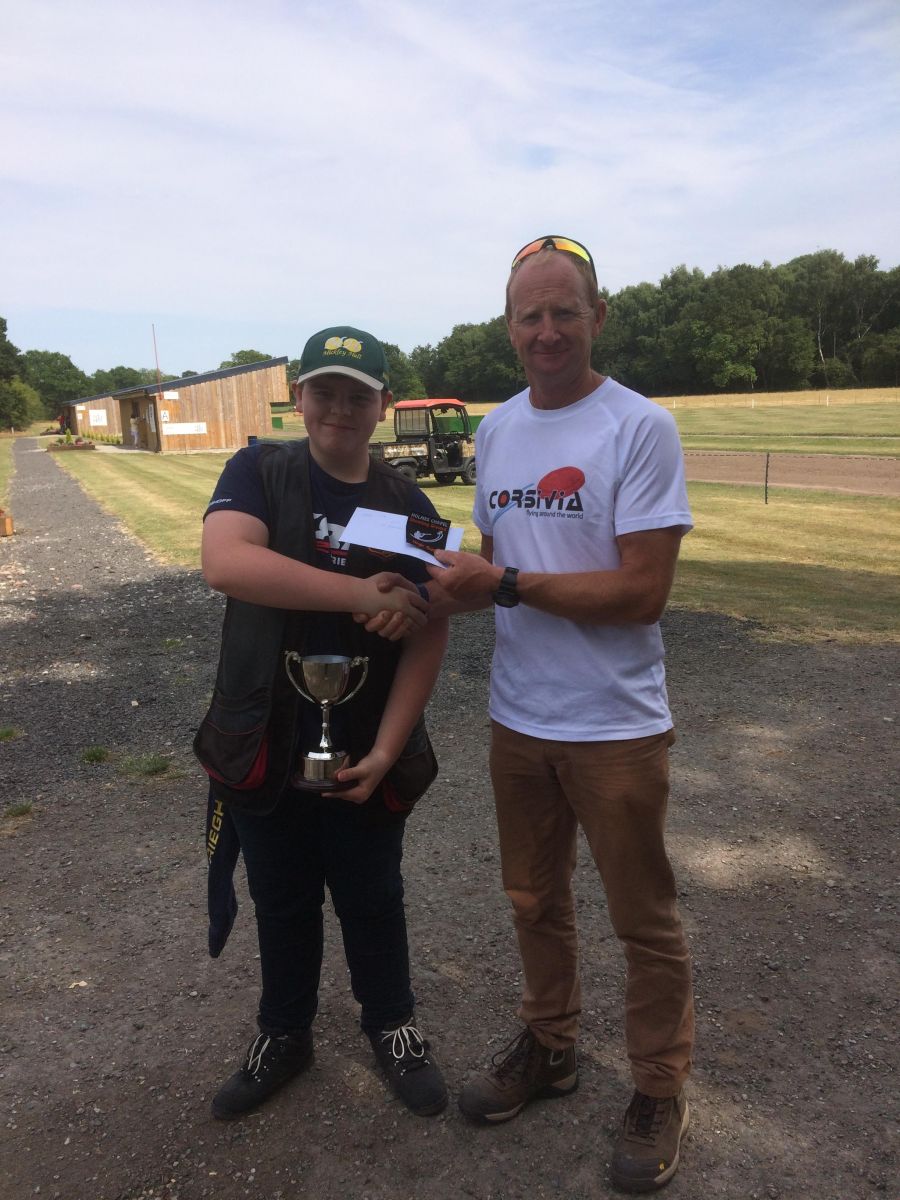 On the same day over at Doveridge the West Midlands Area SKD was taking place and what a day for Cheshire's Jack Hope took high gun and Area Champion followed by overall silver Maurice Cunningham, overall bronze medal Kevin O'Reilly, vets gold Jack Hope , vets silver Maurice Cunningham and last but not least vets Bronze Kevin O'Reilly.
Cheshire Champion at SKD was Jack Hope, senior Champion Colin Babcock and vets Champion Maurice Cunningham.
On the 7th July at Mickley Hall Shooting School the Cheshire Championship in Double Rise took place and the title went to Ian Cunliffe.
The Cheshire Championship in OTR took place at Fauxdegla Shooting Ground with David O'Donnel becoming County Champion, senior Champion Steve Dutton, vets Champion Andy Pownall and Ladies Champion was Hazel Denney.
The Ladies Clay Shooting League were at Cloudside in July for a great day not only weather wise but also target wise and with the help of Linda Grayson coaching there were great scores in all classes the final high gun was Victoria Gallimore followed very closely by Eleanor Hardy.
In August the Ladies Clay Shooting League were back at Mickley Hall Shooting School for another glorious day and more fantastic scores which seem to improve month by month. High gun was a tense affair with a shoot off between Victoria Gallimore and Eleanor Hardy, this took place on a pair of rabbits, cruel!, both ladies took on the challenge and Eleanor Hardy finished on 7 from 10 to put the pressure on Victoria Gallimore who came out victorious with 9 from 10 and won the Mitsubishi Pick Up truck for the weekend kindly put up by Grenson Motor Company.
Our very own Scott Barnett had a fantastic day at the Perazzi Sporting Grand Prix at Mid Wales Shooting Centre. The competition is set over two 75 bird layouts, the red and green course, both courses had their own degree of difficulty, with many competitors falling by the wayside, George Digweed finished on a great 140 but was pipped by W Baughan at 141but Scott had two equally fine rounds to finish on an incredible 144 from a possible 150 three clays clear of the field, to take high gun and win the Perazzi High Tech gun, well shot Scott.
Scott also received some great news in the form qualifying for the England FITASC team, great result!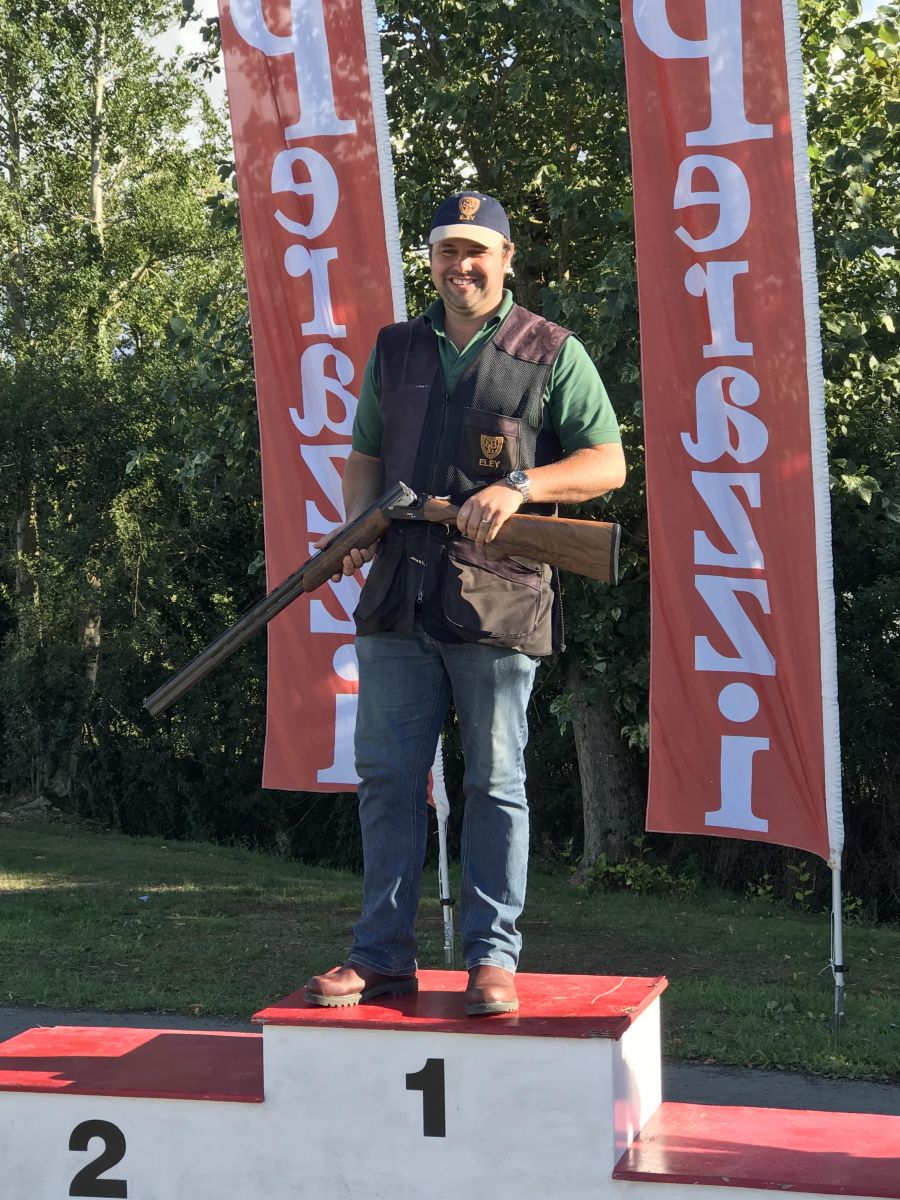 Congratulations to Alex Wilkinson who competed at the ISSF Junior World Cup in Germany, he was selected to be part of the Great Britain Junior Olympic Skeet Team. Further to this, Alex had one of his best competitions to date at the Olympic Skeet Home International in Scotland. Alex shot extremely well to finish as the Overall England Team High gun and as Overall Runner up, only one clay behind the Commonwealth Bronze Medallist, Gaz McAuley on 95/100. The weekend was topped off as he was part of the winning England Senior team, a great result for them all!

Alex followed that fantastic result with a great weekend at the Olympic Skeet British Grand Prix at Doveridge. He was delighted to have shot consistently over the two days to score 184/200. Alex was the Junior High Gun and was placed 3rd overall. He's now looking forward to the British Shooting Grand Final which takes place in September at Fauxdegla.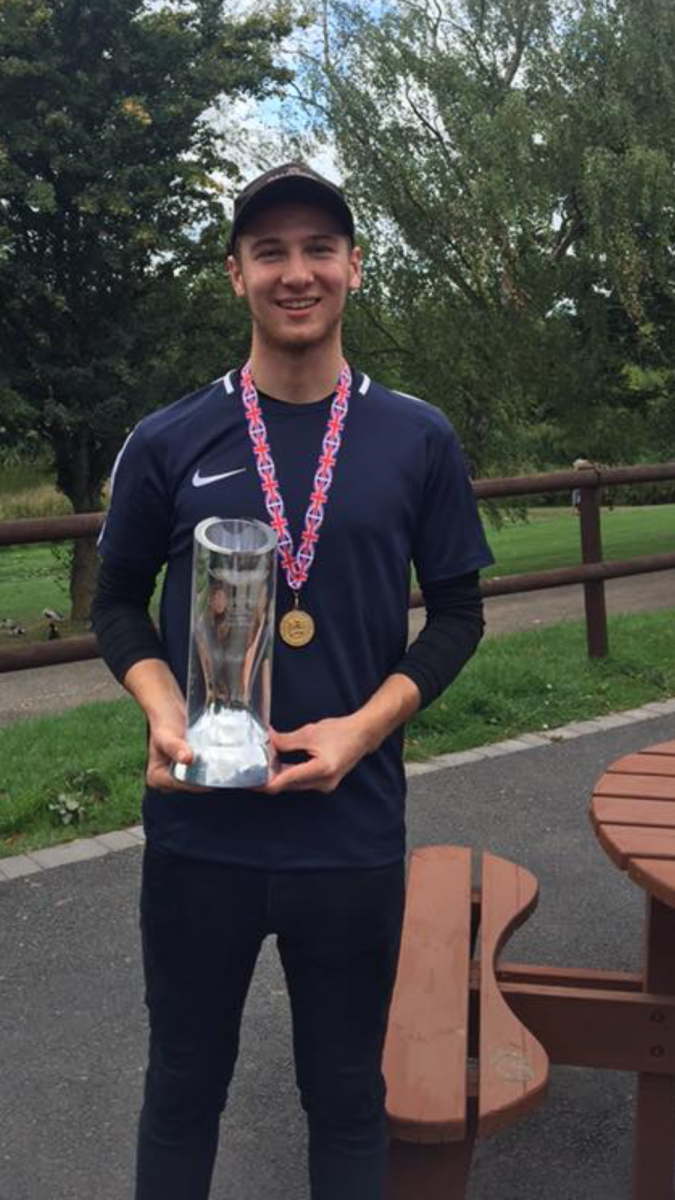 All eyes are now on the teams for the Inter County Sporting events and getting ready for the Nationals in October, good luck to all who make the teams.
---
CPSA Pull Magazine - July 2018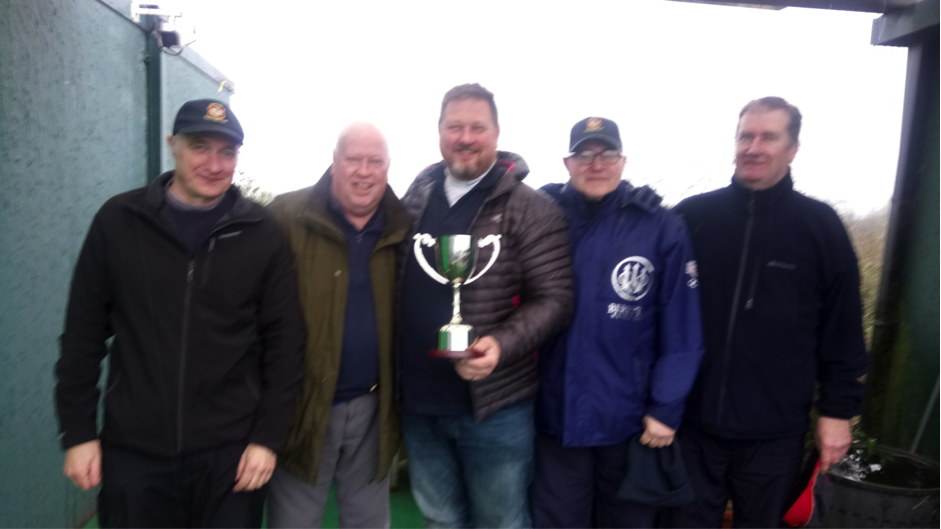 The selection shoots are in full swing, in fact the DTL selection shoots are over and the teams selected for the West Midlands Team Championships at Fauxdegla, thank you to everyone who took part.
On the 22ndApril the Cheshire ABT took place at Fauxdegla with Andy Pownal taking high gun on 91 Dave o'Donnell taking mens on 89 and Vets was taken by Paul Culverwell on 85.
The West Midlands Area and Team Championships ABT event on the 8th April didn't go to well for the team but there were some great individual scores non more so than Dave O'Donnell who shot a 98 took the Cheshire high gun and after a tense three way shoot off took West Midlands Area silver medal, very well done Dave.
Onto the Cheshire UT event on a fine bank holiday Monday the Cheshire UT championship was contested at Fauxdegla. There was a good turnout and at the halfway stage it was neck and neck between Andy Pownall, Fred Whitehurst and David Thornley. As they cantered over the line the finishing order was David Thornley, Whitehurst [Juniors], Chris Bushell with Jeanette Bushell [Ladies] and Bob Gallagher [Veterans], well done to everyone.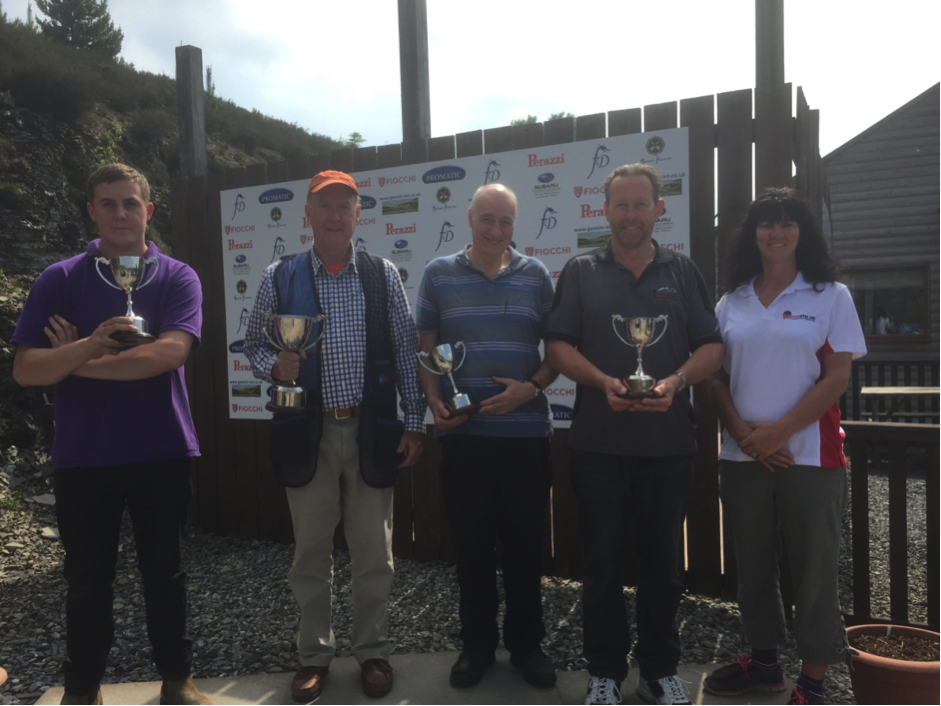 There is still all to play for on the Sporting and Skeet selection front so keep an eye on the next events. Don't forget that after the West Midlands Inter County and Cheshire events following those are of course the National events so keep on shooting and stay on form.
On the 2ndof June the Ladies Clay Shooting League arrived at Holmes Chapel Shooting Ground to tackle the DTL and what a day we had with the help of Dave and all the coaches, a special thanks to all, we used the first round as a coaching session and then the competition started in earnest over the next 50 with some fabulous shooting from Eleanor Hardy who shot a great 49 to take high gun, followed by Becky Wilkinson 46 who took second with Emma Percival on 46 taking third and its fair to say that the day was a great success and enjoyed by all.
Fantastic success at the England selection shoot over the weekend at Doveridge for Kevin O'Reilly and Chris Bethel who once again qualified to shoot for England and we almost had a third in Colin Babcock who missed out by just one clay, well done to all.
Peter Relph well what a weekend for you at the English Open and the Dougall Memorial shoot after shooting an incredible 100/300 Peter went into a three way shoot off and took the much coveted Dougall Memorial trophy, huge congratulation on winning this historical trophys, and a great day for Toby Hurstfield who took silver in the colts over the same weekend at Bywell, keep it up Toby.
At the West Midlands DTL Championship at Fauxdegla it was a great event for Cheshire CPSA taking Bronze in the Ladies, Silver in the Juniors and Gold in the mens, many congratulations to all who took part and qualified for the teams.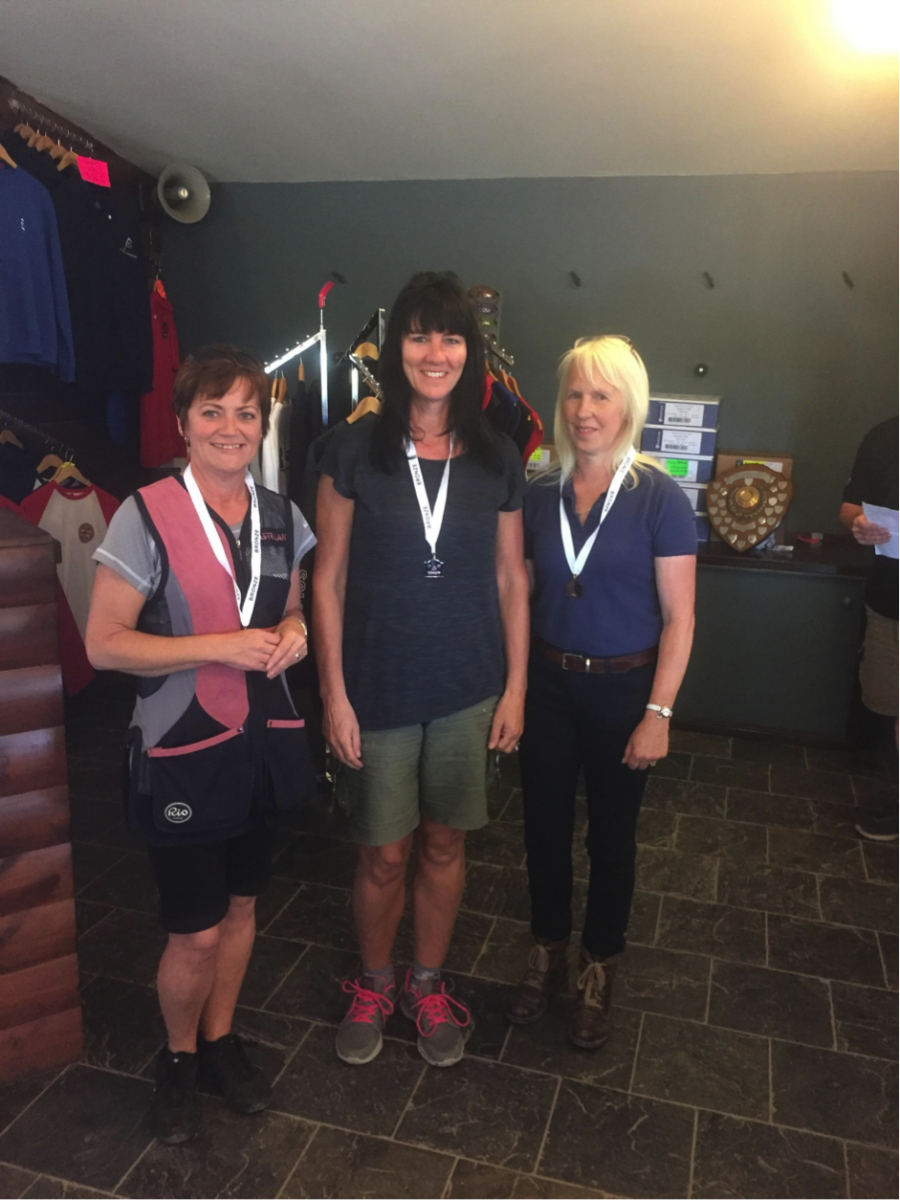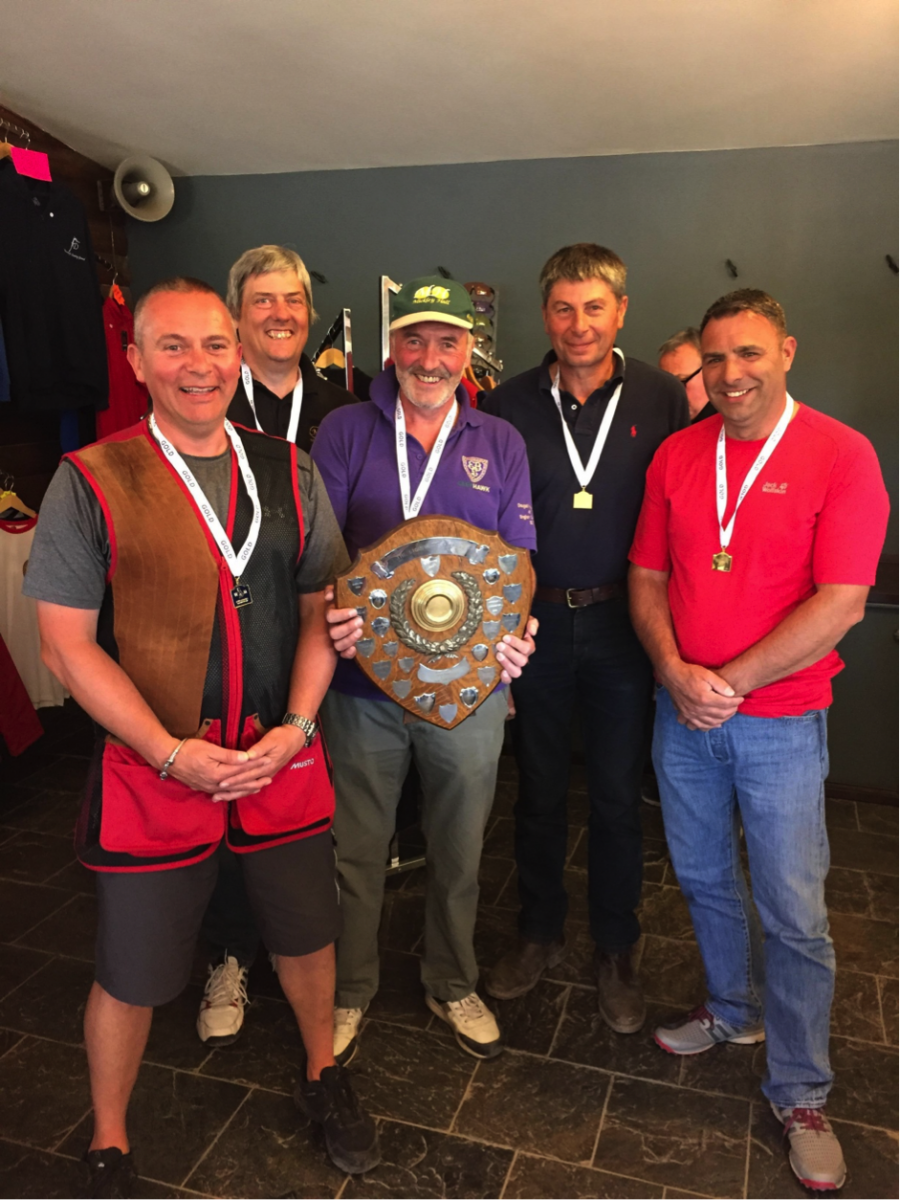 ---
CPSA Pull Magazine - March 2018
The new season is upon us and many of the winter series are coming to a conclusion, with some still all to play for. Good luck.
All our local grounds have had a great winter with quite an increase in numbers, especially over the Christmas period, hopefully this bodes well for clay shooting in Cheshire and the future of our sport.
Cheshire CPSA held it's AGM on the 24th of January at Catton Hall Shooting Ground with a very good turn out. The awards went very smoothly and we even got Mr Paul Ellis in front of a camera, a very rare event indeed. With the two National trophies for Skeet and DTL taking centre stage.
Deborah Millican from NWAA, our chosen charity, received a cheque for over two and a half thousand pounds something we are all very proud of.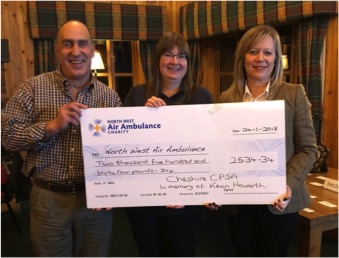 Left to right, Miles Machin, Deborah Millican, Karen Howarth.
Our Ladies Clay Shooting League is up and running with our first event on March 3rd at Catton Hall Shooting Ground with the other seven at Fauxdegla, NWSS, Cloudside Shooting Ground, Mickley Hall Shooting Ground and Holmes Chapel Shooting Ground. This is mainly sporting with an introduction to ESK and DTL.
The results will be shown on the Cheshire CPSA website for both individual and teams.
Our Cheshire Ladies On The Pull events, great days indeed, running through the year under the organisation of Jaqui Slater, keep an eye out for the dates.
It won't be long before the start of the selection shoots for your chosen discipline, and of course getting ready for the West Midland Events, lets see if we can improve on last years results which will not be easy as it was a great year for Cheshire.
The annual Cheshire Shield run by the Cheshire Police Clay Pigeon Section is on Thursday 29th March at the fabulous Hodnet ground, telephone entries to Ian Heywood 01606 365727 teams or individual.