LINCOLNSHIRE Website : ABT
LINCOLNSHIRE ABT CHAMPIONSHIP
HELD AT EAST YORKSHIRE CLAY SHOOTING GROUND
ON SUNDAY 6TH JUNE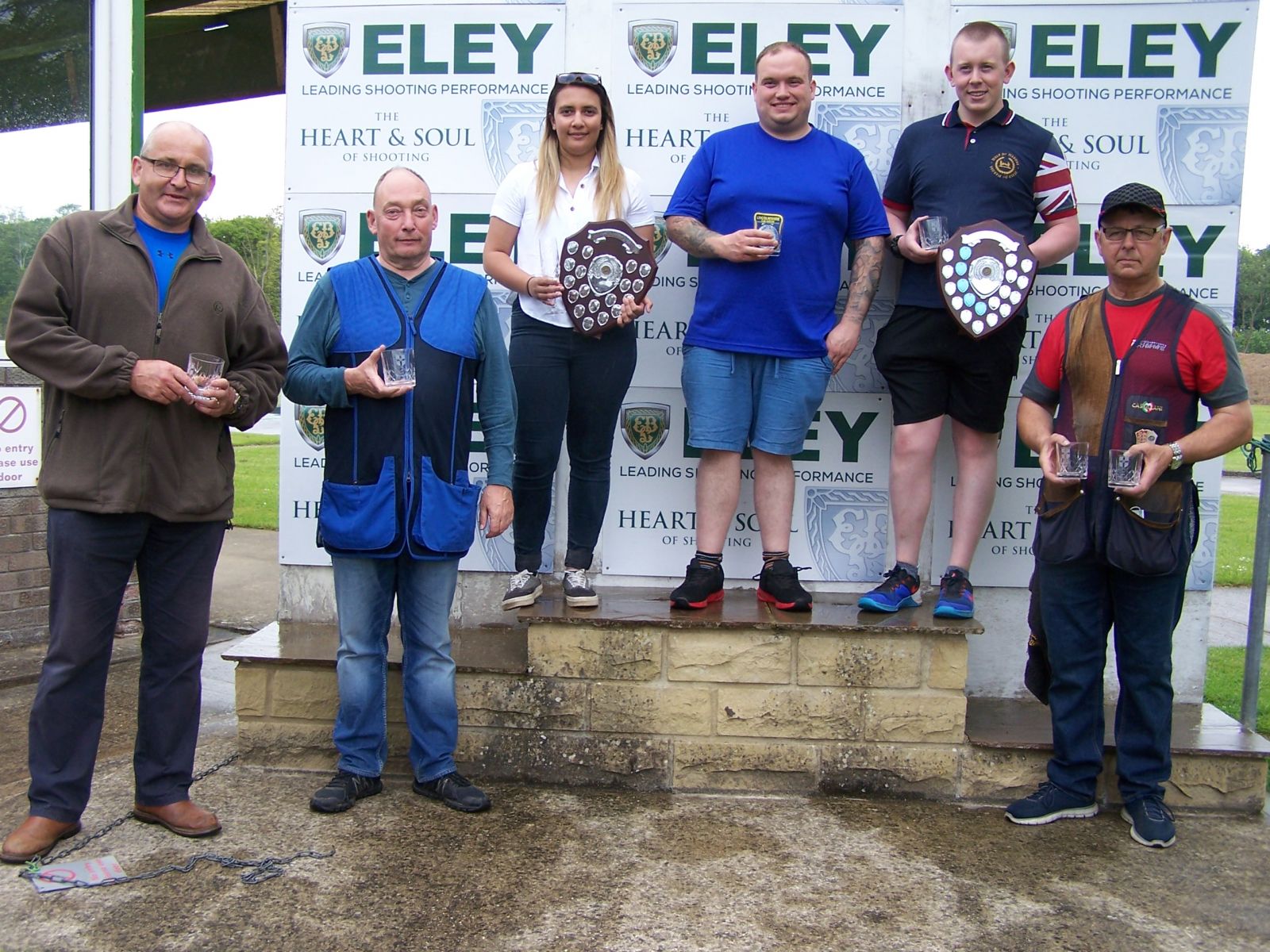 L-R Nick Pearce, Gary Boardman, Saira Boardman, Jack Wilkinson, Joe Tune & Marvin Houghton
It is always a pleasure to shoot at East Yorkshire Clay Shooting Ground. The ground looked immaculate, with the grass neatly cut, the targets were well presented and we received the usual warm welcome from all. The weather, in stark contrast to the brilliant sunshine of the day before, was overcast with on and off drizzle for most of the day. With the luxury of covered layouts the vagaries of the weather makes no difference at all to the shooting but it does but a damper (excuse the pun) on the al fresco dining experience.
As the day unfolded some very tidy scores started to come in with the scores at the half way stage giving some clue as to the final outcome although with ABT it is often the last line which disappoints. This was not the case with the eventual winners. Jack Wilkinson posted a 95 which meant his nearest rival, Marvin Houghton, had to straighten the last line to draw and sure enough Marvin came up with the goods to also post a 95. The ensuing shoot off saw Jack drop a target half way through the round. Marvin was shooting steadily and confidently and never looked like missing but, as they say, it is not over until it's over, and two targets slipped away leaving Jack, who is always cool under pressure, to clear up the rest and take the title. Marvin had the consolation of taking the veterans title for the 3rd consecutive year and A Class.
There was also a tie for B Class with both John Winn and Nick Pearce posting 92 but John had left the ground so Nick took the B class award. Nigel Watson, who also posted a last round 25, took C Class on 90 and Gary Boardman won D Class also on 90.
Saira Boardman followed up her successful DTL win with yet another win at ABT with a superb score of 89 which put her well ahead of her nearest rivals. The enthusiasm which both Gary and Saira show for our sport is really good to see and is really paying off as they have both raised their game this year and not just in this discipline - at this rate they will run out of mantelpiece space!
Joe Tune may have been the only junior but his score of 91 was well up there with the best of them as he took the junior title for the 3rd consecutive year.
A big thank you to Sam and Lena for organising the raffle which added some £80 to our county coffers and thank you to all those who so generously donated raffle prizes - it is a big help to the county in such difficult times. Thanks also to all the staff at East Yorkshire Clay Shooting Ground, who make our shooting experience so enjoyable.
| | | |
| --- | --- | --- |
| NAME | CATEGORY/CLASS | SCORE |
| JACK WILKINSON | HIGH GUN | 95 after s/o |
| MARVIN HOUGHTON | A CLASS | 95 |
| NICK PEARCE | B CLASS | 92 |
| NIGEL WATSON | C CLASS | 90 |
| GARY BOARDMAN | D CLASS | 90 |
| SAIRA BOARDMAN | LADIES CHAMPION | 89 |
| MARVIN HOUGHTON | VETERAN CHAMPION | 95 |
| JOE TUNE | JUNIOR CHAMPION | 91 |
Lincolnshire will be submitting ABT teams to the East Midlands Intercounty competition which will be held at Nottingham & District Gun Club on 24th October and the National Intercounty competition which will be held at Bywell SG on 10th October. The names of team members will be published in due course.