LINCOLNSHIRE Website : Single Barrel
LINCOLNSHIRE SINGLE BARREL CHAMPIONSHIP
HELD AT NOTTINGHAM & DISTRICT GUN CLUB
ON SUNDAY, 4TH JULY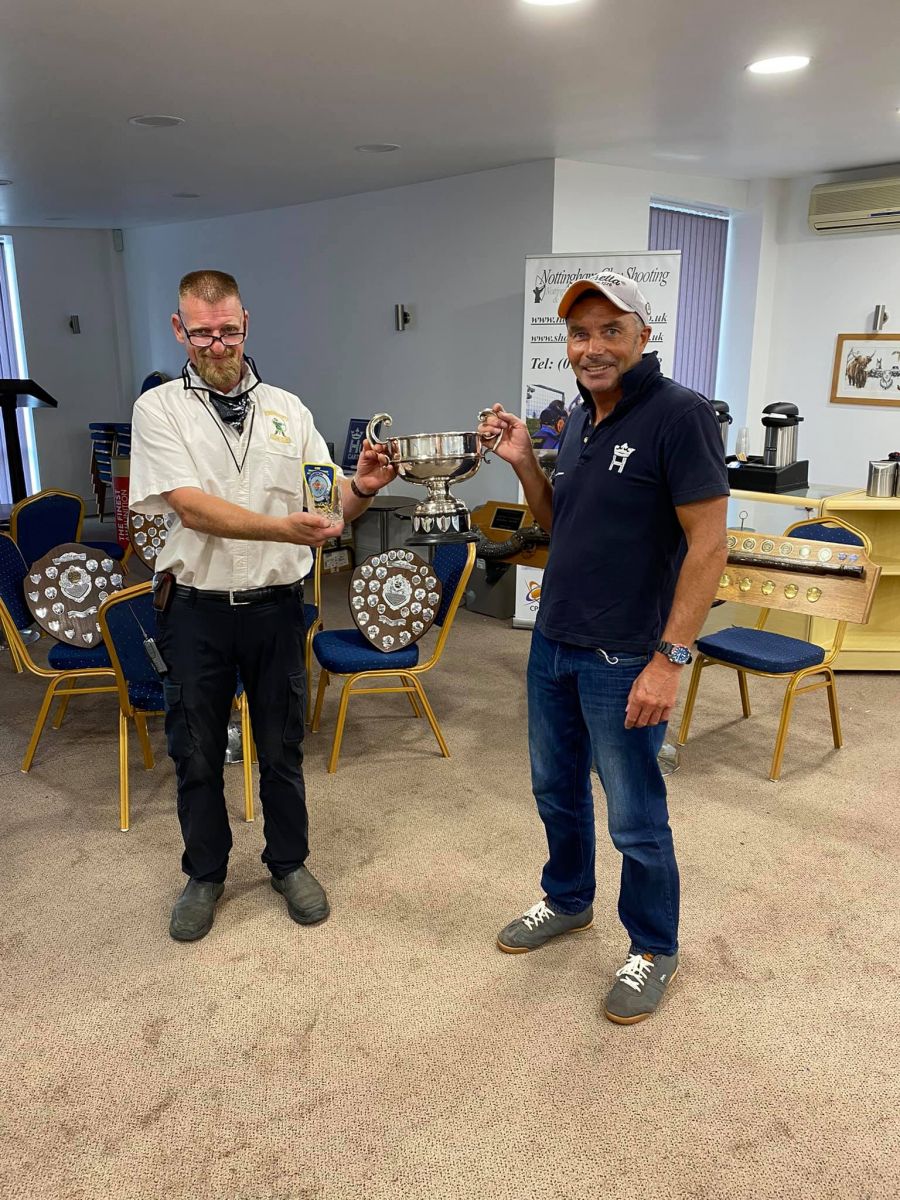 Andy Jackson - 2021 Single Barrel champion
The weather forecast said wet but in the event it largely stayed dry although it was very overcast with heavy grey clouds making visibilty difficult (for some, at least). An entry of 18 is about par for the course for this event in spite of the fact that the magnificent silver trophy for high gun is one of the most attractive that the Lincolnshire committee possess.
Although overcast, the still conditions set the stage for some big scores and, indeed, our big hitters did not disappoint. Mark Shaw, who is to be congratulated for being the only Lincolnshire person to have achieved in place in the 2021 DTL team, has nearly made this trophy his own as he has won it more times than anyone but this year he was to be denied by Andy Jackson who snatched it away by just one point.
We only have two trophies for this competition, the high gun trophy and one for the ladies category so the results given below are for information only but there are some very good scores which deserve a mention. Richard Gray (Veterans and AA) scored 93, Dave Jobson (C Class) scored 92 and Donovan Jenkin, who is unclassified at this event and taking a break from helice, scored 88.
Well shot to all.
| | | |
| --- | --- | --- |
| NAME | CATEGORY/CLASS | SCORE |
| ANDY JACKSON | HIGH GUN | 95 |
| MARK SHAW | AA CLASS | 94 |
| JANET STENNETT | A CLASS | 80 |
| GARY BOARDMAN | B CLASS | 84 |
| DAVE JOBSON | C CLASS | 92 |
| JANET STENNETT | LADIES CHAMPION | 80 |
| RICHARD GRAY | VETERAN CHAMPION | 93 |
| UNCONTESTED | JUNIOR CHAMPION | |