LINCOLNSHIRE Website : Down the Line
LINCOLNSHIRE DTL CHAMPIONSHIP
HELD AT EAST YORKSHIRE CLAY SHOOTING GROUND
ON SUNDAY 16TH MAY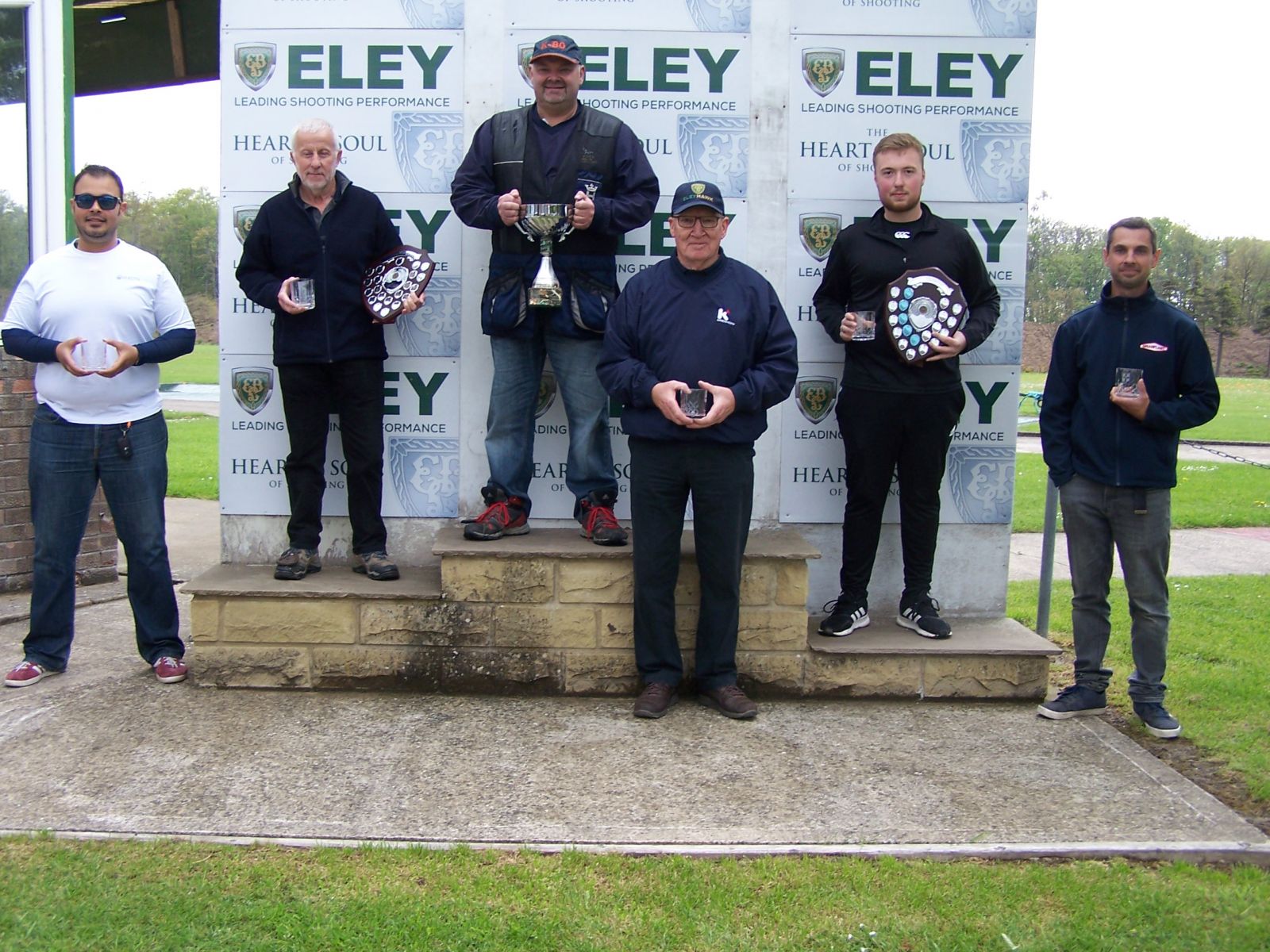 L-R: Aaron Heading (A Class), Mike Burton (Veteran champion), Mark Shaw (Lincolnshire champion & high gun), Nigel Lovatt (B Class), Ollie Roberts (Junior champion) and Paul Smith (AA Class)
The weather forecast gave a 60/80% chance of rain for all day on the day of our Lincolnshire DTL championship. With 8 fully covered layouts to choose from no-one is much bothered about the rain at EYCSG but as the rain turned out only to be sporadic it made for a very pleasant experience to also be able to enjoy EYCSG's al fresco facilities as well as enjoy the shooting.
With a big entry of 88 shooters it gave us our best entry since 2007 so made for some very stiff competition indeed and as scores began to emerge it was clear that margins were going to be very tight. Last year's champion, Andy Jackson, was shooting well and looked likely to perhaps retain his title but with the loss of a whole bird on his last line finished on 99/295. Paul Smith, always a consistent performer, turned in 100/296 with Stuart Whitehead making a third 100 of the day with his 100/294. This left the two top scorers, Mark Shaw and Aaron Heading tied on 99/297 and 100/297 respectively. Both were still present at the end so a shoot off was called for and it was quite a nail biter. Aaron halved a bird on his second peg but never looked like missing any more so all the pressure was on Mark to keep his cool to take the title. The shoot off, by two of the best trap shooters in the land, was an absolute master class on how to shoot DTL and was a pleasure to watch.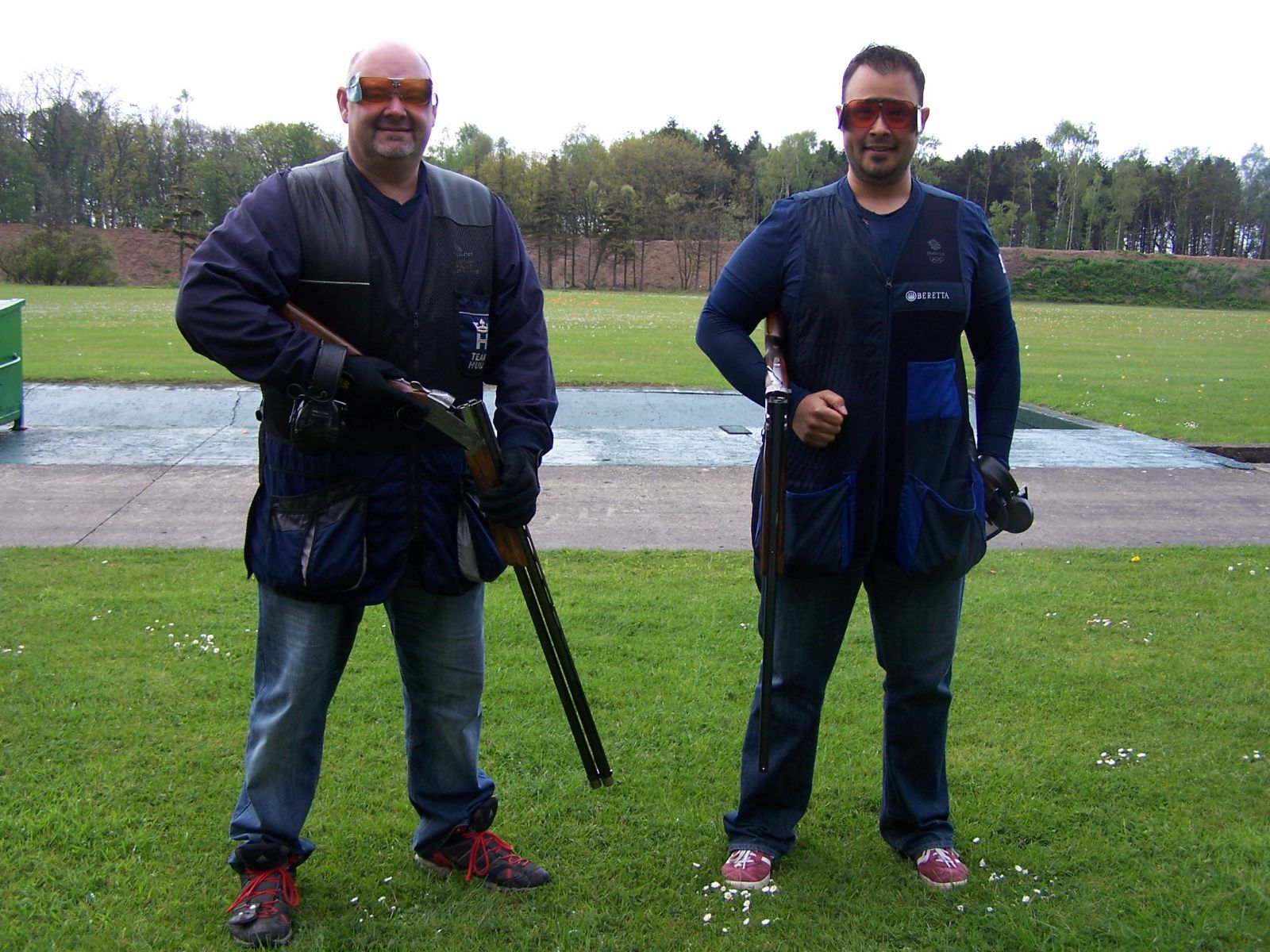 Mark Shaw and Aaron Heading - pre-shoot off
The other categories also saw some very impressive scoring. In the veterans category it was not a foregone conclusion until the very end with Mike Burton, Nigel Lovatt and John Winn all capable of putting in a big score. Mike finished on 98/292 and then had an agonising wait to see if it was good enough. One silly second barrel dropped Nigel to 99/291 which effectively put him out of veterans but gave him the consolation of taking B Class, and John Winn went into the last round needing a straight to equal Mike's score but two halves got away so a delighted Mike took the title for the second time (previously 2017).
Last year's ladies champion, Jackie Houghton, has only picked up the gun twice this year but still managed to put in a respectable 94/275 but it was Saira Boardman who turned up the heat, scoring 96/280 to take the title this year.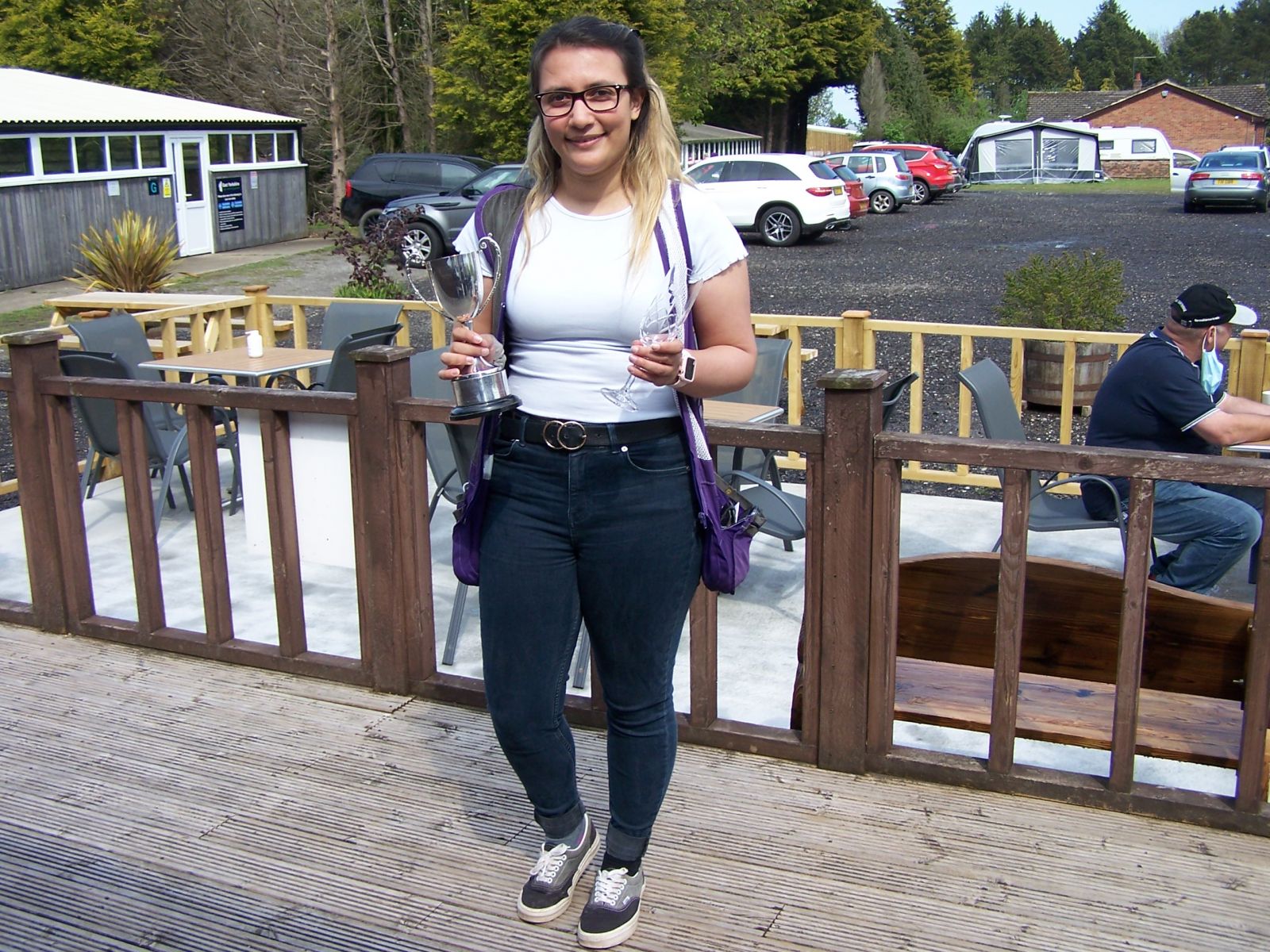 Saira Boardman - Ladies DTL champion 2021
You will find the name Kallum Burrell in many of our championships reports this year. His first love is sporting and he shoots it very well, recording an impressive 87 at last week's English Sporting championship but he seems also to be able to adapt to trap shooting and his score of 98/290 looked as though it might be a winner except for Ollie Roberts, who clearly found the targets at EYCSG to his liking as he pipped Kallum by one point with a superb score of 99/291.
Nick Pearce took a break from his usual discipline of ABT. His score of 96/277 earned him a win in C class.
Thanks must go to all our magnificent DTL shooters who responded brilliantly to our call for donations of raffle prizes, this gave us a big raffle. The size of the raffle and the persuasiveness of Paul Hurton and Brett Aisthorpe selling tickets has added some £200 to the county coffers which will be badly needed as, for the second year running, both Brocklesby and Revesby country fairs are cancelled so that source of revenue is lost to us.
Thanks also to Rob, Sean, Georgie and Sue at EYCSG for a very well run event. Also to Faith and Sarah for keeping us fed and watered during the day. There is always a good atmosphere at EYCSG and it was great to see so many familiar faces enjoying the day.
The Lincolnshire DTL teams will be selected from this event. Names will be published shortly and team members will be contacted closer to the date of the team competitions in September to confirm availability.
RESULTS
| | | |
| --- | --- | --- |
| CATEGORY/CLASS | NAME | SCORE |
| HIGH GUN | MARK SHAW (after s/o) | 99/297 |
| AA CLASS | PAUL SMITH | 100/296 |
| A CLASS | AARON HEADING | 100/297 |
| B CLASS | NIGEL LOVATT | 99/291 |
| C CLASS | NICK PEARCE | 96/277 |
| LADIES | SAIRA BOARDMAN | 96/280 |
| JUNIORS | OLIVER ROBERTS | 99/291 |
| VETERANS | MIKE BURTON | 98/292 |