LINCOLNSHIRE Website : All Round
LINCOLNSHIRE ALL ROUND CHAMPIONSHIP
HELD AT
NOTTINGHAM & DISTRICT GUN CLUB
ON SATURDAY/SUNDAY, 29TH/30TH AUGUST 2021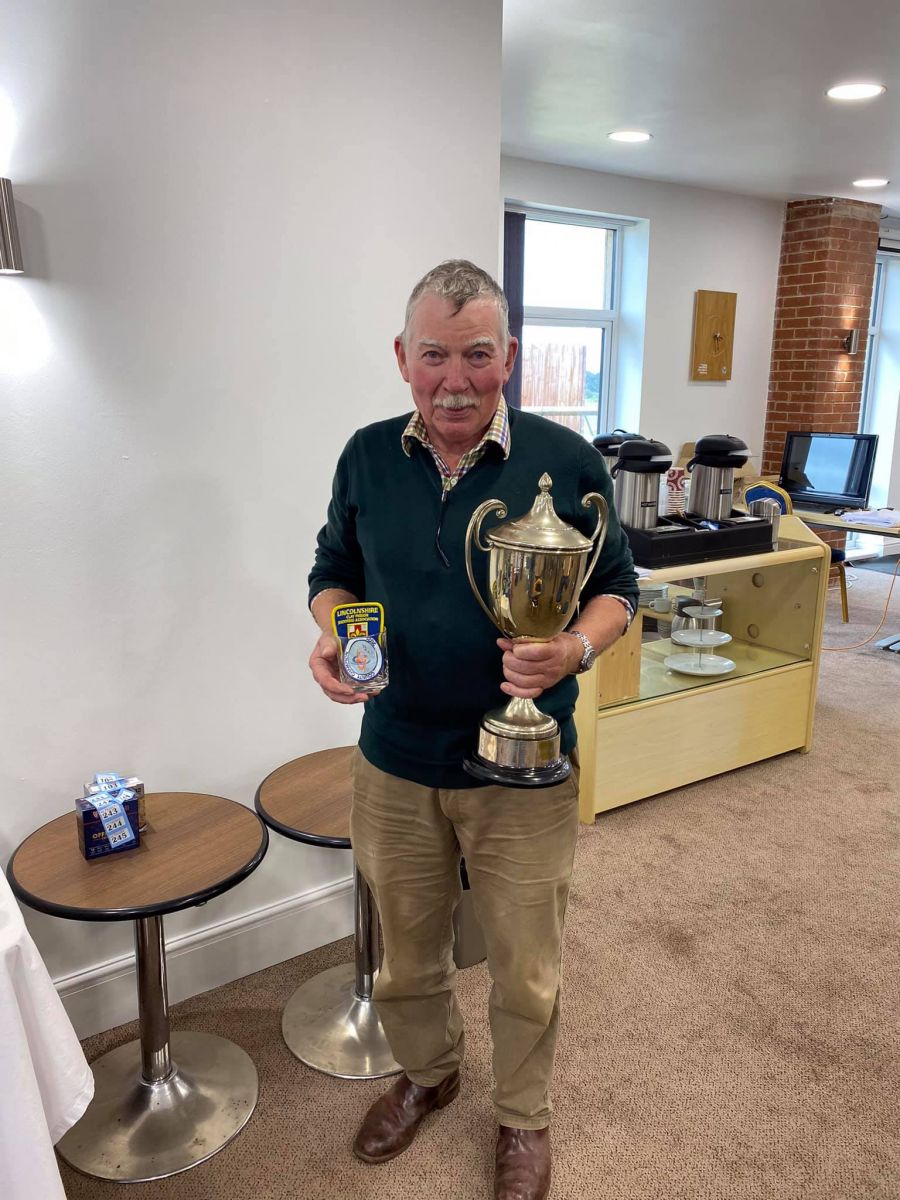 Graham Elkington - Lincolnshire All Round champion & Veterans champion
With so much to play for the Lincolnshire All Round promised to be quite an exciting event. This was the last event for scores to count for the 2021 Supreme Champion title, it was also the Notts v. Lincs All Round challenge, the All Round teams for the East Midlands and National Intercounty shoots would be selected and, oh yes, it was also our county championship. Whether you elected to shoot Saturday or Sunday the weather was kind. Both days were buzzing so, all in all, it made for a very pleasant atmosphere in which to enjoy a days shooting.
Usually, in an All Round, it is the sporting which makes or breaks a person's score and this ran true to form on this occasion with only 8 out of the 39 Lincolnshire shooters scoring 20 or over so, for many, this scuppered what would have been a promising score. The sporting did not, however, bother Graham Elkington, whose superb score of 23 single barrel, 24 ABT, 23 Skeet and 23 sporting gave him both the overall championship title and the veterans title. Hard on his heels was Steve Smith who was also just 5 points down at 75 but dropping just one more on the sporting meant he had to settle for second place but won AA class. Dave Jobson was also well up there with Graham and Steve having only dropped 4 points at 75 but scored a 16 on the sporting which, although disappointing after such a good start, nevertheless, was a good enough score to secure A class. Other class winners were Stewart Burton on 82 for B class and Dick Owen on 69 for C class.
The unstoppable Saira Boardman took the ladies title with a score of 80 but was being chased all the way by Rosie Parkinson who, shooting her first registered All Round, finished just 2 targets back on 78.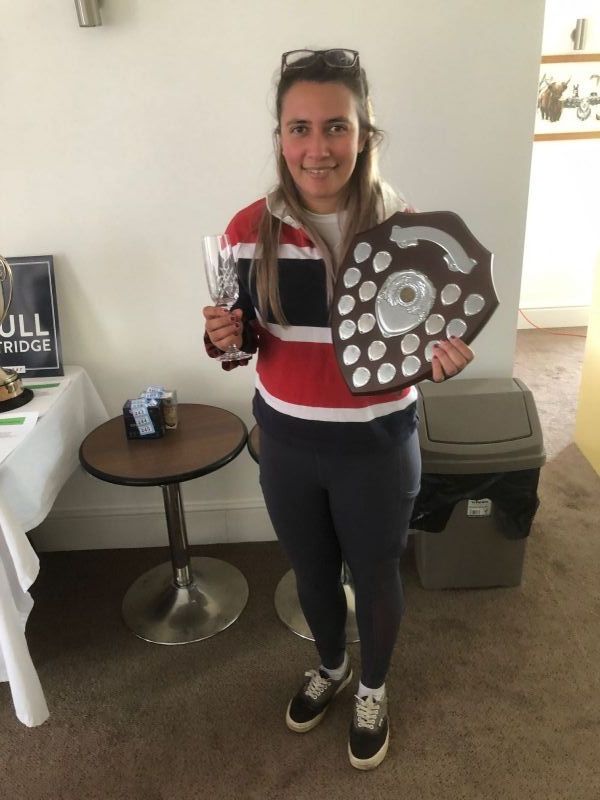 The equally unstoppable Kallum Burrell swept all competition away in the junior category, taking the title for the second year running also with a score of 80.
We also have this "friendly" little needle match with Nottinghamshire as we pitch the 10 best of our scores against theirs for the Notts v. Lincs All Round challenge. They had some superb scoring from Rob Denoon and Pat Dickman but overall Lincolnshire emerged the victors with combined scores of 887 to Notts. 864. It just goes to show how very evenly matched we are as Notts have won this trophy 4 times and Lincs have now also won it 4 times so next year should be even "friendlier".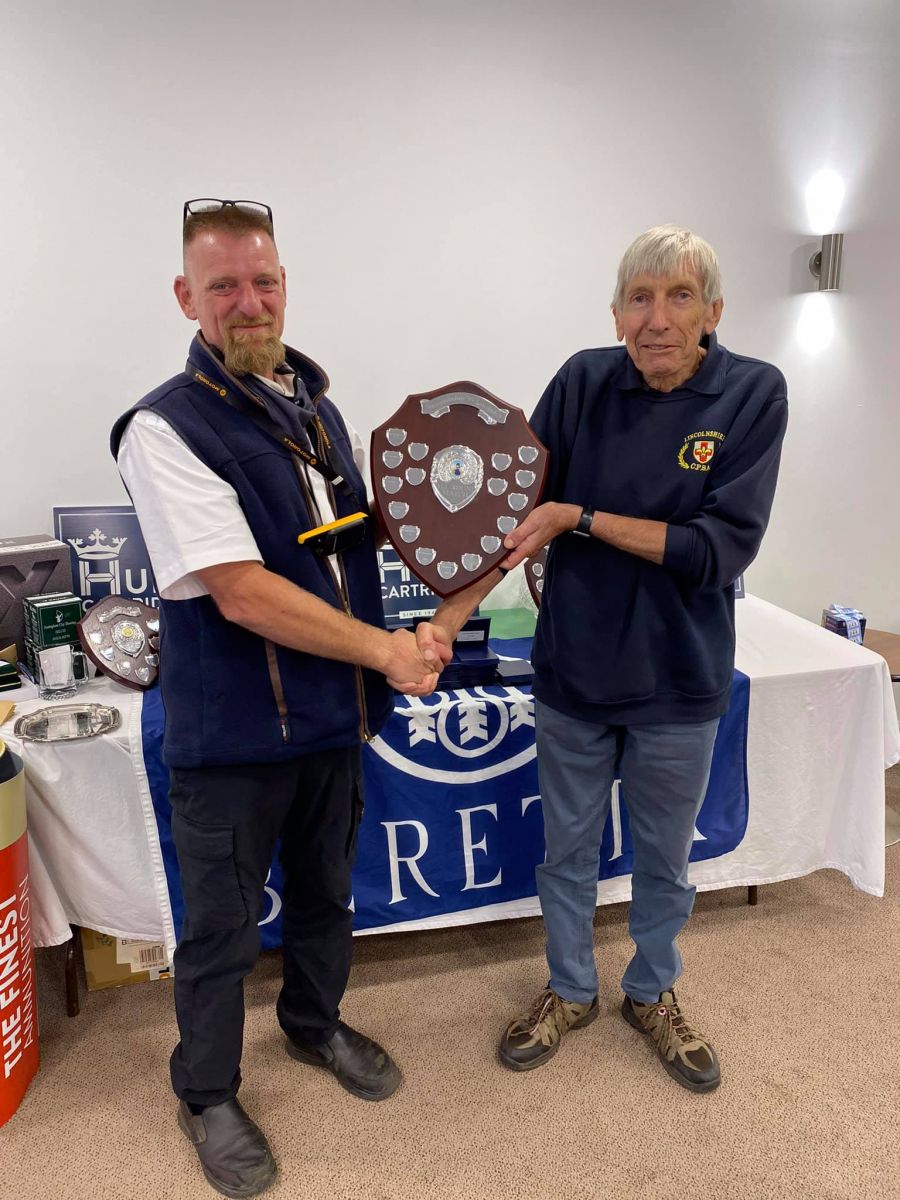 Notts v. Lincs All Round challenge trophy is coming home
(presented by Carl Smith to Paul Stennett, Lincolnshire CPSA Chairman)
Thanks, as always, go to Carl and Linda and all the staff at NDGC for a well run shoot. Also many thanks to all those who have donated raffle prizes this year and thanks to NDGC's ace raffle ticket seller, Linda, for selling the tickets which raised just over £200 which is shared between the two counties.
The All Round teams are now published under "Team Lincolnshire" icon.
Supreme champion winners are now published under "Supreme champion" icon.
Congratulations to all the winners.
RESULTS
| | | |
| --- | --- | --- |
| CATEGORY/CLASS | NAME | SCORE |
| HIGH GUN | GRAHAM ELKINGTON | 93 |
| AA CLASS | STEVE SMITH | 92 |
| A CLASS | DAVE JOBSON | 87 |
| B CLASS | STEWART BURTON | 82 |
| C CLASS | DICK OWEN | 69 |
| LADIES | SAIRA BOARDMAN | 80 |
| JUNIORS | KALLUM BURRELL | 80 |
| VETERANS | GRAHAM ELKINGTON | 93 |