LINCOLNSHIRE Website : Helice
LINCOLNSHIRE HELICE CHAMPIONSHIP
HELD AT RUGBY & DISTRICT GUN CLUB
ON SUNDAY 25TH APRIL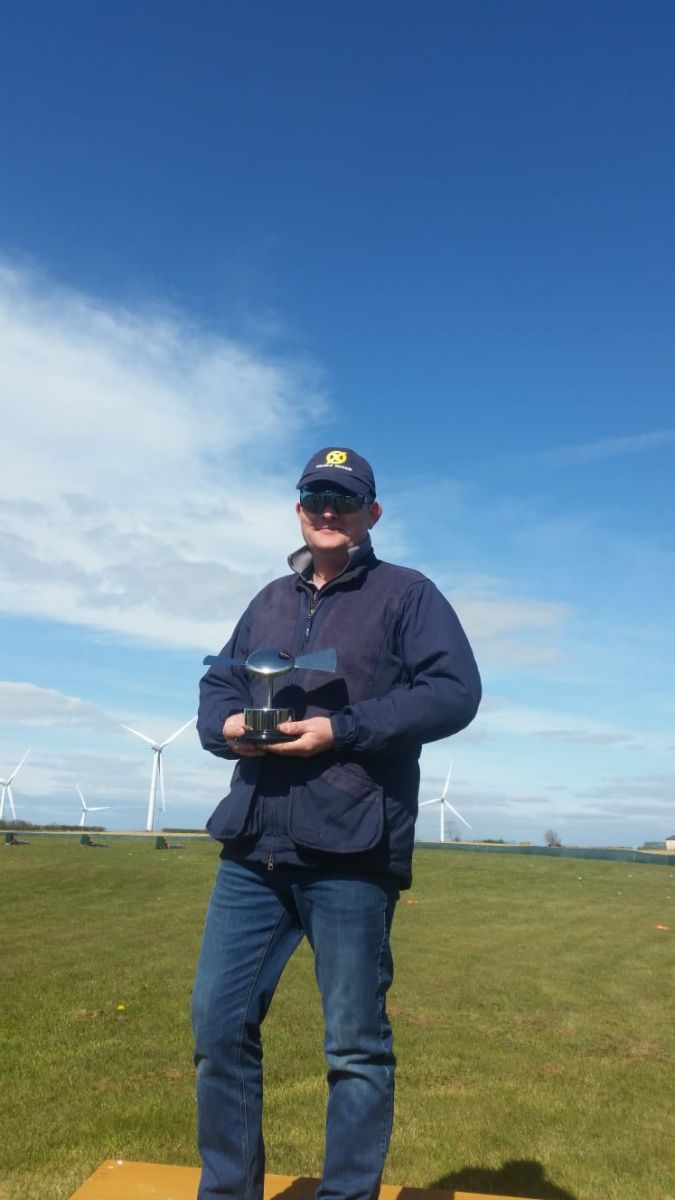 Trevor Hawkins - 2021 Lincolnshire Helice champion
At last, 46 shooters were able to compete at Rugby Shooting Ground for the first registered Helice competition of 2021, which was also the stage for the Lincolnshire County Championship. The day started bright with a strong head wind which was making some targets very difficult to deal with. However, this didn't cause any problems for the current defencing champion Trevor Hawkins, who at the half way stage had only dropped one target. This year Trevor had a new challenger pushing hard also one target away from Super Veteran, Richard Gray, who at the end of last year was going to retire from Helice shooting due to deterioration in his vision, corrective treatment definitely resolved this problem as by the end of the day both Trevor and Richard had tied on a very commendable 22 ex 24. Shoot off time; Trevor shot first and cleaned 4 targets straight putting the pressure on Richard who also responded with a straight 4 at a distance of 27 metres. It was now down to miss and out back at 29 metres and again they both responded with two more clear. Time for another move back to 30 metres this time we had a winner Trevor hit his target and Richard unfortunately missed his. Richard retained his super vets title from John Winn. In the other categories, Donovan Jenkin secured veterans, Caroline Hawkins retained her ladies title and James Harvey is the junior champion.
| | |
| --- | --- |
| | |
| James Harvey - Helice Junior champion | Caroline Hawkins - Helice Ladies champion |
| | |
| --- | --- |
| | |
| Richard Gray - Helice Super Veterans champion | Donovan Jenkin - Helice Veterans champion |
Our thanks to John Nightingale and his team at RDTC for hosting a well organised event.
| | | |
| --- | --- | --- |
| NAME | CATEGORY/CLASS | SCORE |
| HIGH GUN | TREVOR HAWKINS | 22 after s/o |
| A CLASS | DONOVAN JENKIN | 19 |
| B CLASS | JOHN MANSFIELD | 14 |
| C CLASS | JOHN WINN | 18 |
| D CLASS | RICHARD GRAY | 22 |
| LADIES | CAROLINE HAWKINS | 14 |
| JUNIORS | JAMES HARVEY | 11 |
| VETERANS | DONOVAN JENKIN | 19 |
| SUPER VETERANS | RICHARD GRAY | 22 |